Beetroot Burger with Pineapple Relish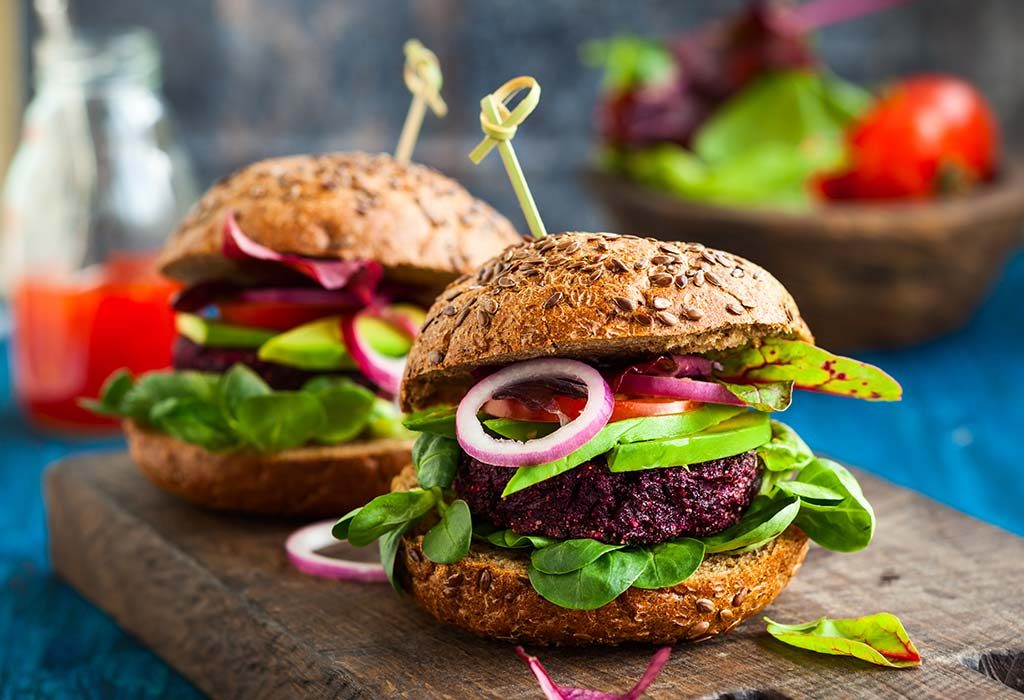 In this Article
When it comes to fast food for kids, burger tops the list. That is a reason good enough to prepare this kid's favorite dish at home. We have tweaked the burger patty recipe here – it has the goodness of beetroots along with carrots, corn and potato. So, it is definitely healthier than what is sold at the famous burger chain.
| | | |
| --- | --- | --- |
| Serves | Preparation Time | Cooking Time |
| 4 People | 20-25 Minutes | 15-20 Minutes |
Ingredients
4 sesame burger buns
2 tbsp butter
For The Patty
1/4 cup beet-root, grated
1/4 cup carrots, grated
1/4 cup sweet corn
2 medium potatoes, boiled, peeled and mashed
3-4 tbsp capsicum, chopped
3-4 tbsp onion, chopped
1 tbsp ginger-chili paste
1 tsp garlic paste
3-4 tbsp coriander, chopped
3 tbsp oil
Salt and pepper to taste
2 tomatoes, sliced
1 small cucumber, sliced
1 small onion, sliced
2 tbsp tomato ketchup
2 tbsp egg free mayonnaise
2 cheese slices cut into strips
For The Relish
1/2 cup chopped pineapple
1 small tomato, deseeded and chopped
1 tsp lemon juice
1 tsp sugar
Salt and pepper to taste
1 tbsp finely chopped coriander leaves
Method
Step 1
Mix all the ingredients listed for the relish and set it aside.
Step 2
Heat 1 tbsp oil in a pan. Add the garlic and ginger chili paste and sauté, followed by chopped onion. Sauté it for 3-4 minutes.
Step 3
Add the rest of the ingredients for the burger patty, stir and cook for 5-7 minutes. Add salt and pepper.
Step 4
Once the mixture looks cooked and dry, take it off heat.
Step 5
Once it is cooled, make 4 burger patty of the mixture.
Step 6
Heat a pan again. Add rest of the oil and pan fry the patties, till both sides looks golden in color.
Step 7
Cut the burger buns in half. Apply butter equally on each half and toast it on a hot pan.
Step 8
To assemble the burger, apply ketchup on one half of each bun and mayonnaise on the other half.
Step 9
On the lower half, arrange some tomato and cucumber slices followed by an onion slice. Place the patty over the veggies. Put some cheese strips on the patty and cover it with the other half the bun. Repeat the same for other buns.
Step 10
Serve warm with the prepared relish and ketchup. Enjoy!
Nutritional Information
| | |
| --- | --- |
| Calories | 445 Kcal |
| Proteins | 10.9 g |
| Total Fat | 22.6 g |
| Total Carbohydrates | 55.4 g |
| Cholesterol | 30 mg |
| Sodium | 1001 mg |
| Potassium | 860 mg |
Tip:Use whole wheat burger buns for a fiber rich meal. Also, you can add other vegetables of choice in the burger patty.