Bear Fruit Sandwich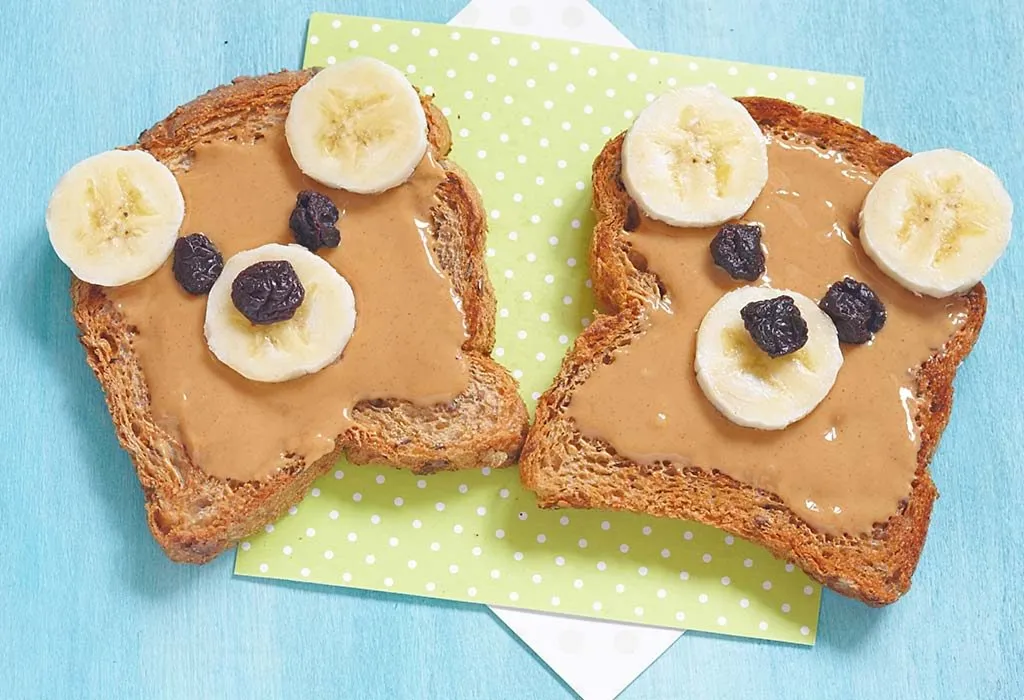 In this Article
This cute fruit sandwich packs deliciousness and health in every bite. It is loaded with fiber from the brown bread and the nutritious fruits like banana and apple, to keep your kid satiated for a while. And, of course the star ingredient of this recipe is the kid's favourite spread – Nutella,which gives it a flavourful chocolatey twist to the dish.
| | | |
| --- | --- | --- |
| Serves | Preparation Time | Cooking Time |
| 2 People | 5 – 10 Minutes | 3-5 Minutes |
4 brown bread slices
1 tsp caster sugar
1/4 tsp cinnamon powder
1/2 apple, thinly sliced
1 medium banana, sliced
2 tbsp Nutella
Black grapes for garnishing
Method
Step 1
Mix caster sugar and cinnamon powder. Set aside.
Step 2
In a microwave safe bowl, add the apples and microwave them for 30 seconds to 1 minute, so that they are slightly cooked.
Step 3
Spread Nutella evenly on each of the bread slice. Take two of them and arrange the cooked apple slices. Sprinkle the cinnamon sugar. Arrange banana slices over it. Cover with the other two bread slices with the Nutella side up.
Step 4
Arrange the banana slices and black grapes as shown in the picture to give it the look of a bear. Let your kid enjoy it with a glass of milk.
Nutritional Information
| | |
| --- | --- |
| Calories | 185 K cal |
| Proteins | 1.8 g |
| Fats | 5.8 g |
| Carbohydrates | 33.4 g |
| Cholesterol | 0 mg |
| Sodium | 9 mg |
| Potassium | 339 mg |