Baked Eggplant Parmesan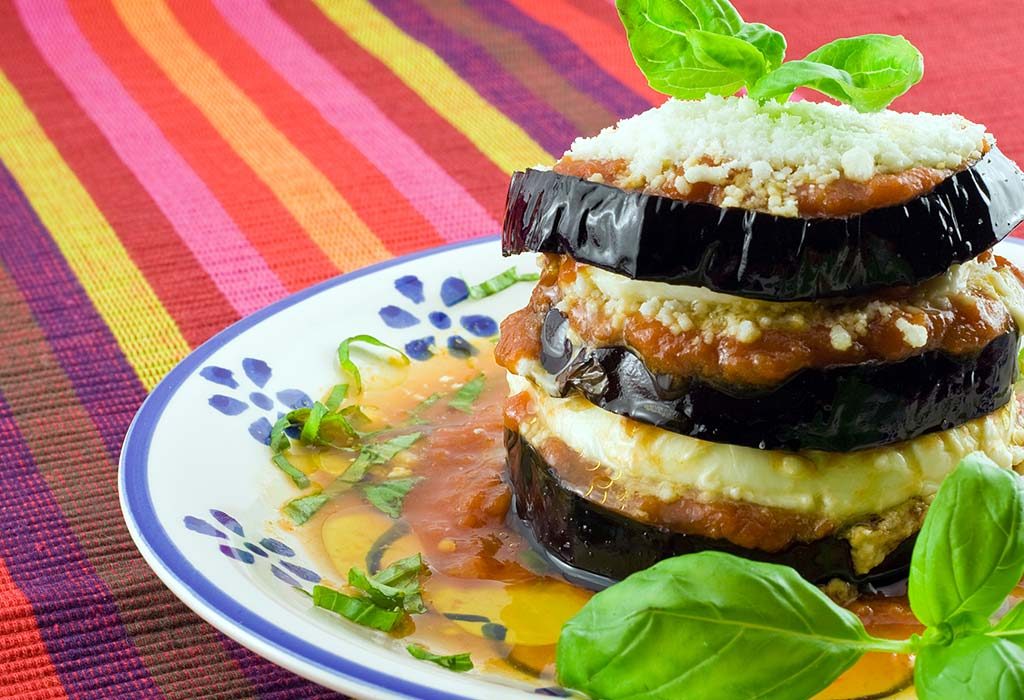 In this Article
This is the no-fry variation of the famous 'eggplant parmigiana', and trust us when we say it is just as delicious. The dish gets it 'fresh' flavor from the garlic and basil. For best results, you need to choose firm and smooth eggplants. And for an added robust taste, salting the eggplant rounds is the key. You may feel that the recipe involves several steps, but the end result is so worth the effort.
| | | |
| --- | --- | --- |
| Serves | Preparation Time | Cooking Time |
| 6 People | 10 – 15 Minutes | 20 – 25 Minutes |
Ingredients
3 eggplants
100 g flour
2 garlic clove, minced
4 whole peeled tomatoes
1/2 cup finely chopped fresh basil
¼ tsp black pepper
150 g bread crumbs
120 g grated Parmesan cheese, divided
4 eggs, beaten
1/4 cup olive oil
Salt, to taste
Method
Step 1
Cut the eggplants into ¼ inch or ½ inch rounds. Lays the roundels on the rack and sprinkle lightly with salt. Let the rounds sit for 2 hours. The salt in this process will pull out water from the roundels.
Step 2
In a saucepan, heat around 1 tbsp of olive oil on medium heat. Add the minced garlic and sauté for a few seconds. Next, add tomatoes. Add salt and pepper to taste and keep it simmering for around 15 minutes. Add the minced basil and remove from heat.
Step 3
Beat eggs in one bowl and keep it ready. In another bowl, keep flour ready.
Step 4
Take one more bowl, combine bread crumbs and grated Parmesan cheese and keep ready.
Step 5
Spread a little olive oil in the baking pan and keep it ready.
Step 6
Take the eggplant rounds and pat them dry with paper towels.
Step 7
Taking one at a time, dip the eggplant roundel first in flour, then in beaten eggs, and then in cheese-breadcrumbs mixture. Spread 1/2 cup of the tomato sauce over the bottom of an oiled casserole dish.
Step 8
Place the eggplant roundel on the sauce and with the help of a spoon apply some more sauce over the eggplant round and then sprinkle some cheese.
Step 9
Take another slice, keep it on the first one and repeat the process. Keep the layers of roundels one above the other in stacks beside each other
Step 10
In the end, top with remaining cheese.
Step 11
Bake uncovered at 350F for 30-35 minutes.
Step 12
Remove, cool for 10 mins, separate single stacks and serve.
Nutritional Information
| | |
| --- | --- |
| Calories | 682 K cal |
| Proteins | 42.5 g |
| Fat | 34.8 g |
| Carbohydrates | 54.4 g |
| Cholesterol | 168 mg |
| Sodium | 1436 mg |
| Potassium | 822 mg |