Babies Lose Moisture Five Times Faster Than Adults. Here's How You Can Lock It In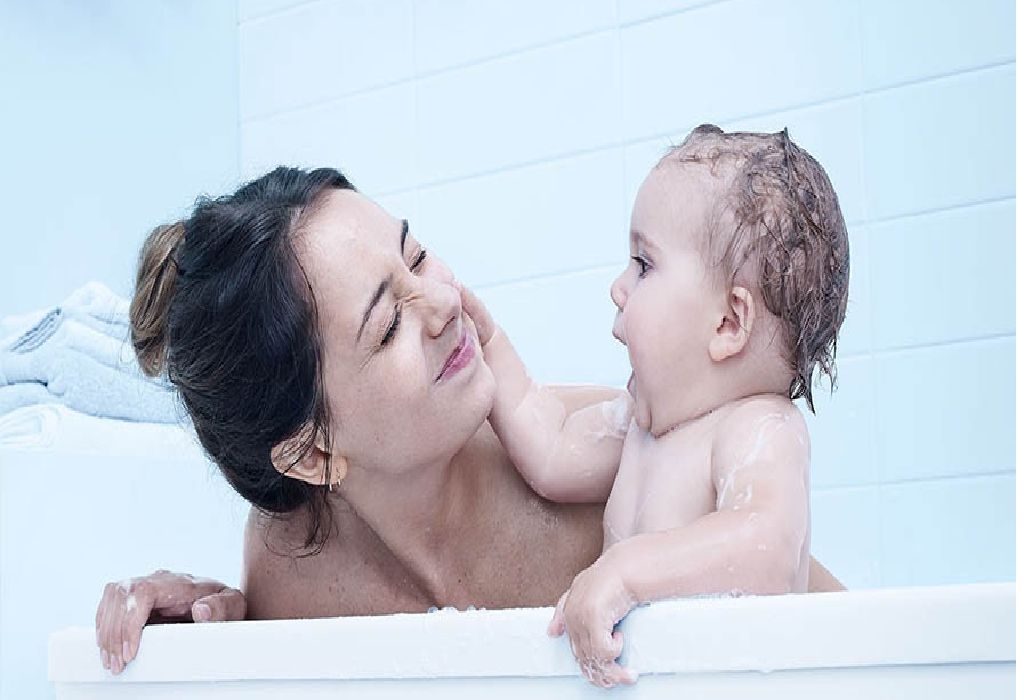 It's a common assumption that babies and supple skin go hand in hand. But as moms, you know that the truth is really quite different! In those early days after birth, it becomes evident that your baby's skin is going to need constant attention and nourishment. Did you know that a baby's skin loses moisture up to five times faster than an adult's skin, which means that inadequate hydration makes it vulnerable to dryness? It also means that simply using a mild skincare product will not be enough unless you also replenish the moisture your baby tends to lose.
That said, it can be quite a challenging task zeroing down on a skincare routine. There is advice coming in from every quarter, your family and friends included, and it is easy to get anxious about the "right" approach. However, let us reassure you that there is no right or wrong way in this. What worked for your mom-in-law or your best friend may not necessarily work for you as a parent. No two babies are the same, so how can there be a single way of parenting?
Country's leading psychologist – Varkha Chulani – reaffirms this belief and says, "Mothers need to be reassured that there is no right or wrong way of parenting. They need to know that when it comes to themselves and their babies, they do know best. Thus, it's vital that a mother trusts her instincts, and have confidence in the decisions that she makes. It is nice to know that for the first time there is a brand – Baby Dove – that acknowledges these concerns of mothers and has come forward to reassure them of the choices they make."

Here are five quick hacks to keep your bundle of joy's skin moist and supple.
1. Use a Moisture Rich Baby Soap and Warm Water to Bathe Baby
Remember the first time you gave your baby a bath? The very thought of how his skin would react to the soap and water must have unnerved you! Moms instinctively know that bath-time puts babies at risk for moisture loss. But bath-time is inevitable. So, the best thing to do here is to opt for a moisture rich baby soap. Ordinary baby soap does not contain moisturizing cream, nor does it help maintain the pH balance of the skin. Baby Dove has launched a rich moisture baby bar containing ¼ moisturising cream. Also, its pH neutral formula maintains the natural balance of the skin. Even so, keep your baby's water-time short and lukewarm, as staying too long in water strips skin of moisture. As you are probably seeing for yourself, taking baby away from water can be quite an ordeal once he knows how much fun it can be!
2. Moisturize Baby Skin Immediately after Bath-Time
Are you in the habit of treating your bub to good old moisturization after a bath? Medical experts agree that this is a great idea. After bath-time, your baby needs something to replenish moisture. Baby Dove's rich moisture nourishing baby lotion offers superior moisturization all day long and is also hypoallergenic, which means it has been clinically proven to minimise allergy risks. Now you can finally relax a little where your fear of baby getting allergies is concerned! Plus, just like the baby bar, its pH neutral formula helps respect the skin's natural pH balance. Baby's skin will be a dimply treat to touch all day long!
3. Keep Baby's Nursery Moist
In the winter and summer months, the air tends to get dry and lacks moisture. This can wreak havoc on your baby's skin, making it dry and lifeless – and also make your sweetheart cranky. As a mom, this can make you feel helpless and worried about your darling. Well, although you can't control the weather, you can control the weather in baby's room. How? All you have to do is setup a cool-mist humidifier in your little one's room. This will ensure there is always a good supply of moisture in the air. Rest assured, the moisture in the air will keep your little one's skin moist in both summer and winter. ||
4. Stay Away from Chemical-Laden Detergents
No, your paranoia about everything that comes in contact with your baby is not misplaced. Since your baby's skin is prone to losing moisture so easily, even the detergent you use to wash his clothes can prove to be draining and rough. Detergents loaded with chemicals will wash off stains well, but may impact baby's newly-formed skin adversely. This is why it is a good idea to continue being conscious about the fabrics that touch your baby. Prefer to use a baby detergent that is both scent-free and allergen-free so as to not irritate baby's skin.
5. Use a Moisturising Diaper Cream and Baby Wipes
Finally, diaper rashes are a huge source source of anxiety among moms. There's no denying that you need diapers, your baby's pee and poop being what it is, but what effect do they have on his skin? It is this concern that propels you to clean and moisturize your baby's bottom thoroughly but gently after every change. This is where Baby Dove's diaper rash cream can provide you reassurance: it not only prevents diaper rash, but also maintains the skin's pH balance. This cream contains ingredients that protect baby skin from diaper irritation. Finish the diaper-change by using baby wipes containing glycerine to cleanse and moisturise at the same time.
Nurturing your baby's skin is a responsibility laden with caution and care. It may be hard to make decisions at times and painful to see breakouts and rashes despite your best intentions. But remember, even the healthiest babies fall ill sometimes. It is simply an indicator of a developing immune system and not a reflection of whether you did the right thing as a parent. You are the best judge of your baby's health and well-being. No one knows him as well as you do and nothing compares to the protection that your love offers to him. Keep that faith up, mom, and make the most of these beautiful times with your baby!