Amitabh Bachchan's Letter To His Granddaughters Is a Must Read For Every Woman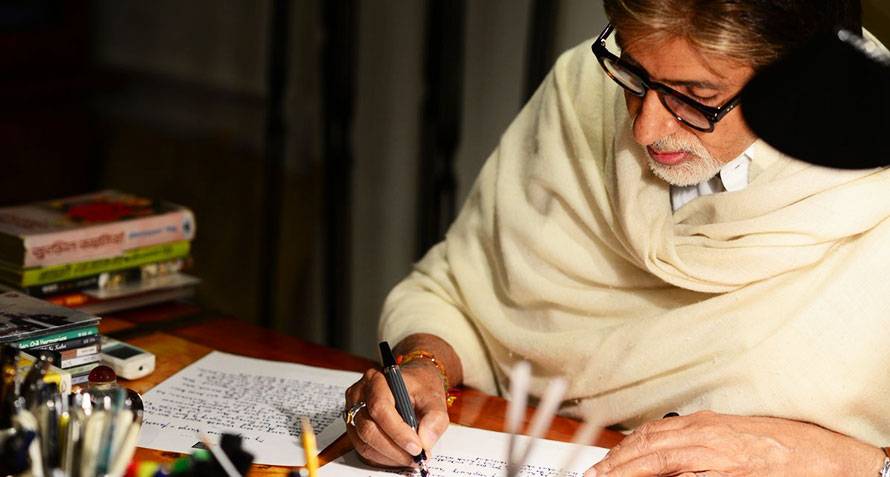 When you look back to your childhood, which are your happiest memories? Hidden somewhere in the treasure trove of your mind is the time you spent with your grandpa, eating candyfloss and riding on his back. No one dared to scold you when he was around; you were his little princess and he was fiercely protective toward you. To seal his feelings forever, Dada Amitabh Bachchan decided to put them down in a letter to his two granddaughters. The result is a deeply emotional and heartfelt look into the mind of a grandparent. It is a journey into the kind of love that only grandparents are capable of bestowing on the little ones in their household.
Amitabh Bachchan is blessed with two beautiful granddaughters – Navya Naveli, his daughter Shweta Nanda's young girl, and Aaradhya, his son Abhishek's little cutie pie. While Navya is fast growing up into a responsible adult, Aaradhya is still too little to understand just how deeply her dadajee feels about her. Aaradhya is very much her mom's daughter, and goes along with her everywhere, happily working on her homework assignments even on the sets! As Amitabh watches the two girls grow up, he worries about their safety, happiness and future. Will they make the right decisions in their lives? Will they be sheltered in love and protection, even after he's gone? Most importantly, perhaps, will they able to rise above the prejudices and misconceptions our society often has about women?
Read the complete letter by Amitabh Bachchan here. Even though he has addressed it to his two grandchildren, his words ring true for every woman out there.
My very dearest Navya and Aaradhya,

You both carry a very valuable legacy on your tender shoulders – Aaradhya, the legacy of your pardadaji, Dr Harivansh Rai Bachchan, and Navya, the legacy of your pardadaji, Shri H P Nanda… Both your pardadajis gave your present surnames celebrated fame, dignity and recognition. Both of you may be a Nanda or a Bachchan, but you are also girls…women. And because you are women people will force their thinking, their boundaries on you. They will tell you how to dress, how to behave, who you can meet and where you can go.
Don't live in the shadows of people's judgment. Make your own choices in the light of your own wisdom.
Don't let anyone make you believe that the length of your skirt is a measure of your character.
Don't let anyone's opinion of who you should be friends with, dictate who you will be friends with.
Don't get married for any other reason other than you want to get married.
People will talk. They shall say some terrible things. But that doesn't mean you have to listen to everyone. Never ever worry about – log kya kahenge. At the end of the day, you are the only one who will face the consequences of your actions, so don't let other people make your decisions for you.
Navya – the privilege your name, your surname offers you, will not protect you from the difficulties you will face because you're a woman.
Aaradhya – by the time you see and understand this, I may well not be around. But I think what I am saying today shall still be relevant.
This may be a difficult, difficult world to be a woman. But I believe that it is women like you that will change that. It may not be easy, setting your own boundaries, making your own choices, rising above people's judgment. But YOU! You can set an example for women everywhere.
Do this and you would have done more than I have ever done, and it will be my honour to be known not as Amitabh Bachchan, but as your grandfather!
With all my love,
Your dadaji…your nana.
That was amazing, Big B! We must say Navya and Aradhya are really lucky to have a grandfather like Amitabh Bachchan – one who adores them so much but also helps them understand the realities of the world. There are some lessons in life than only dadas and nanas can teach and these are often the important lessons of independence, decision making and learning to be happy.
So moms out there, encourage your children to spend time with their grandparents. This is one of the most beautiful relationships they will ever have the privilege of experiencing and also one whose memories will keep them strong long after life has run its course.