Amazing Ways Paneer Can Help You Lose Weight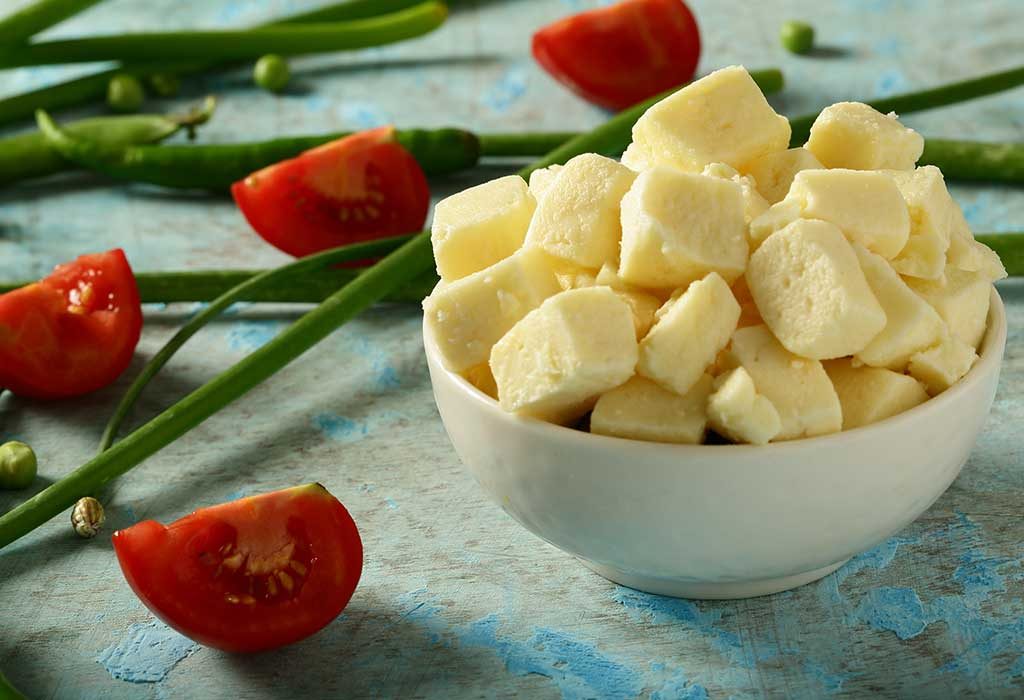 Weight loss may be daunting, but the good news is that you don't have to drastically change your diet overnight. Nutritionists and experts recommend a gradual and slow change so that your body can adapt to the new diet. You should replace your junk food with healthier substitutes and increase your protein intake while reducing intake of trans fat and refined sugar. But what do vegetarians do when they have to increase their protein intake? They usually resort to a plant-based protein such as legumes and lentils. But did you know that another great source of vegetarian protein is cottage cheese or paneer? Paneer is a great addition to any diet you are following with weight loss as the end goal. Let's look at exactly how healthy paneer is for your body.
How is Paneer Beneficial in Losing Weight?
Is paneer good for weight loss? Below are a few benefits that paneer can bring to your weight loss regime: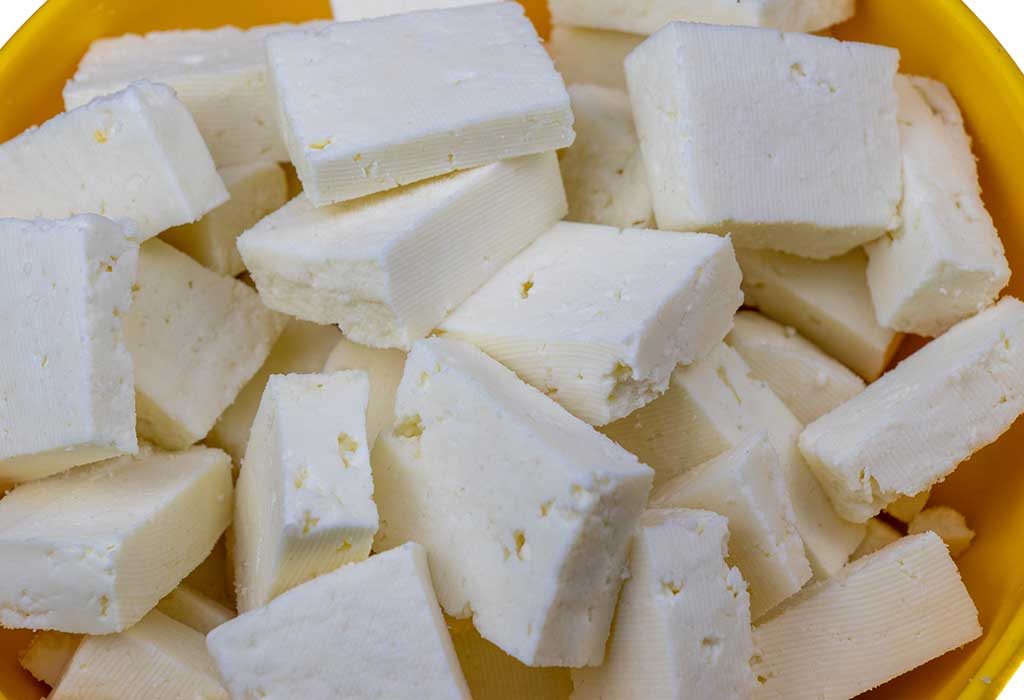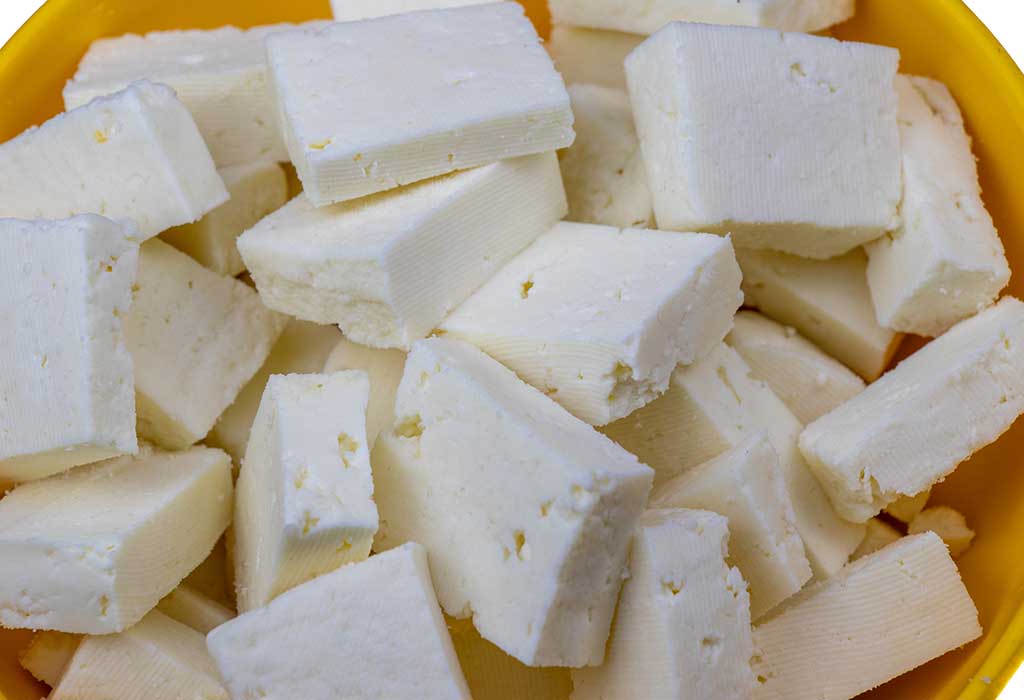 1. Paneer is Low in Calories
100 g of cottage cheese has just 72 calories which is quite a low-calorie count. Just make sure the paneer you have is not made with full-fat milk. Also, while cooking, try and cook paneer using healthy methods like grilling or baking.
2. Paneer is High in Protein
According to studies, about 100 g of cottage cheese contains 11 g of protein. If the paneer has made from full cream milk, then along with being dense in protein, it is also high in fat. Cow's milk contains a high amount of the protein casein when compared to other milk sources, so any paneer made from cow's milk is a great protein source. Apart from iron, paneer contains all the essential minerals like magnesium and calcium. Another benefit is that it does not require any cooking. So a cube of raw paneer packs a real protein punch!
3. Fewer Carbohydrates
Your body can break down carbohydrates quickly so many nutritionists recommend eating food which is low in carbs so that your body can sustain itself longer without food. A 100 g of paneer (made from cow's milk) contains 1.2 g carbs, which is a pretty low value.
4. Healthy Fat Source
There are good fats and bad fats. Bad fats are saturated fats like fried foods, soft drinks, burgers, etc. Good fats are unsaturated and polyunsaturated fats like whole eggs, nuts, and cheese. Paneer is a healthy fat which is important in weight loss. If you consume more of healthy fats, your body will eventually start burning fat for energy, thus reducing your weight.
5. High in Calcium
Calcium is an essential mineral for developing healthy teeth and bones. 100 g of paneer has 83 g of calcium which is more than 8% of the daily value your body needs. This is an excellent benefit as calcium also helps weight loss by increasing metabolism.
Healthy Paneer Recipes for Weight Loss
There are many recipes available which tell you how to eat paneer for weight loss. Here are a few below:
1. Cottage Cheese Chaat with Chutney
A perfect addition to a paneer diet plan for weight loss, try making this spicy paneer chaat!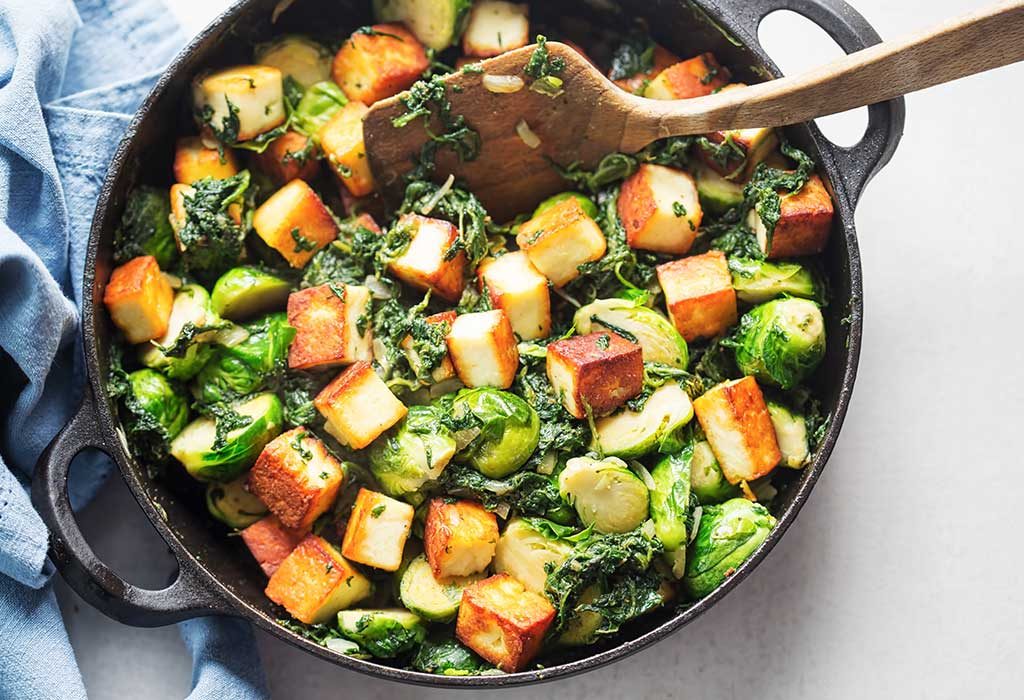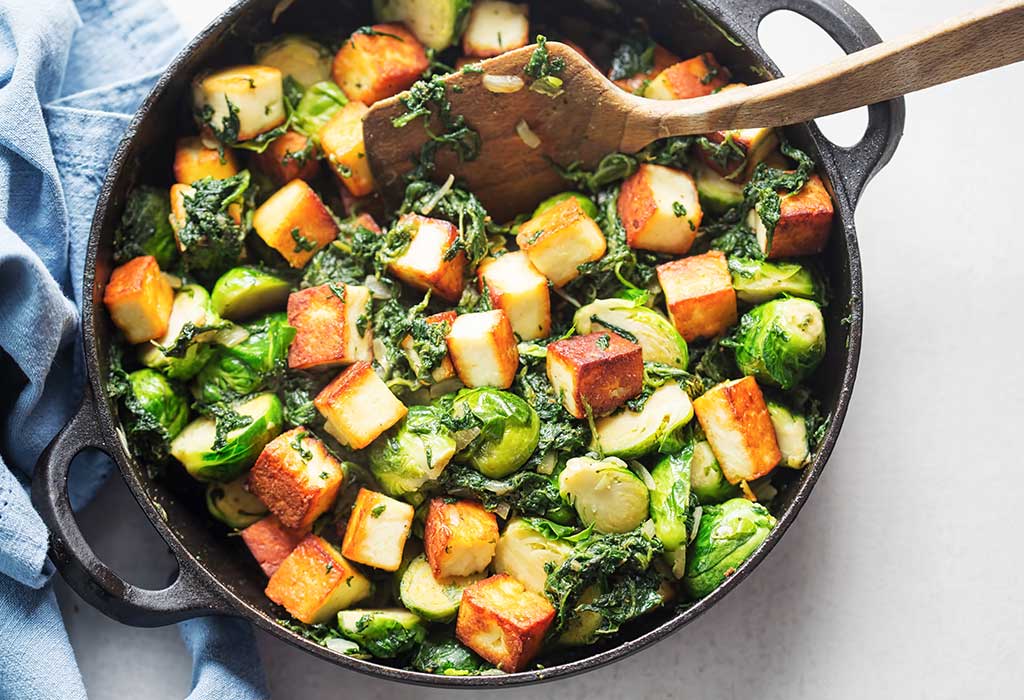 Ingredients:
For paneer chaat:
2 tbsp lemon juice
400g paneer
¼ tsp ground cumin
2 tsp dried mint
2 tbsp coriander (chopped)
Salt
2 tsp chaat masala
For chilli chutney:
2 tbsp roast ground sesame seeds
100 g green chillies
3 tbsp jaggery (grated)
150 ml tamarind pulp (thick)
5 tbsp sesame oil
2 tsp salt
¼ tsp turmeric powder
1 tsp chilli powder
½ tsp mustard seeds
½ tsp fenugreek seeds
Preparation
For the chutney:
Slice the green chillies along their length.
Mix the jaggery and sesame powder with the tamarind pulp in a bowl and add turmeric and chilli along with salt.
Heat over medium flame for 5 minutes.
Saute the mustard and fenugreek seeds with 1 tbsp of oil separately in a pan and add them to the tamarind mix.
Heat the remaining oil and fry the green chillies.
Add the mixture to the pan. Mix and let cool.
For the paneer chaat:
Cut the paneer into cubes
Mix the rest of the ingredients, add salt and mix them in with the paneer.
Chill the mixture before serving alongside the chutney.
2. Besan Paneer Chila
Gram flour (besan) is a healthy flour filled with protein. Add paneer into the mix, and you have a protein-powered snack!
Ingredients
½ cup gram flour (besan)
1 tsp black pepper
½ tsp salt
½ cup grated paneer
1 tomato
1 chopped onion
1 cup water
2 green chillies
½ tsp ajwain
½ cup chopped coriander
Preparation
Add the besan to a bowl and mix with salt, pepper, green chillies, ajwain, coriander, paneer, tomato, and onion.
Add water and whisk the mixture.
Keep adding water until the mixture becomes light in consistency.
Heat a pan and add besan mixture to it to make a pancake.
Fry till the sides turn brown and flip to fry on the other side.
Sprinkle some grated paneer, black pepper, coriander and onion on top of it.
Serve hot with a spicy chutney.
3. Corn and Paneer Salad
A quick, healthy recipe made with corn and paneer which is delicious too!
Ingredients
½ kg paneer (crumbled)
2 tsp olive oil
350 g canned corn
½ tsp cumin seeds
Salt
Preparation
Add the olive oil to a pan and heat over medium heat. Add cumin seeds.
When they splutter, add the paneer and stir for half a minute.
Add the corn and salt. Mix and cook on a low flame for around 5 minutes.
Take it off the heat and serve hot.
FAQs
If you still have question about paneer being good for weight loss, we've answered some commonly asked questions below:
1. Which Cottage Cheese is Best for Weight Loss?
The best paneer for fat loss is that which is made not from full cream milk, but from low-fat milk. Cow milk contains high quantities of the protein casein so paneer made from cow's milk can give you that protein you need to tone up your muscles and keep them active while still burning fat.
2. Paneer vs Tofu: Which is Better for Weight Loss?
On a nutritional basis, tofu will be healthier for people who are looking for weight loss as the fat content and calories in tofu are comparatively lesser and tofu also contains a lot of iron which paneer does not. However, paneer is richer in protein, lesser in carbs and also contains essential minerals like calcium and magnesium which you need. So you shouldn't give up on paneer completely in favour of tofu. Tofu is also difficult to consume for people who have diabetes due to its high carb content.
A study which was published in the British Journal of Nutrition says that eating cottage cheese before bed can be very effective for weight loss. Just two tablespoons of protein-rich, low-fat paneer can help boost your metabolism and have a positive effect on your health.
Also Read:
Shed Calories with Oats
Food that Help in Weight Loss
Healthy Drink that Help in Weight Loss