Akshay Kumar Just Shared The Secret Mantra That Keeps His Marriage Going Strong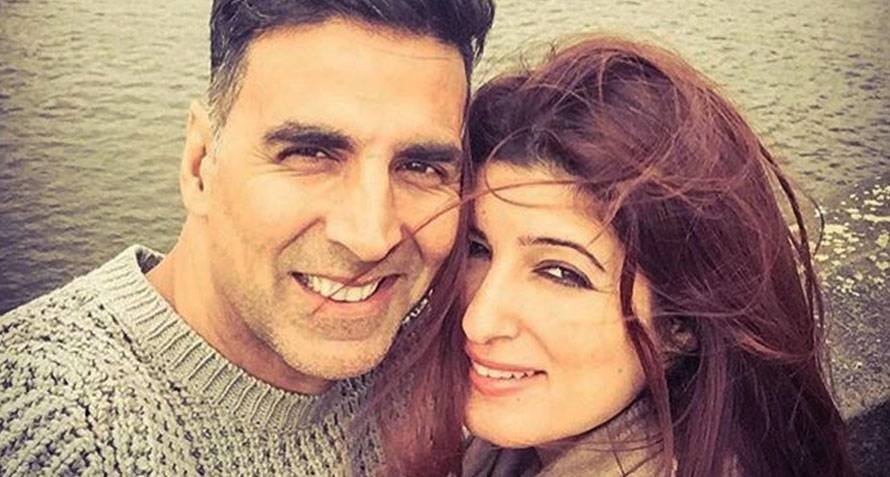 Married life has often been compared to a rollercoaster ride. We are sure you agree! It starts off a little shakily, with some hesitation but lots of expectation. Over the years, as you get to know each other like no one else does, your spouse becomes your best friend, your confidant, your soulmate. He is the father of your children, the man of your dreams. But when has life ever been straightforward? Marriage isn't insulated from ups and downs which is why we all need a mantra to keep it strong against the winds. Let's steal a look at Daddy Akshay Kumar's marriage secret…
Akshay Kumar and Twinkle Khanna got married in 2001 – a good 15 years ago. They have two kids – a son Aarav and a little daughter Nitaara. What we love best about this couple is their easy friendship, endless trust and ability to face any situation with a smile. At a recent interview, when quizzed about his marriage, Akshay Kumar had a surprise for us. He actually revealed the secret mantra he has followed over the years to keep wifey Twinkle happy:
"Stay happy, keep the other one happy, bachche paida karo (have children). And be a disciplined husband, and reach home on time after work. Listen to her carefully and give her what she wants. I am no different than a common man when it comes to dealing with the woman of the house.
She is quite the opposite of what I am. She is a bookworm whereas I steer clear of reading. I can only read scripts and agreements. The only similarity between both of us is that we get up really early in the morning."
Ahem! While Akshay's mantra may seem very simple, it is actually well-thought out. He combines all the things that matter to a partner and makes sure he delivers on them. Let's break it down a bit for you so you can start dropping hints to hubby this weekend 😉 And yes, all of these apply to you too!
Spend Quality Time with Each Other
This is imperative and has to be done no matter how busy your schedule is. The both of you must endeavour to reach home on time after a day at work. Late nights and missed dates must be compensated for! And yes, by extension, this also means you need to divide your responsibilities vis-à-vis the kids so you can create time for heart-to-heart conversation. This is what Akshay recently did when Twinkle was out of town on business. He returned home early in the evenings and spent fun times with the kids. He made sure their day was productive and well-spent. The trio then kept the house ready to welcome Mamma back. And he did all this because it was his responsibility – not because he thinks this is something Dads should be glorified for.
Listen to What The Other Has to Say
The TV blares, the phone rings, the kids throw tantrums, the microwave beeps…where is the silence that allows for conversation? No marriage can survive without communication and this gets even more important after you become parents. Listen carefully. To everything that your partner has to say about parenting, your relationship, the day that was, fears and apprehensions…everything. Akshay and Twinkle go off on mini-breaks with their kids, spend languid Sunday mornings laughing, and recreate moments from their youth. They even discuss what they want for birthdays – yes, even if the discussions are "girly" or expensive…
"On every birthday, I ask my wife, "What would you like this year?" and her instant reply is, "Diamonds! Diamonds! Diamonds!"
I'm always living in hope that one day she'll say she just wants ME!
When I tell her this, she doesn't even blink before replying, "Okay, fine… Emeralds! Emeralds! Emeralds!"
Encourage and Accept Each Other's Differences
There is a reason they call marriage a union. It is a coming together of people who may have different tastes and opinions, hobbies and interests, but want to grow old together. Allow each other the space to nurture individual passions. Don't expect a transformation in personality on your account! Enjoy the companionship and the beautiful moments that silence can bring. Twinkle, for instance, is a witty columnist and surrounds herself with books – something Akshay cannot quite understand. But this does not mean that he doesn't support her. In fact, he is proud of her achievements. Likewise, Twinkle makes sure she "rocks" with her rockstar hubby, like this gig they did recently on Friendship Day. She has also come to terms with his "idea of a romantic date" which is "a six-kilometre jog, followed by 500 crunches… TOGETHER!"
Trust and Respect Each Other – Without Question
Finally, this the make-or-break tenet of a marriage. You may be super successful and highly respected. But you deserve respect only when you show it. And no one deserves it more than your spouse who looks after you and cares for you day after day. Akshay is a big star whereas Twinkle left her career after her marriage. But with her, he is just a common man who knows any airs won't be taken well! He loves and respects his wife for who she is – her intelligence and wit and energy. She is indeed his better half.
"It's not easy being married to an interior designer. After 11 years, I'm still looking to discover an object I've suggested for our home! Why bother with Google when I have a wife who knows everything about everything!"
Though we didn't elaborate upon that one, our favourite bit was about respecting "the woman of the house!" Even in the stickiest of situations, women are forgiving and considerate. Treating her with respect and love is going to win the husbands all the wars out there. With the long weekend coming up, we'd recommend encouraging your husband to pick up a few lessons from Akkie out here and treating you to a lovely time.