Every article that we publish, confirms to stringent guidelines & involves several levels of reviews, both from our Editorial team & Experts. We welcome your suggestions in making this platform more useful for all our users. Write in to us at parenting.care@firstcry.com
At FirstCry Parenting, our aim is to give you the most elevant, accurate and up to date information.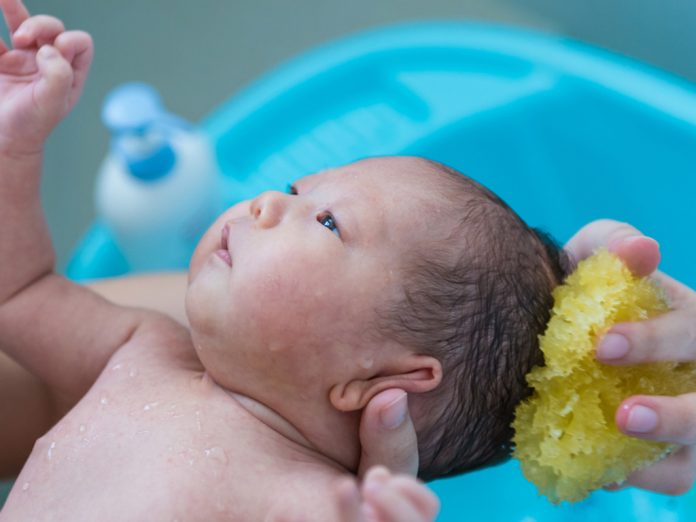 Last Updated on
Gear up to capture another momentous first-time event in your little one's life – the first bath. Like every other first time, this too is special and worth recording. Researchers say that every bath time will be your bonding time with your baby. Hence, it is important that you are stress-free during this period. Most new parents fear that they may do something wrong as they don't know how to give a sponge bath to the baby. Here's a detailed guide that will answer all your queries about how to give your baby a good and relaxing sponge bath.
Preparation for an Infant's Sponge Bath
Newborns don't get very dirty and don't require a tub bath every day. Giving your little one a sponge bath gives you some time to handle your baby before you move to a tub bath. There are a few basic preparations you must make before the sponge bath too. They are:
Start by washing your hands. Gather all the bathing essentials for your baby before you start: a large towel to lay your baby on, non-perfumed wipes, a mild baby cleanser, a few pieces of moistened cotton wool, a clean washcloth or damp sponge, a fresh set of clothes, and a nappy. Avoid soaps or perfumed wipes as they may disturb the natural balance of your baby's skin.
Keep warm water ready for soaking the sponge or washcloth.
Keep separate wash clothes for different parts of the body to ensure hygiene. Keep one cloth for legs, another one for the hands, one more for the body, and one for the head.
Choose a convenient time and place. Turn off the AC, cooler, or fan of the room you choose to bathe your baby in. The room should be comfortably warm.
Now, you are ready to sponge-bathe your baby. Ensure that you have enough time on your hand while doing this. As mentioned before, bathing time is a bonding time between parents and baby.
Steps to Follow for Giving Your Baby a Sponge Bath
Here are a few tips to help you get started:
Getting Ready
Firstly, pick a convenient time for giving a sponge bath to your baby. Some moms prefer giving a bath in the morning when the baby is awake and active while others prefer the evening time, as bathing can be a calm-down activity for the baby. Then, pick a room with a flat surface like a bathroom or bed or a changing table, and cover it with a thick towel. Check the temperature of the room and set it to 75-degree Fahrenheit (23-24 degree Celsius); remember babies get a chill very easily. Finally, assemble all the essential stuff required during the sponge bath and afterwards.
Getting ready also means spending some time talking to your baby before the bath. After all, it's a wonderful time to bond. Also, undress your baby before the bath and wrap him/her in a towel. Keep the diapers on though. You don't want the baby to pee all over the place just when you are cleaning him/her.
Wash the Eye Area
Dampen a cotton ball in warm water. Then, holding your little one's head, gently cleanse the eye area. Start wiping from the corner of the eye and move outwards. Use a new cotton ball for each eye. Cotton balls don't shed any lint and hence are safe for your baby's eyes. Avoid washing the eye itself, and if there is no dried mucus in the eye, then you don't have to wash the area around the eye too.
Wash the Face
Take a soft washcloth, dip it in warm water, squeeze the extra water out, and gently wipe your baby's mouth, nose, and other parts of the face. The areas behind the ears, under the chin, and creases in the neck require special attention. Once done, pat the face and neck dry.
Wash the Hair
Washing your baby's soft hair is an essential part of the sponge bath. Start by wrapping your baby in a towel and putting your arm under his/her back and your hand under his/her head. Then get hold of a wet washcloth with the other hand and wipe the head gently but properly. Avoid using soap-based shampoos at this stage to prevent any skin irritation.
Wash the Body
Use a soap-free baby cleanser to wash your baby's body. Keep the baby's head covered with the corner of a towel. Unwrap the towel from the rest of the body and remove the diapers too. Wet the washcloth and wipe the baby's body from neck to waist. Also, wipe the arms and hands. Once done, pat the baby dry. Now, cover the upper part of your baby's body and start wiping the legs, feet and toes with a fresh, wet washcloth. Wash the diaper area, in the end, using clean, warm water. Use a front to back motion to wipe the diaper area for both boys and girls.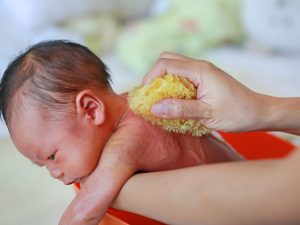 Please ensure that after wiping the baby clean with a wet washcloth, you pat dry, especially in the crease areas. Excessive moisture on your baby's skin can cause skin irritation.
Umbilical Cord Care
Put your baby in a diaper and a t-shirt before cleaning the umbilical cord. Use a cotton ball to clean the base of the cord and the area around it. It is important to clean the cord properly because the quicker the base dries, the sooner the cord will fall off.
Also, never cover the umbilical cord with the diaper to avoid chances of infection. It's important to leave it dry and clean. Don't over rub as trauma can cause bleeding.
Moisturising
Your newborn's sponge bath will be incomplete without moisturisation. Use a mild moisturizer after the bath to keep your baby's skin smooth, soft and healthy.
It is essential to ensure that the baby's skin retains its suppleness. Keep a moisturising lotion handy for application after the bath. Choosing a mild lotion is advisable.
Dressing
Choose loose cotton clothes for your baby. Since the baby spends most of the day lying down, avoid picking clothes which have buttons or zippers down the back. It is also important to have a receiving blanket ready to wrap your baby in after the bath.
A sponge bath is easier on the baby compared to a regular tub bath. Additionally, you can regulate the quantity of water that each body part of the baby receives. This can be helpful in keeping areas such as the umbilical cord dry. Wish you and your little angel a happy bonding time during a bath!
Also read: Bathing Your Baby