9 Effortless Fashion Hacks to Hide Flabby Arms in Style!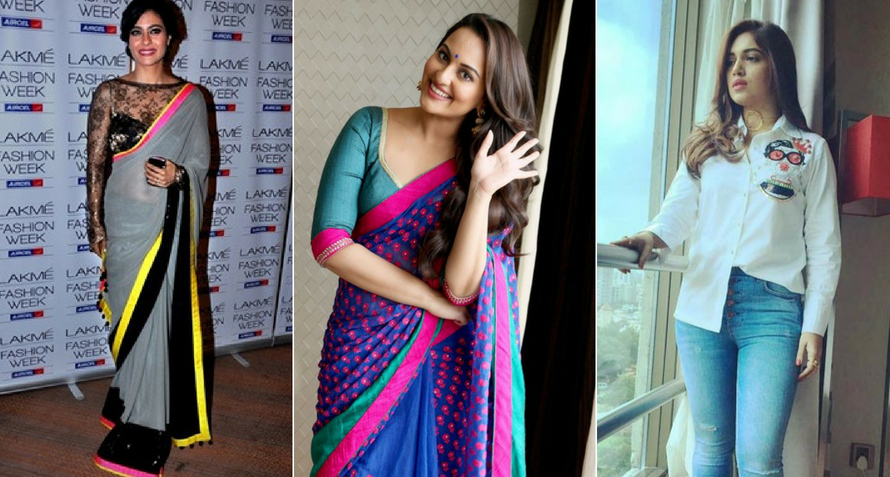 In this Article
Learn how to dress so that the focus is on your attire and not on your flabby arms. With these smart tips and tricks, you'll be flaunting terrific style that will certainly garner envious looks. Read on to know what they are.
Hate flabby arms but don't know how to hide them? We have just the tips for you. While exercise and a healthy diet can guarantee gorgeous toned arms, not everyone has the time or the mind to follow a proper workout. The next best thing is to choose clothes that hide flab while making sure you look superb. If you've been wondering what types of tops and dresses will work for you, check out these nifty fashion hacks to help you dress for flabby arms without hampering your style.
How to Hide Flabby Arms
1. Cover Them Up with Stylish Sleeves
The best way around the problem is to cover flabby arms. This means sleeveless and halter-neck dresses are out the window. If you just can't do without them, use a sheer shrug or a stole to shift focus away from your arms. A stylish pendant necklace and statement earrings will further draw attention away from your arms. Sleeves don't have to be boring at all – have you seen bishop, flared, and kimono sleeves? Gorgeous and super trendy! As for a full-sleeved lace sari blouses – what a way to elevate your sari look!
2. Layer up
Adding an extra layer to your outfit is another sure way to hide flabby arms. But layers in the summer? Why not! You can try teaming dresses with full-sleeved shrugs in different colours and patterns during the summer season or choose netted shrugs that cover your arms but do not suffocate you in the heat. This is also a wonderful way to add style to your looks. Come winter and you have even more layering options. Pair tops with different kinds of jackets, woollen shrugs and cardigans.
3. Go 3/4th with Sleeves
The best part about this style is that it ends at your arm in such a way that the narrow part (your forearm) is visible. Through this, not only do you end up looking super-chic because your entire body now looks trim, but goodbye visible flab! Roll up your full-sleeved shirts at the elbow if you can't find readymade 3/4th sleeves. 3/4th sleeves have made their mark with sari blouses too, and it looks like they are here to stay!
4. Go Off-shoulder
Off-shoulder dresses never seem to go out of style. What's even better is that they can cleverly hide flab if chosen well. Go for an uber-feminine garment that shows off your collarbone and maybe even your back, but which has long bell sleeves to cover the arms. A dress with loose-fitting sleeves and elasticated wrists can also cover the arms while ensuring you look stunning. Accessories like delicate pendant necklaces and hair-pins can draw attention up and away from your arms.
5. Avoid Super-short Sleeves
Short or cap-sleeved outfits end up emphasising bulky arms. In fact, if it ends at any point between the shoulder and the elbow, you'd do better to steer clear of such outfits.
6. Try the Cold-shoulder
Yet another trend that is making waves, whether in modern or traditional outfits, the cold-shoulder design is the perfect way to give a little peek-a-boo action for your shoulders – but still covering your arms. The best of both worlds, we'd say!
7. Choose Dark Colours
Darker shades are slimming so make them regulars in your wardrobe. Tops and dresses in solid black, navy, chocolate brown and forest green are perfect. You can also use layers in dark colours to lend a slimming effect to light-coloured clothes.
8. Pick Small Prints
Aside from garments in dark shades, you may want to choose clothes featuring small prints. They draw the eye inward instead of outward. Small floral prints, tiny polka dots and narrow vertical stripes are top choices. If you're going for a panelled top, pick one that has the prints on the bodice, not on the sleeves.
9. Draw Focus to Your Assets
Draw eyes away from your arms by making sure they have somewhere else better to land on! Accentuate your figure with a cinched-in belt, bare your sexy shoulders, show off those long legs – and people won't really notice the one thing you want to hide!
Besides choosing the right kind of clothes, maintain good posture so that your shoulders are back, your chest is out and your stomach is in. This gives the illusion of a taller frame and slimmer arms. With the two combined, you'll have no trouble hiding your flabby arms.