9 Doting Bollywood Grandparents Who Will Make You Smile!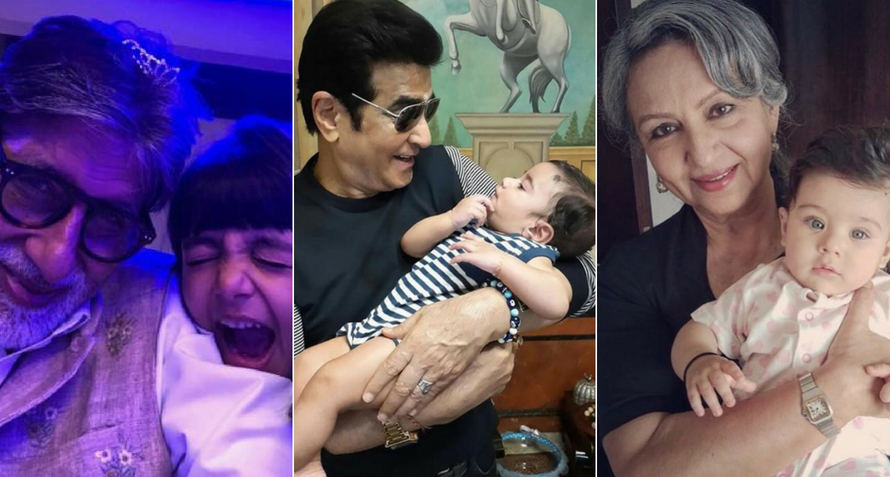 There's someone who loves your child with all their heart. They may not meet them every day or even talk over the phone often. But whenever they do, they cannot stop grinning and gushing, and the gifts and toys keep queuing up longer every time…Who are we talking about? Why, grandparents, of course!
Near or far, together or living apart, people like us or celebrities from Bollywood, grandparents are the most doting people on the planet! When your kids are young, they shower them with attention and care, babysitting for you and feeding your darling, all the while as delighted as little children themselves. With time, they become best buddies with their grandkids and while they enjoy this too, they cannot help but exclaim every day – where did the time fly?
In Bollywood too, grandparents keep their young friends at the centre of their universe. This is why we brought you a list of Bollywood grandpas and grandmas who couldn't be happier than they are when their tiny pals are around! Prepare to have your heart melted…
1. Amitabh and Jaya Bachchan
Amitabh Bachchan is a grandfather to Navya Naveli and Agastya Nanda. However, the Bachchan household has transformed ever since little Aaradhya was born and Amitabh Bachchan cannot stop gushing about her. He arranges his schedules around her so that they can spend time together, he makes sure he attends all her important school functions, and this is the best part – he is a rapt audience member for her singing!
"She sings to me. This generation is very different. They don't like 'ale bachche' and all. They will talk straight to you. (Aaradhya can) quite cutely, imitate some of my dance moves that she has noticed on TV.
It's not just Aaradhya who's learning from Grandpa, but the other way round too! So, what is the little one teaching Big B?
https://www.instagram.com/p/BdZMmW4BGA-/?utm_source=ig_embed
"These days Aaradhya talks non-stop and I would like to learn that from her. The media thinks I talk less. (Also,) When Aaradhya was one-and-a-half-year-old she started playing games on Ipad… searching for her favourite cartoons. I still have not been able to get very acquainted with FaceTime or Skype, and I have problems with them! But every time my family travels, particularly my granddaughter, it's a joy for Abhishek to come to me and say 'Hey, when did you speak to Aaradhya last?' It's just these little things that children or grandchildren do for you, which makes life a lot easier."
Children today really grow up fast and have a million things to teach us about being sunny and positive in life. The best part is that Big B gets to enjoy both roles – Dada and Nana. His daughter Shweta's children Agastya and Navya also dote on him.
2. Rishi Kapoor and Neetu Singh
The popular Bollywood couple positively adores their little grandchild Samara. She is their daughter Riddhima's baby girl and is already turning 7 years old in March 2017! And it's not only her grandparents but Samara's uncle Ranbir loves doting on her too!
https://www.instagram.com/p/Bd20jH-HPCF/?utm_source=ig_embed
We wonder when Ranbir Singh will get hitched and give them another chance to experience the bliss of becoming grandparents.
3. Sunanda Shetty and Sudhakar Shetty
https://www.instagram.com/p/BbuXZ3HAm1h/?utm_source=ig_embed
Shilpa Shetty has a fitness and happiness secret you would never have guessed. Nah, we aren't talking about diet and exercise. We are talking about love! Shilpa's parents Sunanda and Sudhakar cannot get enough of little Viaan Raj Kundra, and this happy relationship certainly keeps this mommy fit and tension-free! When you have a support system to deal with the challenging role of parenting, things become a lot more manageable. Right, ladies?
4. Babita and Randhir Kapoor
https://www.instagram.com/p/BdH31dunQwI/?utm_source=ig_embed
This couple was already having the time of their life with their cute grandkids Kiaan and Samiera Kapoor – Karisma's children – when Bebo was blessed with Taimur! The doting grandparents are often seen in public swooning over the little nawab of Pataudi.
With the little nawab already stealing hearts across the country, he surely is on his way to becoming the most talked-about baby on social media!
5. Salim Khan and Salma Khan
https://www.instagram.com/p/BTwRILrjsM9/?utm_source=ig_embed
The Khan household has a new bundle of joy – Arpita and Aayush's little son Ahil who is quite the centre of attention! Ahil looks happy and loved, and if this Iftaar picture is anything to go by, he has already picked up style tips from the household!
6. Jeetendra and Shobha Kapoor
https://www.instagram.com/p/Bdf2N0GnE13/?utm_source=ig_embed
Recently, Tusshar became a single father to baby Laksshya and now the Kapoors have a new, cuddly gift to cherish and nurture.
"We could not be more excited to be grandparents to Laksshya, and are completely supportive of Tusshar's decision. This is certainly a tremendous blessing and an exciting time in our lives. Tusshar is a wonderful son, and he has proven, with responsibility, independence and kindness, that he will be a great father to Laksshya."
Looks like the happy grandparents love their playtime with the tiny one.
7. Suresh Oberoi and Yashodhara
https://www.instagram.com/p/Bd7KA3Bh2h0/?utm_source=ig_embed
Guess who is the focal point of the Oberoi couple's life? Vivek Oberoi and Priyanka's two kids Vivaan and Ameyaa! This adorable video shows just how much Suresh Oberoi loves spending time with his grandkids! Indeed, here's one Dada who has reason to be doubly happy…
8. Pamela Chopra
She is the happy grandmom to Rani Mukherjee and Aditya Chopra's daughter Adira. Last time we heard, this quiet couple and the family was having a blast of a time in Paris. We bet Adira gels with her Dadi beautifully!
9. Sharmila Tagore
https://www.instagram.com/p/BitCGYpha8x/?utm_source=ig_embed
Happy grandmom to four little ones now, Sharmila was vocal about how she was looking forward to the birth of Taimur, son of Saif Ali Khan and Kareena Kapoor, back in 2016. Come 2017 and she was blessed with a new doll of a grandchild – Inaaya, daughter of Soha Ali Khan and Kunal Khemu. While she would love to spend more time with them, she understands that commitments come first. However, there's no doubt that she loves doting on the adorable little starlets!
These grandparents just made our day, what about you? The love they have for their grandchildren is as pure and innocent as childhood – there's a reason they get along like pals of the same age.
For your child to grow up with empathy and kindness, the role of the elders in the family is very crucial. They can teach life lessons with the simplest of stories; after all, they have a lifetime of experience behind them. Even if you don't live in a joint family, make sure the kids bond with their grandparents every now and then, say, over family get-togethers or on the phone. This is not a relationship you want them to miss out on!
Unsure how to cement your child's bond with his grandparents without giving up on your parental beliefs? Read this complete guide on relationships and young children.
How is your child's relationship with his Dada, Dadi, Nana and Nani? We are sure he is the apple of their eyes! Do share your pictures with us in the Memory Section.