9 Beautiful Tattoo Ideas for Moms To Permanently Ink Your Love For Your Child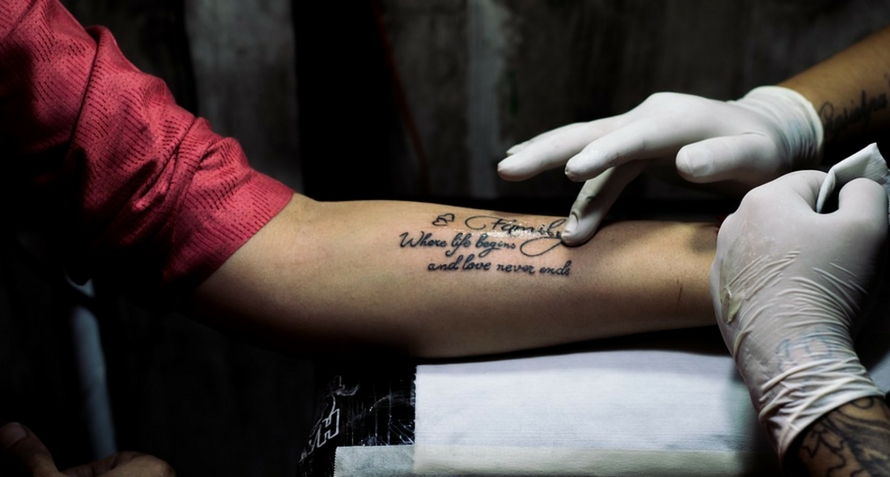 There are some things that never change in life – your love for your child is one of them. So why not turn your love for your child into a tattoo? Here are some unique tattoo ideas for moms.
Tattoos are perhaps the only worldly thing that you can actually take with you to your deathbed. They are permanent, eternal, and hence used by many as a form of individualism and expression. Getting a permanent tattoo can be a big concern for many people – how can you get something inked on your body permanently, forever, which will never change, when life itself is so dynamic?
But there are some things that never change in life – your love for your child is one of them. You may temporarily be enraged by the things your child says or does, but nothing they ever say or do will ever make you not love them or not care for them anymore.
So why not turn your love for your child into a tattoo?
9 Tattoo Ideas for Moms to Declare Their Love for Their Baby!
1. Name Ambigram: An ambigram is an image that looks upright even when it is turned upside-down. For example, if you turn a square upside-down (i.e. if you rotate it through 180o), it will still look like a square. But if you turn a triangle resting on its base upside-down, it will now rest on its apex.
Not only images, but even letters can be made to look like an ambigram. The above image reads 'Yash' right side up, and even when turned upside down. You can get a similar ambigram of either only your child's name, or both your and your child's name. The ideal place to get this tattoo is on your wrist or arm.
2. Roman or Binary Birthdate: The birth of a child marks a significant day in your life – it is the day that gave birth to you as a mother, along with your baby being born too. A day that changed your life forever. You can get the birthdate of your child as a tattoo. To make it interesting, you can write the birthdate in Roman numbers, or binary code.
3. Name in Infinity: They say – "Once a mother, always a mother". Now that you are a mother, there is one person in your life that you will always love. Your child is one person in your life who is never going to be without your care and attention. If there is a time when women understand the meaning of the word 'forever', it is after they become mothers. So why not put your infinite love for your child into a tattoo?
You can insert your child's name into the infinity sign. This is a very symbolic tattoo and will show just how much you love your child!
4. Sound Wave: When you record sound, digitally it looks like a 'wave' – much like the wave formed by a beating heart on an electrocardiogram. So why not turn that into a tattoo?You can get your child to say your name, or say that she loves you. You can even tattoo the sound wave of the first time your baby chuckled, or even your baby's first cry as she was born in the hospital.
5. Heartbeat: Another popular trend among many parents is to get their child's heartbeat tattooed on their wrist. What could be more singular than your child's heartbeat?
You can make this one more interesting by adding your child's name, initials, or any other special details in continuation of the heartbeat.
6. Fingerprint or Footprint: Those tiny hands and feet, those tiny fingers and toes of your baby are one of the cutest things that any and every mom loves to observe and keep staring at for hours together. Fingerprints of your child can make for another singular tattoo idea.
7. Your Honeymoon/Conception Date: Confused? Well, every couple likes to track back the moment of conception of their child, once they find out that they are pregnant. And because that was the day that your child was 'created' so to speak, doesn't it make that day a special day? The date of conception of your child might hence be a great tattoo idea. It will also be unique!
While it may be difficult to pinpoint the exact date of conception, we are sure you can make a pretty good guess. 😉 If, however, you need help tracking the date, here are eight things you should know about your menstrual cycle, to successfully track back to the date you conceived your child.
8. Mommy and Baby Animal: If your child is old enough to have a favourite animal by now, you can get a cute cartoon of the animal tattooed. Mumma and baby elephants, mumma and baby squirrel, or a dog and a puppy, cat and kitten… you get the drift.
9. Portrait: We saved the best for the last. A really skilled tattoo artist can tattoo your baby's portrait on you! Nothing better than having a picture of your baby on you forever, no?