8 Fun Ways to Recycle Old Crayons for Kids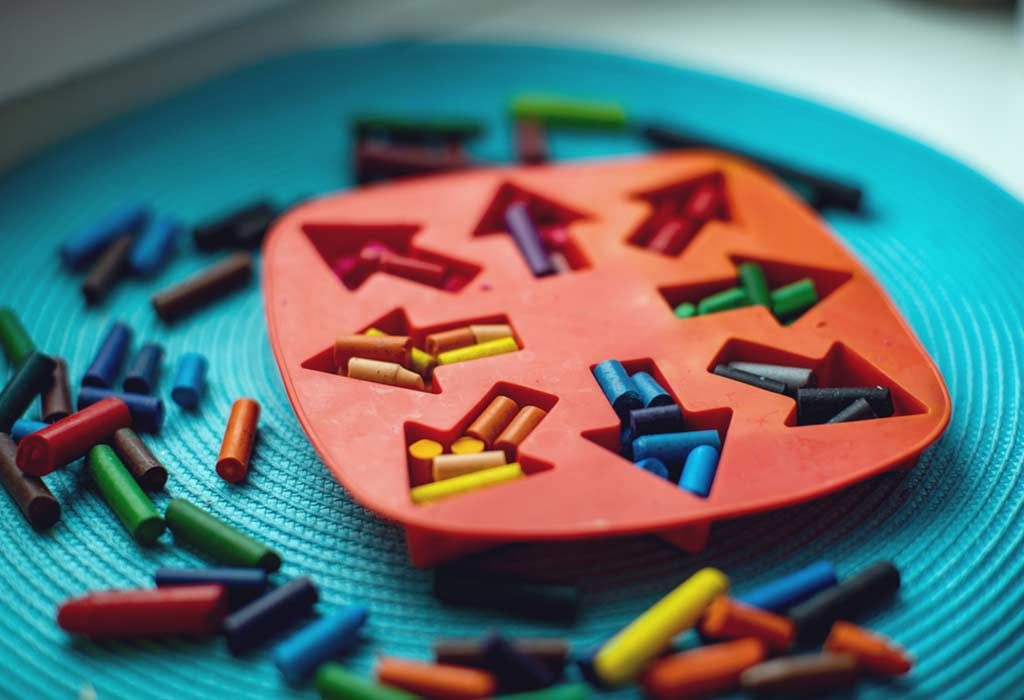 In this Article
Most kids have tons of art supplies, like paints, crayons, markers, and plenty of other colourful things to rule their time and imagination. But what happens when the art supplies come to their end, or when your child gets bored with his current colours? Don't worry, there are plenty of things to do with that box of used crayons! Try out these awesome DIY activities that you can do together with your little one, and have a great time bonding and doing new things!
Awesome DIYs for Recycling Old Crayons for Kids
These crayon arts and crafts activities are perfect for kindergarten and preschool children. It will keep them busy and happy, and will give you something fun to do, too!
1. Alphabet Crayons
You can try out this fun Alphabet Crayons DIY project. Plus, when you're done, you can spell out your child's name using the letters created!
What You Will Need
Silicone alphabet trays
Baking sheet
Oven
Crayons (used)
How to Make It
Break the crayons into tiny pieces, and fill up each letter of the alphabet silicone mould with them. Preheat your oven to 225 Fahrenheit, and place the tray on a baking sheet.
Bake the crayons set in the mould for about 20 to 25 minutes. If there's a lot of clear wax on top after baking, mix and stir using a paper clip. The mixing has to be done before the coloured wax sets into the mould.
Let the crayons set and cool down completely.
When it's done, you can remove the alphabet moulds and spell out your child's name by simply rearranging the letters you created. How fun!
2. Rainbow Crayons
Rainbow crayons make for some of the best DIY ideas for broken crayons projects for kids. You can stack them up, rearrange them, or even build a tower out of them!
What You Will Need
4 pill bottles
4 metal tin cans
Used crayon stubs, 4 different colours
How to Make It
Break the crayons into smaller pieces. Pick a colour, and put its pieces in a metal tin.
Heat a saucepan, put in the metal tin, and fill the pan with water till it covers the bottom part of the metal tin. Boil until the crayon melts.
Now, pour the melted crayon into a pill bottle. Let it set.
Repeat these steps for the other 3 colours, making sure to cool each one down completely.
Your rainbow crayons are now ready to use!
3. Easter Egg Crayons
Easter egg crayons make for a cute DIY crayons project when it comes to recycling. It's perfect for spring!
What You Will Need
Easter Eggs mould tray
Crayons of different colours
How to Make It
Unwrap and break the crayons into smaller pieces, mix them up, and fill up the Easter egg moulds one by one.
Preheat the oven to 225 Fahrenheit, and bake the crayons for 12 to 15 minutes by placing the tray on a baking sheet.
Remove and set aside. Let the moulds cool completely. Then, gently scoop them out. Your Easter egg recycled crayons are now ready!
As a bonus, you can even decorate them with stickers, or paint on them to give a creative touch.
4. Crayon Lip Gloss
Do you fancy a DIY crayon crafts project that doubles up as a makeup kit? Try making this crayon lip gloss!
What You Will Need
2 tbsp extra virgin coconut oil
Non-toxic crayons
Metallic pan
Glass bowl
Paint containers with lids
How to Make It
Before making crayons for the lip gloss and setting them up, make sure you remove the wrappers.
Take a metallic pan, add water to it, and place it on a stove
Add the glass bowl on top of the pan, and make sure it doesn't get fully immersed in the water. Break the crayons into small pieces, and add them to the bowl.
Mix in the coconut oil, and heat up the pan on medium heat. The crayons will melt, and you can use a toothpick to stir the mixture.
Pour this mix into the paint containers, and let them cool for some time. Then, put on the lids, and set them aside to settle down.
Your crayon lip gloss is now ready! You can apply it to your lips, and try out different shades.
5. Melted Rainbow Crayons
This project is pure eye candy for kids. It's even better than making crayon candles, and is super creative – try it out!
What You Will Need
Canvas
Hot glue gun
Glue stick
Hair Dryer
Lots of crayons
How to Make It
First, place the newspaper on the floor, as it will catch any spilt crayons.
Lay a 16" X 20" canvas board flat on the ground, and line up crayons near the top. Add a layer of glue to one side of the crayons, and stick them to the top of the canvas. If any of them are still pointed, keep that side facing downwards.
After the glue dries, prop up the canvas board, and turn on the hairdryer. Adjust the heat settings, and slowly point the dryer towards the crayons. Work from the middle to the bottom, where the tips are pointing. Move around from crayon to crayon so that each of them doesn't melt too quickly. If you get the timing and pacing right, you'll see the crayon tips melting and oozing rainbow liquid at an even pace.
Keep going until you have a splash of colours all over the canvas. Your rainbow crayons masterpiece is now ready to be displayed!
6. Crayon Bottle
The crayon bottle is the ideal activity for calming down kids, relieving anxiety, and preventing ADHD. All you need is a bottle and non-washable crayons to get started!
What You Will Need
Non-washable crayons
Plastic water bottle
Water
How to Make It
Take the old crayons, and remove the wrappers. Make crayon shavings, and put a few tablespoons of them inside the bottle.
Fill up the bottle with water, close the cap, and shake it well.
Let the bottle sit on a table, and allow the kids to observe. The crayon shavings slowly settling down to the bottom will help calm them down.
7. Crayon Play Dough
Playing with crayon play dough makes for a fun sensory activity.
What You Will Need
Crayons, 2 and a half (broken)
Vegetable oil, 2 tbsp
Flour, 3 cups
Salt, 1 and ½ cups
Cream of tartar, 2 tbsp
Water, 2 cups
How to Make It
Chop the crayons and set aside.
Take the dry ingredients (flour, cream of tartar and salt) and mix them well.
In a pan, heat the oil. Add in the crayons, and let them melt. Stir in the water until the colours mix.
Add the dry ingredients to the mixture, and let the dough form a ball under the heat.
Once the dough looks ready, place it on a cutting board, and allow to cool down.
Knead well for a few minutes until it is smooth.
Repeat the steps above for making more coloured play dough!
8. Crayon Christmas Ornaments
Making Christmas ornaments out of crayons is a fun activity to do! You can even hang them up on your Christmas tree and show them off to your guests.
What You Will Need
Metal ornaments
Used crayons
Hairdryer
How to Make It
Gently remove the stem of the metal ornaments.
Place broken crayons inside them with their wrappers removed.
Turn on the hairdryer, and aim it at an angle towards the ornaments. Slowly turn the ornament, and swirl it around to let the crayons melt and ooze. You want the liquid to spread and paint the ornament from the inside.
When you're happy with the look, let the ornament cool, and put the stem back in place!
These look like so much fun, don't they? Try these out at home or in the classroom with the kids, and have a good time with them!
Also Read:
DIY Shoebox Craft Ideas for Children
Waste Material Craft Ideas for Children
Recycling Games & Activities for Children
?>