6 Things You'll Have To Deal With If Your MIL is as Particular As Maya Sarabhai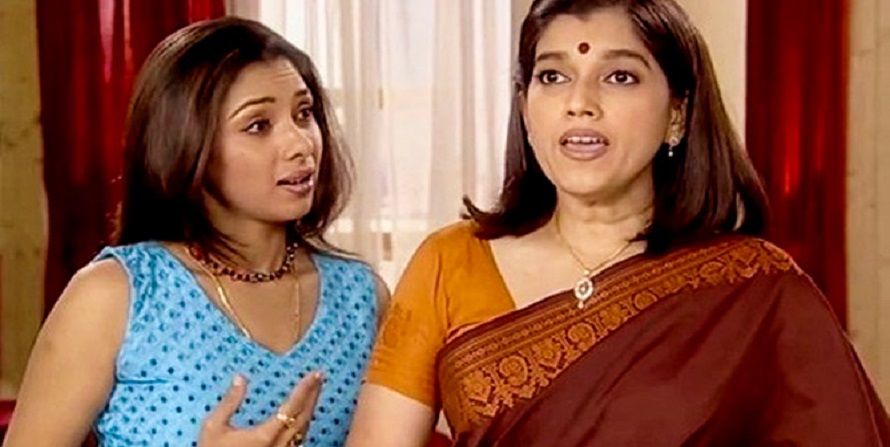 The age old mother-in-law and daughter-in-law tug of war never gets old. It is a funny relationship, really. You may not be related by blood, but have a huge influence on each other's lives. When a woman gets married, she is expected to adapt to a whole new lifestyle, and let's admit it – it isn't easy. But what makes the process tougher is to live up to 'expectations' your mother-in-law may have. And God forbid your mother-in-law is as particular as Maya Sarabhai, you'll certainly have some large shoes to fit in!
Maya Sarabhai is classy, intelligent, a great home-maker who also fulfils umpteen social commitments, and never has a hair out of place. She is the true-blue superwoman and makes sure everyone around knows it. While we all love Maya for her grace, panache and rib-tickling wit, there's no denying – she does make her DIL's life – um, let's say – stressful.
Here are 7 such everyday life situations you can definitely relate to if your mother in law is a perfectionist like Maya, and settles for nothing less than an A+.
1. Following a Set Pattern of Doing House Chores
'We don't use XYZ brand to clean the tiles beta, use 'ABC' instead'! – If this sounds familiar to you, it clearly shows that your mom-in-law is extremely particular about what she does and more importantly how she does it. She may have an obsession with cleanliness and wouldn't have it any other way. Chances are, you will keep hearing advice on how to keep your marbles sparkling and your cupboard organized!
The trick to handle such a situation is to explain why your alternative method can actually work too. You never know, you both may just start bonding on some new and inventive methods of cleaning your house!
2. Always Being the Perfect Healthy Chef
In Indian households, it is usually taken for granted that the woman of the house is the designated cook too. And since this tradition has been followed by many generations, it is expected that the daughter-in-law should know how to cook healthy, hearty and most importantly innovative and tasty meals for the entire family. Except, there is a glitch – this fact is clearly assumed. What if you aren't a good cook? Worse – what if your mom-in-law is an excellent cook (or so she keeps saying!)?
Well, it isn't necessary that you know how to cook, and the only way to avoid beating yourself down with all these sky-rocketing expectations is to communicate. Maybe your mom-in-law will be able to teach you a dish or two. And well, you're a modern age bahu, you always have the internet to your rescue!
3. The Pressure of Always Being Prim & Proper
This one is a clear struggle. Every person has a sense of dressing and an individual style. It becomes extremely difficult to dress according to what someone deems classy or appropriate, even at home. If your mother-in-law is anything like Maya Sarabhai, it's quite likely she is always in her well maintained cotton/silk sarees at home, and your pyjamas are obviously not the way to go.
You should be comfortable in what you wear and this is something that entirely depends on you and no one else. Try convincing your mom-in-law to experiment with her styles and you can also follow her tips once in a while. You both will make a glam MIL-DIL pair, and that's a complete win-win!
4. Be Careful What You Do With Your Free Time
If you have a mother-in-law who is always keeping a check on everything that's happening, chances are very likely that you are being watched like a hawk. Although the fact that you have 'free time' itself is quite questionable, what you do with it also something you always need to be careful of. What music you listen to or what you watch on TV will be judged, always.
Maya: Good morning Sahil
Sahil: Good morning mom
Maya: Clinic jaane ke liye taiyyar?
Maya: Good morning Monisha
Monisha: Good morning mummy ji
Maya: TV dekhne ke liye taiyyar?
5. She Is Always Right, the Fault May Be With You
'I told you so' – this is perhaps one of the statements your mom-in-law always keeps mentioning. If there is an argument or a disagreement, it's usually you who is at fault and not her. And that is something she will never fail to show you.
It is always best to not aggravate an argument, but ensure that if you are right, it should be communicated so. You don't need to be rude about it, but a healthy approach where you keep your point across too helps.
6. Her Son Is Perfect (Your Husband – Not So Much!)
Just like any other Indian adoring mother, Maya also finds her sons Sahil and Rosesh to be absolutely perfect. So, what about Monisha then? (well, let's not even go there!). For your MIL too, her son is perfect (no matter how spoilt). So what if he still needs someone to give him a glass of water or serve him food? He is still the best!
Well, you can't perhaps change your mom-in-law's perception of her son, but you can definitely bring about some changes in your husband's lifestyle. Doesn't hurt anyone there!
Well, love her or hate her, you certainly can't ignore her. Your mom-in-law will always play a huge part in your life. Do not worry if she has an opinion like Maya Sarabhai over everything, in the end, Monisha always manages to win hearts!