6 Outfits to Steal for Your Little Boy from the 'Junior Nawab'!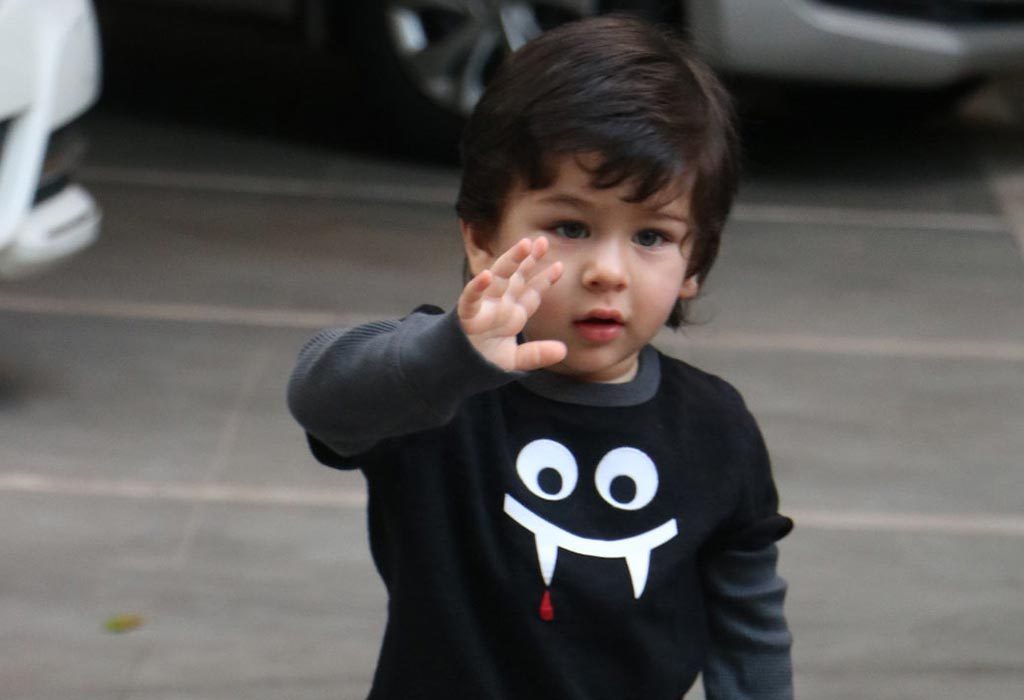 There's no doubt about the fact that there is a new favourite Khan in town – and we're not talking about anyone older than the age of two! That's right – Taimur Ali Khan, who needs absolutely no introduction, has been the apple of the media's eye for quite some time now. His photogenic cherub appearance and confidence in front of the cameras apart, Taimur's outfits contribute just as much to his 'cuteness factor'. The little one is always rocking stylish outfits that you know would look good on your baby boy too. Well, no more gazing wistfully at the pictures and wondering where you can find those looks for your munchkin – your search for Taimur's popular 2018 looks ends here!
1.Baby's Day Out!
T-shirts and shorts – comfy for the baby and cute enough for the world to fawn over! Nothing spells out casual than a cute little tee and a pair of these 3/4 shorts that allows your baby to move with freedom and have the time of his life! Layer 2 different T-shirts to keep your little one warm and pair the look with classic canvas shoes that never go out of style!










2. Mumma's Little Munchkin
Dungarees are the quintessential 90s look and it's an outfit that we instantly associate with little babies. While the classic denim dungarees are an ever-favourite choice, your little boy would look incredibly adorable in little overalls like these too, right? You can either buy the entire piece together or layer it up depending on your preferences of colours!








3. Little Man of the House
Honestly, cute and comfy as other choices are, there is an inexplicable amount of cuteness that is radiated when babies dress up in grown-up clothes. Just look at little Taimur in his semi-formal shirts and jeans and sneakers to pair – can you imagine how cute your little one would look! Dress him up for a function or a party and watch out for all the "aaaw"s that will come his way!








4. Nawab Junior!
If you thought formal outfits looked cute on kiddos, here's how to turn it up a notch with Indian formals, perfect for festive seasons! A simple vest or a comfortable kurta-pyjama, and your baby boy will be gaining quite a few fans with his handsome looks! Bandhgala jackets and kurtas are available in plenty of colours and designs – make sure you stock up for the Christmas and New Year parties coming your baby's way!








5. Snug and Stylish
Winters make us all reach out for our heavy sweaters and jackets, and your baby's case is no different. In fact, it's more important that he stays all layered up to battle the cold! Bundle up your little one in quilted jackets and hoodies like these, which ooze style and class, and are perfect for the chilly weather!






6. Ready for Playtime – in Style!
Athleisure is a growing trend among adults, but who says babies can't have some of this fashion-action! Taimur rocks the athleisure look with his jersey tees, trackpants, and little baby sports shoes (we know your heart skipped a beat there!). Your baby will look like a mini-sports icon while running around in the park behind your house, and none of these garments will hold him back from having fun either! So what are you waiting for? Athleisure fashion it is for your son's active playtime routines!








Now that your little boy is going to be all suited up or kicking back in comfy gear, there's only one thing left for you to do – make sure he's safe from the paps!