6 Outfits That Will Make Your Little Superstar Shine This Festive Season!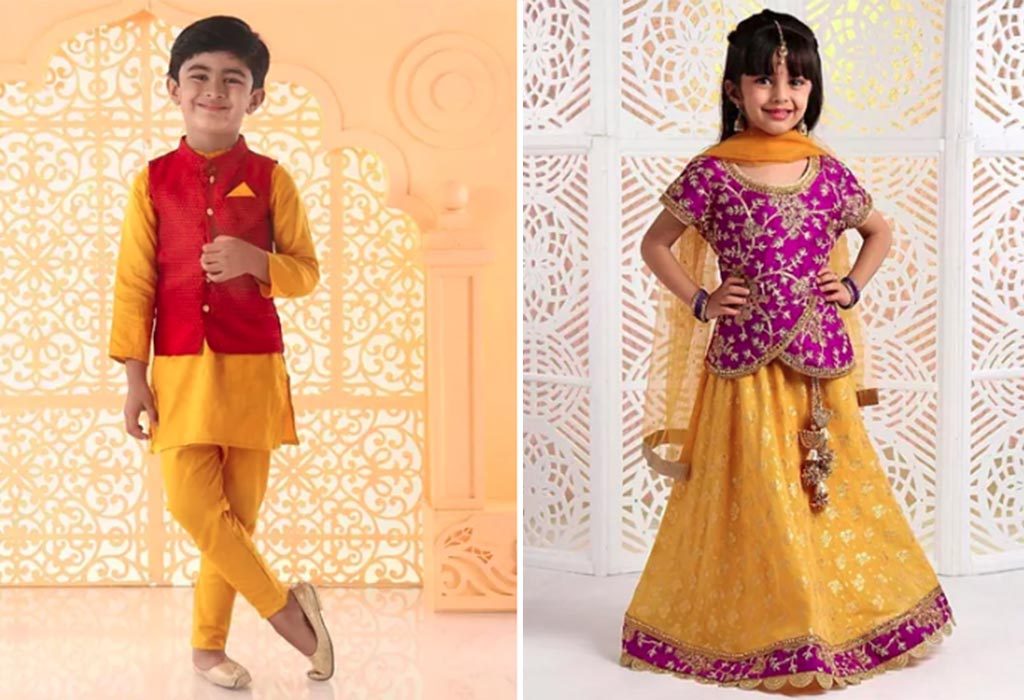 In this Article
The festive season is here, and we are sure you can't wait to celebrate it with friends and family. It is the time for good food, dressing up, and having a gala time with your loved ones. But, what will your little ones wear to look their best this season? Your child will need clothes to suit daytime and evening functions, and you might not have the time to go through an endless list of clothes to select outfits for them. Well, we have you covered. Here are some outfits to make your kids shine like superstars this festive season!
For Your Little Princess
1. Dresses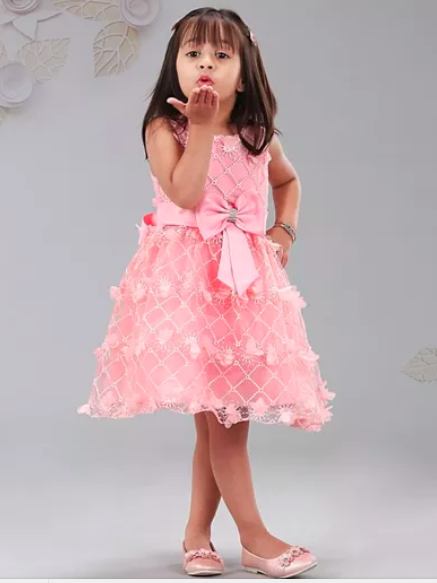 This festive season, add colour to your little darling's wardrobe by choosing from a range of dresses in a variety of colours and fabrics. If you are unsure of which dress would be best for Diwali, we recommend those with frills and embroidery. If you are still confused, go for tulle dresses in pastel colours because they can never go wrong. Also, dresses for baby girls are available in varying lengths, from adorable little frocks to elegant gowns. Knee or calf-length dresses are best for the little active girls who won't let anything come in their way of enjoying the festival. For those who can gracefully handle a full-length outfit, a long gown or an asymmetrical dress will be perfect for an angelic look. Or, how about surprising her with a stunning frilly dress that looks like her favourite princess's gown? Further on, to put the perfect festive look together, you can add accessories like bracelets/bangles, hairbands, hair clips, a pair of shiny shoes, and watch your baby girl win everyone's heart!
2. Indo-Western and Fusion Wear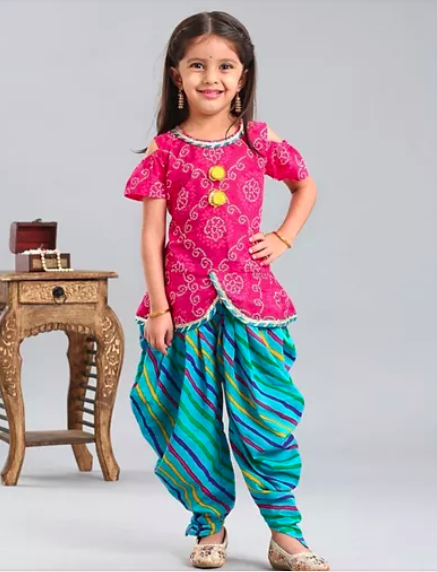 If you and your little princess usually go for something different, indo-western and fusion wear will be a perfect choice! This style has gained immense popularity owing to its modern cuts, patterns, and styles combined beautifully with traditional fabrics and embellishments. We recommend mirror work and embroidery for that festive look. You can choose from stitched dhotis, jumpsuits, palazzos, pants, skirts, kurtis, tops, shirts, jackets, etc., either in sets or individually to mix and match, and create something unique for your little star! Don't forget to accessorise. Usually, lightweight bangles, bindis, and hair accessories work well with these outfits. Also, add a complementing pair of shoes or sandals to the outfit to complete the look.
3. Lehenga or Ghagra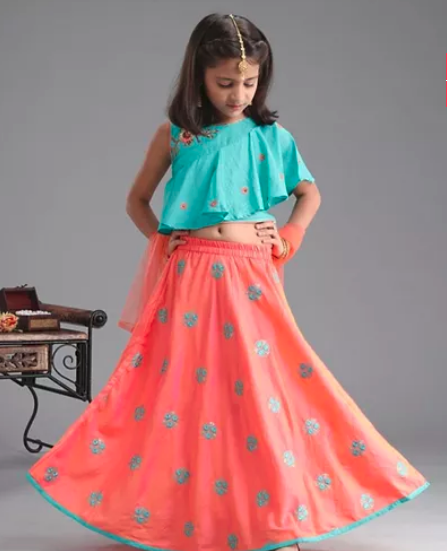 Want to go a little more traditional this Diwali? We recommend lehengas and ghagras for your little angels. Each of these styles comes with a choli/ top, a long skirt, and a dupatta and are available in a variety of colours, patterns, and materials. From off-shoulder styles to halter necks and strappy tops, pick from the trendiest choli styles. The skirts are all full length and are available in a variety of shades, prints, embroideries, lacework, applique, etc. Then, there are colourful dupattas to complete the look. You can gently wrap the dupatta around her neck, pin it at the shoulder, or create drapes and give the outfit a regal look; however, make sure your baby girl feels comfortable in them. If the outfit still looks incomplete to you, add traditional accessories like maang tikas, bindis, bangles, necklaces, earrings, and a great pair of ethnic shoes for a stunning traditional look!
For Your Handsome Boy
1. Kurta Pyjama/ Patiala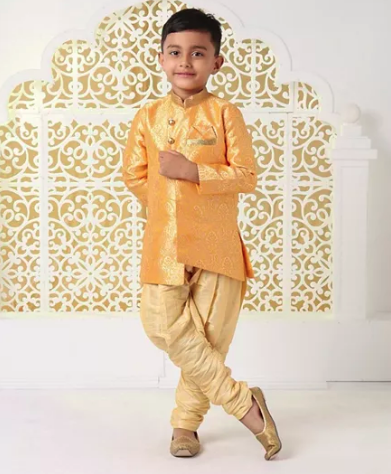 A kurta pyjama is the first thing that strikes us when we think of festive outfits for boys. Depending on the time of the day your handsome boy will be wearing the outfit, you can go for a light and pleasant look or a rich and elegant look. We recommend fabrics like cotton, cotton blend, satin, silk and jacquard for the festive look. You can choose from solid colours or multi-coloured prints with complementing embroidery. Usually, kurta pyjamas with a subtle sheen and some embroidery are perfect for all festivals, but, if you add in a waistcoat or a jacket, the look will become more impressive! For a relaxed yet festive look, you can also go for patialas instead of pyjamas. Team the look with comfortable juttis or chappals, and let your baby boy shine like a superstar this festive season!
2. Sherwani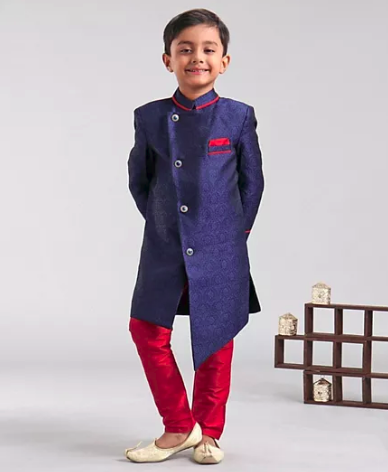 Sherwanis are perfect for a regal look for your little boy! They are usually longer than Kurtas, and are available in a variety of colours, fabrics, and combinations; in sets of twos or threes (one or two tops and an elasticated or drawstring bottom). This traditional outfit is slightly heavier than the usual kurta and pyjama, so ensure that your little boy won't feel weighed down or choose lighter fabrics instead. Wondering which colours to go for? Gold is the best bet; however, there is an array of colours you can choose from. Do add in a pair of complementing juttis or chappals for your handsome boy. This outfit doesn't require much accessorising; however, if you still want to, you may use necklaces, brooches, and kadas to make your baby boy look no less than a prince!
3. Dhoti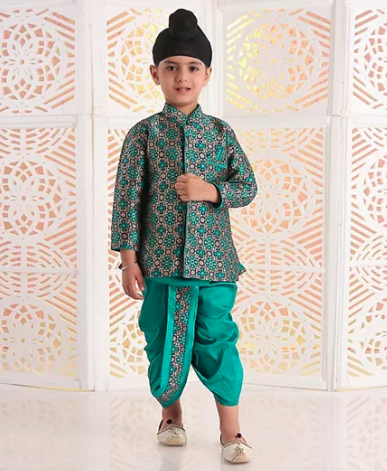 Although all the outfits mentioned above for baby boys are truly traditional, there is something very "desi" about dhotis. When put together with other traditional outfits like kurtas/ kurtis, dhotis can create a stunning look for boys. Nowadays, they come in various colours, prints, and can be purchased in sets or individually to be mixed and matched. They are comparatively loose and airy, so if your boy needs comfortable festive wear, dhotis are for him. You may choose lighter fabrics and colours for daytime events, and the heavier ones can be left for evening functions or colder days. Like all the other outfits, pair dhotis with a great pair of ethnic footwear and let your handsome boy rock the scene!
These ideas are sure to help you save your time and put together a stunning look for your little one. You can also choose to mix and match items to create more outfits and accessorise them to create some more festive looks. With a little bit of inspiration, creativity, and thought, it can be easy to put different looks together to make your little superstar shine this festive season!