6 Funny Stages ALL Of Us Go Through When We Try a Weight Loss Diet!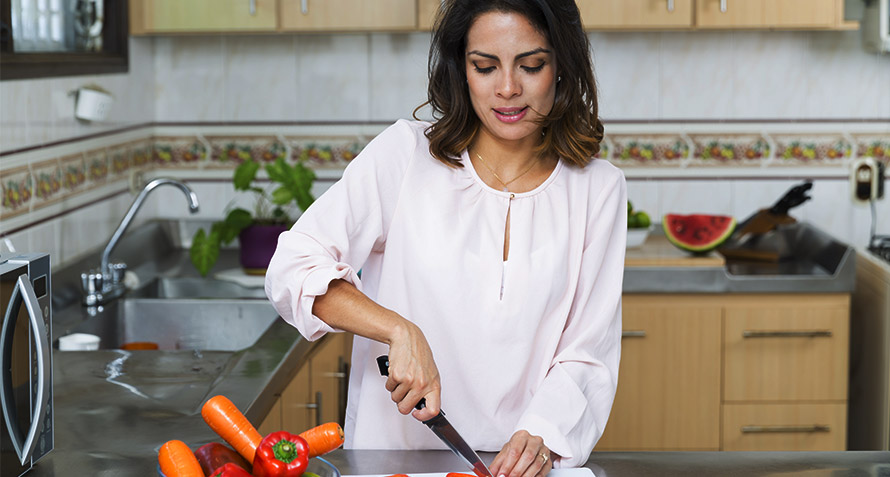 Our bodies – we've learnt about love-hate relationships from them! We love our eyes but hate our thighs, don't mind the curve of our smiles but not the curve of our huge bottoms…we're all like that, no? So we took the chance to humour ourselves on our quest to perfect bodies with these hilarious but true stages of dieting we've all gone through… go ahead, it's time to say "OMG yes! Been there done that!"
2 months to that beach vacation you've been waiting for and you are cursing yourself for not joining the gym 6 months ago. To make things worse, that tummy roll has only gotten squishier! Your mom says "Beta, jeera water pee lo, first thing in the morning" and your best friend says "4 cups of green tea a day, Babe" but you're so keen you mix all of these things up and decide to binge on a huge slice of chocolate cake. But it's homemade, you tell yourself. Trust me, your thighs may be thanking you but your brain is not happy! All too familiar, right?
We present to you, your dieting life in stages! Grab your green tea, ahem, cake slice, and read on.
The 6 Stages All Of Us Go Through When We Try a Weight Loss Diet!
Stage 1 – Overly Optimistic
You've got a Pinterest board titled "1 month to a new me" ready, full of dietician-approved recipes, motivational quotes with fitness models making you feel horrible about yourself, and you've even gone and bought yourself some workout clothes. Ready? You've got this! The first 3 days are on-point! You wake up early, drink 1 glass of warm water, lemon and honey. You follow up with a workout and then stuff your face with fruits (but not bananas, because you know that bananas are loaded with sugar and you really just cannot have sugar right now). Lunch is multi-grain rotis (just two, because that is what all the celebrities say they eat), sabzi without oil, and dahi. You follow with your second cup of green tea for the day. Life is amazing and you can swear your tummy roll is shrinking already!
Stage 2 – Why Am I Doing This Again?
Self-doubt. Can I pull this off?
Is this plan for hard-core fitness enthusiasts? Am I one of them?
Can I never eat gajar ka halwa again?
Is it worth giving up pizza for?
Beware, self-doubt kicks in hard during diet days. You are doing so well, and seeing differences; you are even enjoying your cups of green tea! Coffee breaks are replaced with water guzzling sessions but WHAM! Self-doubt hits you. How you wish you were guzzling sweetened fruit juice (because fruits are healthy, no? Ah, we know all the weight loss fun facts!). This leads you to your next stage of dieting.
Stage 3 – Trying To Remain Optimistic
Breathe, cravings happen to the best of us. Yes, your husband may be slurping his coffee extra loudly today, or the crunching sound of your child eating chips may be driving you insane, but hold on girl, you've got this! You tell yourself to breathe (all those Pranayams must work now!). Breathe, crunch on another carrot or celery stick, and move on with your day. This stage is hard and the weight loss effects nowhere to be seen. But you know you trust your willpower; diet plan is still going strong!
Stage 4 – Wanting To Give Up
That escalated quickly, didn't it? You are now seeing some minor changes, jeans are not as tight as before, skin looks brighter and you're telling yourself, it's okay, at least I'll be radiant in my beach vacation pictures. You are slowly moving dangerously close to giving up. If you close your eyes and hear loud, beeping sounds and see red lights flashing, this is your brain telling you that your diet is battered and on its way to the grave! Don't give up just yet, fight!
Stage 5 – The Lie
Uh-oh. "Just a little bite of Neha's birthday cake won't do anything. She will feel bad if I don't eat it, we're such good friends…"
NO! You have reached the stage of "lies". These are the little messages your heart is telling you, disguised as your brain. This stage is an emotional trap and very few make it out still going strong. It involves guilt, anger, several conflicts with your conscience, and more! Tough love is the only thing that works. Reach out to a friend or someone that is rooting for this diet and get them to snatch that cake before it makes its way to your mouth and then to your shrinking tummy roll.
Stage 6 – The Fall
"RIP diet, we were good while we lasted but I just find myself being drawn towards the comfort and security that cake gives me. It's not you, it's me."
You've taken the plunge. You binged and loved it. Your heart, your mind and your body are intoxicated and endorphins are oozing out like never before and you have no regrets. That beach vacay can have you with all your lumps and bumps because that's just who you are. Your Pinterest pins are replaced with "BeYOUtiful" and "Love your body". The fitness models have been replaced with curvy, thick women who are loving life just like you are and you are embracing yourself (and cake) like never before!
Congratulations! You've completed your version of a diet plan and you have had enough till the next big event comes up. Till then you've accepted that round is a shape and swimsuits need curves to hug and your curves are ready for it! We're with you, babe.