8 Adorably Cute Christmas Cake Decoration Ideas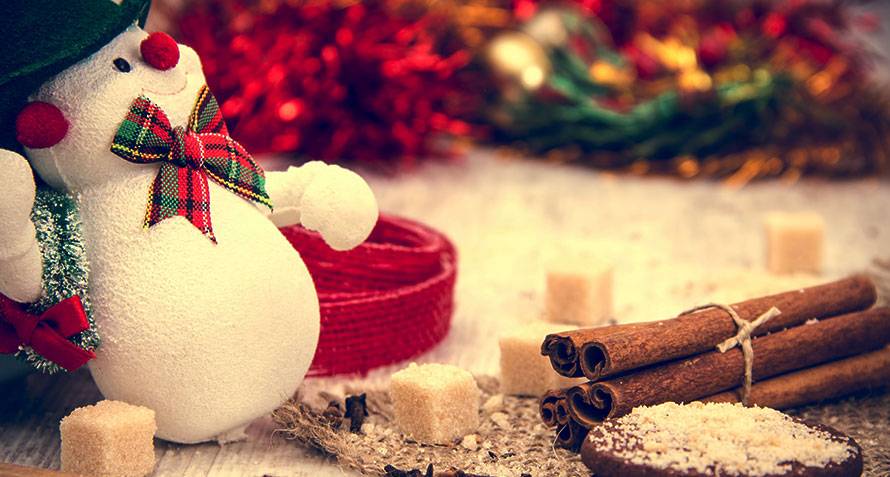 In this Article
There is no Christmas without a Christmas cake! But no ordinary one will do; after all, it's the season of magic! It's a good idea to design the cake to represent the festival. Learn how to decorate a Christmas cake that your children will admire and won't wait to eat!
Goodies, pretty decorations, a warm feeling inside: what else can cause this but Christmas? You're busy making preparations to welcome it with excitement and happiness. You're probably also planning a Christmas party complete with food, drink and, of course, a special cake. But how should you decorate the cake to capture the essence of this beautiful time of the year?
Cake decoration for Christmas has one thumb rule: Get creative! Experiment with Christmas-related symbols such as reindeers and snowmen, bells and stars. It is a pure delight to see the little ones admire the cake when it is on the table. Of course, they can't wait to devour it either!
Xmas Cake Decoration Ideas
1. Christmas with Rudolph
If your kids are animal lovers, they'll be more than enamoured by Santa's famous reindeer, Rudolph. Another great decorative Christmas cake idea is to have Rudolph gracing the cake. You can also bake cookies shaped like a reindeer or just pipe them out with icing. Either way, your children will be very excited about the treat.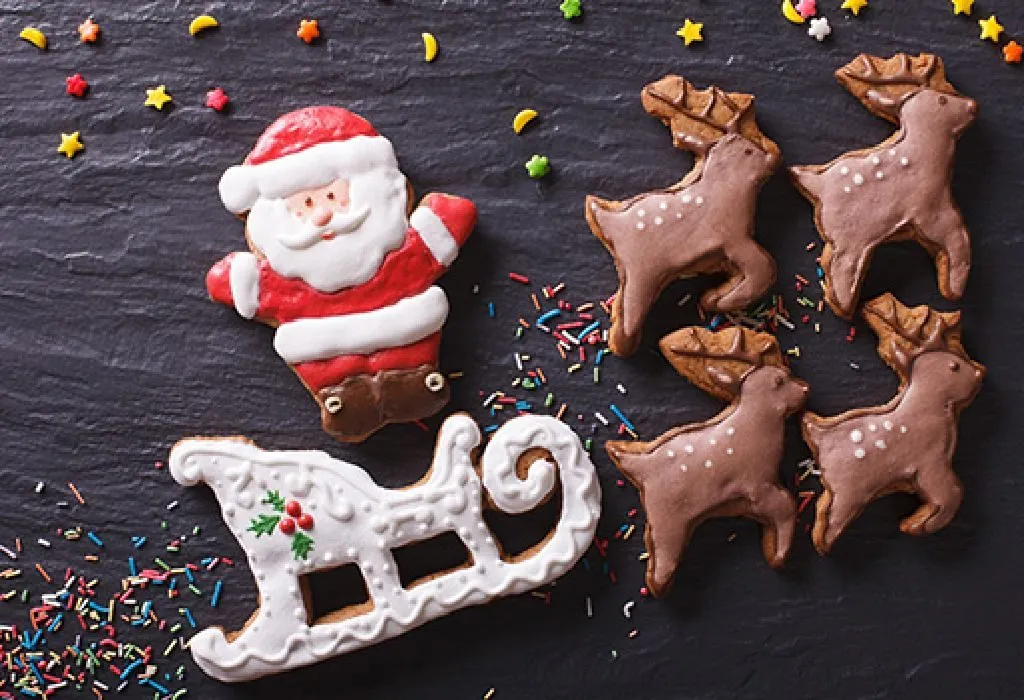 2. Gingerbread Man
Have you told your kids the story of the gingerbread man? If you haven't, get started with a delicious gingerbread man-themed cake. Bake or place an order for a chocolate cake and top it with vanilla icing. Design gingerbread men with chocolate or pick them up at a store. Stick them on the cake and add red and white candy canes for more colour.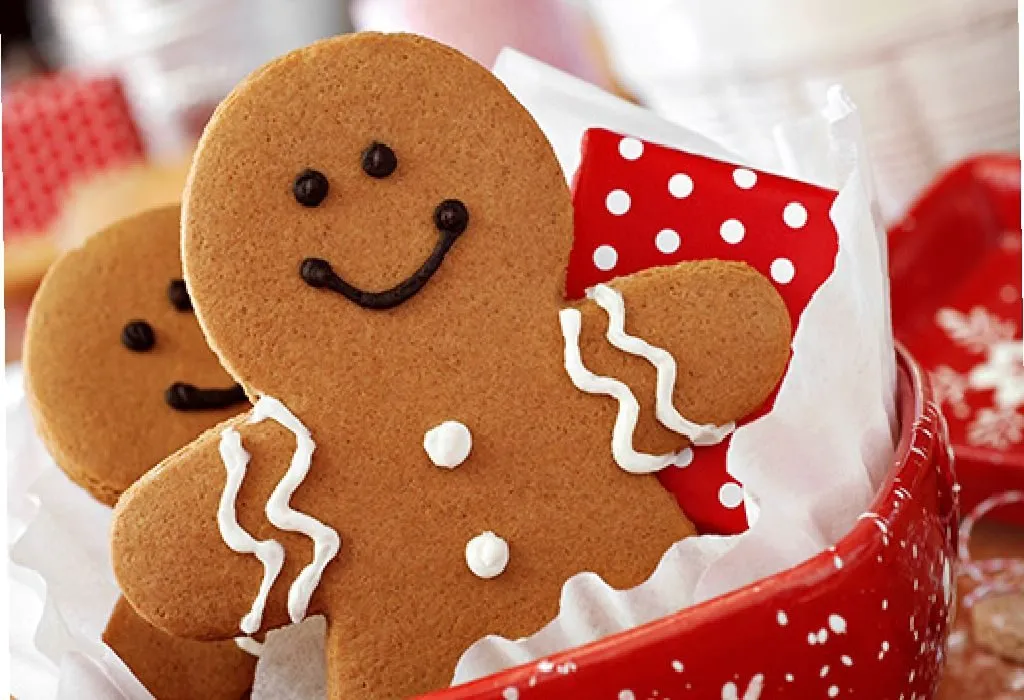 3. Tiered CupCake
For a big Christmas bash, a small cake definitely will not suffice. But what if your guests have different tastes in cake and a big cake can't please them all? Simple! Place an order for an assortment of cupcakes covered with white fondant to signify a white Christmas. Tier them up and create beautiful symbols like Santa, a snowman, reindeer, gifts, a Christmas tree, ribbons…you can do whatever you want!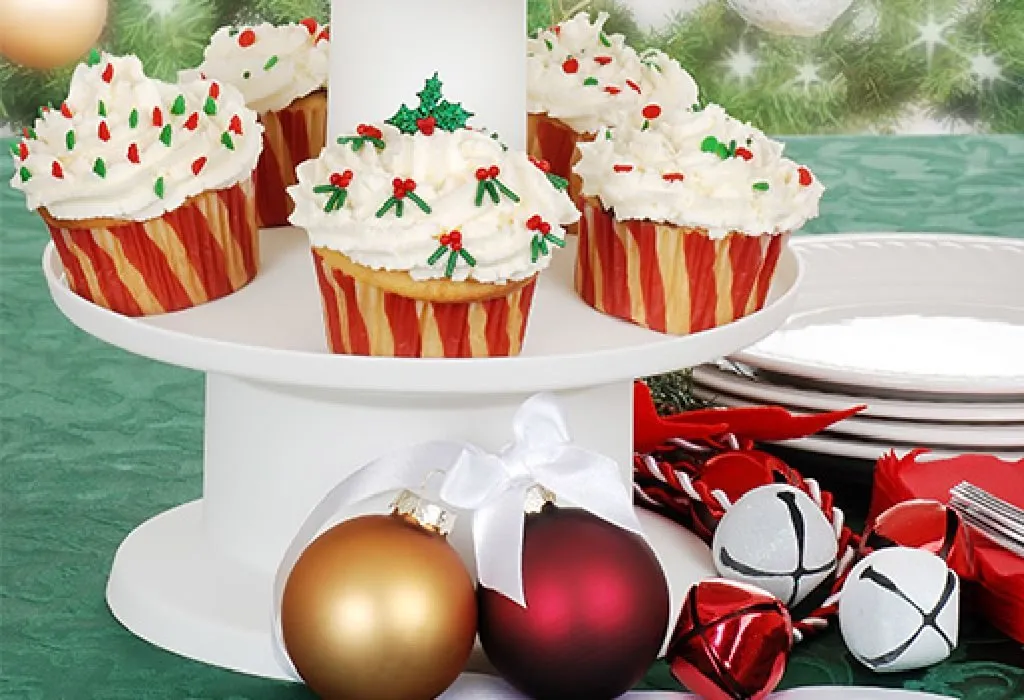 4. Snowflakes on My Cake
Even if you live in a place that doesn't promise a white Christmas, you can still use the idea for a cake. An adorable Christmas cake decoration is sugar snowflakes that should be available in bakeries and retail stores. Place them on the cake to get the feeling of a snowy December. You can also use sugar dust for the snowy effect. Add edible pearls in different colours or in silver and top with strawberries in festive red!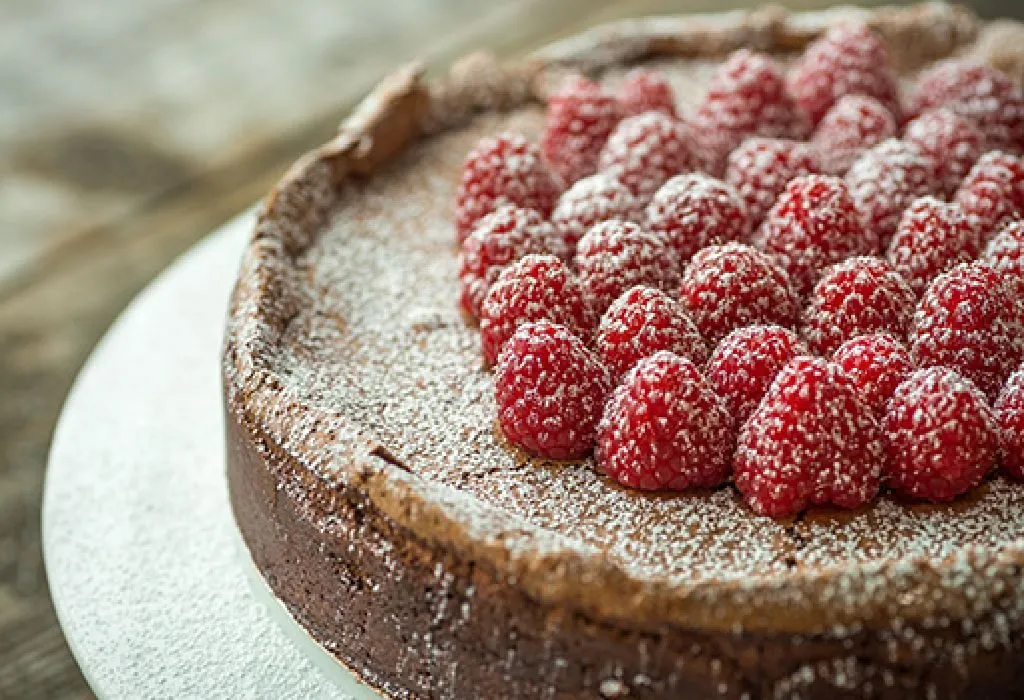 5. The Cutest Cupcakes Ever
Get cupcakes decorated with a figure of Santa, elves, reindeer and Christmas trees. Let them sit atop layers of whipped cream to represent snow. You can also use small candy cane toppers for added effect.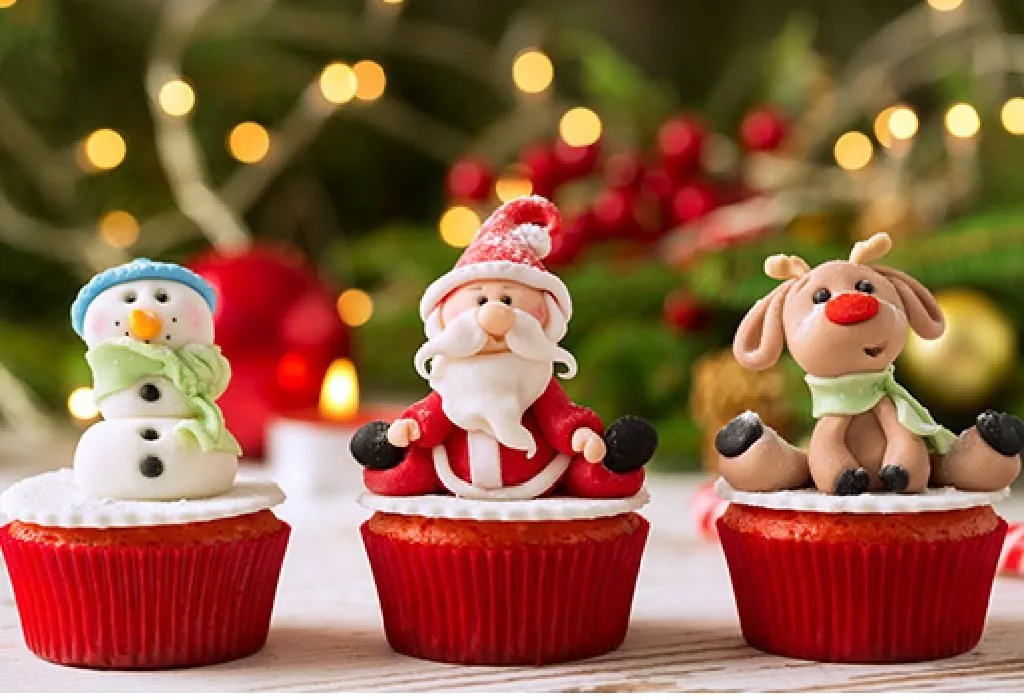 6. Classic Chocolaty Christmas
Young or old, there's no denying the excitement of chocolate! If you're not too keen on decorated cakes and are simply looking for something that makes everyone's taste buds happy, try this. It's a vintage Christmas cake design that only needs some table decorations to add magic to the air! You can add fondant gift ribbons on the top – chocolate is always a great gift!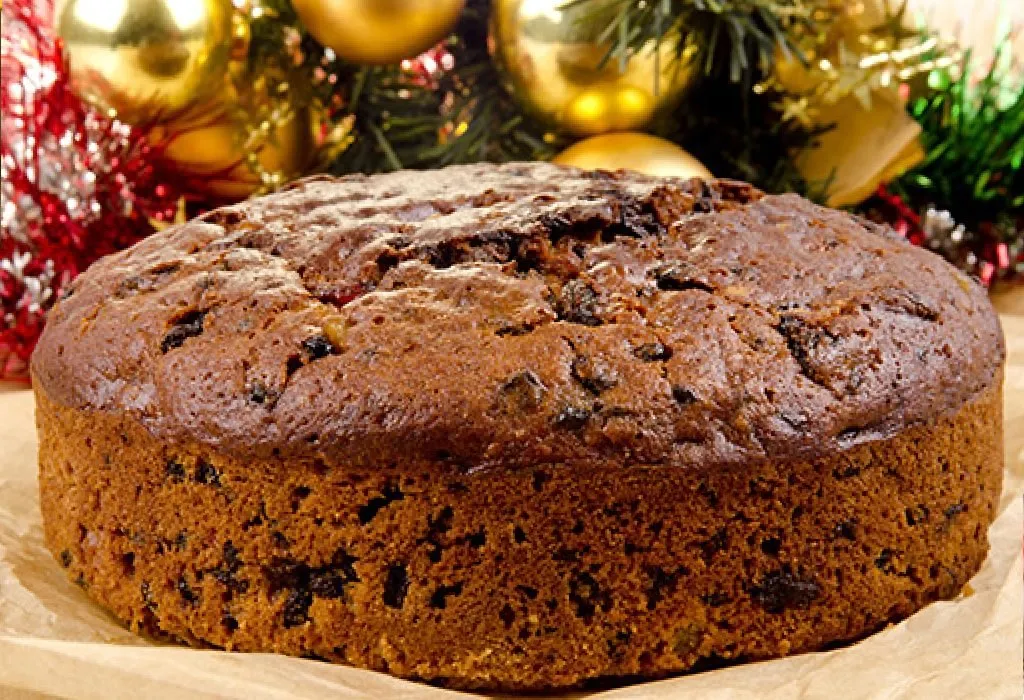 7. Bright Tiered Christmas Lights
One thing's for sure, Christmas looks incomplete without Christmas lights and decorations. So why not decorate our Christmas cake with fairy lights? For the topping, use fondant icing of green color to make the wires and sugared almonds or colorful jelly sweets for the light bulbs.
8. Candyland Christmas
Bake a mouth-watering fairyland Christmas cake that is sure to amuse your kids. Decorate your cake's outer with pink or golden and put drips of golden or pink color, alternatively. To make it more like Candyland, add gingerbread, candy canes, lollipops, village house decorations, reindeer, etc.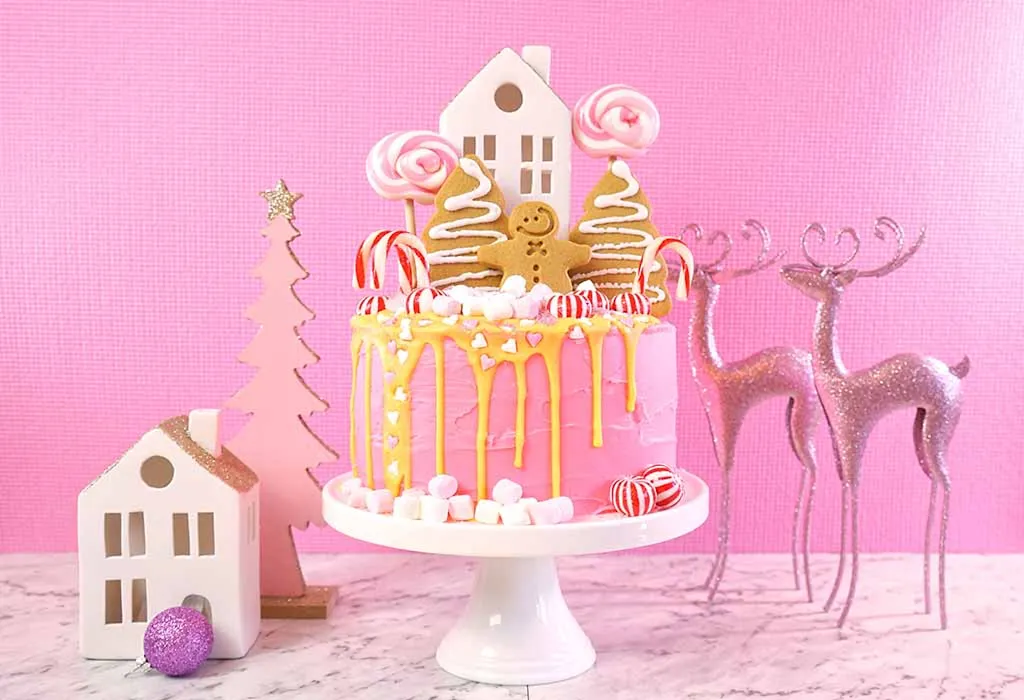 When decorating your Christmas cake, ask your children for ideas too; they're brimming with them and will be only too eager to share! Place your order well beforehand. You could also whip up goodies at home, taking inspiration from the best Christmas recipes to make for your kids. This season is a busy time and it's never too early to start preparing.
Also Read:
Christmas Tree Decoration Ideas for Kids
Beautiful Christmas Decoration Ideas for home