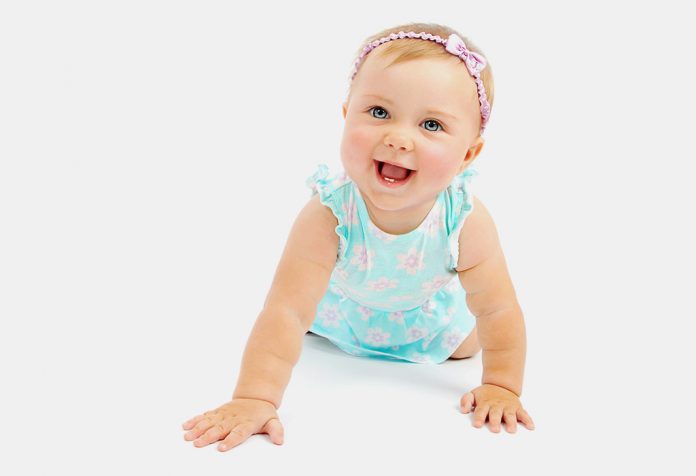 Long names are usually associated with difficulty in pronunciation and spelling, but a lot of thought goes into them. They are beautiful and also provide an excellent opportunity for family and friends to shorten them down and think of ideas for good nicknames. In case you are looking for long names for your baby girl, this article might help you out. Read on to find out more about beautiful, long names for baby girls.
Unique Long Baby Girl Names With Meanings
1. Aaliyah
The name Aaliyah is of Arabic and African origin and has a multitude of spellings. The meaning of the name is "exalted" or "high and sublime".
2. Abigail
Used across Western countries and more popular in the USA, Abigail is a variation of the Hebrew name Avigail, which means "my father's joy".
3. Abhinaya
Abhinaya is a name that is of Indian origin. In Sanskrit, it is the combination of the two words Abhi and nii, which means "towards" and "leading/guide".
4. Aishwarya
It is a popular name in India because of the Bollywood actress with the same name. The name means "prosperity" and "wealth".
5. Anastazja
Anastazja is a Polish variation of the name Anatasia, which is of Greek origin. The meaning of the name is "reborn" and has a unique spelling as well.
6. Bernadette
Bernadette is a name that is of German and French origin. Although it is not common nowadays to add the ette at the end of the name, Bernadette is still a popular name across the world. It means "brave like a bear".
7. Bogdana
Bogdana is a Polish name and has a certain factor of strength associated with it. It means "gift of God".
8. Busarakham
Busarakham is a name that originates from Thai culture. The word translates to "Yellow Sapphire".
9. Cairistiona
Cairistiona is long girl names that start with a C and originates from the Scottish Gaelic culture. It is the English equivalent of Christina and means "Christian".
10. Catalina
Originating in Spain, Catalina is a stylish, new way of spelling the English name Catherine. It is also the name of a touristic island near California, and it means "pure".
11. Celestine
Celestine is a unisex name, although it is one of the long elegant girl names, which makes it easy to stick. It is of Latin origin and means "sublime".
12. Danielle
Danielle has been a popular name across the western world for many decades now. Its origins lie in the Hebrew culture, and the name means "God is my judge".
13. Debbonaire
Debbonaire is a French name that is a unique long name for a girl. Debbonaire means "one who is suave". It is a cool name to have your baby girl associated with.
14. Delilah
Delilah is a name of Hebrew origin and means "delicate woman". In the Bible, Delilah is the woman who betrays Samson for money, and this story has inspired many artists and creators over the centuries.
15. Duangkamol
This name has its roots in the Thai language. It means "from the heart", which is a lovely name for a girl to have.
16. Eleanor
Eleanor is a beautiful name and is synonymous with the famous Beatles song "Eleanor Rigby". It is from the Greek language and means "sympathy, compassion".
17. Elizabeth
Elizabeth is a name that is used across the world by many parents for their baby girls. Itis from the Hebrew Elisheba, which means "God is my perfection".
18. Esmarelda
Esmarelda has Spanish origin and the name means "emerald". In the famous novel The Hunchback of Notre Dame by Victor Hugo, Esmarelda is the Gypsy girl who is loved by the hunchback Quasimodo.
19. Fatehmah
Fatemah is an alternative way of spelling the name Fatima. The name originates from the Arabic language which means, "one who abstains".
20. Gabrielle
Gabrielle is a French girl's name although with Hebrew origins. It means "Woman of God".
21. Gertrude
Although a slightly older name, Gertrude is a name with German roots and has a strong connotation to it. The name means "spear" and "strength".
22. Guinevere
Guinevere is originally a Welsh name Gwenhwyfar, which was a combination of the two words Gwen and hwyfar meaning "fair" and "smooth", respectively.
23. Henrietta
It is the female form of Henry and originates from Germanic languages. Henrietta means "ruler of the house".
24. Hermione
Hermione was made famous through the world-renowned Harry Potter series. The name has Greek origins and means "good messenger".
25. Ingeborg
Ingeborg originates in Old Norse language and is a common name for girls across Scandinavia. The name means "God's protection".
26. Isabella
Isabella has Italian origins and is a name that can have multiple nicknames. Isabella means "God is my Oath".
27. Jacinta
Originating from the Greek language, Jacinta is a Spanish form of the word hyacinth, which is a flowering plant.
28. Jacqueline
Jacqueline has numerous nicknames due to the multiple syllables in the name. It is of Hebrew origin and means "one who supplants".
29. Jaganmata
Jaganmata is definitely on the list of long traditional girl names. It originates from the Indian subcontinent and in Hindi means, "Mother of the world".
30. Jennifer
Jennifer is of English origin and means "Fair Phantom" or "white wave". It is a trendy name across the planet, and a famous namesake would include Jennifer Aniston.
31. Kalyani
With Indian origins, it means "lovely, beautiful". Kalyani is a name that is mentioned in the famous Hindu epic, "Mahabharata".
32. Kathleen
Kathleen is the Anglicized version of the Irish name Caitlin, which in itself is the Gaelic form of Catherine. The name means "pure".
33. Leialoha
Leialoha is a Hawaiian name and is pronounced LAY-ah-loh-hah. It is a beautiful name for a girl, which means "darling child".
34. Lorraine
The name has French origins and means "woman from Lorraine". Lorraine is a region in the North of France. It has been a popular name over the last century.
35. Magdalene
The name has Hebrew origins and means "woman from Magdala". According to the Bible, Mary Magdala came from Magdala and was healed by Jesus. She remained with him through his crucifixion.
36. Magnolia
Magnolia is a name that is of Latin origin and means "Magnol's flower". The name comes from the French botanist Pierre Magnol.
37. Momilani
Originating in Hawaii, the name Momilani means "Pearl from heaven". It has gained popularity since the 20th century and is also the name of an elementary school in Hawaii.
38. Nefertiti
Nefertiti was the great Royal wife of Akhenaten, the Egyptian Pharaoh. The name is of Egyptian origin and means "beauty has arrived".
39. Ophelia
Ophelia originates from the Greek language and means "help".
40. Onaiwah
Onaiwah is a beautiful name with Native American origins. The name means "awake" and is a popular name amongst girls.
41. Penelope
It is originally from the Greek language and means "Bobbin worker, weaver". During the Trojan War, she was the loyal wife of Odysseus.
42. Prudence
Prudence is a common name amongst English speaking countries but has Latin origins. It means "good judgment".
43. Rosemary
It is a combination of the names Rose and Mary but in Latin means "dew of the sea".
44. Savvanah
Savvanah comes from the Spanish language and means "grassland without trees". The Savannah in Africa comes to mind at first, but this is one of the long pretty girl names.
45. Tatiana
The name is of Sabine and Latin origin but is a derivation of the old Latin name Tatius. Tatius was the name of a King of the Sabines, a tribe living near Rome.
46. Ululani
Ululani is a Polynesian name and is popular amongst people living on islands in the Pacific Ocean. The name means "inspired by heaven; heavenly grove".
47. Veronica
Veronica is a popular name amongst girls and has Latin origins. It means "she who brings victory".
48. Wilhelmina
With its roots in the German language, the name means "stout protector". It is the feminine form of the name Wilhelm.
49. Yaroslava
With origins in Slavic languages, Yaroslava is the feminine form of Yaroslav, which is a combination of the two words yaro and slava meaning, "spring" and "glory" respectively.
50. Yevgeniya
Yevgeniya is the Russian form of the name Eugenia, which has Greek origins. The name means "woman well-born". It is also the female form of Eugene, which was a common name in the 21st century.
Choosing your baby girl's name can be a tedious process, but it will be worth every minute spent thinking about it at the end. Selecting a name that has a deep meaning and character is significant, as she will have to carry this name for the rest of her life. Long names come with their own merits because there is always a multitude of nicknames to choose from. All the best in your new adventure and in case you ever hit a creative roadblock, be sure to browse through our list.