5 Common Mistakes That Could Be Damaging Your Skin AND Ruining Your Look!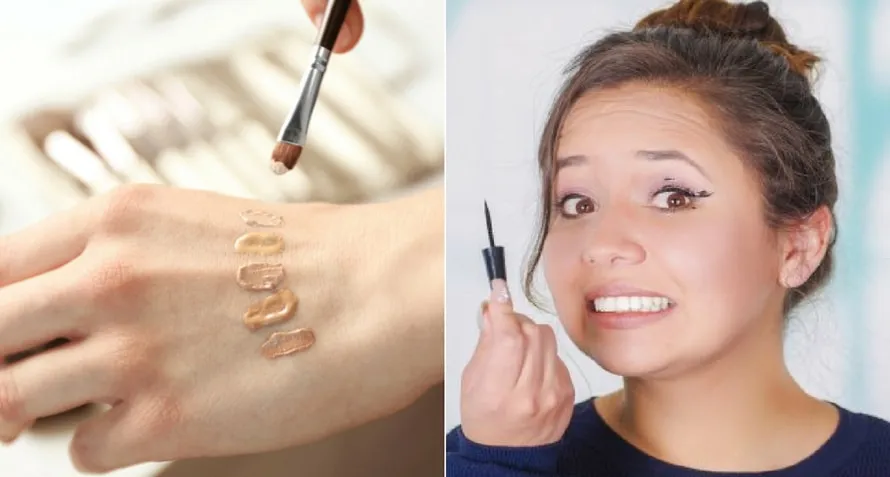 In this Article
Each one of us loves to look young and beautiful. There's hardly any woman who doesn't love makeup. The natural, dewy look or the sultry party look; makeup really is magical! But for all its wonderful traits, it can also go horribly wrong. Find out the most common makeup mistakes that a woman can commit.
Makeup is a double-edged sword that can make or break your look. You could end up ready to put even the most gorgeously made-up celeb to shame or you could end up wondering just what went wrong. Things take a turn for the worst with moms of toddlers or preschoolers, when they demand all their attention and make-up seems to go south more times than most.
It doesn't help if you aren't an ace at it either. However, ace or not, we have listed the common makeup mishaps that every woman needs to be aware of. So, make sure you go through all of them before you put the brush to the eye-shadow palette or apply that favourite foundation of yours.
The Most Common Makeup Mistakes
Here are a few of the common makeup mistakes that you may be making.
1. Applying Foundation
When you start it wrong, how can you expect great results? Applying foundation to dry skin is a strict no-no unless you want to boast flakiness and patchiness. The key is to exfoliate your skin and moisturize it thoroughly before applying foundation. That goes for women with oily skin too. However, women with oily skin should make sure that they use oil-free moisturizers followed by oil-free foundations. Also, blending a pea-sized amount of water-based moisturizer in with the foundation, will make the application smoother for both, oily as well as dry skin.
2. Wearing The Wrong Foundation Shade
A second make-up mistake that many women make is to wear the wrong shade of foundation. You shouldn't look like you spray-tanned yourself unevenly. Foundation should help create a smooth complexion that will fool even you into thinking you have perfect skin and it should blend with the overall skin shade of your body. The catch is, your face should not stand out when compared to the rest of your body. When shopping for foundation, test a shade by applying it from your jawline down to your neck. Wait a few seconds and then check it in daylight to see if it looks natural. If it doesn't, move on to the next shade.
3. Using Makeup You're Too Old for
Let's face it. You left your teenage years behind long ago and with it, make-up that once looked fab on you. One of the worst make-up mistakes you could make is to hold on to bygones and hope to look just as smashing. So, you should not go out with glittery eye shadow and purple lipstick anymore. Embrace your age instead. Choose colors and finishes that make you look gorgeous and beautiful. After all, the whole idea is to apply make-up in a way that doesn't look made up or forced.
4. Overdone Lip Liner
A lip liner can be your best friend by keeping lipstick in place and making your lips look fuller. But you need to use it properly and not make the mistake of drawing a noticeable outline that is above or below your natural lip line. Pick a lip liner that's a shade darker than your lipstick, not more. When we say one shade, we really mean one shade! Don't opt for a lip liner that's even two shades darker, it'll cause your make-up to look garish. Line it just enough to define the shape of your lips and go in with the lipstick. You can soften the edges with a lip brush for a well-blended look.
5. Playing Everything Up at Once
It's easy to get excited with make-up, especially when you've just purchased a new haul. But keep that excitement in check otherwise you'll end up highlighting every feature. No matter how gorgeous you look, the key is to play up one or two things at a time. Beautiful eyes can be defined with smoky make-up, while amazing cheekbones can be highlighted with a bronzer. If you have the perfect pout, play it up. Just don't accentuate everything up at once.
These make-up mistakes should sit on your list of not-to-dos. You should feel the oomph when you look at yourself! Remember, makeup can play up your best features and help you look amazing, but only if done right.