5 Bollywood Moms Share Their #1 Fashion Tip To Look Gorgeous After Motherhood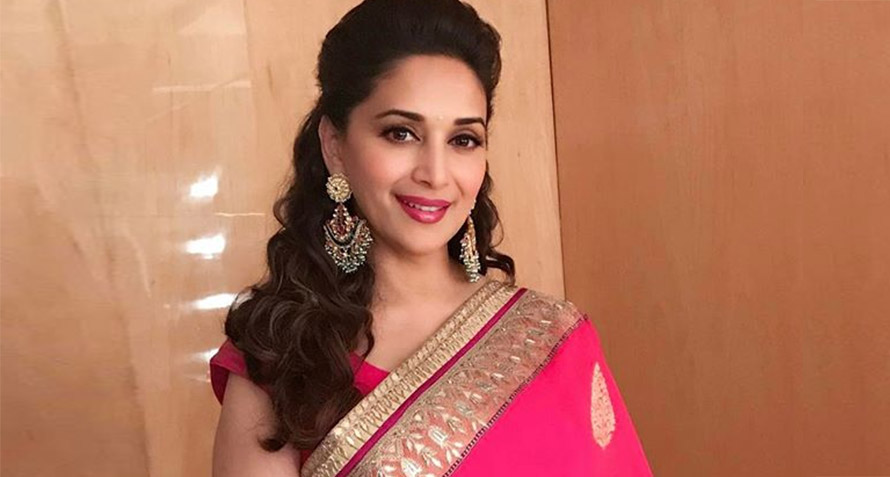 In this Article
Many women relinquish their fashion styles post motherhood. They choose to go for plain or simple clothes that make them look unflattering. And there's no doubt – fashion can indeed become a big challenge when you've just had a baby.
After your delivery, when you do get the time to stand in front of the mirror, you seem to only see 'faults' – your arms are too big, your hips are rounder, you have love handles around your waist, and – wait a min, is that a double chin? We don't blame you if you feel like running into the closet and hiding from the world! But before you do, can you pause for just one moment and put things into perspective?
5 Bollywood Moms Show Us How To Rock Motherhood
As unbelievable as it sounds, body changes post-delivery are not terminal. And they definitely do not mean you have to spend the rest of your life wearing dull, boring, oversized clothes! We turned to Bollywood moms for inspiration… and we found it in these 5 gorgeous ladies!
Madhuri Dixit's Style – Sari Splendour
If there is one actress who knows how to rock a sari, it's Bollywood's Marathi-mulgi, Madhuri Dixit. While Madhuri has also been spotted in other attires, we think nothing looks more flattering on the Dhak-Dhak girl than a well drapped sari… and post-motherhood, she seems to have figured that out herself. Each of her appearances has been more and more stunning!
Nail the look: Pick a sari that drapes well around your body type. Choose a fabric that has a good 'fall', so that it naturally slims your figure down. And don't worry at all about looking fat; just use these 6 tips for looking slim in a saree post pregnancy. They work excellently!
Kajol – Fit is Fab
Who, after looking at Kajol strutting around in that beautiful floral skirt in Dilwale, will believe she has aged even one day? She still looks like the gorgeous girl who turned around and gave Shah Rukh a second glance on the train station in London in Dilwale Dulhaniya Le Jayenge! Motherhood changes your body in many ways, but Kajol has shown us through her post-delivery journey that none of those changes need to become permanent.
Nail the look: It is more important now – i.e. post-delivery – than ever before to work on your body and get yourself back in good shape! Any kind of attire can look good on a figure that is strong and well-toned.
Kareena Kapoor-Khan – Western Wonder
We are sure we have all binged on yummy mummy of Bollywood Kareena Kapoor-Khan's Instagram feed through her entire pregnancy! Post-delivery too, the style-queen has not stopped turning heads at every social gathering and party she goes to. Kareena has all our notions about western clothes looking bad on Indian mommies biting the dust.
Nail the look: Well-tailored trousers, empire waists, and long flowing gowns are the way to go. Motherhood does not mean your wardrobe has to get a boring make-over – you can continue to wear your beloved dresses, skirts, and tunics post-delivery too!
Shilpa Shetty – Casual Chic
Remember when Shilpa Shetty brought her son to the IPL cricket match to cheer for her team, wearing a plain simple pair of jeans and her team t-shirt? Who thought something as simple as jeans could look so freakin' perfect? Then again, we saw her step out for number of occasions wearing a simple salwar-kameez… and totally killin' it! If we were to define Shilpa's style post motherhood, we'd call it 'casual chic'. Her fashion is something any mommy can follow… it's easy on the pocket too!
Nail the look: You can never go wrong with a good pair of jeans. Pick one that makes you feel confident and sexy! Team it up with shirts, blouses, t-shirts, etc. While picking a salwar kameez, make sure it suits your particular body type well – if you are bottom-heavy, opt for a long kameez with a long side-slit; if you are top heavy, opt for wider necklines.
Aishwarya Rai-Bachchan – Layers and Lace
How could we complete this list without including the prettiest woman in the world? Aishwarya went for the layered and lace look post motherhood… and we all loved it to the core! Be it her various Cannes' looks, or her appearances on different TV shows, Aishwarya added layers and lace to her outfits and attires. The effect was simply stunning.
Nail the look: Create depth in your outfits by adding layers. Think coats, jackets, scarves, dupattas and stoles. Figure out which combinations work. While choosing to add lace to your outfits, pick one that has delicate self-design as against broad motifs.