5 and 6 Months Old – Baby Daily Schedule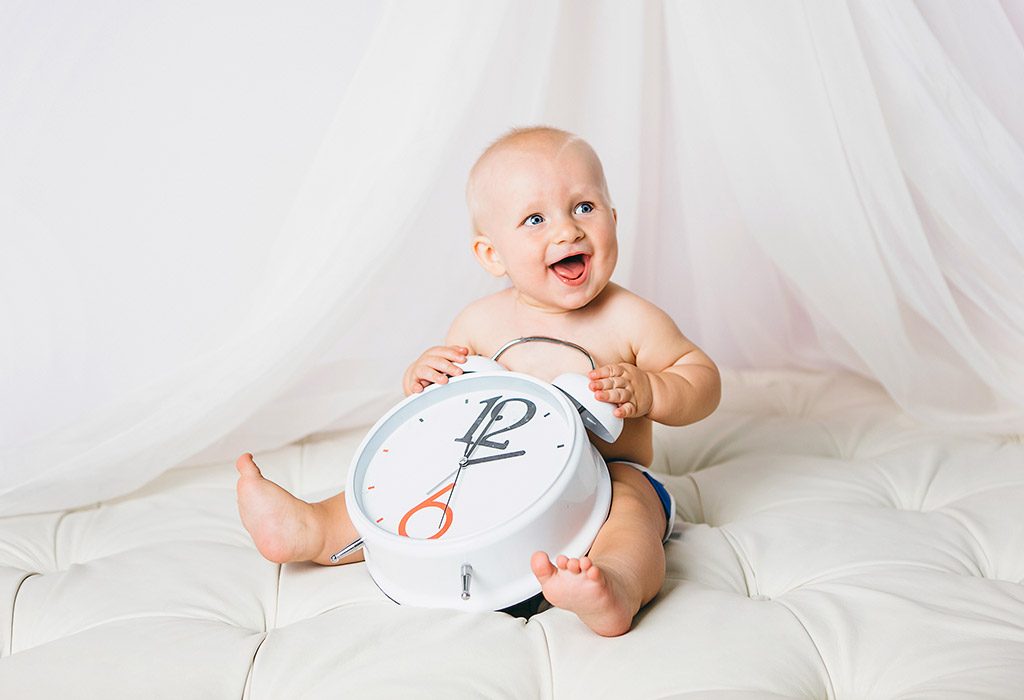 When you have a baby, it seems like your regular life gets thrown out of whack! There's suddenly a tiny new human who needs all of your love, care and attention, and it's impossible to figure out a routine at first. In the span of a day, there's plenty of feeding, changing, and putting down for a nap that takes place, and you're doing your best to take care of both your baby and yourself.
But, there's no need to worry! You'll find yourself getting used to a certain daily routine within a few weeks of your baby coming into the world. And, within a couple of months, your schedule with your baby will be running like a well-oiled machine. However, as your child grows older, you'll need to keep modifying this daily schedule to include activities or tasks that will contribute to his growth and development.
An important part of planning the development of your child is to set up a schedule which takes into account numerous things, like activity time, nap time, outdoor or playtime, and so on. Keep in mind, however, that the schedule you set for your baby can have an impact on things like his sleep pattern, behaviour, and habits.
Your baby's schedule needs to change due to factors like:
The baby's developmental needs
The baby's age
The baby's health
The baby's energy
Remember that to set a schedule for a child, is to instill discipline from a young age, and this is a crucial part of his development. Additionally, consistency is key, so make sure that you follow through the same routine with your baby every day.
Needs of Five and Six Month Old Babies
Before planning a schedule for a baby that is aged 5 to 6 months, here are a few of his needs you may need to consider:
A baby around the age of 4 or 6 months usually requires 14 hours of sleep a day. This includes naps as well as night time sleep. Ideally, your baby needs to have two naps in the daytime, and an early bedtime for them to fully recuperate the energy his body spends in growing.
At this age, your baby drinks almost 1 litre of breast milk in a day. It's best to have multiple feeding sessions throughout the day, thus allowing your body to rest and re-energize between feedings. Remember your baby's feeding schedule must also take your physical well-being into consideration!
Giving your baby a massage is important too. This has many applications! It helps you examine his skin for rashes, bumps, allergies, or other issues. It helps to improve blood flow, which can speed up the muscle development process. It can also help strengthen muscles that help your baby lift his neck, roll over, crawl, and walk faster. Be careful, however, as over-massaging can cause muscle damage.
Playing is an essential need for a baby at this age, as that is how your little one will get develop muscle strength, and will learn how to interact with different objects and people. It's important to give your baby a consistent amount of playtime so that he can continue to develop properly.
Schedule for a Breastfeeding Mother of a 5-and-6-Month-Old Baby
While creating your baby's schedule, it's important to first know how your time is being used. Syncing your own schedule with your baby's will make the time you spend with him even more special, especially when it comes to breastfeeding.
Schedule 1: Attachment Parenting Mom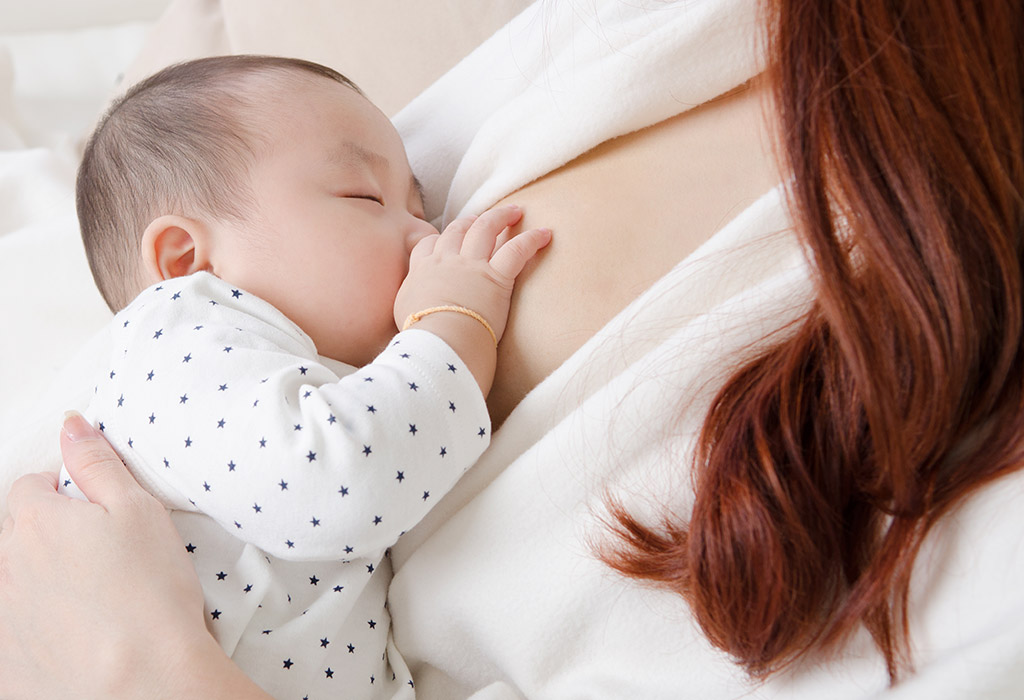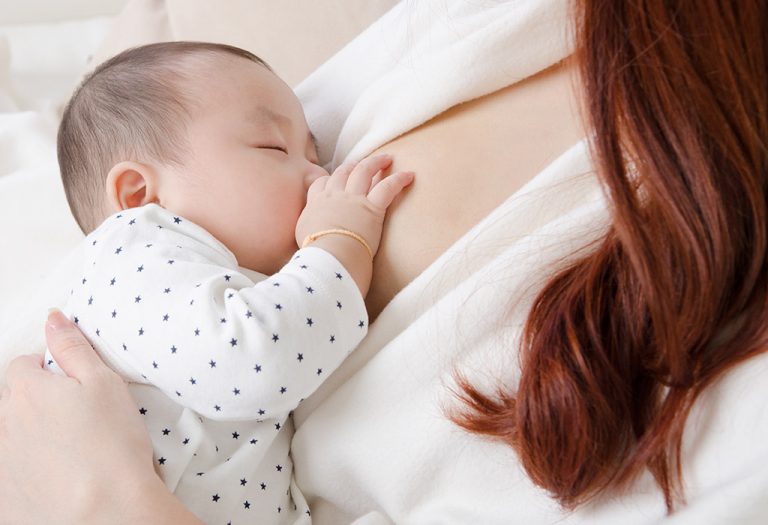 This is a schedule for a mom who follows the attachment parenting style, and who is also breastfeeding her baby. It is largely led by the parent and not the baby. This schedule is a sample for a 6-month-old baby.
7:30 am: Wake and freshen up. Wake your baby, change him and feed him.
8 am – 9:45 am: Playtime or storytime, and breakfast. If your baby has been introduced to solids, now is a good time to give him a breakfast of solid food.
10 am – 11:45 am: Nap time. Remember to change your baby's diaper before putting him down for a nap. Now is the time to take a shower, grab some food, catch up on emails, work, or chores, and prepare for lunch.
11:45 am – 12 pm: Feeding session after nap.
12 pm – 2 pm: Playtime, tummy time, and lunch.
2 pm – 3 pm: Second nap time. Check on your baby's diaper. If he doesn't have a good nap in the afternoon, schedule a 30-minute cat nap for him in the evening (but make sure it's not too close to his bedtime).
3 pm – 5:30 pm: Feeding session after nap time, and playtime with both parents. Make sure that dad is around to play and nurture, to give you an opportunity to catch up on your needs and requirements, and let the baby know that he has both a maternal and paternal influence. If you are a single parent, have a friend or the baby's grandfather be present.
5:30 pm – 6 pm: Dinner.
7:30 pm – 8 pm: Do a bedtime feeding session if required, have story time and put your baby to bed.
10:30 pm: Dream feed your baby before your own bedtime.
Schedule 2: Stay at Home Mom
For stay at home mothers, it is largely recommended that they keep a schedule that is flexible. Flexible schedules are versatile, and allow the baby to lead the routine and have healthier sleep. This type of schedule also allows the parent to place a strong emphasis on the development of independence.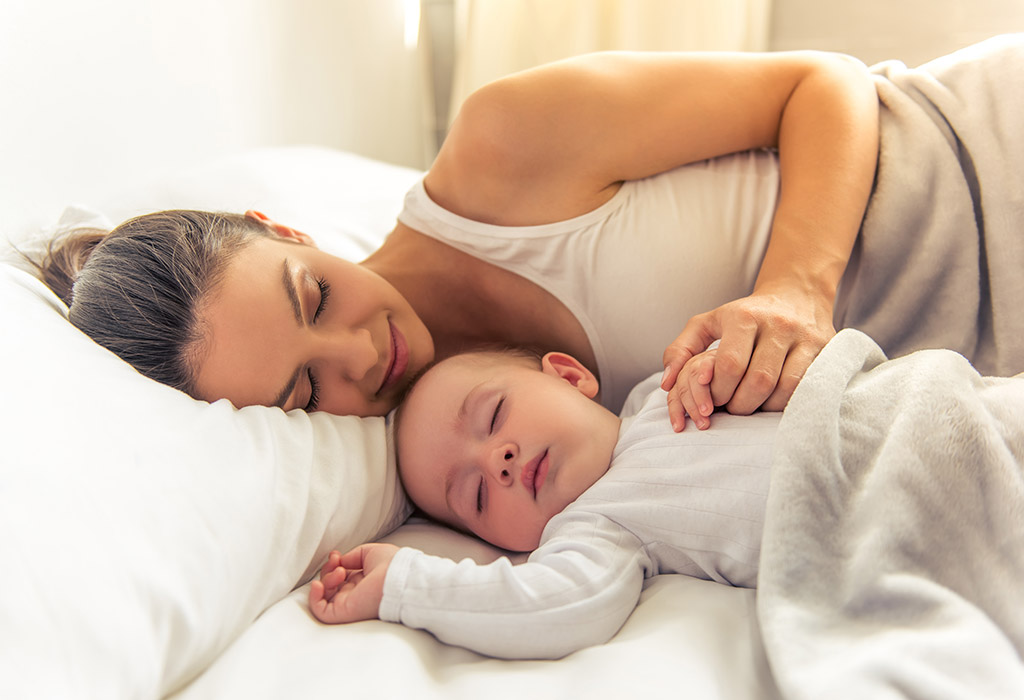 At this age, you should slowly phase your child into feeding at regular times that are spaced out over the day, rather than feeding at times that are too close together. This will regularise your 6-month-old baby's sleep schedule, and help promote a full night's sleep. Remember, though, a flexible schedule still needs some boundaries, so try to set an ideal sleep time and nap time. Flexibility cannot be introduced without a solid structure in place first! You can follow the same routine as Schedule 1, and vary the timings according to how your days usually pan out.
Schedule 3: Work at Home Mom
Working at home with a baby can be a real challenge, especially because at 5 – 6 months of age, your baby requires a lot of attention! It can be difficult for both the mother and child, if the days are not carefully planned out.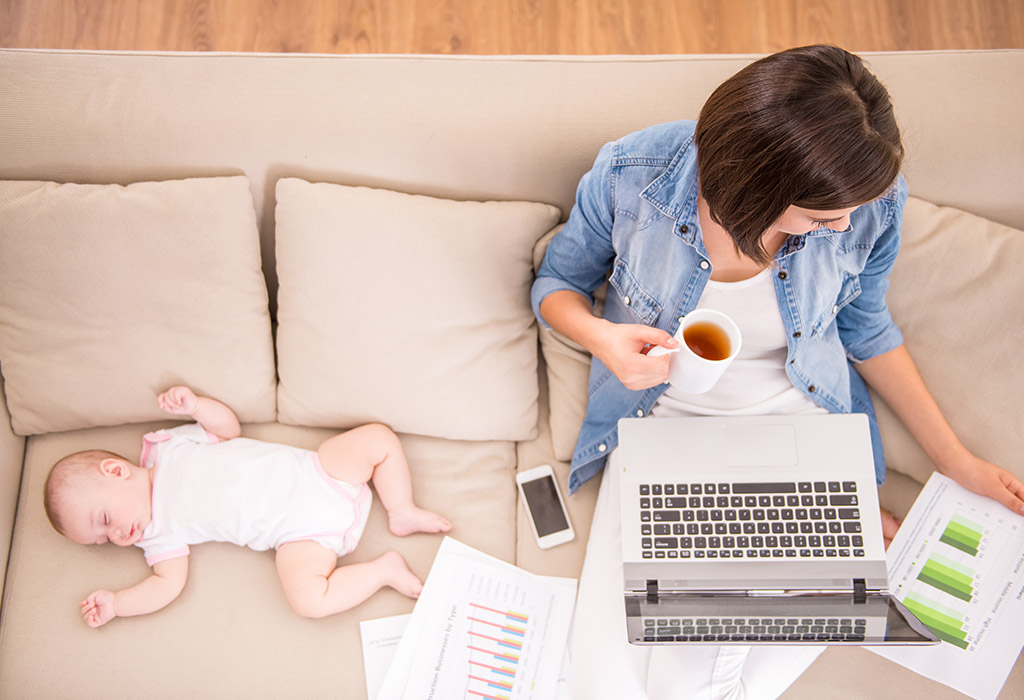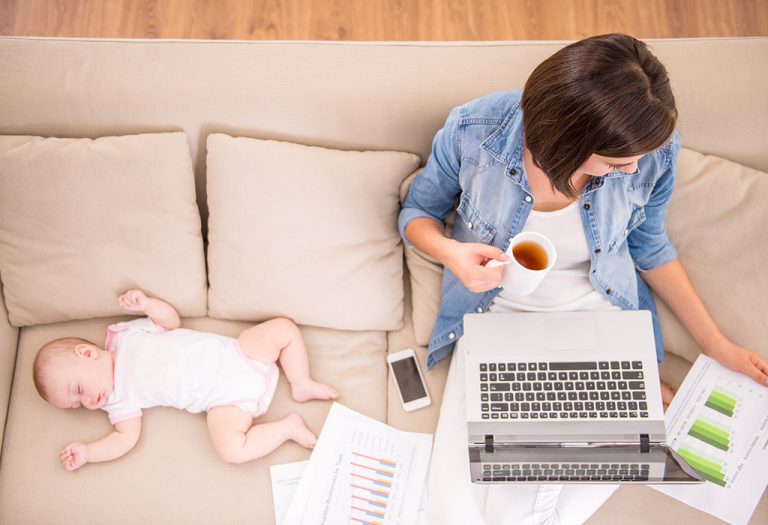 Having a baby-led schedule may not be the best idea here. Here's a sample of a parent-led schedule that may help work at home moms.
7 am: Wake, freshen up, and wake your baby for changing and feeding.
7:30 am – 8:30 am: Take some time to play with your child, read to him, or give him a short massage with some oil.
8:45 am – 10 am: Nap time for the baby. Grab some breakfast or a quick shower, and get some work done during this time.
10 am – 11 am: Keep the baby within your field of vision, let them have some playtime on the floor while you wrap up a session of work.
11 am – 12 pm: Play with your child, give him tummy time, or read him a book.
12 pm: If you are trying to get your baby on to solid foods, breastfeed now. If not, continue to spend some time with the baby.
1 pm: If your baby is eating baby food, give them lunch. If not, change and feed him.
1:30 pm: Nap time. Get a second session of work done.
2:30 – 5:30 pm: After nap feeding, supervised playtime as you wrap up your workday. Try to add in quality time with Dad or other paternal family members.
5:30 pm – 6 pm: Dinner/final feeding session.
7 pm – 8 pm: Change your baby, have story time, and put your baby to bed.
Schedule 4: Breast Pumping, Working Mom
Similar to the working mom's schedule, a breastfeeding and bottle-feeding combination for working moms is largely parent-led.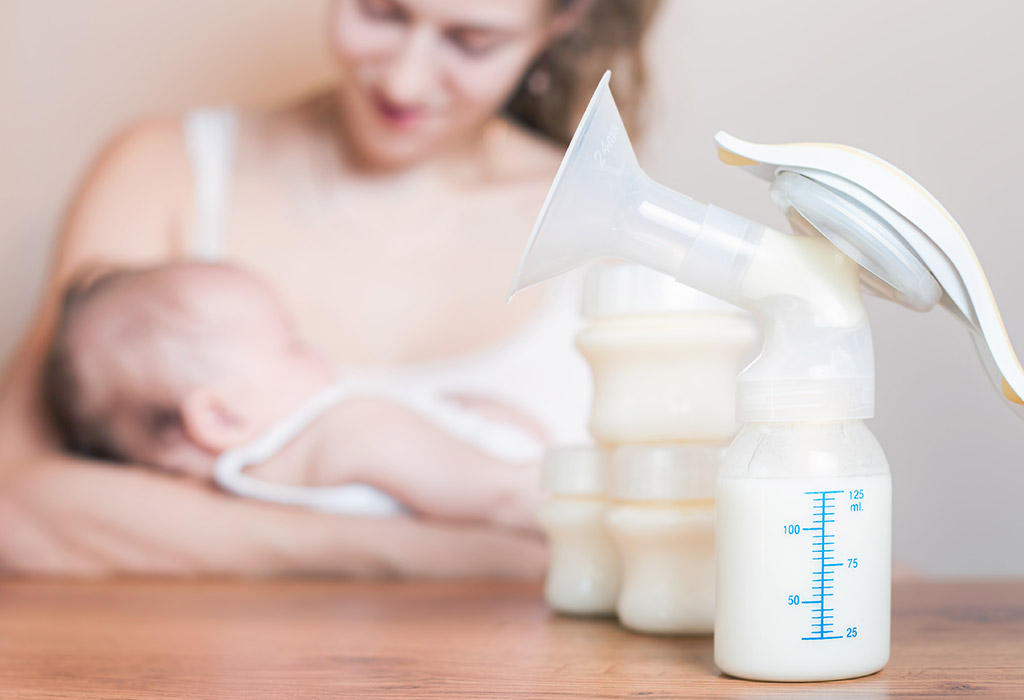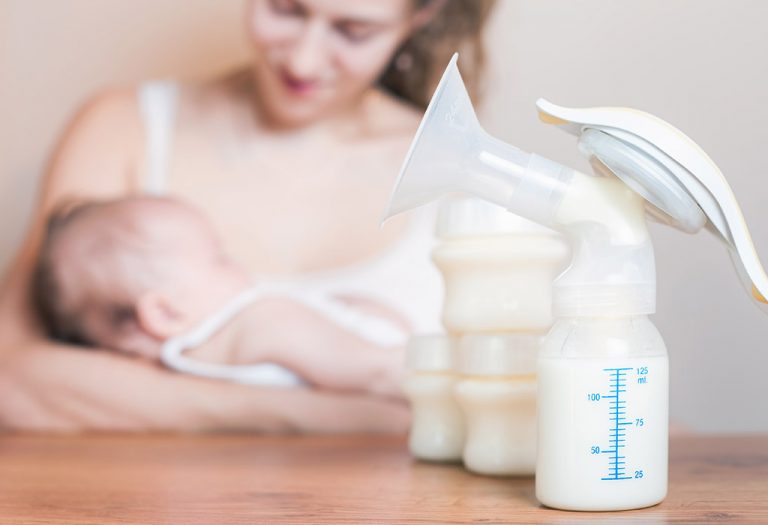 This schedule is largely similar to Schedule 3, this routine involves altering cycles of bottle feeding and breastfeeding. Out of four feeding sessions in a day, it is recommended that two feedings use the bottle. Remember to use your baby's nap times to pump out breast milk!
Schedule for a Formula Feeding Mother of 5 and 6 Month Old Baby
Formula feeding is an alternative to breastfeeding your baby, which gives the mother more versatility. This ensures that if the mother is unable to breastfeed her baby, she can still provide him with the necessary nutrients he needs during his first year of life. There is some speculation that formula feeding eases the transition to baby food for a child, but there isn't enough medical evidence to back this up.
Schedule 5: Stay-at-Home Mom
A key difference for a formula feeding, stay-at-home mother and breastfeeding, stay-at-home mother is the ability to feed the child whenever they need. We recommend using the feed-on-demand schedule for a stay-at-home mom who needs time to manage a child as well as a household.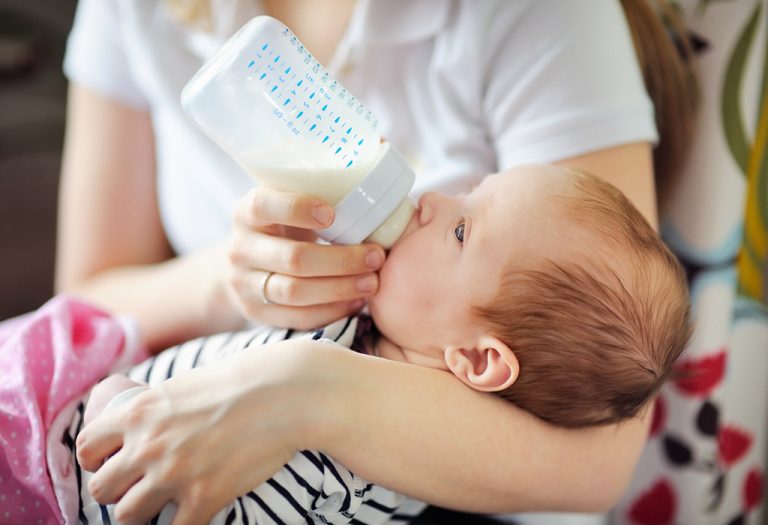 This gives the mother a lot of time and flexibility with her baby. He can be fed when he's hungry, and the mum can whip up the formula milk in batches for convenience.
Schedule 6: Stay-at-Home Mom of Twins
Nursing twins can be a challenge that's exhausting and tiring. A breastfeeding mother needs to eat very well, to make sure her milk supply is healthy and sufficient. However, for a formula-feeding mother, things are just a little bit easier, as her breasts aren't undergoing the stress of feeding two little mouths. That being said, if you are using formula to feel your babies, you need to make sure that there's always plenty of formula at home, and there is an extra batch in the fridge for emergencies.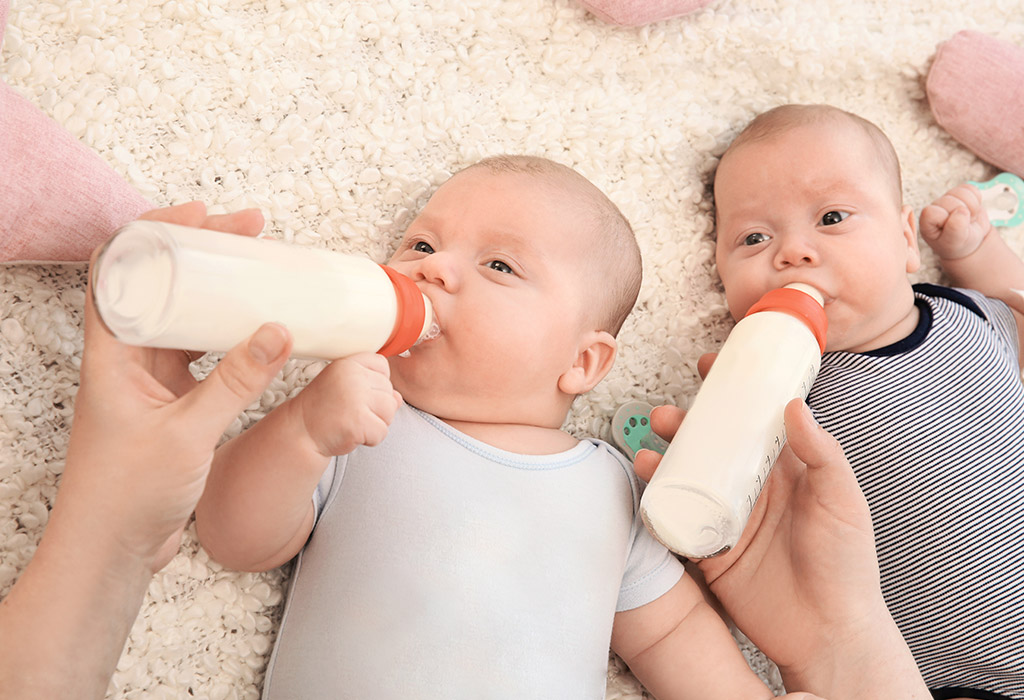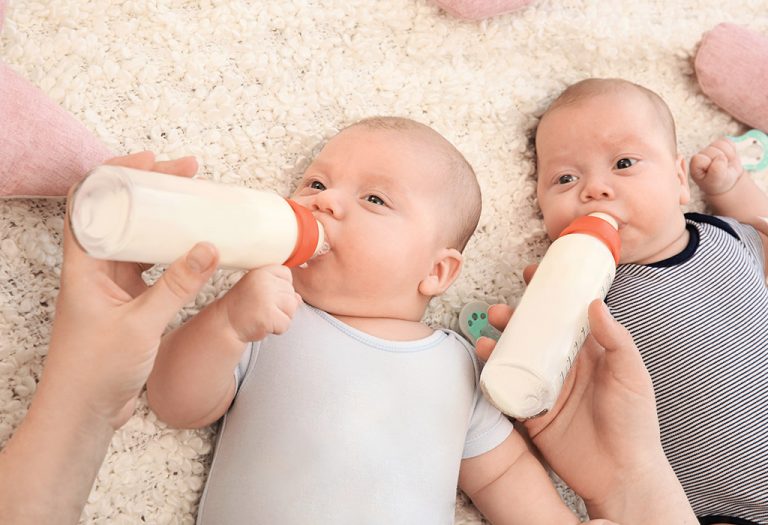 A baby-led, feed-on-demand schedule is recommended in this situation, as it can help to space out the feeding cycle for twins. Along with regular feedings, ensure that both children spend plenty of quality time with the family, and get equal attention with massages, play and tummy time.
Schedule 7: Working Mom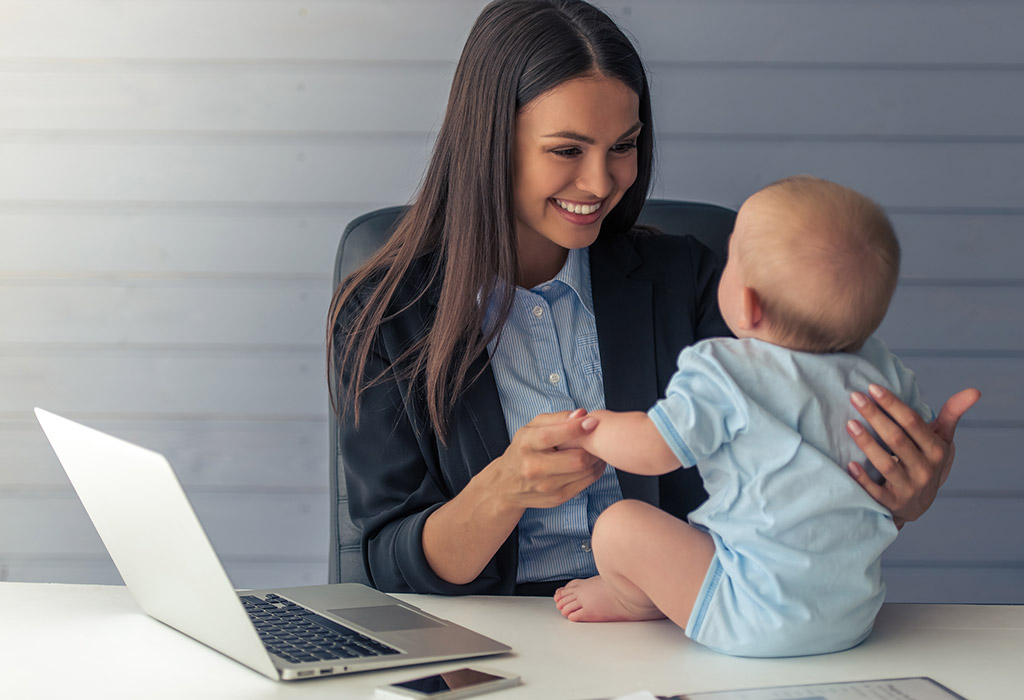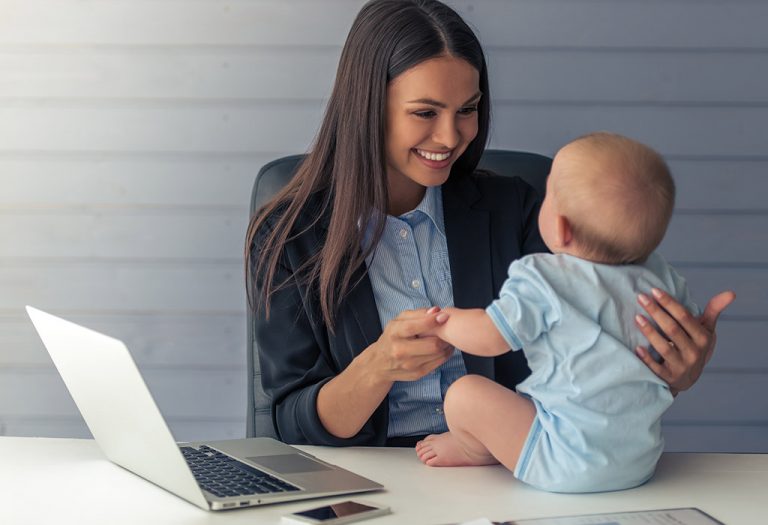 A working mom possibly has the most to juggle in terms of responsibility! Here is a recommended schedule for a working mother.
7 am: Wake and freshen up, get a bottle of formula, wake your baby for changing and feeding.
7:30 am – 9 am: Breakfast, spending quality time with baby and family.
9 am – 5 pm: Daycare/leaving the child with a nanny or grandparent. If your child is in daycare, the schedule there is based on the required activity for the day and helps your child develop social skills that are absolutely essential. Mom goes to work during this time. Ensure the daycare you choose is one that compliments your parenting style and beliefs.
5 pm – 6 pm: Quality time with baby, and a feeding session or dinner.
6 pm – 7 pm: Low-key playtime with parents, especially dad or a paternal figure.
7 pm – 8 pm: Diaper change (let dad do it – it will instil a sense of equality and shared responsibility), storytime, and bedtime for the baby.
Schedule 8: Evening Shift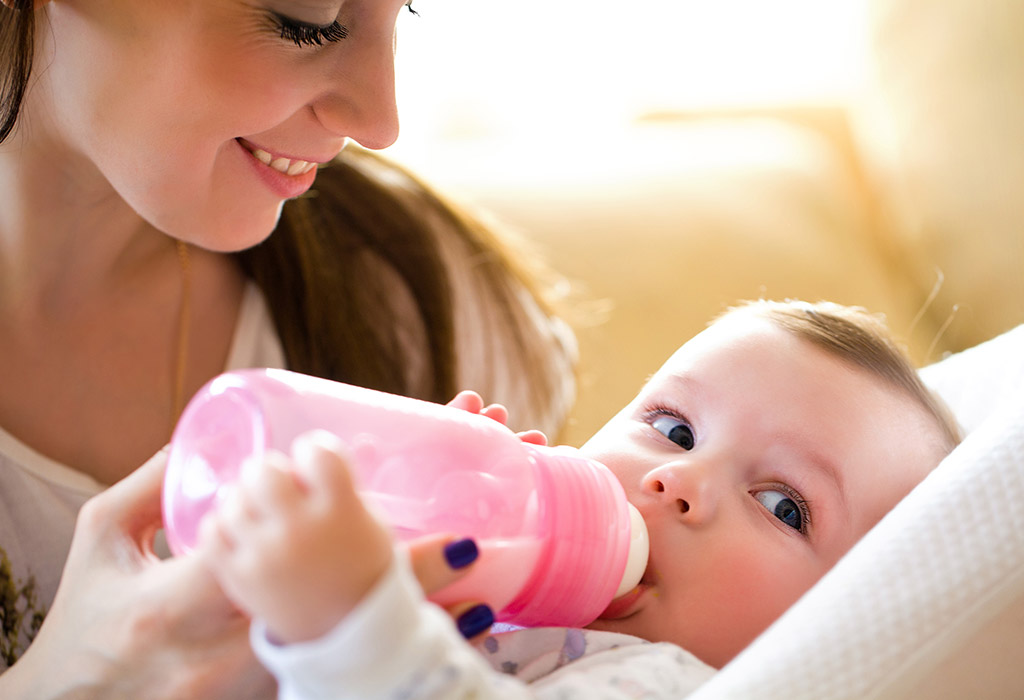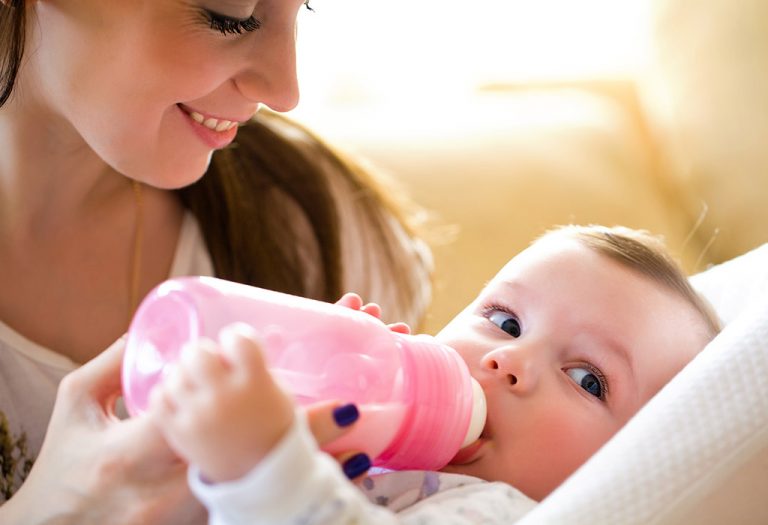 Working the evening shift can be helpful to a mother who is formula feeding. Here is a sample of a recommended schedule:
7:30 am: Wake and freshen up, wake up the baby, feed him and change him.
8 am – 9:45 am: Playtime with the baby, tummy time, or story or reading time.
10 am – 11:45 am: Nap time. Get chores and cooking done.
12 pm – 1 pm: Quality time with mom and baby, with lunch.
1 pm – 2 pm: Nap time for both mom and baby.
2 pm – 4 pm: Feeding session, diaper change, and playtime or storytime.
5 pm: Let dad take care of the baby while mom gets ready and heads off to work.
6 pm: Dinner time for baby.
7 pm – 8 pm: Some tummy time, a diaper change, storytime, and then put the baby to bed.
Tips for Deciding a Routine for 5 and 6 Month Old Babies
Here are a few tips to help you plan out your schedule for your baby.
Consider the schedules of both you and your partner.
You can choose if you want the schedule to be baby-led or parent-led, based on your ability to see the schedule through.
Be consistent. Don't skip on any activities in the schedule.
Change up the schedule every few months.
If possible, meditate when you get some alone time.
Plan some regular alone time with your partner.
Coordinate with your partner, so they can take the baby off your hands and allow you to spend some time with yourself.
Planning a schedule can be an important part of your baby's day, as well as yours. It can also help you organise your daily affairs while imparting wisdom and discipline. Remember to consider your baby's needs, like his diet, sleep patterns and playtime. Also, take into consideration the transition to solid foods before planning the schedule. The process is full of trial and error, but find and stick to a schedule that works for you, and be flexible!
Also Read: 7 and 8 Months Baby Schedule
?>