4 Glowing Ways to Decorate With Fairy Lights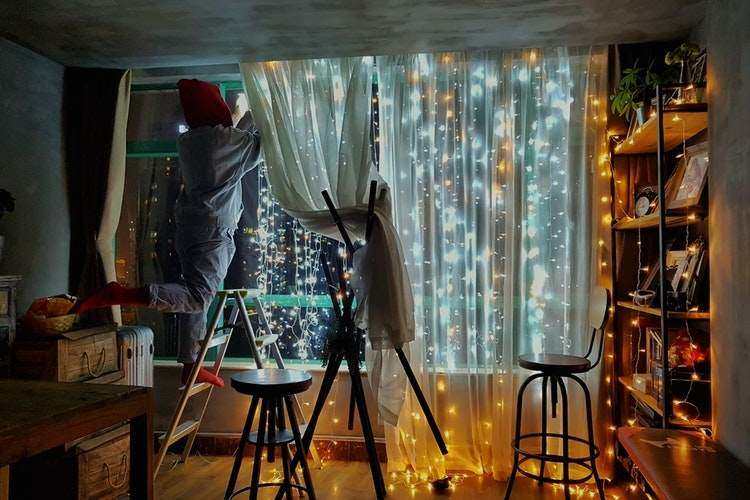 In this Article
Fairy lights add glitter to seasonal decorations and are affordable too. Just weave, twist or wrap these twinkling lights to transform your space into a fairy world. Serving as X-mas lights and holiday decor alike, fairy lights room decor will add a delicate glow to every inch of your home.
Less expensive than big-ticket holiday decor and more convenient to string than traditional Christmas lights, fairy lights are in high demand these days. These seasonal lights can be easily wrapped or woven around pillars, furniture pieces or doorways, and are fast turning homes into exotic wonderlands. Use these starry strings to make your rooms and nights glow-the right way. Are you ready for the magic?
Know How to Decorate your Room With Fairy Lights
1. Weave Through Trees and Garden Lights
Decorating with fairy lights indoors is fun when you have the right ideas emanating from your thinking cap. Do you have an outdoor evening party coming up? Start weaving light strands on the most unexpected places in your lawn. Try getting creative by wrapping these lights behind earthen decorative pots, splash some excitement on dark shrubs, or simply line your pathway by zigzagging the cute lights on little poles.
2. Greetings That Glitter
This Christmas light idea can be used on other special occasions and festivals too. Spell out your greeting-of-the-day on walls with creative fairy lights room decor touches. Your guests will love to see the words "Happy September" or "Love is in the air" twinkling on the otherwise clean walls in front. Yes, your calligraphy skills on 'oh-so-usual' greeting cards can take a back seat with these lights, just for once.
3. Table Layouts with Interspersed Lights
Use exciting table layout schemes and add these tips to decorate with fairy lights; you'll have a winner on hand. Those seated or helping themselves at a well-spread buffet will be charmed by the ways in which your centerpiece lights up every other minute. You could keep the idea simplistic by leaving the focus on your beautifully arranged flowers with unexpected lights popping out from here and there.
4. Romanticize Your Bedroom
It's your anniversary night and you'd love to surprise your hubby. Use lights as behind the bed decor or hang them from the ceiling to add a quaint touch to your net canopy. What can be more wonderful than sleeping on a bed with cascading lights transcending you both to a different world? Make love under the stars!
Adopt these fairy light decoration ideas for your home. Invest in strings to create a marked difference to the ways you entertain or celebrate. You'll be fascinated by the effect created by these dainty little lights in your personal space.