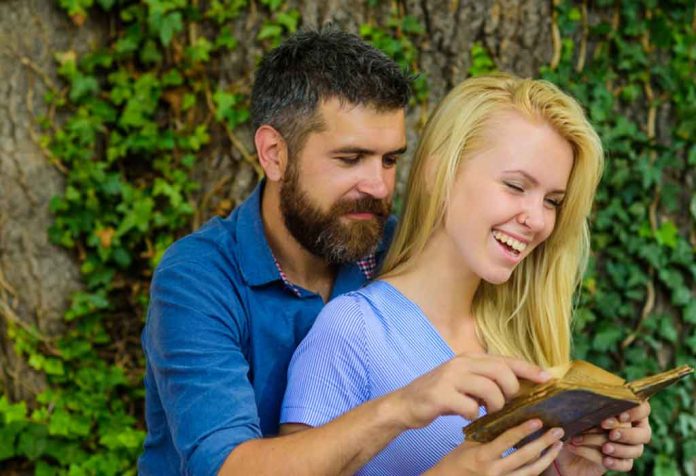 A poem or poetry is a great way to express one's feelings. Poems have the strength to convey the message- love, hate, greed. A couplet could go a long way in expressing what you feel about anything. Love poems among them have a mesmerising effect. They just work like a magic wand and hypnotise the person to fall in love, without the slightest doubt. Women, especially, love feelings to be expressed in writing. Just a tiny line that is all-encompassing and speaks of your love could make her go weak in her knees.
Love poems for wife to make her cry with joy, smile with glee or just melt her heart are perfect to express your love. Be it any occasion- birthday, anniversary or just another day, love poems are an evergreen way of showering your love and praise to any woman, especially your wife.
If you wish for sparks to fly in the marriage, then just pen down some lines on a card or even text it to her. If you are active on social media, then you could pick one memorable photograph and just add a few poetic lines to your status. Your evening will instantly get better when you head home from work. Love poems could have your woman dreaming about you all day!
Sweet Love Poems for Your Wife
Innumerable poets have penned romantic poems. Writing one is not easy, so why not borrow deep love poems for a wife from one of these poets for the next occasion. For romantic poetry for wife or short love poems for wife, you can find your pick here. With these collections of poems, you can make the special woman in your life feel more loved and cherished. You may want long ones, short ones, simple ones or some with deep metaphorical sense, each of these is unique in its own way.
1.'Let us be true' by Matthew Arnold
Ah, love, let us be true
To one another! for the world, which seems
To lie before us like a land of dreams,
So various, so beautiful, so new,
Hath really neither joy, nor love, nor light,
Nor certitude, nor peace, nor help for pain;
And we are here as on a darkling plain
Swept with confused alarms of struggle and flight,
Where ignorant armies clash by night.
2. 'To You I Promise' by Danny Balckburn
My love for you is unconditional and enduring.
To you, I promise to always be reassuring.
My love for you protects you and is honorable.
To you, I promise to always be faithful.
My love for you is understanding and passionate.
To you, I promise to always be compassionate.
My love for you is thoughtful and cherishing.
To you, I promise to always be devoted and caring.
My love for you is patient and kind.
To you, I promise this always until the end of time.
My love for you is selfless and forgiving.
To you, I promise this always, for as long as I am living.
My love for you is devoted and encouraging.
To you, I promise to always listen and never be detouring.
I promise to show you, my wife, that I love you in all that I do.
I can promise these things because with all of my heart I love you.
3. 'You Are the Right in My Life' by Anonymous
You're the right in my life
That removes every wrong
You're the power in my life
That makes everything strong
You're the remedy of my life
That cures every illness
You're the calm in life
That diffuses all my stress
You've always believed
In everything I've done
You aren't just my everything
You are my number one
I love you
4. 'A Red, Red Rose' by Robert Burns
O my Luve is like a red, red rose
That's newly sprung in June;
O my Luve is like the melody
That's sweetly played in tune.
So fair art thou, my bonnie lass,
So deep in luve am I;
And I will love thee still, my dear,
Till a' the seas gang dry.
Till a' the seas gang dry, my dear,
And the rocks melt wi' the sun;
I will love thee still, my dear,
While the sands o' life shall run.
And fare thee wheel, my only luve!
And fare thee wheel awhile!
And I will come again, my love,
Though it were ten thousand miles.
5. 'My Angel' by Anonymous
My angel, my life, my entire world, please be with me always, my one and only girl.
I love you so deeply, that I know is so true, for there is no one else, my heart beats just for you.
No matter what happens, you're always the one, that I want to come home to, I'm the Earth to your sun.
6. 'You've Made Me Change' by Anonymous
You've made me change
The way I look at things
You've given me the belief
To blindly trust my instincts
You've instilled faith
In me like never before
Helping me to rise
Above petty things and soar
I've come this far because
You've always been with me
I can't imagine what life
Without you would be
I love you
7. 'On our Wedding Day' by Anonymous
On our wedding day, I made
A promise, sealed with a kiss
To keep you happy forever
And never let our bond sever
Devoted, is every day of my life
To make you feel like the luckiest wife
Every wish that enters your thoughts
I'll try to fulfill, no matter what
I love you
8. 'I Don't Care' by Anonymous
I don't care about money
I don't care about wealth
I don't care about happiness
I don't care about health
I don't care about peace
I don't care about security
I don't care about riches
I don't care about prosperity
Because all of this
Will come naturally
As long as I have
You beside me
I love you
9. 'Queen of My Heart' by Anonymous
I'll be the warrior to fight for our love;
We'll fly together, fly higher than the dove.
I'll be your wall and shield you from danger;
I'll take all the pains, for to me they are no stranger.
You'll be the queen in the kingdom of my heart;
And then I'll be the king, so we'll never be apart.
You'll be my majesty— I will serve you forever;
And for all of the times, I will leave you never
10. 'Another Valentine' by Wendy Cope
Today we are obliged to be romantic
And think of yet another Valentine.
We know the rules, and we are both pedantic:
Today's the day we have to be romantic.
Our love is old and sure, not new and frantic.
You know I'm yours, and I know you are mine.
And saying that has made me feel romantic,
My dearest love, my darling valentine.
11. 'Spring as a Season' by Anonymous
Spring as a season
Would be dull and dreary
If you weren't around
To make it flowery for me
Summer would be no fun
It would be so boring and bland
I wonder how I would survive
Can't even begin to understand
Winter would be worse
Very gloomy and blue
It would be more horrible
To spend it without you
Every season of my life
Is beautiful with your presence
Without you there would be
No meaning to my existence
I love you
12. 'I'll Walk the Line' by Anonymous
Your cuteness knows no bounds,
your beauty has no limit,
you are the only woman in the world,
to which I will commit.
I look at you and gasp in awe,
wondering how you're mine,
you take my breath away my dear,
for you, I'll walk the line.
13. 'Bright Star' by 'John Keats'
Bright star, would I were steadfast as thou art–
Not in lone splendour hung aloft the night
And watching, with eternal lids apart,
Like nature's patient, sleepless Eremite,
The moving waters at their priestlike task
Of pure ablution round earth's human shores,
Or gazing on the new soft-fallen mask
Of snow upon the mountains and the moors–
No–yet still steadfast, still unchangeable,
Pillow'd upon my fair love's ripening breast,
To feel for ever its soft fall and swell,
Awake forever in a sweet unrest,
Still, still to hear her tender-taken breath,
And so live ever–or else swoon to death.
14. 'If You Were a Celebrity' by Anonymous
If you were a celebrity
I'd be your biggest fan
If you were the sun
I'd be the awesome tan
If you were an actress
I'd be the camera
If you were a candle
I would be a spa
Whatever you would be
I would be your ally
In short, without you
I would surely die
I love you
15. 'You Came Into My Life' by Anonymous
You came into my life like a star
And filled my heart with joy
You took my pain as if it was yours
And gave me love that no one could.
You gave me a shoulder to cry on
You were my pillar when I was falling
You were my strength when I felt low
With your smile, you made my living on earth worthwhile.
16. 'A Drinking Song' by WB Yeats
Wine comes in at the mouth
And love comes in at the eye;
That's all we shall know for truth
Before we grow old and die.
I lift the glass to my mouth,
I look at you, and I sigh.
17. 'It Isn't My Fault' by Anonymous
It isn't my fault
At you, if you I keep staring
I am not to be blamed
On you, if I keep waiting
Don't look at it as a blunder|
If we lap up some PDA
It is not my problem
If I flirt with you in teeny ways
It is not my mistake
If I act too haughtily
I ought to do these things
For I have such a pretty wifey
I love you
18. 'We Are Made One With What We Touch and See' by Oscar Wilde
And we two lovers shall not sit afar,
Critics of nature, but the joyous sea
Shall be our raiment, and the bearded star
Shoot arrows at our pleasure! We shall be
Part of the mighty universal whole,
And though all Aeons mix
And mingle with the Kosmic soul!
We shall be notes in the great symphony
Whose cadence circles through the rhythmic spheres,
And all the live world's throbbing heart shall be
One without heart, the stealthy creeping years
Have lost their terrors now, we shall not die,
The universe itself shall be our immortality!
19. 'A Smile' by Anonymous
A smile is such a lovely thing especially upon your face;
hiding all the sorrows or simply taking their place.
A kindly spoken word means so much when from you,
it comforts my weary heart or when I'm feeling blue.
A song can make our hearts dance in pretty fast-paced clips
when we hear the melody of our love's unconquerable grips.
Words could lift my spirits and sweet compassion find;
put your hand in mine alone and peace will fill my mind.
A smile, a word, a song, a look – seem small little things
but when love sparks an action, what blessings they bring.
20. 'A Thread Connects' by Anonymous
A thread connects you and me
A thread so magical, that no one else can see
It binds us together in the strongest ways
Protecting us from the toughest of days
That miraculous thread is our marriage
Of being together, it has made me pledge
To which I'll abide no matter what
My dearest wife, I love you a lot
21. 'Sonnet 130' by William Shakespeare
My mistress' eyes are nothing like the sun;
Coral is far more red than her lips' red;
If snow be white, why then her breasts are dun;
If hairs be wires, black wires grow on her head.
I have seen roses damask'd, red and white,
But no such roses see I in her cheeks;
And in some perfumes is there more delight
Than in the breath that from my mistress reeks.
I love to hear her speak, yet well I know
That music hath a far more pleasing sound;
I grant I never saw a goddess go;
My mistress, when she walks, treads on the ground:
And yet, by heaven, I think my love as rare
As any, she belied with false compare.
These innumerable verses penned by well-known poets and also by some inconspicuous writers are a perfect ode to your love for your wife. Love poems are a great way to capture the heart of your beloved wife or girlfriend. Although not all of us are skilled at writing poetry, we could borrow some lines and steal hearts. Just write down these lines on your wife's anniversary card, birthday card or Facebook post to see that smile on her face.
Also Read:
Birthday Poems for Your Wife
Romantic Love Messages and Quotes for Your Wife
Best Good Morning Messages and Quotes for Wife