10 Best Activities for 20 Months Old Baby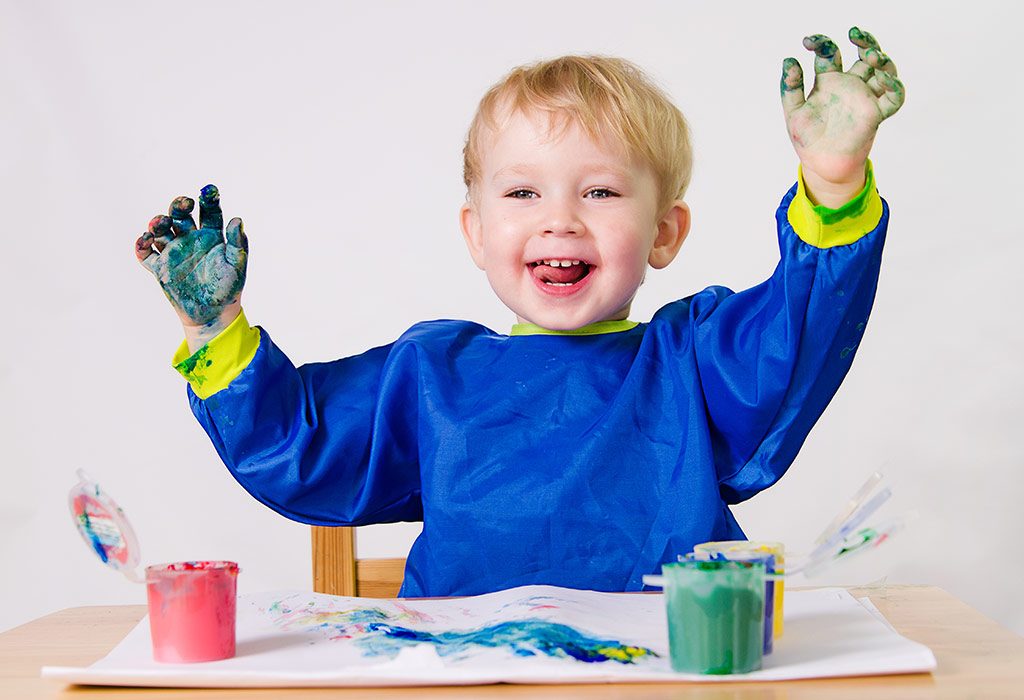 In this Article
Each child develops at a different pace. Therefore, every month is different from the other, and sometimes you may just run out of ideas to keep your growing toddler engaged. In this article, we will share ample learning as well as fun activities for 20-month-old toddlers that will not only keep your little one occupied but also help develop several essential skills. These activities are also a great way to create a long-lasting bond with your baby, fostering their cognitive, physical, and social development while ensuring their happiness and overall well-being. So, let's dive into these ideas for 20-month-old activities at home and watch them thrive with joy and curiosity.
The Best Learning Activities for a 20-month-old Baby
There are several indoor and outdoor activities you can involve your 20-month-old toddler in. Here are some simple activities for your fast-growing toddler.
1. Smear the Colours
Smear the colours is a great way to develop your little one's motor skills. On an advanced level, this activity can be done to teach your child how to identify colours. Here's what you need.
Things You Will Need
Finger paint
Wax paper
Plain paper
How to Do It
Take the wax paper and put it on the floor or any solid surface. It will help prevent stains on the surface.
Use tape to stick it to the floor so that it doesn't slip.
Keep a plain paper over the wax paper.
Now, drop a small amount of paint and smear it with your finger.
Allow your toddler to do the same.
Then drop different colours and let your baby smear each of them.
2. Find It For Me
This simple activity will improve your baby's observation skills. At times, you can choose to move the object to another hand to add an element of surprise to this activity.
Things You Will Need
An object small enough to hide in your palm.
How to Do It
Sit in front of the baby, and hold both your hands with the palms facing upwards.
Place this object in one of your palms.
Ensure your baby sees the object properly.
Now, close both your palms, with the object hidden in one hand.
Put both your hands behind your back, then bring them to the front and ask your little one where the object is.
Once your baby points it out, open both your hands to reveal the object.
3. Help Me Out
Toddlers imitate their parents commonly. This simple activity can help you connect with your child and also develop his motor skills. And, all you need is a little time along with the material mentioned below.
Things You Will Need
Two small pieces of clean cloth.
How to Do It
Find a clean surface that your baby can access easily.
Clean the surface with a cloth.
Then hand the second piece of cloth to your baby and let him do the same.
Remember not to throw away your piece of cloth when your little one starts cleaning. Spend time with him and keep talking or singing songs when you make him do this activity.
4. Take Your Baby Out
This activity will improve your child's observation skills, and communication skills and will also encourage him to explore his surroundings. To ensure your baby makes the most of this activity, choose a time of the day when your baby is active, well-fed, and well-rested.
What You Will Need
A spacious and safe place where your toddler can roam on his own (a park, a garden, or a mall).
Some free time on hand.
How to Do It
Once you reach the location, let your toddler lead the way and explore things around him at his own pace.
Keep following him and do not let him go out of sight.
Strike a conversation with your little one about anything that fascinates him and teach him new words.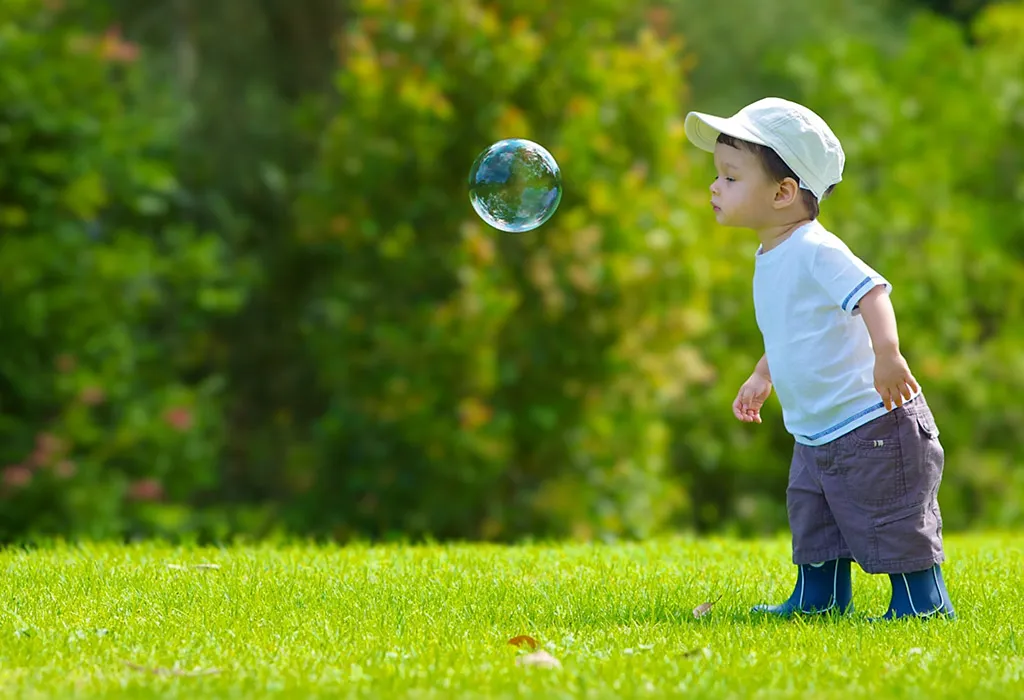 5. Match the Following
This activity will teach your toddler about various day-to-day objects. It will also enable him to identify the similarities and differences such as colour, shape, and size.
Things You Will Need
Objects in pairs, like socks, hair clips, books, spoons, etc.
Some space to place the objects.
How to Do It
Hold up one of the objects and show it to your baby.
Name the object in your hand for your baby and ask him to find its pair from the objects laid on the surface.
6. Prepare a Stew
This activity will help in developing your baby's fine motor skills, bilateral as well as hand-and-eye coordination. It will also stimulate your baby's visual and tactile senses.
Things You Will Need
A bucket
A stick
Some random objects like leaves, pebbles, flowers, etc.
How to Do It
When you step out with your little one next time to go to a park or a garden, carry a bucket.
Stop at a place where there are some pebbles, twigs, leaves, and flowers.
Fill the bucket with some water and ask your baby to pick pebbles, leaves, flowers, twigs, or just about anything safe to handle and ask him to put it in the bucket.
Take a long stick and help your baby stir the ingredients.
Slowly, you can start telling your baby about how heavy things like pebbles sink in water, and lighter objects like leaves float on it.
7. Fun With Flowers
This activity is not only fun for your baby, but it will also help in developing his fine motor skills and hand-and-eye coordination.
Things You Will Need
A mat
Dried flower petals
How to Do It
Spread a mat in the garden or veranda.
Place dried flower petals on the mat and allow your baby to explore them with his hands and feet.
Let him stomp these petals or pull them apart.
You can also pick some petals up and say the colour out loud.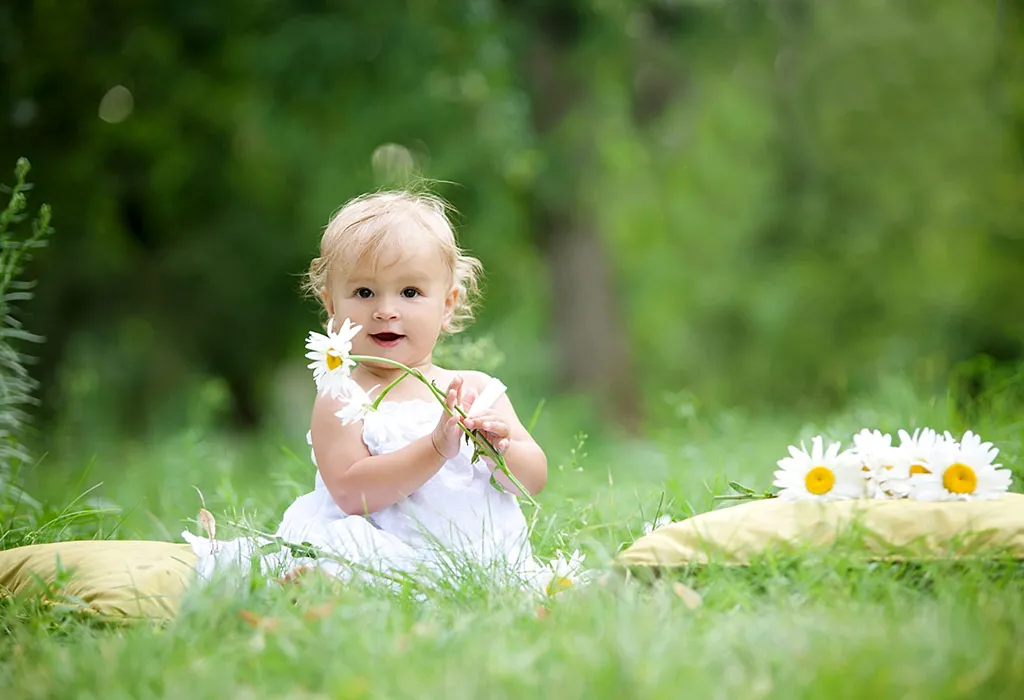 8. Play With Pasta
This enjoyable activity will help in the development of your baby's fine motor skills. It will also help strengthen his pincer grasp and improve finger isolation and the coordination of all the senses.
Things You Will Need
Different kinds of uncooked pasta
Playdough
How to Do It
Place the pasta and playdough on a table or the floor.
Make imprints with pasta on the play dough.
You can also hide the pasta inside the playdough and ask your baby to dig it out.
9. Egg Carton Colour Fun
This activity can help improve your child's observation skills and hand-and-eye coordination.
Things You Will Need
A large egg carton
A paper cut in the size of the egg carton.
Some paint
Coloured objects or Lego
Pencil
Ruler
How to Do It
Using a pencil, draw an equal number of squares on the paper and paint them in different colours. Let it dry.
Keep the sheet in front of your little one and make him drop a similar coloured object or logo in the exact hollow of the egg carton that mirrors the coloured square.
10. Sensory Play With Textures
Engaging your 20-month-old in sensory play with textures can be a delightful and educational experience. This activity enhances their tactile awareness and fine motor skills while providing a sensory adventure.
Things You Will Need
A shallow container or tray
Various textured materials like sandpaper, soft fabric, bubble wrap, cotton balls, and more
How to Do It
Place the textured materials in the shallow container or tray.
Encourage your toddler to touch, explore, and feel the different textures with their hands.
Describe the textures as your child explores them – "This is soft like a teddy bear," or "This feels bumpy like a road."
You can even incorporate a matching game by providing a set of objects with textures similar to those in the tray, and your child can match them.
Children learn every day through the various activities that they are involved in. All you need is a little time and patience. Do not leave your baby alone during any of the activities and participate, not only for fun, learning, and bonding but also to ensure your baby's safety while he is doing them. So do try these activities with your 20-month-old, and let us know how they go!
References/Resources:
1. Speech and language development (from 12 to 24 months); NHS Foundation Trust; https://www.gosh.nhs.uk/conditions-and-treatments/procedures-and-treatments/speech-and-language-development-12-24-months/
2. Development Matters in the Early Years Foundation Stage (EYFS); The British Association for Early Childhood Education; https://dera.ioe.ac.uk/id/eprint/14042/7/development%20matters%20in%20the%20early%20years%20foundation%20stage_Redacted.pdf
3. Why to Avoid TV for Infants & Toddlers; American Academy of Pediatrics; https://www.healthychildren.org/English/family-life/Media/Pages/Why-to-Avoid-TV-Before-Age-2.aspx#
4. Carroll. P; Effectiveness of Positive Discipline Parenting Program on Parenting Style, and Child Adaptive Behavior; National Library of Medicine; https://www.ncbi.nlm.nih.gov/pmc/articles/PMC9560916/; July 2021
5. Fortier. J, Stewart-Tufescu. A, Salmon. S, MacMillan. H.L., et al.; Associations between Lifetime Spanking/Slapping and Adolescent Physical and Mental Health and Behavioral Outcomes; Sage Journals; The Canadian Journal of Psychiatry; https://journals.sagepub.com/doi/10.1177/07067437211000632; March 2021
6. Neppl. T.K., Jeon. S, Diggs. O, Donnellan. M.B.; Positive Parenting, Effortful Control, and Developmental Outcomes across Early Childhood; National Library of Medicine; https://www.ncbi.nlm.nih.gov/pmc/articles/PMC7041851/; March 2020
7. Dicataldo. R, Roch. M; How Does Toddlers' Engagement in Literacy Activities Influence Their Language Abilities?; National Library of Medicine; https://www.ncbi.nlm.nih.gov/pmc/articles/PMC8744843/; January 2022
8. Hnatiuk. J, Salmon. J, Campbell. K, Ridgers. N, Hesketh. K; Early childhood predictors of toddlers' physical activity: longitudinal findings from the Melbourne InFANT Program; International Journal of Behavioral Nutrition and Physical Activity; https://ijbnpa.biomedcentral.com/articles/10.1186/1479-5868-10-123; November 2013
Also Read:
20 Months Old Baby Food
Fun Activities to Do With Your Baby
Intense Mood Swings in Your 20 Months Old
20 Months Old Baby Growth and Development