20 Memorable Beach Pregnancy Announcement Ideas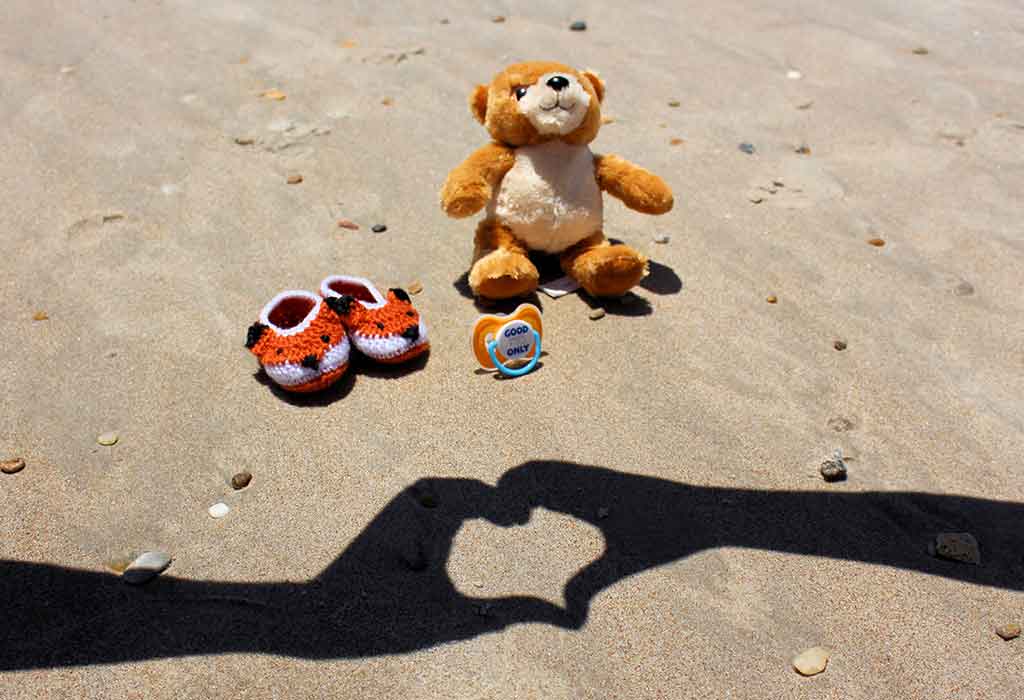 In this Article
There is nothing more relaxing and enjoyable than a beautiful day on the beach. If you love the beach, beach-themed pregnancy announcements are the way to go. Enjoy a day with the sun, sand, and surf as you take photos to let your loved ones know that you welcome a new little member to your family.
20 Amazing Beach Pregnancy Announcements
Now that you have decided on what theme you are going with, planning comes next. There are so many wonderful ideas that you can take inspiration from for your beach pregnancy reveal. Here are some of them:
1. Message in a Bottle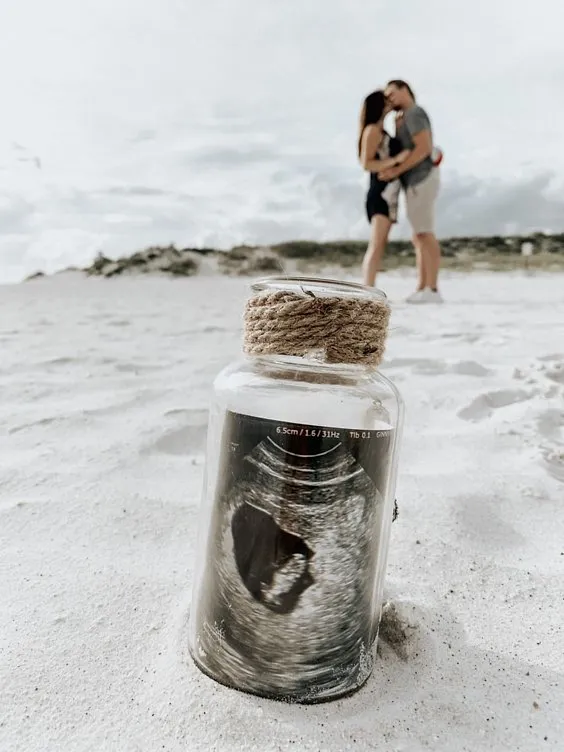 Let people know your big secret with a "message in a bottle" beach theme. Just place a sonogram of your little one in a clear glass jar or bottle and pose in the background. People will definitely get the message.
2. Glam Beach Day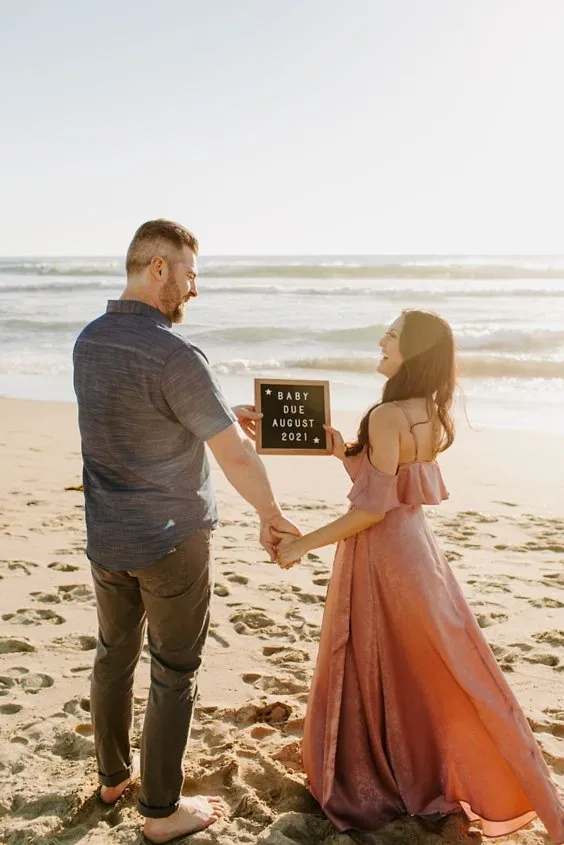 Who says you can't get dressed up for the beach? Get dressed up in the perfect outfits and hold up a sign or two to point out what you are expecting while posing for pictures you are going to love to revisit again and again.
3. Baby on Board Beach Hat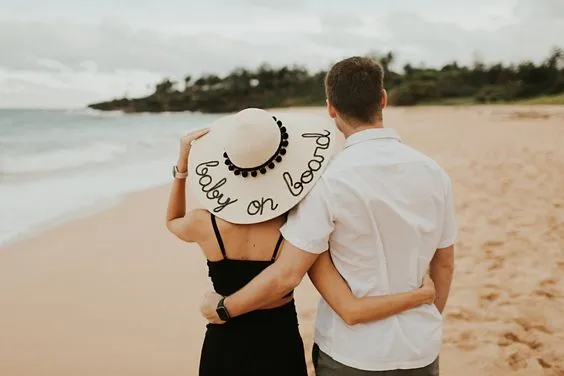 Get mom-to-be a pretty hat with the message "Baby on Board" and pose for a few pictures at the beach. This is a simple way to get your message across while getting the chance to truly enjoy your beach day and be as natural as possible.
4. Sunrise Beach Pregnancy Announcement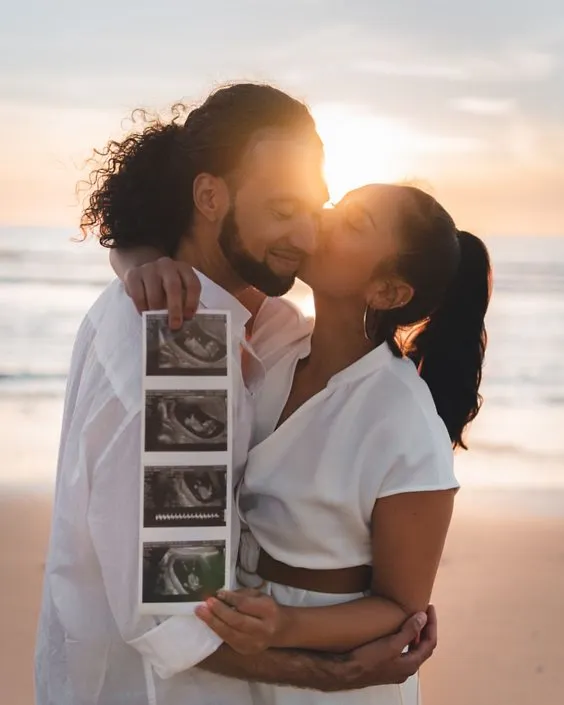 Use the dawning of a new day to symbolize the dawning of a new era in your life. Becoming a parent is a big deal, and a sunrise photoshoot to help announce the arrival of your newest family member will be well received. You can hold up your sonogram to share your baby's first picture as well.
5. Beachy Gender Reveal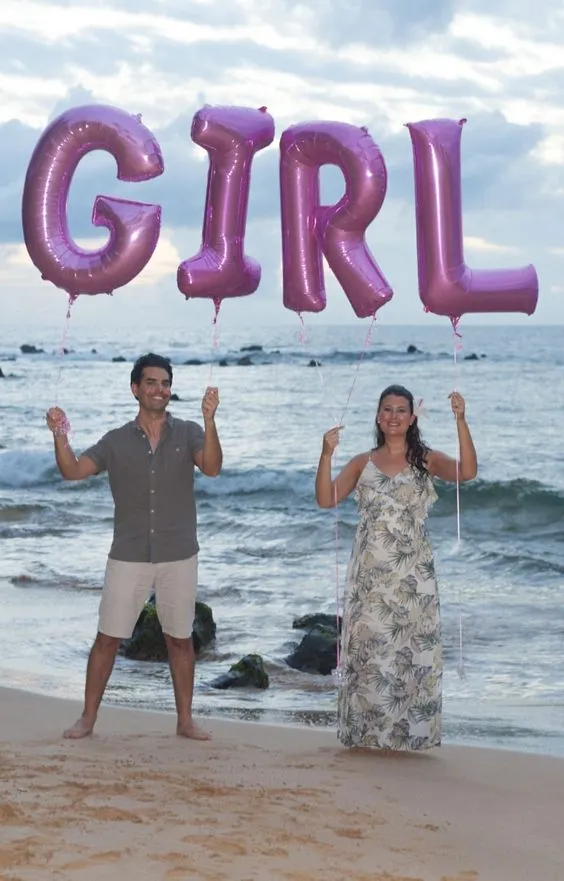 Combine your gender reveal and your pregnancy announcements into one, and have a blast while you are doing it.
6. Sibling Announcement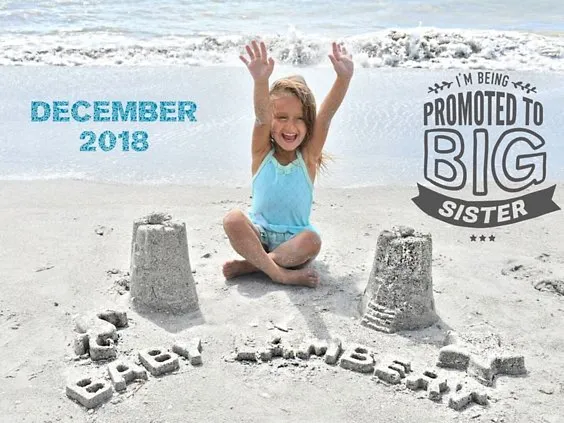 Siblings can announce the arrival of their new bestie better than anyone. There are many fun ways to have your child make the announcement, and writing it in the sand near a couple of sandcastles is a great one!
7. Family Beach Announcement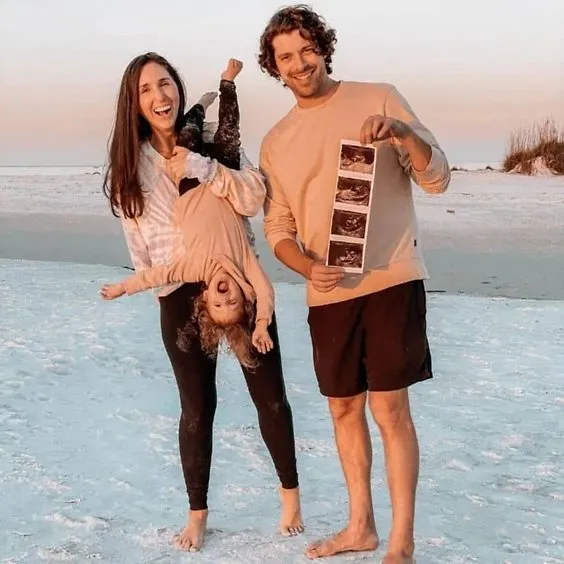 If you already have a child, you can have a playful family picture at the beach with a sonogram of your little one included.
8. Beach Time Frolicking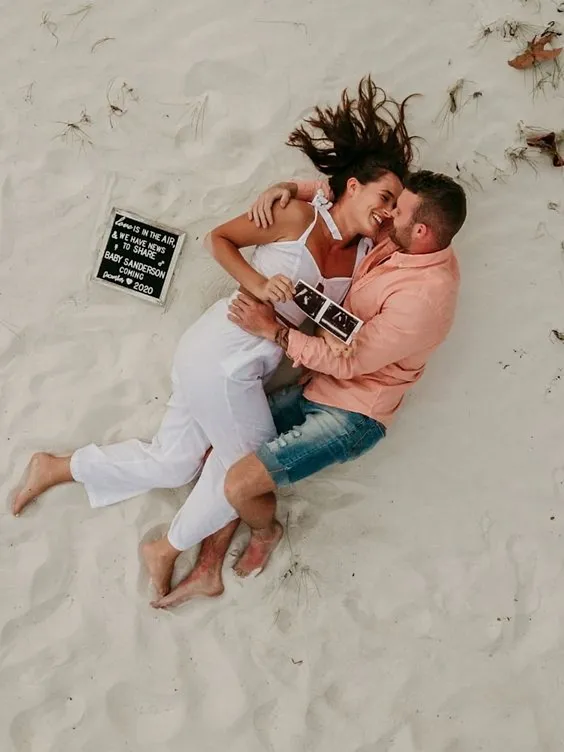 Spending frolicking on the beach can be plenty of fun, so why not include a notice board that announces your latest miracle while holding up your baby's sonogram to show off to your friends and family.
9. Baby Diver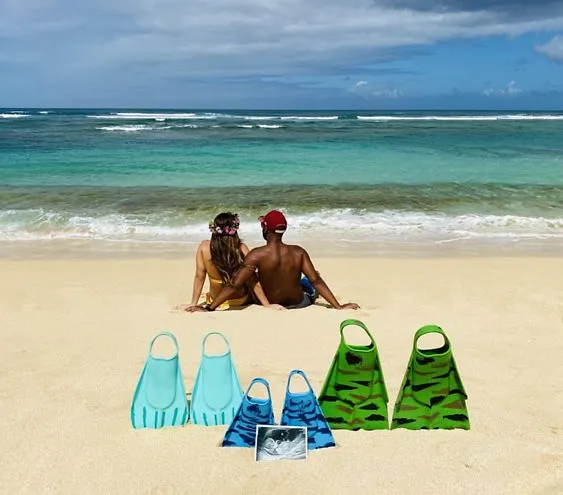 If you love diving, adding an extra pair of little diving flippers between mum and dads will send a clear message that you are expecting a new family member.
10. Beach Baby Letterboard Announcement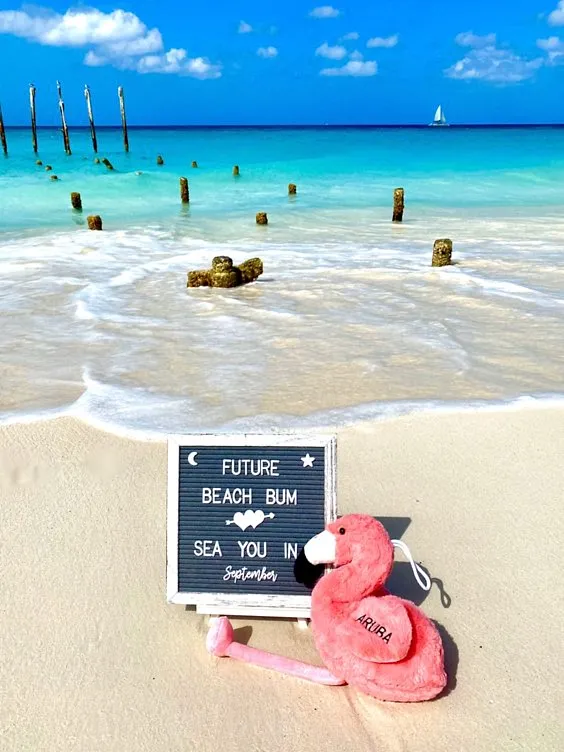 You don't even need to be in the picture for this one or have a fancy photoshoot day. Instead, enjoy some time on the beach with a letterboard making the announcement for you against a beautiful beach background.
11. Pet Pregnancy Announcement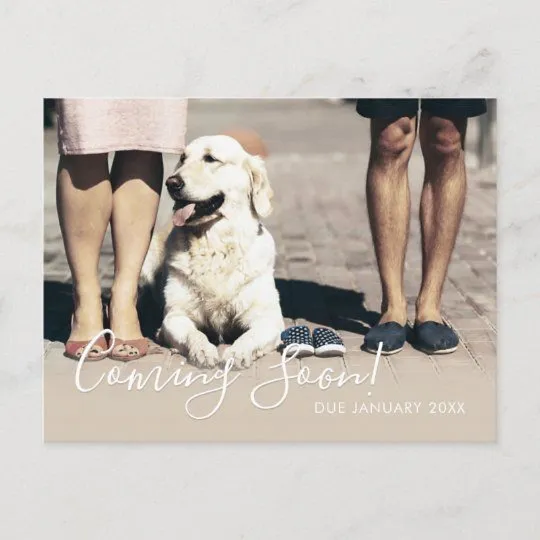 Dogs and cats are family members, too, so you can always include them if you have a furry family member in your pregnancy announcement.
12. Writing in the Sand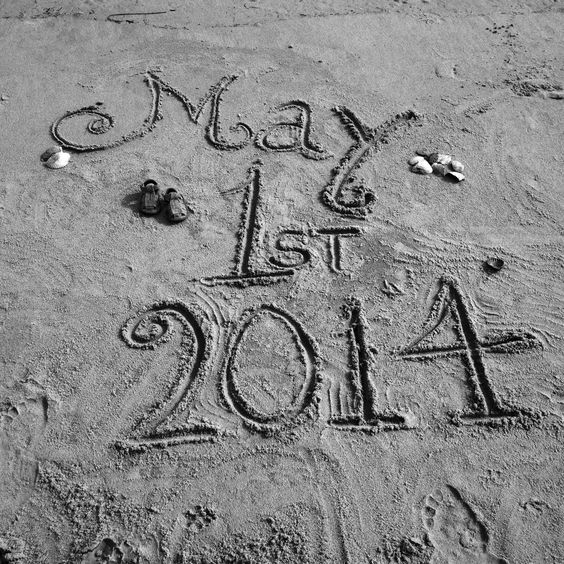 When it comes to making beachy announcements, writing directly on the sand is a great idea. You can pose in the same picture, or you can take a picture of your message, along with some cute baby shoes.
13. Bikini or Trunks

If you are not ready to make a gender reveal, or you don't want to know yourself, you can always make everyone even more curious with a "Bikini or trunks?" board. Hang up a girl's bathing suit and boys swimming trunks on a make-shift clothesline on the beach with a message, and you are all set!
14. Footprints in the Sand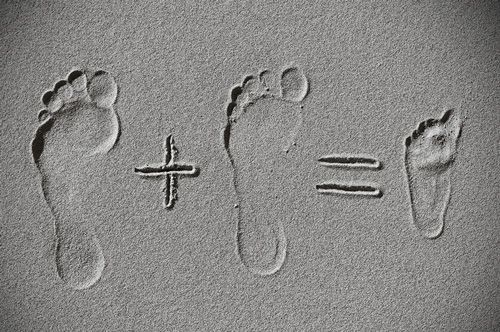 Plant the "dad plus mom equals baby" image for a beachy and simple pregnancy announcement on the sand. Dad's footprint plus mom's footprint equals a baby footprint.
15. Baby on Board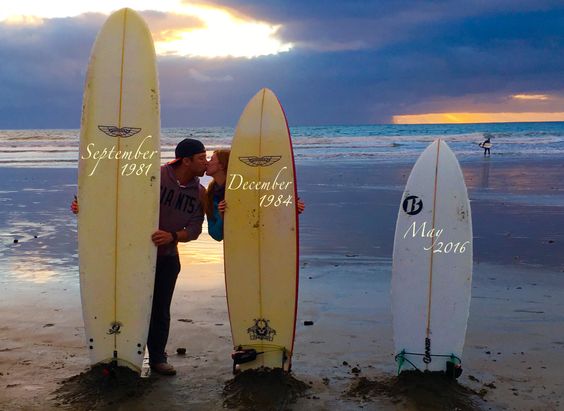 If you and your partner are surfers, this is the pregnancy announcement for you. You can pose with pictures of surfboards representing mum and dad, as well as one for the newest family member.
16. Arggh, Baby Matey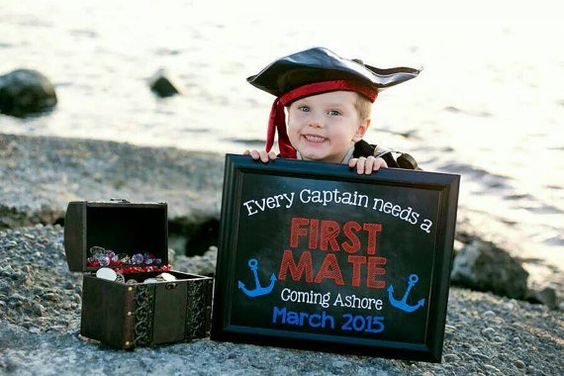 You cannot think of the sea and not think of pirates. This announcement will work even better with a big brother happy to get a first mate finally.
17. Boat Baby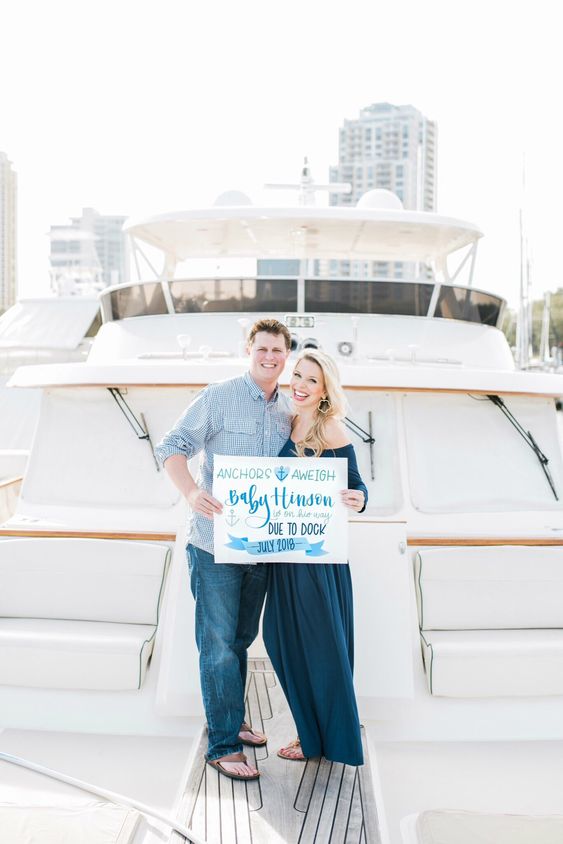 Boating is another favorite for those who love the beach, so if you enjoy some time on the water, you can always use that to help make the announcement a bit more fun.
18. Sunset Announcement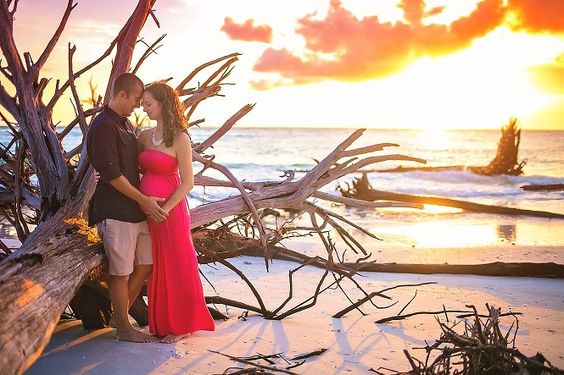 Brighten up your pregnancy announcement at the beach by going for some lovely sunset shots. With the beautiful setting sun reflecting on the surface of the water and peeking through the clouds in a colorful array, your picture will shine just as brightly as the new life you made.
19. Flip Flop Fun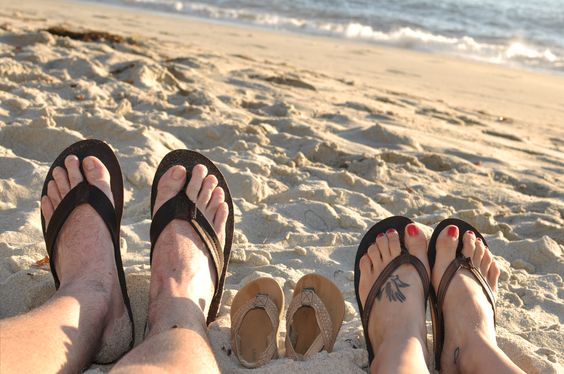 Any beach outfit is incomplete without a pair of flip flops, so post a pic of mum and dad's feet wearing flip flops and place a pair of baby flip flops in between.
20. Baby Boots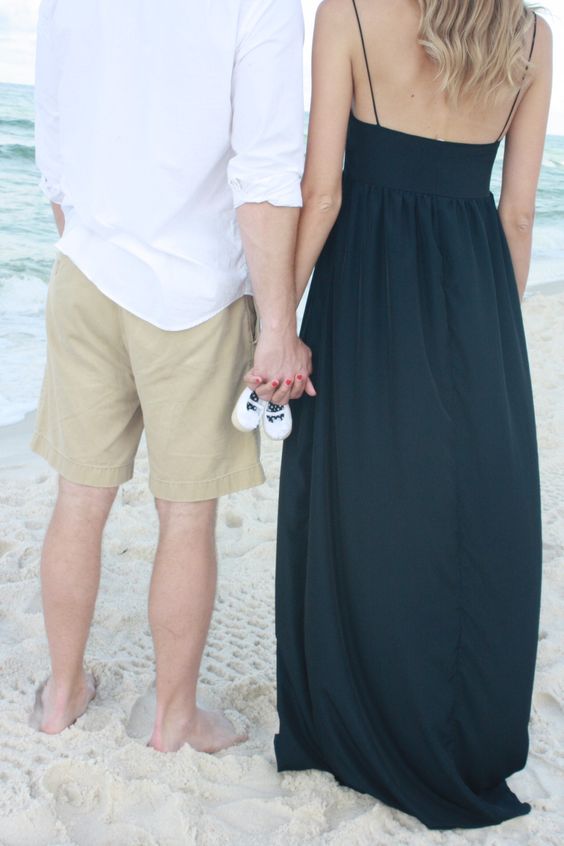 Baby boots are popular for making pregnancy announcements, and there are many ways to use them. If you want simplicity with meaning, a picture of mum and dad holding baby boots with joined hands is a great way to make a subtle yet meaningful pregnancy announcement.
With so many ideas for a pregnancy announcement at the beach, you are practically spoilt for choice. Use any of these ideas as inspiration for your big pregnancy announcement day.
Also Read:
Easter Pregnancy Announcement Ideas
Rainbow Pregnancy Announcement Ideas
Thanksgiving Pregnancy Announcement Ideas