20 Incredible Benefits of Curry Leaves (Kadi Patta) for Hair and Health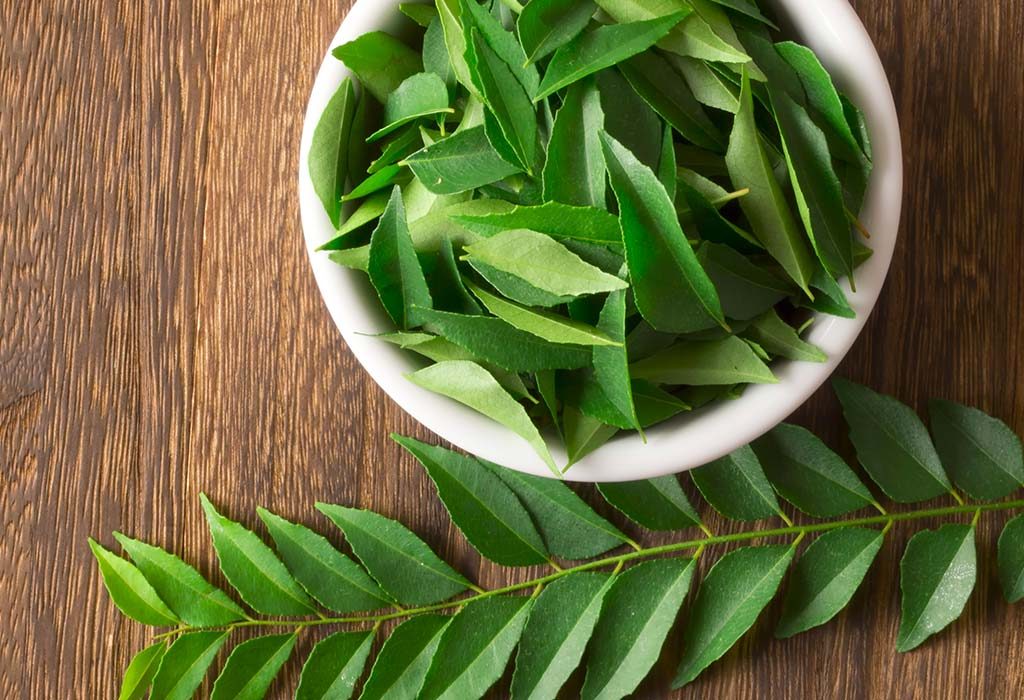 Curry leaves, mostly known as kadi patta, are widely used in Indian cooking. These fragrant leaves not only add aroma to the food but they are also loaded with immense health benefits. In this post, we shall be decoding some incredible benefits of curry leaves for your hair and health.
Health Benefits of Curry Leaves
Most of us know the culinary uses of these aromatic leaves; however, these leaves have been in use for centuries for their medicinal properties too. Here are some kadi patta benefits or health benefits of curry leaves:
1. Help in Losing Weight
Thinking of losing extra weight? Well, curry leaves may help do the trick. These leaves work in two ways in making you look slender. Firstly, these leaves help the body get rid of toxins and secondly, help in burning the stubborn body fat.
2. Help in Getting Rid of Free Radicals
Free radicals in the body lead to many kinds of health ailments. Curry leaves are loaded with antioxidants, which help in protecting the body cells from any kind of free radical damage.
3. Help in Lowering Cholesterol Levels
Oxidation of cholesterol results in the formation of LDL (low-density lipoproteins) or bad cholesterol in the body. However, curry leaves, which are rich in antioxidants, help in reducing the oxidation of cholesterol. This way bad cholesterol or LDL levels get controlled or become low.
4. Help in Keeping Diabetes under Check
Consumption of curry leaves on a regular basis help in stimulating the insulin-producing cells. These cells help in keeping the blood sugar levels under check.
5. Help in Maintaining Gastrointestinal Health
Battling with digestive issues? Curry leaves may prove to be beneficial. The digestive enzymes present in curry leaves are helpful in keeping the digestive health on track, and the laxative properties prove to be effective in regulating the bowels. If you are battling with tummy troubles such as abdominal pain, gas or diarrhoea, try curry leaves.
6. Help in Relieving Morning Sickness
If you're feeling queasy or nauseous during your pregnancy, curry leaves may help in reducing the symptoms. Consumption of curry leaves help in the secretion of digestive enzymes, which provides ease from nausea, vomiting and morning sickness.
7. Help in Reducing Stress
Most of us try to keep stress at bay, but our busy lifestyles make it difficult to evade. Stress can lead to major health issues, and these leaves may help you in controlling stress too. The aroma of these leaves helps in relieving the symptoms of stress by calming your mind and body.
8. Help in Healing Wounds
Being rich in anti-bacterial and antioxidant properties, curry leaves help in accelerating the healing process. If you experience a burn, cut or bruise, curry leaves' paste may not only help in healing, but it may also help the infection from spreading.
9. Help in Improving Eye-Health
Vitamin A is one of the essential vitamins for your eyes. Curry leaves are loaded with this vitamin and thus eating these leaves in your daily diet may help in keeping your eyes in a healthy state.
10. Help in Congestion of Nose and Chest
Curry leaves are power-packed with vitamin A and C, and these leaves also contain antibacterial, antifungal, anti-inflammatory and antioxidative properties, which are helpful in reducing the symptoms of congestion, sinusitis, productive cough and cold.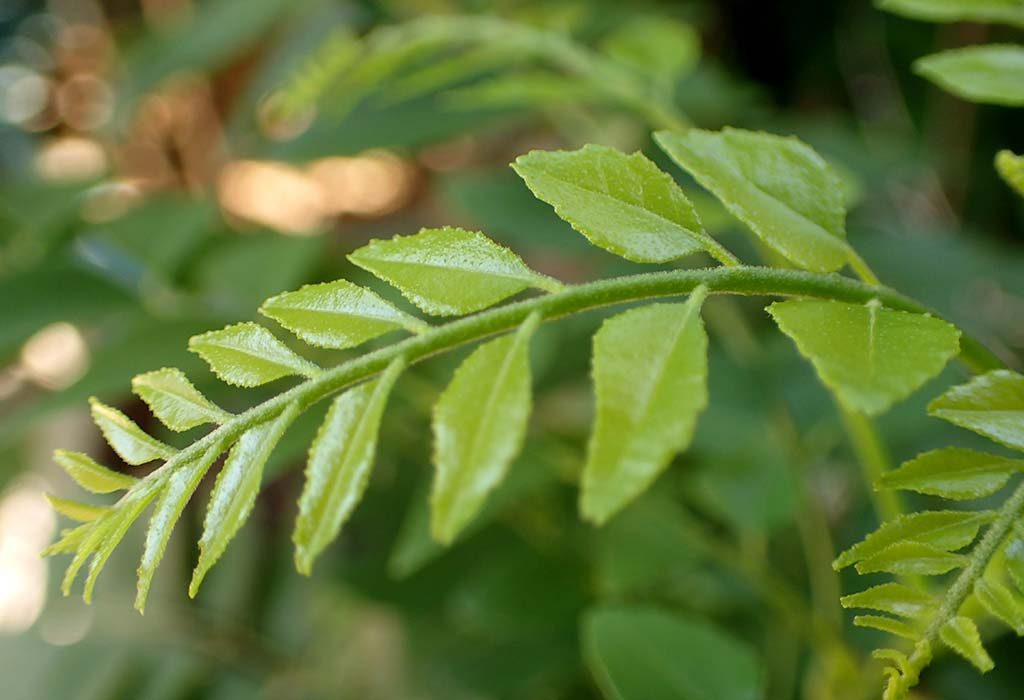 Benefits of Curry Leaves for Hair
Curry leaves are a boon for your hair, and ancient Ayurveda is filled with recipes that may prove to be helpful in dealing with many kinds of hair or scalp conditions. Here are some benefits of kadi patta for hair:
1. Prevent Hair Fall
The protein and beta-carotene present in curry leaves help in increasing hair growth and reducing the hair fall. The antioxidants and amino acids are also beneficial in moisturising the scalp and strengthening the hair follicles.
2. Nourish Damaged Hair
Regular use of chemicals on hair and exposure to pollution may make the hair dull, dry and lifeless. Use of curry leaves help in restoring the moisture and also helps in strengthening the hair follicles.
3. Prevent Greying
Hair greying is a natural phenomenon, however, sometimes premature greying may occur due to genetic reasons, alcohol usage or due to stress. However, vitamin B in curry leaves helps in strengthening and nourishing the hair and also helps in delaying the hair greying process.
4. Say Bye to Frizzy Hair
Frizzy hair can get difficult to manage. Applying a decoction made by boiling curry leaves in water may help in controlling the fizz. Use this decoction as a last rinse after shampooing and conditioning the hair.
5. For Conditioning Dry Hair
Coconut oil boiled with a few curry leaves in it is a great way of providing deep conditioning to dry and dull hair. Keep this oil mixture applied on hair for half an hour and then shampoo as usual.
6. Reduce Impact of Harmful Chemicals on Hair
Chemical products can harm the hair and hair follicles. This may sometimes lead to hair fall or loss. Curry leaves help the hair follicles to retain their natural moisture and prevent the damage to the hair.
7. Reduce Thinning of Hair
Being rich in beta-carotene and protein, curry leaves are excellent for making your tresses thicker. Use of curry leaves on hair helps the hair to become denser and thicker.
8. Good Antioxidant for Hair
Curry leaves have ample antioxidant properties. The antioxidants are helpful in reducing follicle damage and also help in promoting hair growth.
9. Repair Hair
Curry leaves make the hair follicle stronger by providing them with deep nourishment. With regular usage, they help in repairing hair damage by making the hair healthier and shinier.
10. Benefit the Hair Shaft
Vitamin B6 present in curry leaves helps in regulating hair and aids the prevention of hair loss or hair damage. The nutrients present in these leaves protect the hair shaft and the hair roots.
Wish to have long, thick and healthy hair? Switch to using curry leaves and see your dull, brittle and dry hair transform into the hair of your dreams. Curry leaves are versatile and can be used in various forms. Use in your diet, make a decoction, boil in it oil or simply chew some fresh leaves to obtain its many benefits.
FAQs
Do you wish to know more about the usage of curry leaves? Well, browse through these frequently asked questions to get a more comprehensive look into the topic.
1. Can I Eat Raw Curry Leaves?
Yes, curry leaves can be consumed in its raw form too, though frying them with little oil increases their taste and aroma. However, if you are allergic to curry leaves, you should abstain from consuming these leaves. Eating raw curry leaves in the morning benefits digestion -related issues such as diarrhoea, constipation, gas etc.
2. Are Curry Leaves Safe during Pregnancy?
Yes, curry leaves are safe for consumption during pregnancy, and you can have these leaves. Your doctor may ask you to include these miraculous leaves in your diet. These leaves have immense health benefits for the would-be-mommy and her baby. Consuming these leaves may reduce your chances of catching infections, having blood disorders like anaemia and even reduce the chances of premature or preterm birth of your baby.
3. What are the Benefits of Eating Curry Leaves on an Empty Stomach?
Curry leaves can be had any time during the day. However, there are umpteen benefits of having these leaves on an empty stomach. They help in keeping your digestive health in good shape. They keep the symptoms of nausea and morning sickness at bay, in case of pregnancy. Also, if you are combating obesity or dealing with weight issues, eating curry leaves on an empty stomach may help in getting rid of excess fat from the body. It is also effective in treating health issues such as bad cholesterol and diabetes.
4. Are Curry Leaves Healthy for Kids?
Curry leaves are good everyone and can be given to kids too. These leaves are loaded with essential nutrients like calcium, phosphorus, carbohydrates, fibre, vitamin A, B, C and E. These nutrients are helpful in keeping your kids healthy by improving their gastrointestinal health and eye health. It also helps in protecting the liver, enhancing immunity and dealing with health conditions like diarrhoea and dysentery in kids.
5. How Many Curry Leaves I Should Eat Daily?
You can eat curry leaves in various forms. On an average, you can have around 8 to 10 leaves on an empty stomach. You can avail the health benefits by drinking curry leaves' juice too. You can boil the leaves in water and drink the decoction too. Depending on the health issue that you need to address, the dosage may vary. Meet your Ayurvedic consultant to know the right dosage to avail maximum benefits.
Include curry leaves in your diet and see your overall health benefit from it. However, in case you are a pregnant woman, breastfeeding mother or you are thinking of administering these leaves to your baby, you must seek your doctor's approval before doing so.
Also Read:
Vegan Sources of Protein to Include in Your Diet
Health Benefits of Including Prunes in Your Diet