20 Home Office Design Ideas That Will Enhance Your Productivity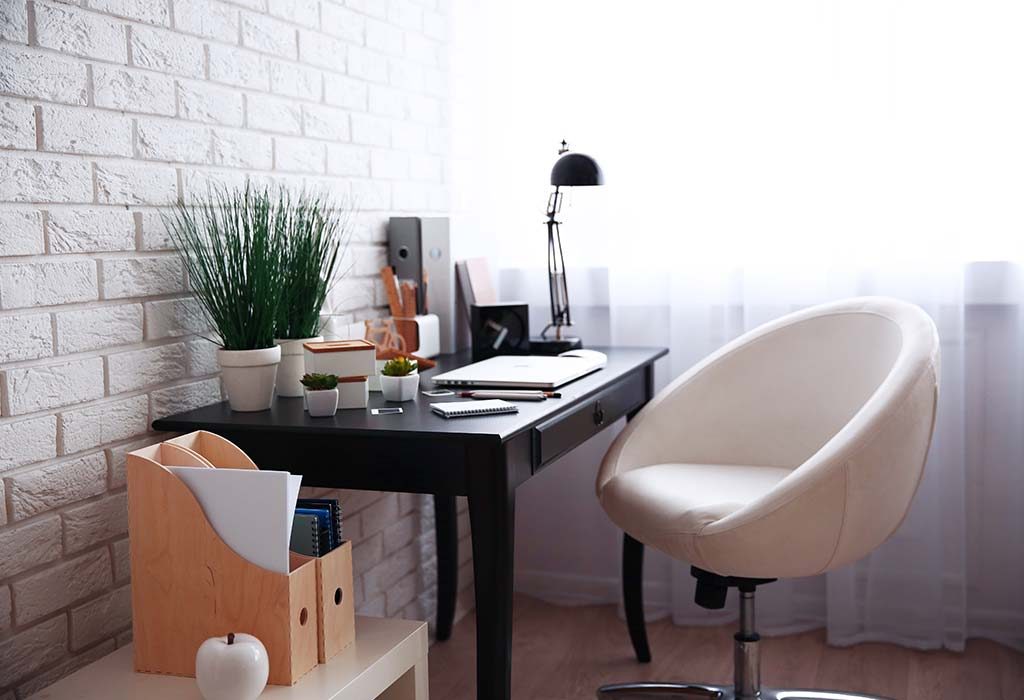 Having home offices has become a trend these days. A home office should be such that it allows you to do your work, and does not stop the flow of your creative thinking. This is why home offices must have a perfect atmosphere and artistic details.
Creative Home Office Design Ideas That Will Make You Want to Work All Day
Irrespective of whether your home office is spacious or tiny, there are a bunch of creative things you can do to style the place. Here are some home office ideas for small spaces as well as large rooms that will help you create the most comfortable environment.
1. Add Green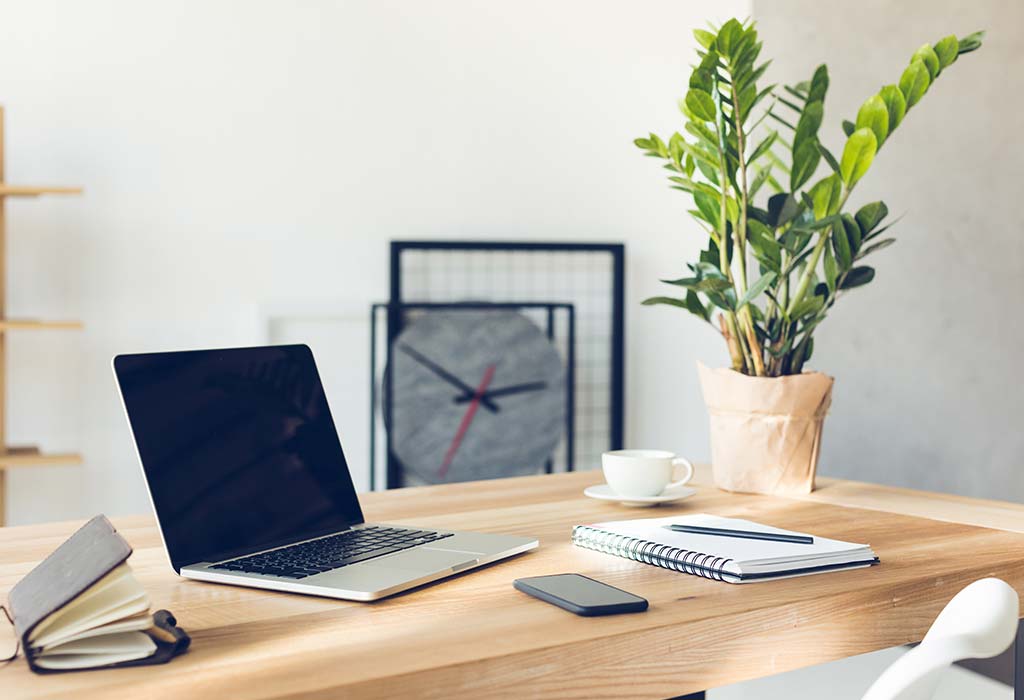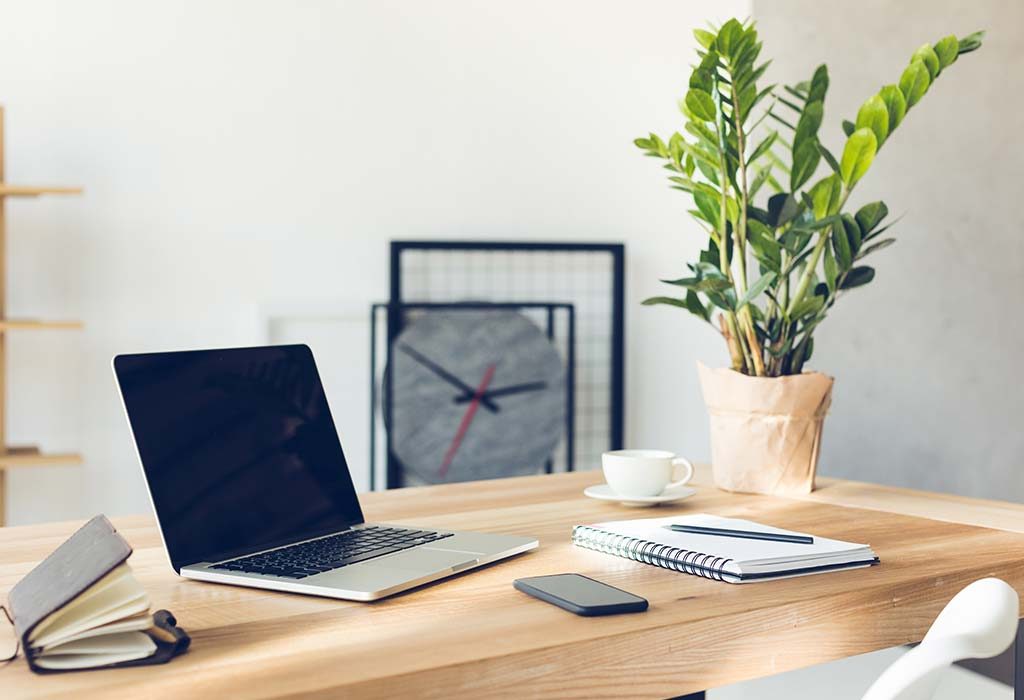 You will be more productive when you add some life to your workspace. It is best to keep your home office comfortable, ergonomic, practical, and clean. To stay calm and relaxed, you can keep a beautiful plant in your workplace, like the Snake plant or any other indoor air-purifying plant. These low maintenance plants freshen up the air and the place a nice look. Plants will add dimension to your workspace and will make you stay there longer!
2. Think Chic
Don't hesitate to explore your creativity, since your workspace is meant to reflect your personality and inspire you. You can accent the wall with a chandelier above your desk to give your space a little depth with glamour. Refreshing your lighting is one way to glam up your workspace. To keep the area organised, you can add a wood-tiled sideboard. A pendant lamp on the desk will give your home office a more professional and luxurious look.
3. Get Artsy
Start decorating your home office with objects that you connect with. Filling your home office with vibrant and trendy art will help energise your surroundings. This will keep you motivated even if you are stressing out all day in your office. You can either shop for them or create your own! Building shelves and spray painting the walls is one way to add life to your workplace.
4. Keep it Welcoming
Make sure to keep your workspace a little welcoming. Try not to make it too cosy, or you mind end up napping during work hours. You can come up with a comfortable home office by adding in some neutral colours on the floor and walls. Natural wood, some potted plants, a nice carpet, a few throw pillows, and a wall hanging made of fabric will bring in a cosy feel. This will work best during the winters. Switch all of these to cotton during the hot summers.
5. Hanging a Gallery Wall
Since it is your space, you have the advantage of crowding it with the things you love. If you are into art, then you can always start a gallery on the wall in front of your table. You can gather them first and harmoniously place the paintings; whatever suits you. It is best to use wall strips that you can easily remove so that you can flexibly change the looks of the wall from time to time. Your paintings will look more stylish and with matting and frames.
6. Find The Rug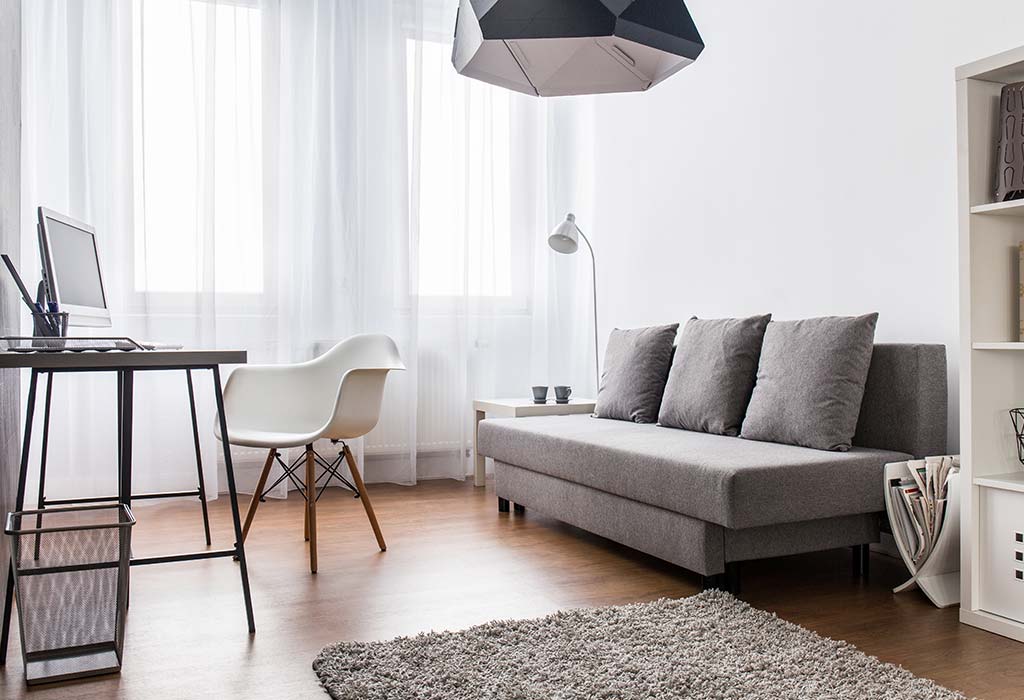 For soothing sound-absorption, you can ground your workspace with a colourful rug which also adds some visual interest. You can either go for a single-colour rug like a simple grey or experiment with a multi-coloured carpet. Whatever colour you chose, remember to keep the furniture elegant and straightforward. You can keep a small chair for a vintage look. Keep the area clean for a sleek design and add in a little green foliage to improve the texture. Find a patterned, multi-shaded rug that will pair up with any wall. Colours like plum, creamy white, light blue and apricot are good examples.
7. Mix Old and New
Be brave enough to steal décor from other parts of your house. It is always best to blend modern and vintage styles so that you feel warm and happy and not like you are sitting in a showroom. Place an antique-looking rug on the floor and surround it with a couple of red chairs. You can put up a black and white painting so that the mixed colours don't overwhelm you and finally create a beautiful room to work. You can always look for vintage stuff at flea markets or antique stores.
8. Working in Colour
Always pick colours that reflect and speak to you instead of blindly following what people say is trendy. Check out a variety of colours that act as the perfect background for working productively during the day. You can always have some fun while arranging the filing cabinets, making them look functional and attractive. Pick a colour that inspires you to work in the office. You can add carnival print curtains for an extra touch.
9. Optimise Your Space
The key to a perfect workspace is organisation. Nobody can do their best in a messy office. Try not to waste space by filing and ticking printers into the drawers and around the corners of your office. Create some cabinets up to the ceiling and use all that vertical space. You can also put in a wall hanging pinboard so that it is easier to organise your supplies rather than shoving them randomly in the drawer.
10. The Office Nook
You might not always find an entirely separate room for your office. When this is the case, you can always create a small space and find ways to incorporate it into another room. You can do this by defining the area with a separate colour so that your office will have its personality and space. Painting different colours will help differentiate the work area and also provide an excellent design to the larger room.
11. Letting Natural Light In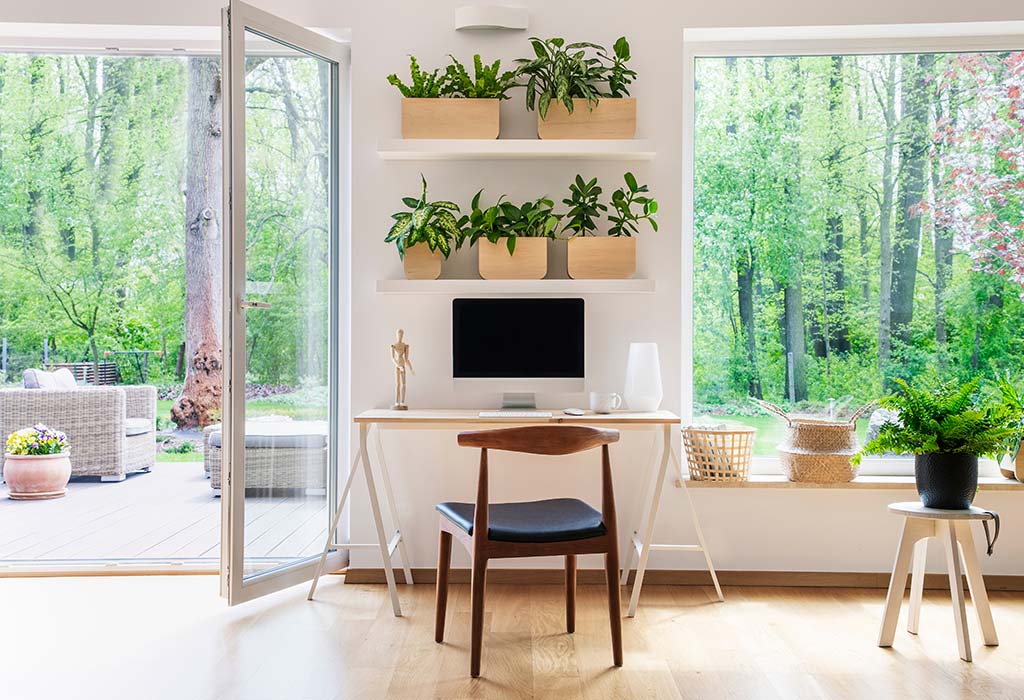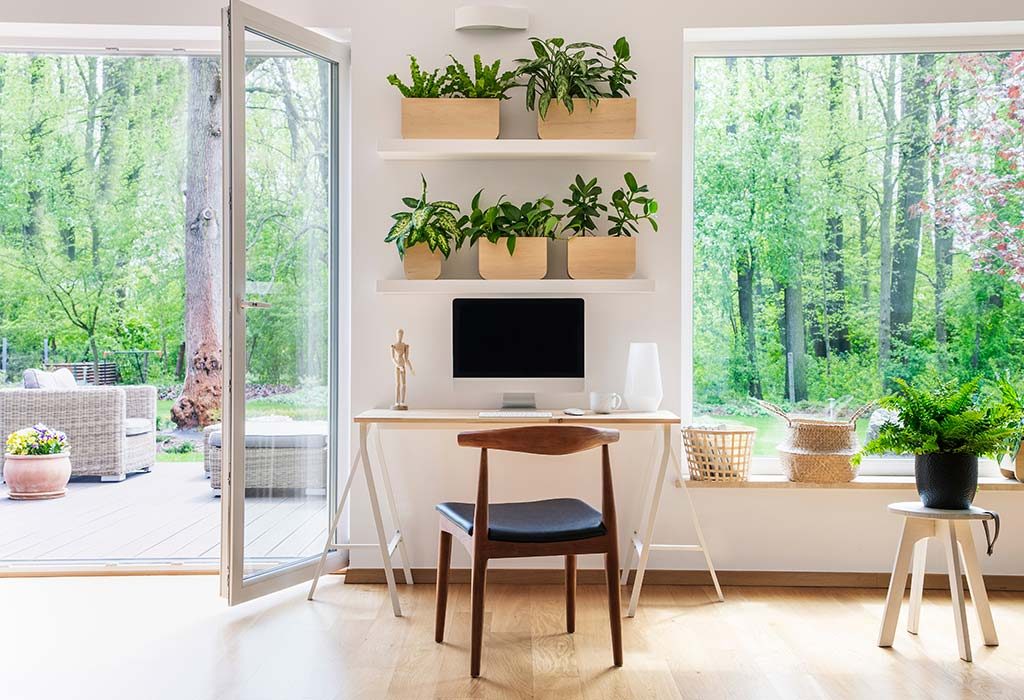 Natural light crawling in through the windows can play a significant role in keeping you energised and motivated. Letting in some natural light will make your workspace feel a lot larger, which is perfect if your home office is small. Another great idea is to use a fogged window film or a non-adhesive frosted film if you are a fan of always having the blinds up. This will help keep your energy level as well as the plants in your workplace, alive. You can add a little hanging chair near the window. In the end, you will feel more motivated and efficient.
12. A Patterned Feature Wall
One should never underestimate the power of patterns. Patterns are the best way to jazz things in your cubicle. All it takes is a wallpaper of diagonal, black & white stripes to take your workspace to a whole new level. This way your feature wall stands alone. You can always experiment with patterns and chose what serves you best. Wallpapers are easy to change.
13. Sharing the Office in Stylish Symmetry
You can always make room for others, since home offices are almost, always shared spaces. You can include two complete workstations even when you work with a single wall with a couple of woodgrain-patterned chairs. The chairs' warm colours will stand out and bring about a bit of energy to your peaceful working area. Take this idea a step further by designing your office with the art of symmetry. This is done by making twin workstations. Also, you can fit some lighting, storage, books, paintings, and vases to add power to your design.
14. Going Industrial
Go a little more industrial with your designs by adding an antique table lamp on a vintage aluminium desk with a matching stool. This is the perfect midcentury modern note in a home office. You can make storage units from chicken-wires which will help store a lot of your office supplies. Chicken-wire shelves are more spacious, offering you a lot of storage area. For the extra touch, you can add an old garden ball. A custom mural will also help transform your home office.
15. Going Paperless
When you really think about it, having a lot of paper does not always matter. When your desk is messy, you start being less productive. Thus, it is better to go paperless altogether. Getting rid of a large mass of paper will make your workspace feel brighter, lighter, and clean. This will help to increase productivity and energise you. You should consider scanning all the essential documents and organising them virtually instead of maintaining hard copies in many folders and cabinets. If this is difficult then push aside all the papers when you feel productive and arrange them together when you feel less inspired to think.
16. Geometrical Shelving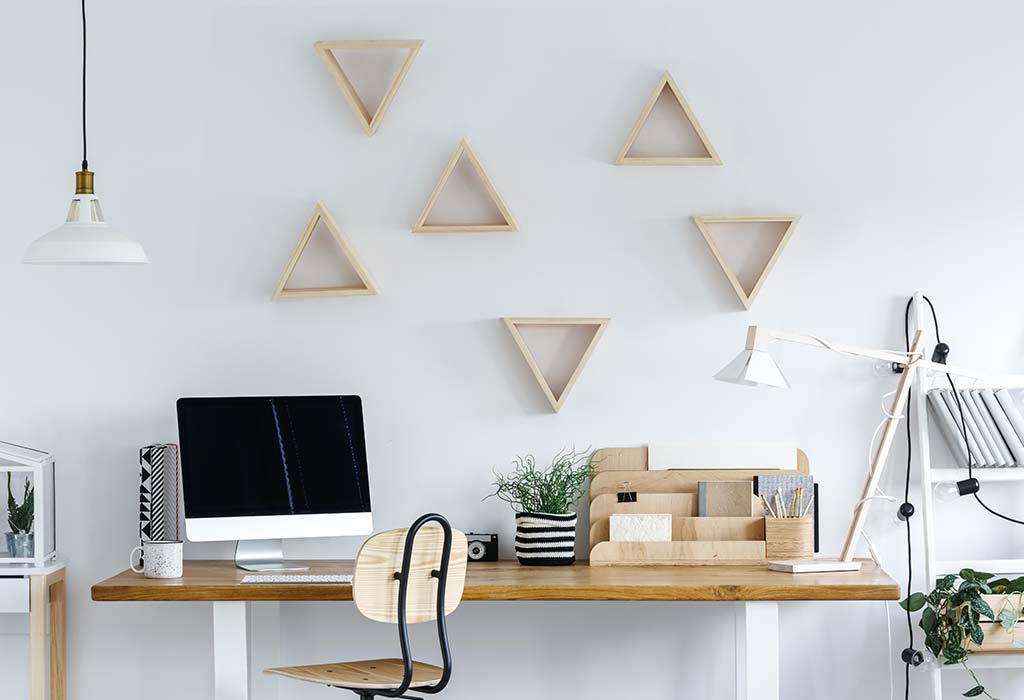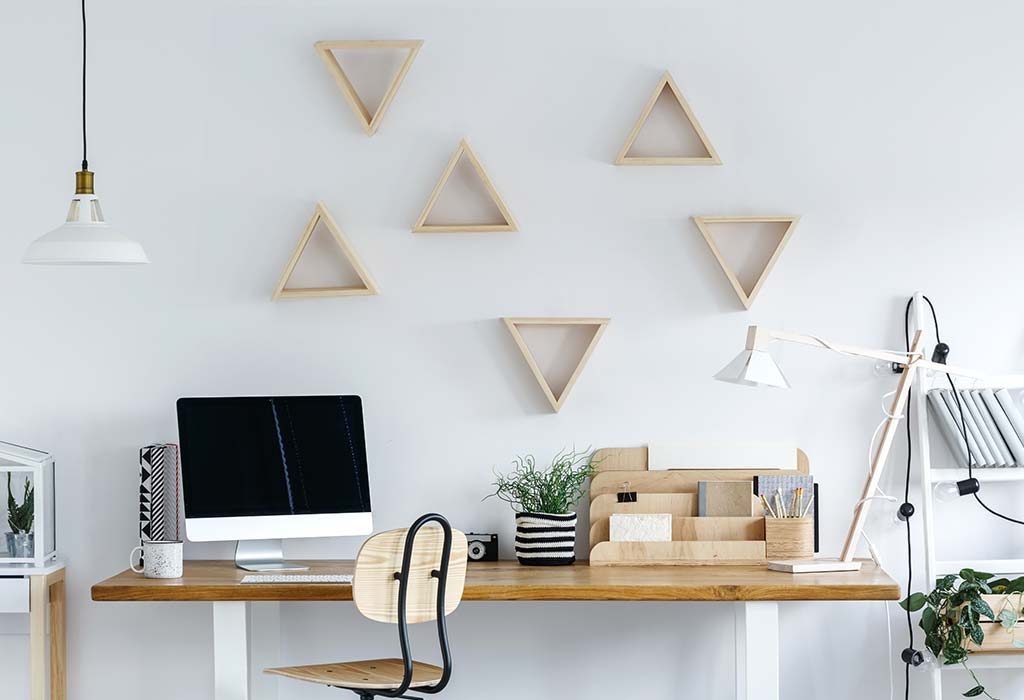 Papers and files keep piling up, and somehow, we always run out of the storage area. You can change this by adding some geometrically designed shelves. This way your office will have more storage space and this kind of creativity is always an eye-catching feature that gives your office a stylish and cool look while holding your files. You can try out other industrial looking geometric shapes that you think are perfect for your workspace. Using a vintage desk and chairs will add a contrast to the modern looking shelves.
17. Using The Right Light
The perfect light is cool light with a hint of blue. This type of light will help keep your mind decisive, alert, and focused because blue lights cause the photoreceptors in the eyes to transmit signals to the circadian clock of the body. This will help you stay awake. This can also be achieved by natural light. Working near a window where you have a chance of looking outside will also help. This is because the brain finds it hard to stay focused for more than 15 minutes. Therefore, when you allow yourself to look at nature, it will improve creativity and help you get back to work.
18. The Right Chair and Table
When you create your ideal workspace area, always make sure that you are very comfortable with your desk and chair. You can always get adjustable chairs that will allow you to stretch and move. Go for some decent chairs with a few pillows to make you feel more comfortable in it. If you find your tables too high, then add a few cushions on your chair. You can also add an extra leg riser. You will stay more focused on your work if you have the right seating arrangement.
19. The Perfect Scent
Just like the colour of your office, scents matters too! They also have a chance of affecting your mindset, mood, and productivity. Scents help you to stay focused when you feel like your mind is drifting off. To increase alertness use pine, cinnamon for improving focus, and lavender for relaxing if your day turned out to be stressful. These fresh scents can be brought with the help of candles, essential oils, and incense. If you are a fan of warm scents, then simmer some herbs and spices from your kitchen.
20. Refreshments
Our brain will need nourishment on a tiring day to keep going. You can stay hungry only till the mind shuts down. When you work from home, you might waste a lot of time going into the kitchen every time you are hungry. To avoid this, you can keep some easy and quick premade snacks on your desk. Keep some water nearby too! You could keep a kettle and stock some coffee or tea. This will help you be more productive since you will not be losing time going to the kitchen.
So there you have it – a bunch of home design ideas and hacks. These home office ideas will definitely help you stay inspired and productive.
Also Read:
Tips on Making Your Small House Look Bigger
Best Home Decoration Ideas Inspired by Nature
Effective Summer Decor Ideas for Your Home