20+ Beautiful Galentines Day Gifts That Will Show Love And Care For Your Closet Friend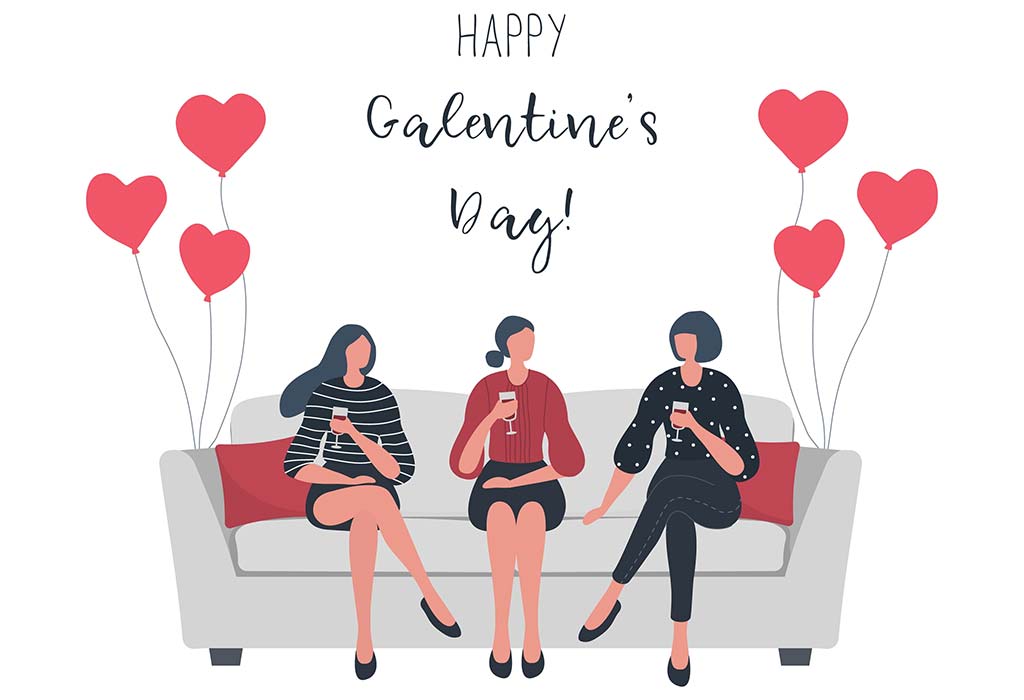 In this Article
Let's face it! It is our girl buddies who make our lives more beautiful and worthwhile… So, if you are thinking of a perfect gift for your girlfriends this Galentine's Day, we have shortlisted some beautiful galentines day present ideas that you can choose from.
Best Galentine's Day Gift Ideas for Your BFF
Here are some of the best gifts for Galentines Day that you can choose from:
1. Personalized Coffee Mug
When it comes to cute Galentines day gifts, a personalized coffee mug is one of the most preferred options. You can customize the mugs with pictures, dates, names, or other personal stuff to make them memorable!
2. A robe and pajama set
A laid-back gift for your friend, who can use it while you'll are chilling together. You can buy matching sets and make them your slumber party uniform for crazy fun times!
3. Fluffy Slippers
Who does not adore a fluffy and comfy pair of slippers to soothe those tired feet! So choose one in your BFF's favorite color and surprise her with this cozy gift!
4. Chocolate Hamper
An assorted chocolate hamper can be a good Galentines day gift for a girlfriend who is an ardent chocolate fan!
5. A Potted Plant
Plants are a great way of saying "I care" since these beauties will perk your friend's living space and make her happy whenever she sets her eyes on it! Don't forget to add a cute note to it!
6. Customized Bracelet
When it comes to gifting something ultra-special to your best friend, nothing can match a personalized bracelet. You can inscribe a cute quote or one-liner on a silver or gold bracelet for your best gal pal!
7. Bath and Body Gift Set
If you are in the mood to pamper your friend, then consider gifting personal care products. For example, choose a bath and body set in citrus, floral, or any other fragrance that your friend loves!
8. Eau de Perfume
You can never go wrong with a fine fragrance, provided you know what kind your friend likes! The gift of a delicate fragrance will make for an ideal Galentine's Day!
10. Silk Scrunchies
No one can ever have enough of it! And the luxury of owning some fine silk scrunchie is something that your best friend deserves, especially if she has long-flowing tresses.
11. Face Mask Sheets
When it comes to gifts, it's the thought that counts! So if you are looking for a pocket-friendly Galentines day gift, you should consider a pack of face mask sheets complimenting your friend's skin type!
12. Customized Wine Glasses
A personalized set of wine glasses for your best friend is a perfect way for you to enjoy some fun 'whine sessions' or for drinking your worries away!
13. Lip gloss set
A collection of lip glosses that can keep your best friend perky and pretty can be a fabulous Galentines Day gift! Remember to pick up shades that compliment her skin tone and are easy to carry so that she can slip them in her bag to look glamorous anytime she wants!
14. Silk Eye Masks
A pure mulberry silk mask will make for a great gift! In addition, a silk eye mask will help ensure that your best friend sleeps like a princess!
15. Fleece Blanket
Best for cozy fun slumber parties, home movie dates, or simply snuggling together with your best friend as you chat about it all! A fleece blanket makes for a perfect Galentine's Day gift!
16. Heart-shaped Keychain
If you are looking for something utterly adorable for your girlfriend, a heart-shaped keychain is something that is on the money! However, you can go for customizable options for a more personalized touch.
17. Makeup Pouch
For someone who loves makeup and does not like to step out without mascara or a gloss, gifting a makeup pouch that can carry her daily makeup essentials will help her be more organized.
18. Quirky pair of Socks
Happy feet equals happy people, and a couple of comfy socks with a quirky print or pattern can be an excellent option for quirky Galentine's day gifts for your best gal pals. Look for brighter colors and bolder designs for the added fun quotient!
19. Scented Candles
Scented candles are perfect for creating a warm and cozy vibe while making them a great addition to the decor! So send some happy vibes to your friend with a bunch of scented candles.
20. Bath Bombs
For a relaxing and rejuvenating bathing experience, a set of bath bombs will make for an excellent gift for your special friend. If you are great at DIY projects, then you can opt to make them yourself as well!
21. Candy Box
A candy box that is filled with nothing but the sweetness can be a sweet and adorable gift option for your friend this Galentine's Day!
22. Facial Massage Tools
If your friend is into skincare, a facial massage toolset such as a jade roller is something that she'll love to own!
Gal pals are special, and so are the gifts that you choose for them! So pick out what you find best from this list and let your best friend know how much they mean to you…
Also Read:
Best Valentine's Day Quotes,Messages and Wishes for Your Spouse
Cute Valentine's Day Poems for Him and Her
Handpicked Valentine's Day Quotes for Husband