18 Types of Indian Sarees You MUST Have in Your Wardrobe!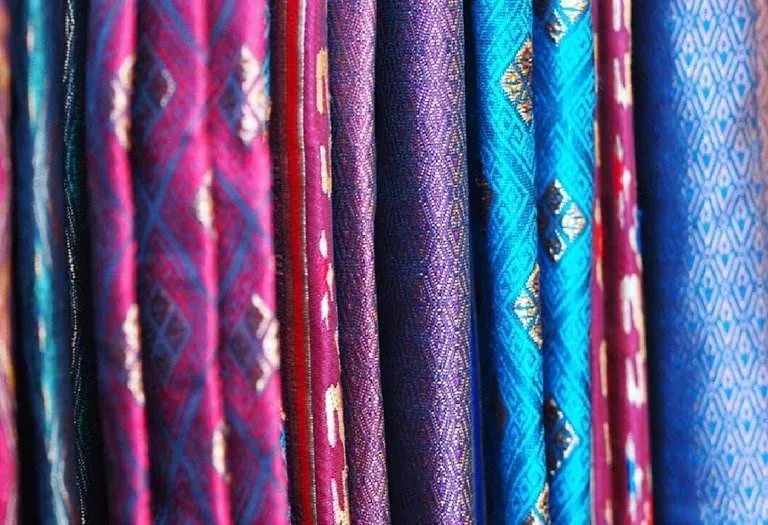 In this Article
All Indian outfits are great, but nothing really matches the elegance of a saree! Saree is an epitome of grace and charm for Indian women and looks beautiful on every occasion. Even if you are not much of a saree person and prefer other Indian or Western wear, there are some types of sarees that you MUST stock in your wardrobe for special occasions.
We have compiled for you a list of traditional sarees of Indian states that absolutely must be there in your wardrobe. They will look just beautiful on you!
By the way – most of these Indian sarees are a part of all our celebrity's saree collections – be it Rekha-ji, Deepika Padukone, or even if it is Shilpa Shetty's saree collection.
Indian Traditional Sarees – From Different States
This is the beauty of India. Every state has its own unique appeal that leaves us spellbound. And when it comes to artwork in sarees, no state lags behind. Have a look at these amazing sarees from different states and do buy them next time when you visit these places.
1. Benarasi Silk Saree From Uttar Pradesh
A Benarasi silk saree is a must-have in every Indian women's wardrobe. Handwoven in Varanasi, UP, these sarees have a blend of marvellous colours and their sheen and texture make them irresistible and are simply pieces of art! These sarees have golden embroidery and a good quality Benarasi saree starts from around 2500 INR.
When to wear: Perfect for wedding receptions, pair these sarees with minimal gold jewellery and complete the look.
2. Kanjeevaram Silk Sarees From Tamil Nadu
The Kanjeevaram Silk sarees from Tamil Nadu are famous for their vibrant colours and temple-patterned borders. These are popular as bridal sarees in South India. However, these sarees have also gained popularity in North India. A standard Kanjeevaram saree can cost anywhere between 2,500 INR and 15,000 INR.
When to wear: The Kanjeevaram Silk sarees are perfect for Maha Puja Functions and daytime weddings.
3. Kasavu Saree From Kerala
Kasavu saree from Kerela was originally known as 'Mundum Nereyatham'. Simple cotton sarees in off-white colour with a golden border, the Kasavu sarees from Kerala are iconic in their own sense. A Kasavu saree is a mark of elegance, simplicity, and tradition. The price of a Kasavu saree starts from around 700 INR.
When to wear: The Kasavu saree, beautiful in its simplicity, is perfect for small-scale day events.
4. Paithani Silk Saree From Maharashtra
Paithani saree, native to the state of Maharashtra, is a beautiful blend of nature and design. The borders of a Paithani have oblique square designs and the pallu has a peacock design. Paithani sarees have a light and shade (dhoop-chaav) effect which is achieved by weaving two different-coloured silk together. The price of a Paithani saree starts from around 2,500 INR. These sarees are the pride of Maharashtra and a must-have for all women who are fond of experimenting with sarees.
When to wear: Paithani Sarees are handwoven with fine silk and are perfect for traditional wear parties.
5. Bandhini Saree From Gujarat
Made using the Tie-dye technique, the Bandhini sarees of Gujarat are high on colour! Made with a special technique of tying knots that keeps the colour from spreading, they are generally made in Chiffon. However, catering to the demands of Indian women, these sarees are also being made in cotton, crepe, georgette, and cotton-silk blends. These sarees are perfect to be worn in summers. The price range of Bandhani saree starts from around 700 INR.
When to wear: These sarees are perfect for festive events such as Navratri.
6. Chanderi Saree From Madhya Pradesh
The Chanderi saree is a mix of simplicity and style with its lightweight fabric and pretty borders. These sarees are available in various patterns, such as geometrical pattern, peacock design, and floral art. A good Chanderi silk saree starts from 1,500 INR.
When to wear: These pretty sarees can be worn for daily wear and will go perfectly with simple jewellery. Pair a Chanderi saree with pretty sandals and you're ready for the day!
7. Muga Silk Saree From Assam
The Muga Silk Saree is special because of the silkworms they're made from and the saree often outlasts the owner. The fascinating process of sourcing the silk and weaving the saree makes the Muga Silk saree a special piece of art and of course, it is a must-have! A good Muga silk saree price starts from around 3,000 INR, but if you want something exceptional you will have to pay a lot more.
When to wear: Wear these sarees for family functions and be the star of the evening.
8. Leheriya Saree From Rajasthan
The Leheriya saree is characterised by its waves and stripes. It is created using the tie-dye technique. It originated from the state of Rajasthan, where it is considered a saree for daily wear. Leheriya saree is just another form of Bandhani saree. If you like being colourful, you need to buy this. Leheriya saree can be purchased on a budget. It starts from 500 INR only.
When to wear: The Leheriya saree with its bright colours is perfect for respite on those hot summer days.
9. Jamdani Saree From Bengal
Originally from Dhaka, the Dhakai Jamdani saree is considered an important part of the Bengali Bride's Wedding trousseau. The traditional Jamdani sarees have motifs of flowers and are made of light cotton. The starting price of a Jamdani saree is around 2,500 INR.
When to wear: This is perfect for those PTMs where you want to be presentable and stylish without going overboard.
10. Sambalpuri Ikat Saree From Odisha
The Sambalpuri Ikat Saree, available in silk and cotton fabrics, has beautiful patterns embroidered over it.To make this traditional saree, first, the threads are dyed and then woven. The starting price of this saree is 1,700 INR.
When to wear: This is perfect for both festivals as well as casual wear. Pair it with Terracotta jewellery.
11.Pochampally Saree From Telangana
Panchampalli sarees or Pochampalli Ikat sarees originated from West Bengal and have intricate geometric patterns that are made with Ikat style of dyeing. Made by skilled weavers, these sarees are rich in colour. Pochampally sarees are made with a blend of silk and fine cotton. A beautiful and unique Pochampally cotton saree can be bought for around 3, 000 INR and above.
When to wear: This saree is perfect for daytime events such as a family gathering.
12. Baluchari Silk Saree From West Bengal
The Baluchari Silk Sarees from West Bengal are another class of sarees in themselves. Traditional yet designer, Baluchari sarees are special because of the way the borders showcase scenes from ancient epics, like Ramayana and Mahabharata. The starting pirce of an exquisite Baluchari silk saree ranges from 5, 000 and 7,000 INR. You can wear polka jewellery with this saree.
When to wear: These sarees are suitable for special occasions like traditional pujas and even weddings due to their elaborate design work.
13.Phulkari Saree From Punjab
Phulkari means flower work. This saree basically originated from Punjab. To make a Phulkari saree what it is, fabrics like khadi or cotton are embroidered with a floss silk thread. The patterns on this saree are generally bright-coloured flowers and geometric patterns. The best part of this saree is that you won't have to pay much for it. You can buy a beautiful Phulkari saree under 2,000 INR.
When to wear: This saree can be worn during family gatherings, marriages, and other events
14. Chikankari Saree From Lucknow
If you have ever visited Lucknow you know Chikankari is not just an art there, it is culture.Chikan actually means embroidery. Although earlier it was done on muslin cloth, now it is available in almost all kinds of fabrics. This intricately embroidered Chikankari saree imparts elegance. The price range of this saree begins from around 1,500 INR.
When to wear: You don't need an occasion to wear this saree, it can be worn for evening parties or whenever you like.
15. Patola Saree From Gujarat
Patola saree is a famous saree from Gujarat. It was made from silk in Patan, Gujarat. These sarees are woven with great precision and are rich in colour and very expensive. They were worn by royal families. A double ikat Patan Patola saree starts from 2,500 INR.
When to wear: These sarees can be worn in family functions and for traditional functions.
16. Kalamkari Saree From Rajasthan
Kalam means 'pen'. Kalamkari saree is a popular traditional saree. Kalamkari sarees are known for their traditional artwork, exhibiting an ethnic appeal. The designs of these sarees are inspired by Hindu mythology and are gaining immense popularity among young girls. This elegant saree can be bought without spending much, its price range begins from only 1,000 INR.
When to wear: This saree is comfortable to wear and can be worn anytime.
17.Bomkai Saree From Odisha
Bomkai saree is also known as the Sonepuri saree. It is produced by the Bhulia community of Odisha. This saree is available in silk and cotton and has a tribal touch to it. A standard cotton Bomkai saree price starts from around 2,000 INR, but if you want something exquisite in silk, you will have to pay a lot more.
When to wear: This saree can be paired with golden jewellery.
18. Tant Saree From West Bengal
Tant saree is a traditional Bengali saree loved by almost all Indian women. These crisp cotton sarees are stiff and are much preferred during summers. The price range of this saree starts from 700 INR.
When to wear: Wear this saree during festivals, such as Durga puja, Diwali, or Kali puja. Pair it with a bold and bright jewellery.
Velvet Saree – A Traditional Touch To a Modern Saree
Change is inevitable. Whether it is for a person, a machine, or an artwork. And when it comes to clothes and their designs, this change is frequent and on a pendulum mode. The designs, fabric, and styles of clothes keep changing… better evolving. Nowadays, these changes occur in the combination of a modern as well as traditional approach.
Earlier women used to wear a 9-yard saree. Well, now can you imagine draping yourself with so much of fabric? Of course not! Gone are those days! With time, women have started experimenting with different fabric and colours. Today's fashion works on combining best of both worlds. So here we are with velvet sarees. Velvet is being preferred by women these days. A combination of velvet and georgette saree and velvet and chiffon is being preferred a lot. Although velvet is heavy, it gives a rich and classic appeal. Velvet sarees for their grandeur make one feel royal and are here to stay. We are sure that this saree will find a place in your wardrobe.
So, now as you are aware of different types of sarees from different states, how many of the above types of sarees do you own? And which one is going to find a place on your shopping list?