17 Romantic Love Letters for Your Beloved Wife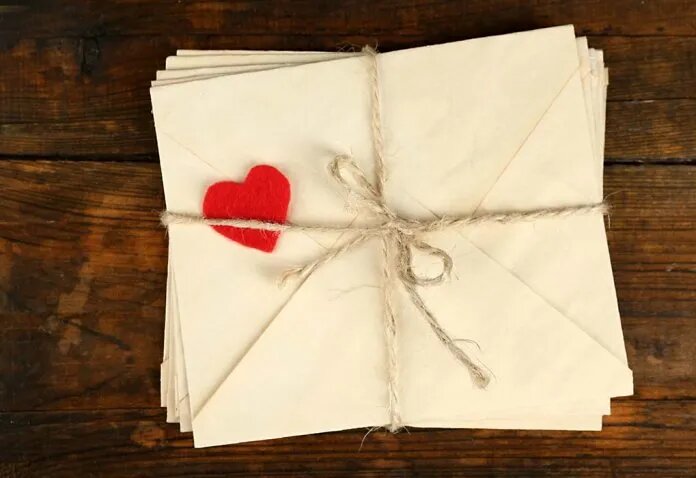 The most common complaint of any wife is that their husbands are not romantic. Most say before marriage, their husbands showed their love with many gestures such as gifts, surprises, and love letters. But after marriage, they still get gifts on various occasions, but the love letters are missing. Gifts are good, but the love expressed through love letters is forever. The wife can read the love letter anytime and feel her husband's love. Though she knows that her husband loves her, the love message for a wife from her husband in a love letter is always cherished more.
So to overcome this complaint and express their love, husbands should pick a pen and start writing a love letter to their wives. This romantic letter will make your wife happy and boost her confidence in your love.
What Is a Love Letter?
A love letter is an expression of one's love in writing. The words written in the love letter reflect the person's deep love and meaning for the recipient. The letter can be short, medium, and lengthy, depending on one's feelings.
17 Beautiful Love Letters for Wife
For writing a heart-touching love letter to your beloved wife, a husband doesn't need to be a poet or an excellent writer. He just needs to pour his true love feelings in a simple language to impress her. Your wife already knows you love her; a romantic letter to a wife from the husband is just the validation of that love.
Always remember romance is the special ingredient that keeps the love in a marriage evergreen and strong. Also, remember the length of the letter doesn't matter, but your true feelings do. So write what you feel. To bring out all your hidden feelings, and write that special 'love letter to my sweet wife,' take inspiration from these beautiful love letters for your wife, and write your own romantic love letter.
From birthday love letters to emotional love letters to wife, here are some samples you can take benefit of:
1. My dearest <wife's name>
My letter I am sure has piqued your interest and left you surprised. But trust me, this letter is real.
You, my dear <name> are the reason I am no longer alone, because of you and your love, I look forward to each day. And because of you, I have a beautiful family now. You and our son<name> make my life complete. My day starts and ends by looking at both your faces.
Makes me think of the first day we met. That day too your beautiful face left me in awe as it does today. Your ever sparkling eyes and your beautiful smile can melt my heart even today. But that day your smile was the thing that made my mind, and made me say to myself- I want to spend my life with you, seeing your smile every day of my life.
Now with you lighting up my life every day, I feel complete. I feel happy.
So thank you, for giving me so much happiness.
Your <name>
2. Dear <name>,
You are the love of my life and the only important person in my life. I know I never say that to you, but my darling, I can't stay without you. I go crazy when we fight and you are not talking to me. I pretend I don't care but deep inside I am sad and troubled for arguing with you.
Your smile less face troubles me then. I want to do anything to see you smile again and when I say sorry and your eyes light up, I feel everything is bright again. When you say you love me, I feel like I am on top of the world.
You, my love, are the queen of my world and I want to be your King forever.
Yours forever <name>
3. Sweetest <name>
You always complain that I never express my love, never tell you how beautiful you are or how important you are to me. So on your birthday, I thought of surprising you by telling you my feelings for you.
My love, you are just not my wife, but my life. The most beautiful part of my life. You are beautiful, in fact, the most beautiful person I know, but that's not the only reason why I love you. I love you because your heart is as beautiful as you are. So is your personality. Your kind heart and amazing personality make me wonder what I did to deserve you as my wife.
Let me tell you I am madly in love with you and I can't imagine my life without you in it. You have been my support in my ups and downs. Your strength makes me the strong man I am. So thank you my darling, what you have done for me and your love.
Your loving husband
4. Dearest <name>
It feels like yesterday when I first met you. It was my sister's wedding, and you were one of the bridesmaids. You looked like a goddess in that lavender dress. There were her other friends too wearing the same dress, but you blew me away. I was smitten with your beautiful smile and that golden hair waving down your shoulders. God! I have never seen a more beautiful girl before in my life. And after you no one else. Even today I am not tired of looking at your beautiful smile.
I remember asking my sister about you in between her wedding, and her shooting me angry looks for that. But I was in love at first sight. I was elated when you said yes to a dance. I knew then I will marry only you. And a year later we were at the same dance floor, dancing as husband and wife. That day I knew dreams do come true.
Love, <name>
5. My beloved <name>
As I am away from you, I realise what you mean to me. With this letter, I am sending you my love. I hope what joy and happiness I have in my life due to you, you feel the same with my letter. Let me start by telling you how much I love you and loved you since you became my wife. I am eternally grateful to you for being in my life. You made my life beautiful with you just being there.
You, my wife, are my strength and my reason to be a better man. Your courage and strength made my darkest day better. So as long as I live, I will always love you and cherish you.
I love you so much, my sweetheart.
<name>

6. Dear wife,
I love you not because you are my wife, but also because you are my best friend. You have and will always be my friend first and then my wife. You are the first one, who I remember when I am happy or sad. You are the one who tolerates my mood swings, my woes and my rants. I love that I can tell you even my darkest secret and be myself with you. Whenever I am sad, you are always there to cheer me up.
I am proud to have you as my life partner. I am proud to have you as my friend. You are my equal in every way but I can say proudly that you are my better half.
I love you today more than I loved you when we first met and will love you more tomorrow than today.
<name>
7. My beautiful wife,
Your love makes my life complete. You make my life beautiful with your presence. You are the rainbow of my bad, rainy days. You are the beautiful sunrise of my dark nights. Your support makes my trouble go away. You are needed for my happiness and my joy. You rule my heart and my life like a queen. And take care of all my needs, my life and my family. Thanks for being there in my life and for giving me all the happiness in the world. I love you, my wife, forever and ever.
8. My darling,
My love for you grows by the day and doubles by night. With every sunrise and sunset, I feel blessed to have you in my life. Every day I want to show my love for you, but words fail me. How do I express something bigger than you in a few words? I don't know. But I do know that my not saying anything, bothers you. So my darling, please believe I love you more than myself. You came into my life and made it complete. My love, I adore you and thank God every day for your lovely presence in my life. My love, you are sent in this world for me only and I will love till my last breath.
Your loving husband <name>
9. My love,
I will love you forever and I know you will love also love me till our end. We, my darling, are a perfect match, a couple equal in every way. I couldn't have found a better person, to share my life. You are special, kind and amazing. You are just perfect and I am lucky to have you as my wife and as the mother of our kids. Thank you for being you and loving me. I love you dearly, my wife.
10. My dear <name>
I have never told you how blessed I feel to have you in life. So today, I am writing to tell you how much I love you. I love you so much my dear, that I can't express it in words. Still, let me try to tell you what you mean to me. You are the centre of my life, your presence makes my dull life beautiful, and most of my memorable memories are due to you or with you. Thank God, I met you; otherwise, my life would have been very sad and dull. Now I can't imagine my life without you. You are the most important person for me, and I am nothing without you.
Your loving husband,
<name>

11. Sweetheart,
You are the sole reason for my happiness, my joy and my world. You with your laughter and positivity, take away all my sadness and worries. You supported me in my worst time and your unconditional love helped me get rid of my anxieties. You are the best partner anyone can hope for. Your love is my reason to live. You are my treasure and my world. Thank you for being in my life.
12. My life,
Thank you for being my wife 5 years ago. From that day, you have constantly surprised me with your love, support and strength. I am proud to say you are my woman. But you are not just my woman but my world and everything. Life is better with you in it. I will cherish you always and love you more than life.
Today as we complete our 10 years of a beautiful marriage, let me thank you for your love and care.
So thank you, my love, for always being my friend, my companion, my strength and my wife.
Love,
<name>
13. My darling wife,
I can't express how fortunate I feel for having you as my wife. My wife your love is just as beautiful as you are and I can't verbally describe my love for you. I adore you indefinitely and love you as I've never loved anyone. You are my sweetheart, my wife and my kids' mother. Make my life beautiful by your presence. Your presence lights up my life like a beautiful sun on a picturesque sunrise. I love you lots, my darling.
14. Love of my life,
You are my biggest desire and dream and that dream came true when you agreed to marry me. Since then not a day goes by when I don't thank my stars for meeting you. You are my blessing from God and I am eternally grateful to him for your love and care. You filled my life with boundless happiness and peace. My love for you is boundless and verbally indescribable. And I cherish every day I spend with you.
Thank you, my dear, for your love.
<name>
15. My dear wife,
We are the couple who prove opposites attract. We are poles apart but still the best couple I know. We have always been friends first and a couple later. Our friendship makes our love and relationship stronger.
I still don't know what you saw in a timid guy like me. But your courage makes me courageous and gives me the strength to fight all my troubles. Your good nature makes you popular with all my family and friends. You are a best friend, wife and mother. I know I will spend the rest of my life being as good as you are.
I love you, my dear.
16. My dear sweetheart,
Do you what my weakness is, love? It's seeing you sad. It kills me whenever I see you sad over something. From the first day I met you, I have wanted to see you happy and content with your life, and for that, I will do anything. I know I am not perfect, and apologise for some mishaps that come along with me, but every day I try to find things to make myself better for you.
Believe it or not, life with you is a new year every day!
Your forever
<Name>
17. Dear my lovely wife,
Whenever we go out, we have a usual routine of you checking up on all your outfits and me checking the look. When I tease or make fun of you whenever you ask me, 'how am i looking?', 'is this dress fit for the occasion?' 'ain't I looking fat in it?', I may have not told you the entire truth.
Today, I would like to do that. When you come wearing a new dress, I simply could not take my eyes off you. My heart skips, and I lose words and say whatever comes to my mouth. Your beauty just spellbound me. I may tease you, but inside I know how much I love you. And when we go out and see other people eyeing you, I feel furious and want to punch them. But then I realise it is me who you chose and I have a special place in your heart just like you have in my heart.
I am very lucky to call myself your husband and ever after.
Love
<Name>
Some Important Tips for Writing an Amazing Love Letter for Your Wife
If you want to write a fantastic love letter for your wife, you might like to consider these points:
Begin the letter with a greeting or a personal nickname by which you call your wife to personalise it.
Next, tell her the purpose of writing this love letter and how it makes you feel.
Think of your wife's good traits and qualities that always make your heart go sway, and write them down. Let her know how you feel about her, her companionship, and your love for her.
You can talk about some happy memories with which you can connect the real purpose of this letter.
Exclude the moments that might make your wife uncomfortable.
Read it several times, edit, and ensure your words are not demeaning or offensive.
Prepare the final copy and share with a romantic gesture, like a rose, a bouquet, or anything your spouse likes.
FAQ's
Why Should I Write A Love Letter To My Wife?
Writing a love letter is not proving your love to others. It is a medium of showing pure love for your wife in words. Sometimes, when we are not able to say things, writing a love letter is a great way to overcome those hesitations and put things in writing that we actually want to say. Plus, you wife will be able to reserve those words to read in future as well.
What Should I Write In a Love Letter to My Wife?
While writing the love letter for your wife, you can specify why you are writing the love letter and include some good and emotional memories you shared together which helped strengthen your bond. You can also mention your spouse's positive qualities, her strength, and how much you appreciate her in your life. Keep the tone warm and intimate in the letter.
Writing a romantic love letter to your wife improves your relationship and marriage. It is a good way to express your love for your wife. These letters are good for any occasion and to express your innermost feelings to your wife. So get into a romantic mood and write a love note to your wife.
Also Read:
Romantic Love Messages and Quotes for Your Wife
Sweet and Romantic Birthday Wishes for Your Wife
How to Make Wife Feel Happy – 15 Brilliant Ways