20 Minutes of Cardio on These 5 Songs is the Perfect Warm-up for Cold Winter Mornings!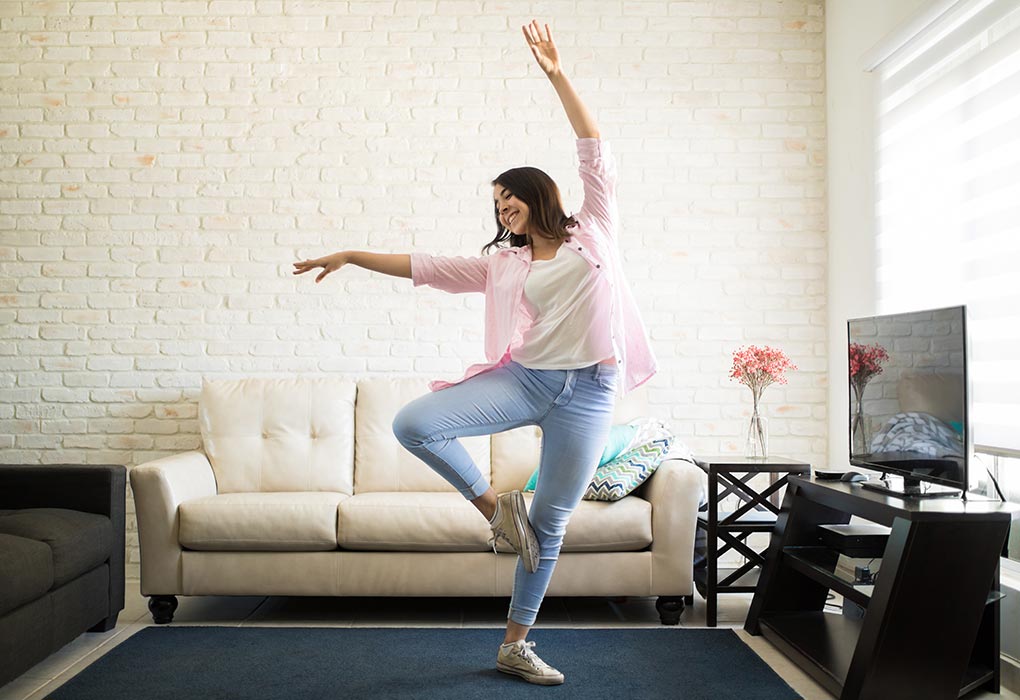 Winter is almost here. You can feel the chill in the air especially in the early morning hours, and just after sunset. Most of you may have started getting your winter-wear in order – raiding your loft, attic, or storage areas to pull out all those warm and fuzzy sweaters, scarves, socks and more. And when you're dolled up and cosy, who can blame you for not wanting to hit the gym?
But when you consider the fact that winters are the most common time of the year when people tend to overeat and gain weight, you're gonna want to hit that treadmill But where oh where are you going to find the motivation? Well, RIGHT HERE!
5 English Songs for a Power-packed Cardio Session
The struggle is very real, and we empathise. But do our karma, we must. So here is a list of 5 songs that are bound to drive the snooze out of your eyes, and get your heart thumping! You can either use these songs are a self-sufficient cardio workout, or you can use them to warm up, so you are in the right mood to move onto the weight-section. Either way, sweating is guaranteed.
1. Get Lucky – Daft Punk
[youtube https://www.youtube.com/watch?v=h5EofwRzit0&w=903&h=508]
You start with a slow trot, or a brisk walk on the treadmill, grooving to this number. Daft Punk has been regarded as the champion of electronic pop music for a very long time. Something about their songs just puts you in a good mood. So this one is the first song on our playlist – to start the day with 'good vibes only'.
2. Work B*tch – Britney Spears
[youtube https://www.youtube.com/watch?v=pt8VYOfr8To&w=903&h=508]
Sufficiently warmed-up, and we get straight down to business. This song should be every boss-girl's anthem. It has strong distinctive beats, and the lyrics are all the motivation you need to keep it going. This is also a great song to get back to the grind if you have been missing from action for a while. The motto is simple – work for it!
3. Shooting Star (Party Rock Remix) – David Rush ft. Pitbull, Kevin Rudolf, LMFAO
[youtube https://www.youtube.com/watch?v=U8QKXpfPbKw&w=677&h=508]
This song grabbed everyone's attention when it came out in 2009, and put LMFAO on the charts. While the original is great too, this one is perfect to hit the treadmill – or even the dancefloor.
4. Uptown Funk – Mark Ronson ft. Bruno Mars
[youtube https://www.youtube.com/watch?v=OPf0YbXqDm0&w=903&h=508]
Four years since it's release, this popular number of Bruno Mars still gets you in the groove. A lot of different fitness enthusiasts have choreographed this song – from Zumba routines to aerobics, to even an all-abs workout. Whichever way you use it, this one is got to get your heartbeat pumping. However, the beats are also nicely spaced and will help you pull the excitement a notch down, as you come closer to the end of your 5-song workout.
5. Swalla – Jason Derulo
[youtube https://www.youtube.com/watch?v=xoWEQLpBoE0&w=903&h=508]
This one will help you cool down JUST enough to get ready to either pump some iron or to slowly wind down before you stop – without erasing the good mood and mental high you are on. It's got a nice rhythm and a 'chill' vibe.
If you are going to end your workout here, make sure you cool-down with some stretches. You can put on some instrumental soothing music to do the same.
5 Bollywood Songs for a Killer Cardio Workout
The culture in most gyms is such that they mostly play English songs. For someone who mostly grew up listening to Bollywood and Hindi Pop, this might be quite annoying. If you are one of those people, here's a playlist you can try. You can use an online music player to make this playlist. Then, all you have to do is plug-in and zone out.
1. Shut Up & Bounce – Dostana
[youtube https://www.youtube.com/watch?v=0akqVN4ts0w&w=903&h=508]
Everyone was surprised when the credits for this film started rolling, and Shilpa Shetty appeared on the screen! Nonetheless, the beats and the mental image of her svelte body and toned tummy will be enough to make you work up a sweat!
2. Malhari – Bajirao Mastani
[youtube https://www.youtube.com/watch?v=l_MyUGq7pgs&w=903&h=508]
We cannot talk about 'energy' without talking about Ranveer Singh! His winning streak this year has seen some amazing performances – one of them being this super hit song. It has a distinct folk-art flavour and makes for a great song to jog to. Alternatively, you can jump onto the elliptical cycle for this one, and get those arms and legs flexin'.
3. 1 2 3 4 Get On The Dance Floor – Chennai Express
[youtube https://www.youtube.com/watch?v=AaeleA4HRW8&w=1044&h=448]
This one is for all Tollywood fans! The incessant beat of this SRK-number is infectious, and whether you like dancing or not, it will at least get you tapping your feet. You can do a full-blown run on this one, to really get your cardio game on point.
4. Dilli Wali Girlfriend – Yeh Jawaani Hai Deewani
[youtube https://www.youtube.com/watch?v=1cDoRqPnCXU&w=903&h=508]
After the peak of this playlist, we slowly take it down a notch with another crowd-favourite, starring Ranbir Kapoor and Deepika Padukone. This one too has been used by a lot of Zumba choreographers as a workout song. However, one interesting way to use this song is on the elliptical cycle. Go on, give it a try!
5. Bang Bang – Bang Bang
[youtube https://www.youtube.com/watch?v=jZyAB2KFDls&w=903&h=508]
Again, we cool down – JUST a wee bit – with this groovy number starring Hrithik Roshan and Katrina Kaif. While this film did not do exceptionally well at the box-office, the soundtrack most certainly got noticed. But then again, when was it ever a task to watch Hrithik glide across the dance-floor?
So there you have it peeps! The most definitive cardio playlists that will not only warm up your body but will also drive the winter blues away with their infectious energy and upbeat vibe. Let's put on those trainers, and get this party started!