15 DIY Diwali Craft Ideas for Kids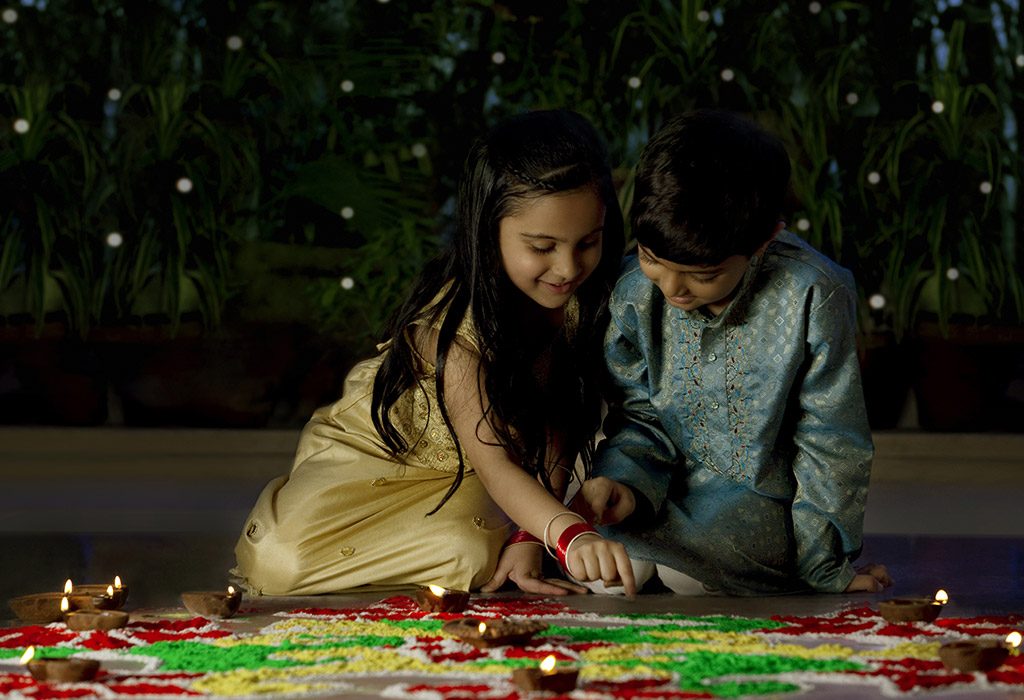 In this Article
You excitedly start preparing for Diwali as soon as it approaches. You buy diyas, rangoli-making material, decorative items, rice lights, etc. Kids enjoy this festival the most, as it brings all the members of the family together. Re-decorating your house becomes your goal in life, and you look for new ideas to deck up your home. However, you don't have to do it all alone! You can delegate some easy tasks to your kids. There are many Diwali craft ideas for preschool kids as well as grown-up children that they will enjoy indulging in. And, what's more, it will make your home look prettier during the festival of lights!
15 Fun and Creative Diwali Crafts for Children
Simplicity is key for engaging your kids in craft activities. Using this as a principle, here is a list of interesting Diwali crafts for toddlers, preschoolers, and kids that can help to get them together in sprucing up the home.
1. Diya Painting
Kids love to colour. So, hand them some diyas and let them paint them with the colours of their choice!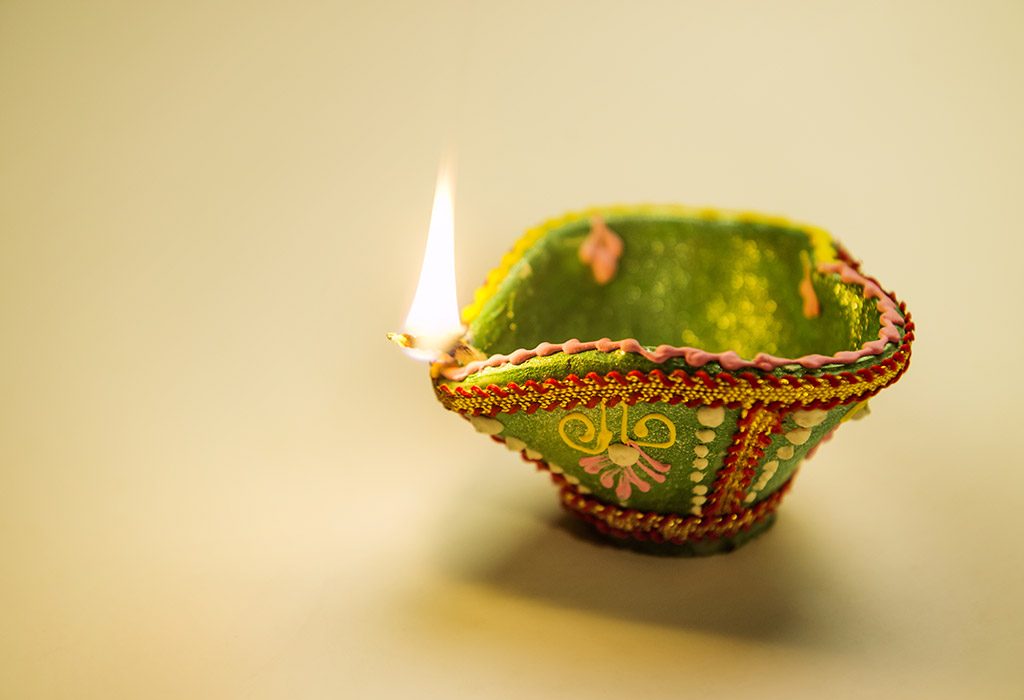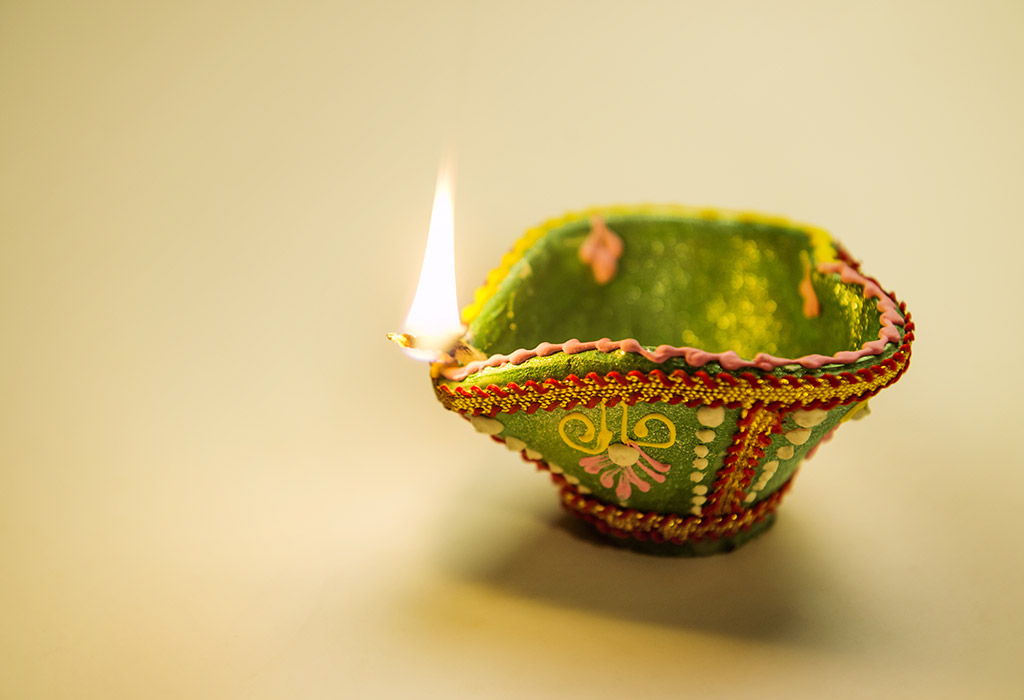 Materials You Will Need
Earthen diyas
Marker
Brushes
How to Make
Use a marker or a pencil to make light patterns on the surface of the diya to make it easier to paint later.
Once the pattern is in place, use different-sized brushes to paint each section with different colours.
Older kids can make intricate designs, but it will require a lot of patience on their part.
Once you paint the diyas, leave them out in the sun to dry completely.
2. Diwali Hanging Decorations
While almost everyone uses the same old ribbons and strings for making hanging decorations during Diwali, you can try something new instead. Bring a novelty to your decorations by using everyday material and turning it into art.
Materials You Will Need
Empty toilet paper rolls
Various patterned papers
Glue
Colourful threads
How to Make
Apply glue to the rolls, and cover them with different types of patterned papers.
Take the threads, and intertwine them in numerous ways to create colourful braids.
Spread out the strands at the end to give a tasselled look.
Glue these threads to one end of the roll.
On the other end of the roll, make a hole on one side and tie a small thread to it.
Ask your kid to hang it by your door or inside the house.
3. Diwali Greeting Cards
Ditch the readymade greeting cards from the market, and teach your kids to make some personalised ones for each relative.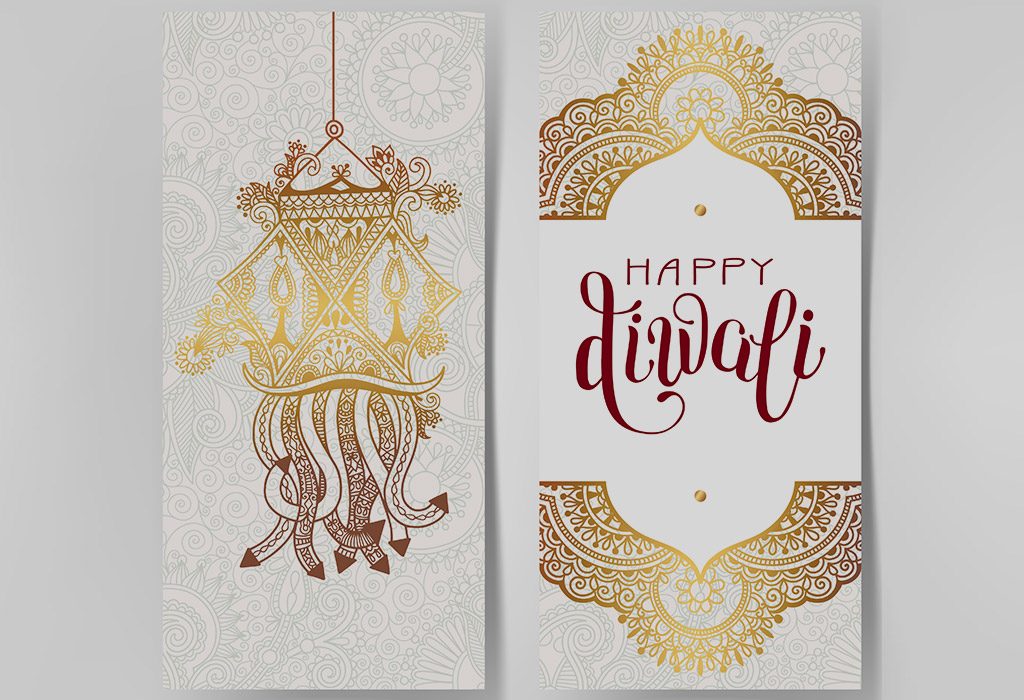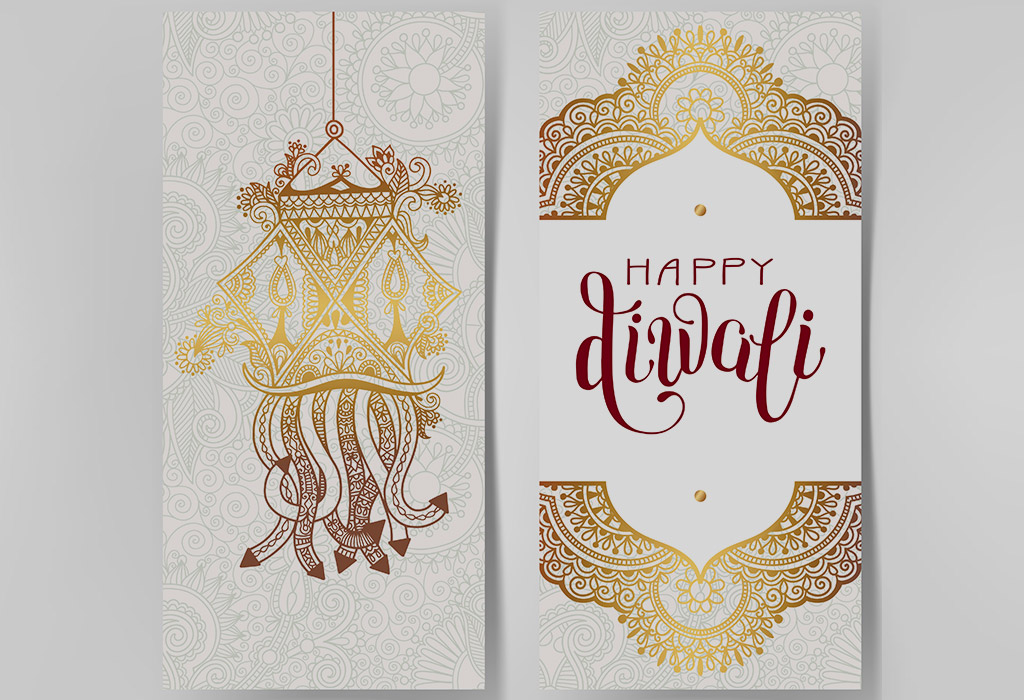 Materials You Will Need
Blank cards or solid papers
Coloured papers with different patterns
Glue
How to Make
Use crayons to colour the cards, and create a base shade for different cards. Then, use paints or other crayons to start illustrating diyas on the front. Unleash your creativity by drawing fireworks, sweets, or anything related to the Diwali theme.
If your child is too young, you can also take a print of his palm on each card and write a Diwali greeting. Do clean your baby's palms later!
Write personalised wishes to your relatives, and you'll be thrilled with their response!
4. Decorative Diwali CDs
If you stumble across some old CDs while you clean your house before Diwali, don't throw them away. Use them for decorating your house!
Materials You Will Need
Old CDs
Nail polish
Paint
Glue
How to Make
Flip the CDs so that the shiny side is on top.
Make use of sketch pens, glue, nail polish, and any other items to draw stunning designs on the CDs. You can sketch rangoli designs or firework patterns on it as well.
Once done, mount it as a wall decoration or hang it by a thread to reflect beautiful light patterns all around.
5. Lentils/Rice Rangoli
This Diwali, use lentils or rice to make a rangoli and say goodbye to the traditional rangoli designs and powders.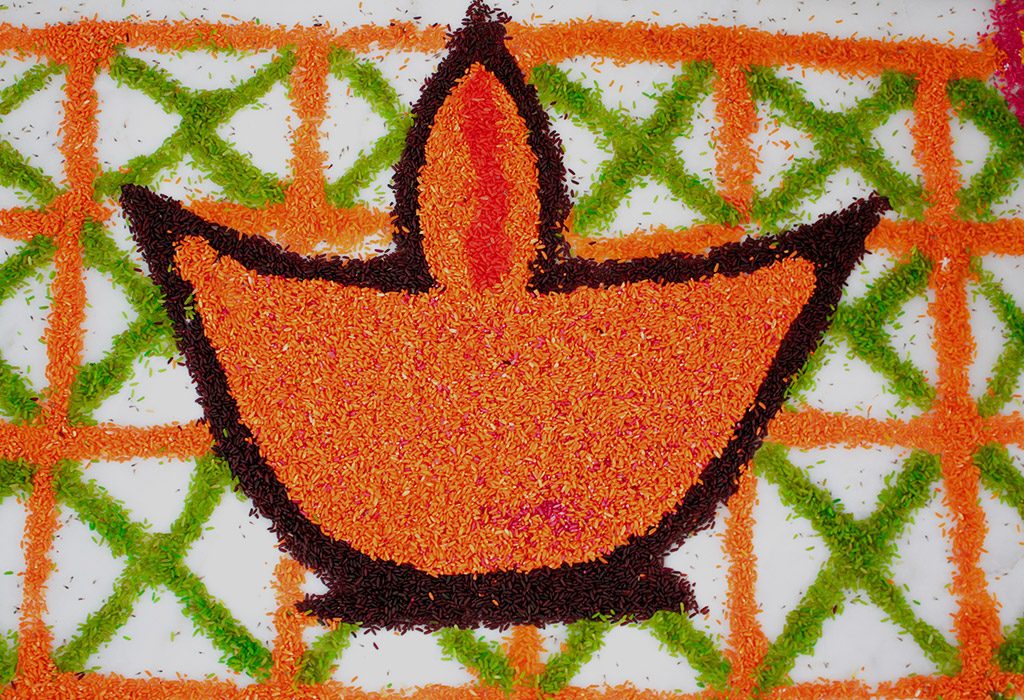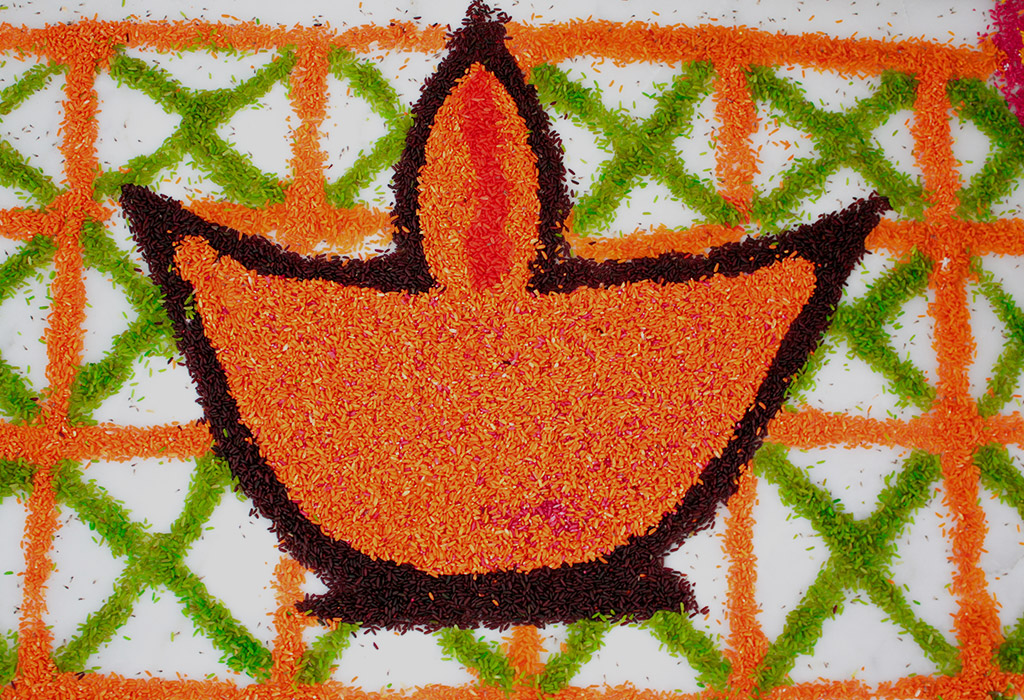 Materials You Will Need
Various lentils
Rice
Food colour
How to Make
Separate all lentils according to their colour. Pair them with rice or other household items that can add some variety.
Alternatively, you can use rice and pour food colours on it separately.
Use a little powder if needed to make the initial pattern. Cover it with lentil seeds or rice thereafter. Place a nice flower in the centre.
6. Diwali Lamp Shades
Kids can make simple lampshades for the diyas using readily-available material right at home. These are not only quick but can look extremely beautiful when arranged expertly.
Materials You Will Need
Cardboard papers of various colours
Scissors
How to Make
Fold the cardboard paper in half.
Now, make cuts on the paper from the folded end to the open in the form of strips. Make sure you don't cut all the way to the end. Leave a good amount of space.
Once done, unfold the paper. Now roll it lengthwise such that the strips are all long and visible.
Glue the ends of the paper together and press on the top to make the strips poke out. Place this shade on any diya.
7. Bangle Lamp Holder
If you have some old bangles at home, you don't need to invest in those fancy lamp holders available in the market. With colourful bangles, you can make lovely lamp holders at home.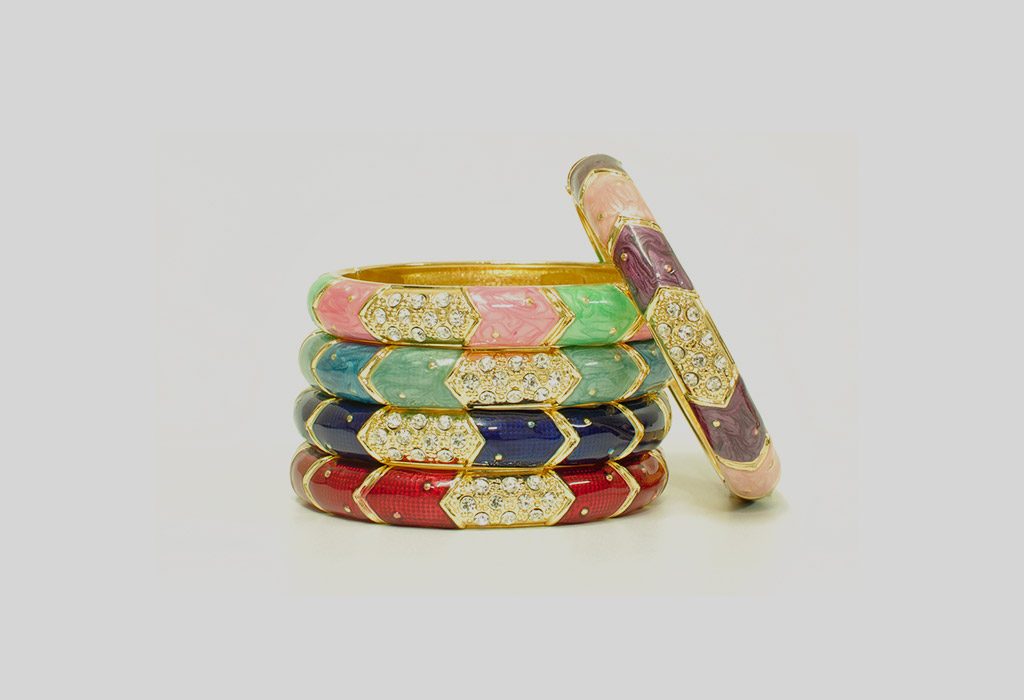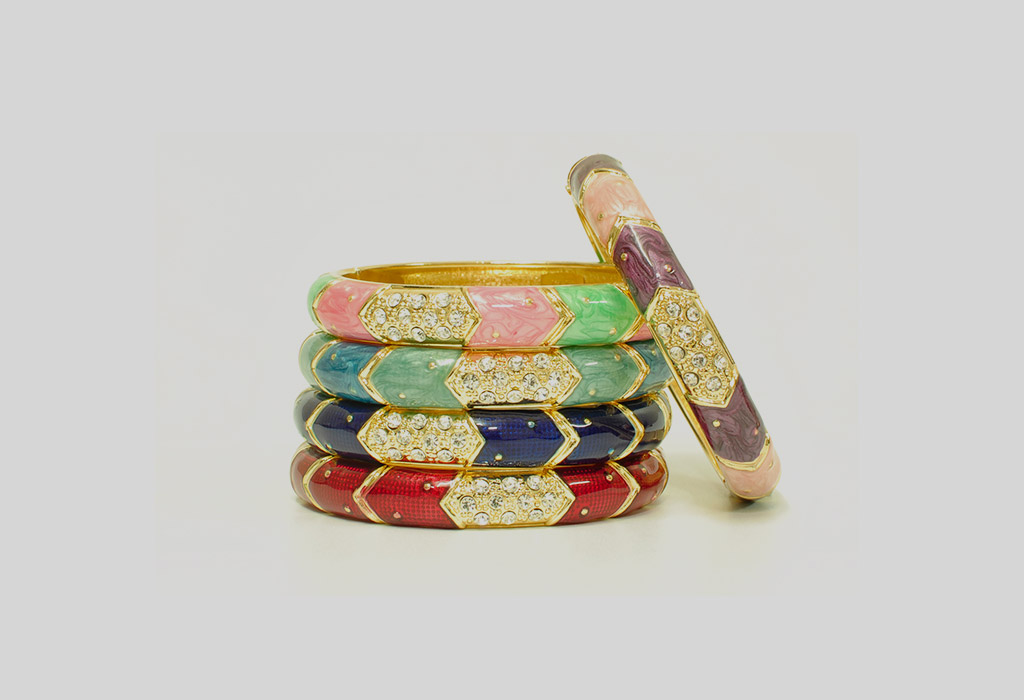 Materials You Will Need
Old bangles
Glue
An old tea coaster
How to Make
Pick out the bangles from the collection that you think would work. Choose the ones that will reflect light as well as those that have intricate designs on them.
Glue the bangles together, one above the other, to create a small tower that is about 6-8 bangles high. Any higher and they will cover the flame of the diya completely.
Glue this entire tower on a tea coaster. You can now place a diya on it, and not worry about the wind defusing it.
8. Paper Plate Mandalas
Mandalas have a unique significance in Hindu culture. You can make some of your own with simple household items.
Materials You Will Need
Pasta pieces
Pencil shavings
Glue
Colours
Paints
How to Make
Browse the Internet for a simple mandala design. Take a print of this design and let the child colour it.
Stick this on the inside of the paper plate.
Glue the pasta pieces or pencil shavings on the edge of the plate and paint it with a colour of your choice.
Hang this paper plate or use it as a wall decoration.
9. Foam Paper Kandil
Your Diwali celebration is incomplete without a beautiful kandil welcoming your guest at the door!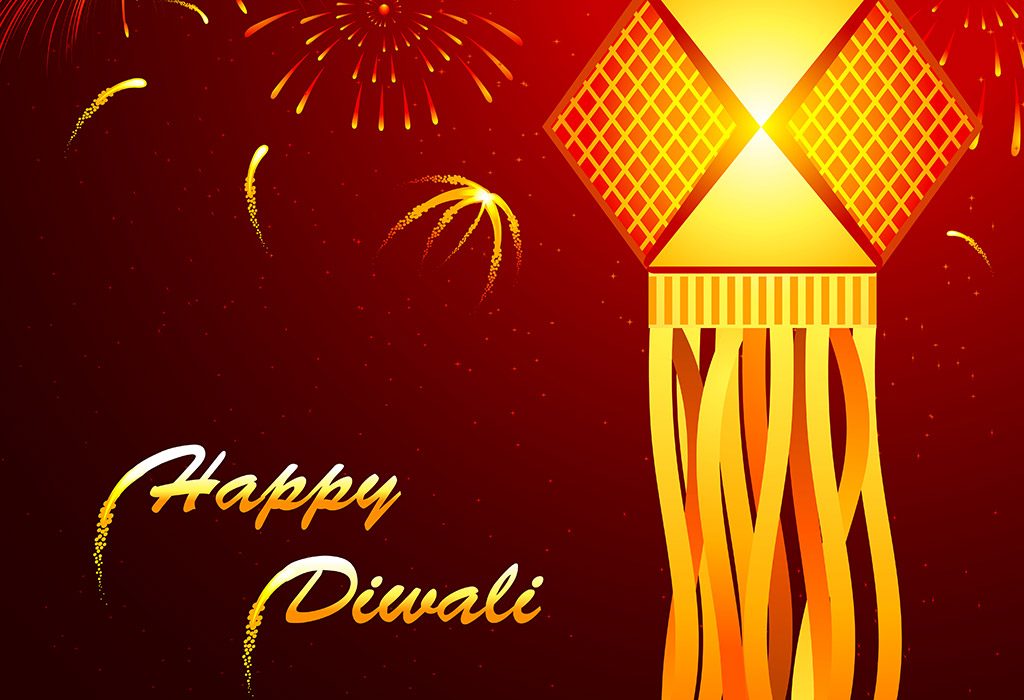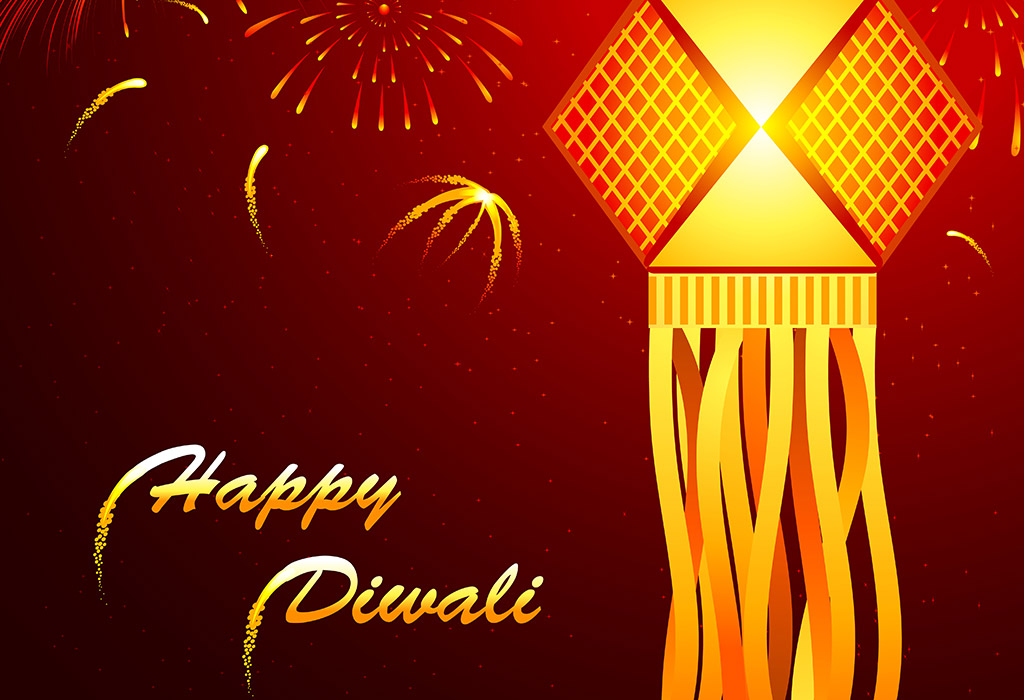 Materials You Will Need
Foam paper of various colours
Paper ribbons of different shades
Scissors
Glue
How to Make
Start by cutting a rectangle and two squares from the foam paper.
Place the rectangle vertically, and glue the two squares (rotating the squares by 45 degrees so that they resemble a diamond shape) on either side of the rectangle, i.e. along its length.
Glue paper ribbons to the bottom of the rectangle.
Stick this kandil onto your main door to welcome visitors.
10. Diya Collage
Diwali, the festival of lights, needs diyas lighting up your home! This Diwali, let your kids make a diya collage and brighten up your space.
Materials You Will Need
How to Make
Take one large plain cardboard sheet; it will be the base of your collage.
From other sheets, cut out semicircles that resemble wonderful diyas.
Sketch flames on the yellow cardboard and cut them out.
Glue the semicircles on the cardboard, spreading them all around. Glue the flames above each diya, either in the centre or in one corner.
Apply light glue on each flame and sprinkle glitter to give them a shiny texture.
11. Lakshmi Footprints
Goddess Lakshmi is worshipped on Diwali. We offer our prayers to her and take her blessings. Her footprints are also drawn outside the door of the house. So, instead of you doing it every time, ask your child to make the footprints.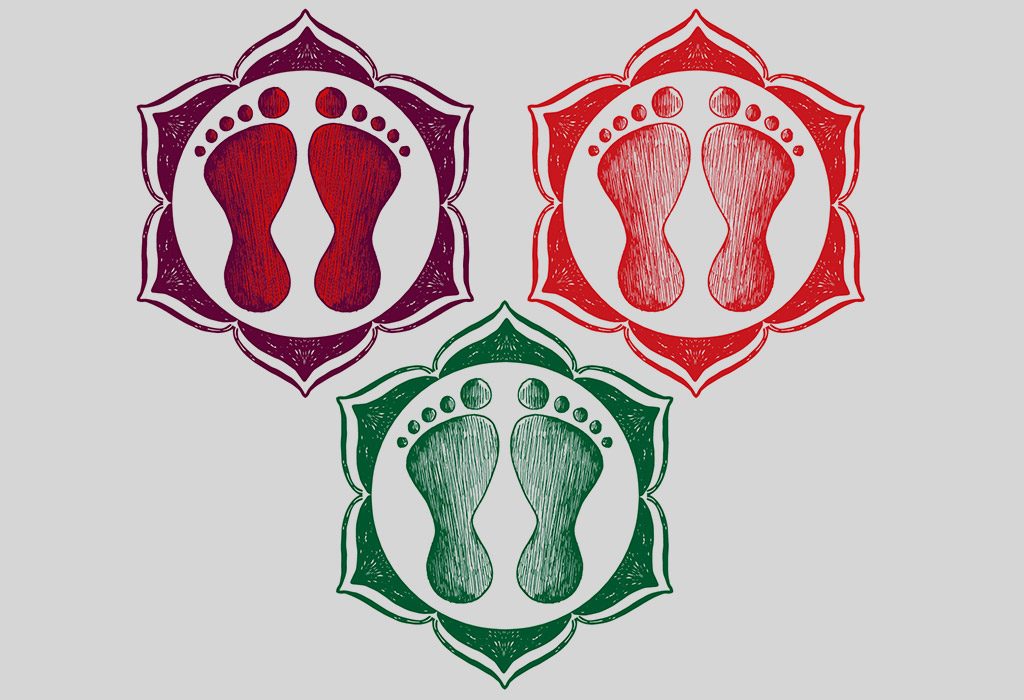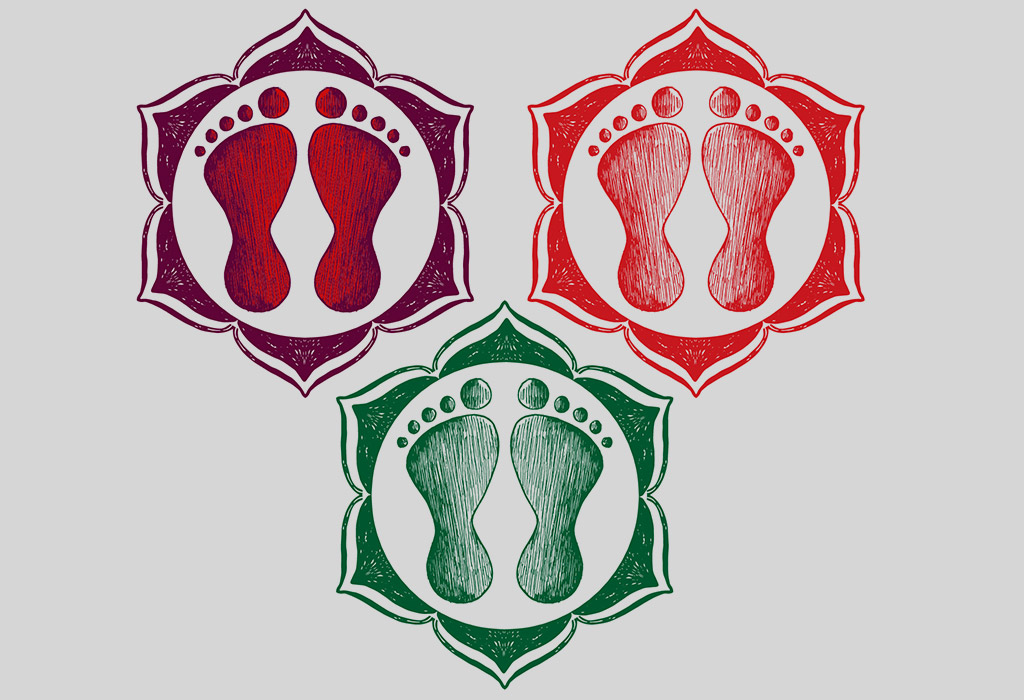 Materials You Will Need
Chart paper
Paints
Glitter
Glue
How to Make
Trace out the left and right footprints on a chart paper.
Paint them with a colour of your choice. Cut out the footprints, apply some glue on them and sprinkle some glitter.
Place these footprints at the door of your house.
12. Edible Diyas
Give your kids some simple materials and let them shape them into diyas they can later gorge on!
Materials You Will Need
Sweet dough, prepared
Wafers
How to Make
Give your children some well-prepared dough and let them shape diyas out of it.
Bake this dough and then slice in a wafer on its tip for its flame. Let this sit out for a while before the kids start gulping them down!
13. Salt Firework
Indulge your kids in some fancy modern art. Here is how they can make salt pattern fireworks.
Materials You Will Need
Salt
Black paper
Glue
Food colours
How to Make
Take different food colours in separate bowls. You can also prepare a solution of food colours by mixing them.
On the black paper, stick glue lightly and then pour salt on it in a way that it resembles fireworks.
Let your kids use the droppers to paint these salt patterns and turn them into fireworks patterns.
14. Diwali Wish Bands
Friendship day isn't the only day to use wristbands. You can make wish bands for Diwali as well!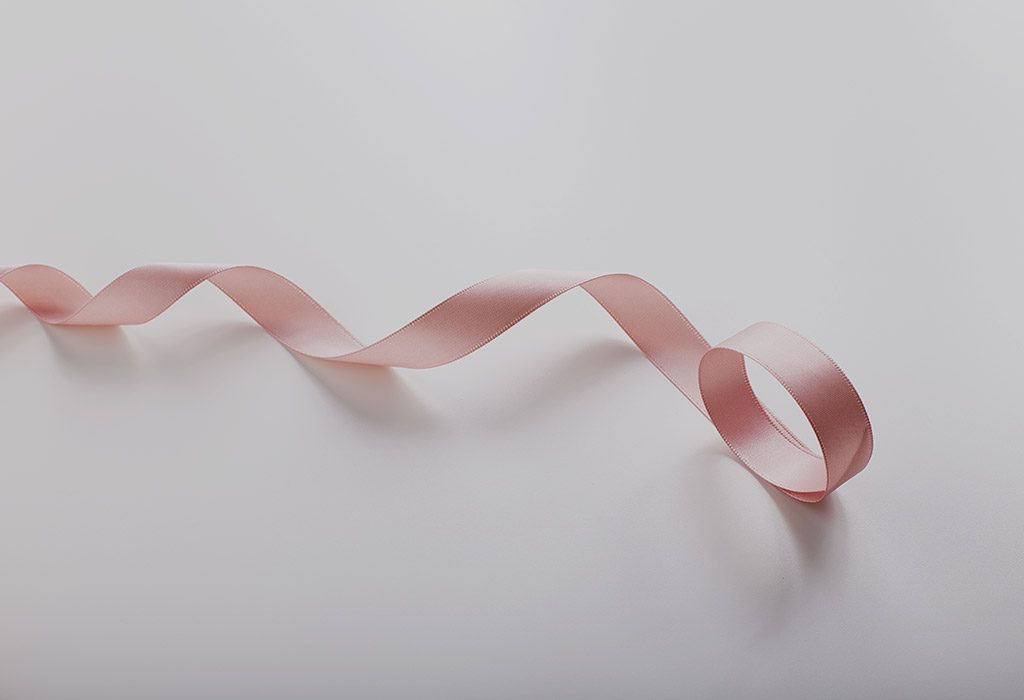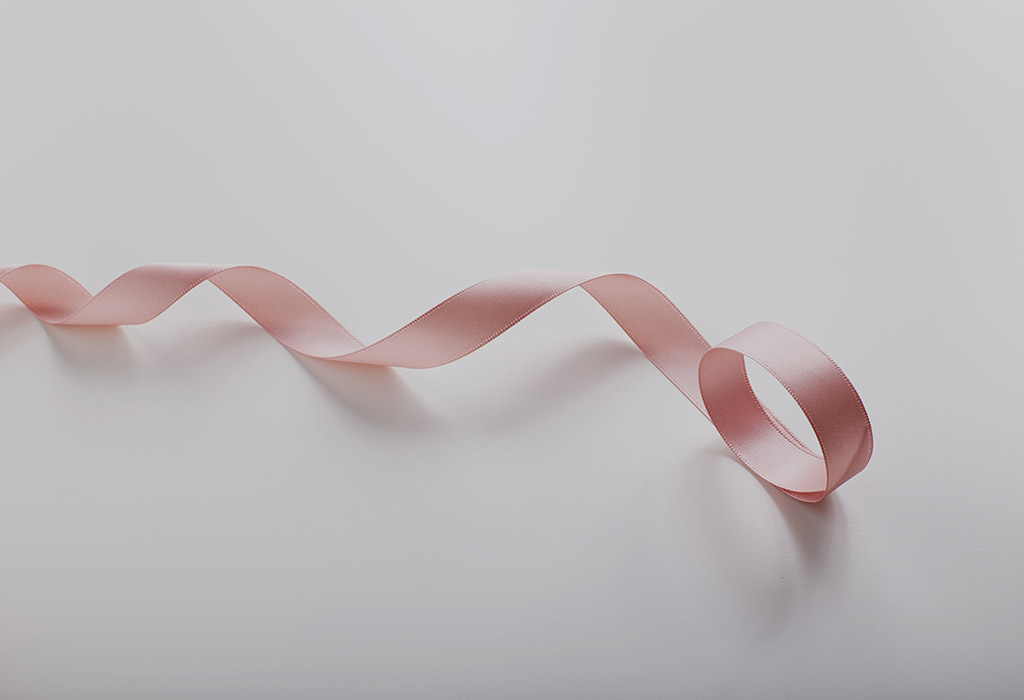 Materials You Will Need
Ribbons in different colours
Markers
How to Make
Let your kid pick a ribbon and write a message addressing his friend.
Make use of markers or paints to decorate the ribbon.
Let him tie the ribbon to his friend when they come over to wish them a happy Diwali.
15. Diwali Banners
Banners are used on birthdays and other celebrations, and the same can be done for Diwali, too. Use simple items present in your house, and make your very own banner easily.
Materials You Will Need
Thick paper of various colours
A pencil
A pair of scissors
A large needle
Thick thread or rope
Markers of various colours
How to Make
Divide the coloured paper into numerous blocks (by drawing squares on it with a pencil) such that large letters can be easily written within the block.
Cut out those blocks with a pair of scissors.
Now write one letter in each block to make your Diwali wish. If you want, you can write in your native language, too.
Once this is done, arrange the letters in the right order. Use the needle to poke two holes on either side of the block. If you prefer, you can cut out the letters too and then arrange them together.
Thread a rope or a thick ribbon through the needle and weave the letters together in the reverse order. Your banner is ready!
Putting together ideas of Deepavali crafts for preschoolers and kids is not as difficult as it seems, once you have a list to work with. Make sure your kids are enjoying these activities and also learning from them. This will make them feel a part of the celebration!
Also Read: Leaf Art and Craft Ideas for Kids