15 Best Science Gifts And Toys for Kids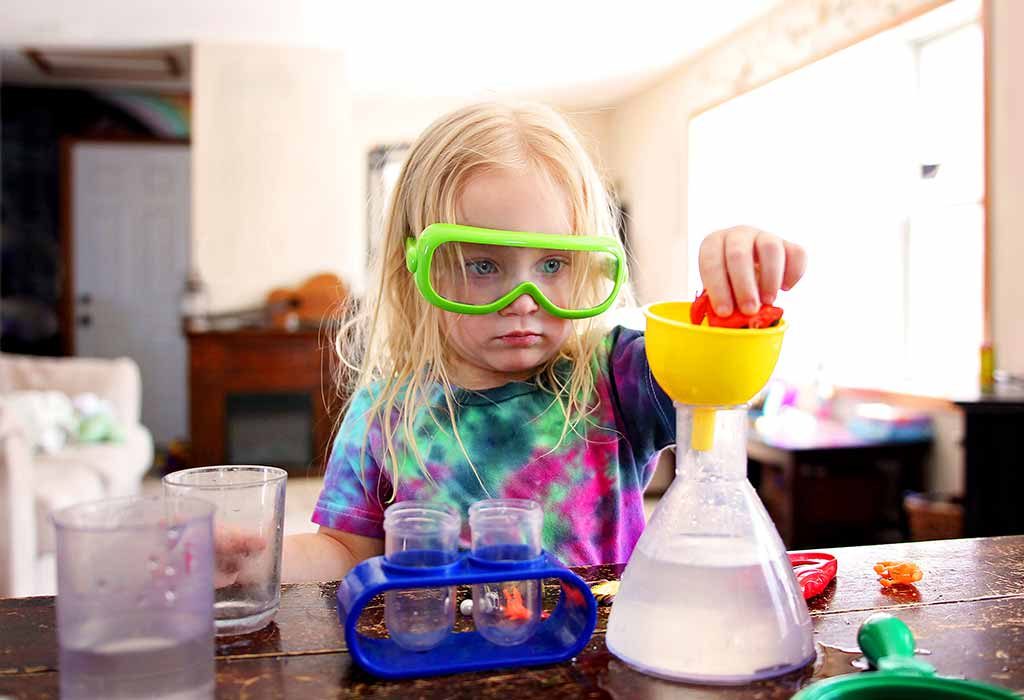 In this Article
Are you looking for cool science gifts for your kids? Maybe you want to inspire your son/daughter to take up STEM and turn into the next Jimmy Neutron when he/she grows up. Inventing doesn't have to be boring, and it begins at home. The scientific toys recommended in this article can help spark their interest in Science. Let's take a look!
Kid-Friendly Science Gifts for Your Little Genius
Science is meant to be fun and ignite a sense of curiosity. We strongly believe these gifts do the job and will make your kids forget that they've learned in the process.
1. LEGO DUPLO Deluxe
LEGO DUPLO Deluxe is built for kids aged 3 or 5 years old and is perfect if you want to help them learn how to build things with their hands. The parts come in sizes appropriate for them to hold and also avoid any risk of choking.
Key Features
Sturdy plastic pieces that are not choking hazards.
The kit contains window elements and DUPLO figures for both boys and girls.
Fosters creative building and spatial thinking skills.
Why It's Great
We think this is a great toy since it takes a hands-on approach to learn science.
2. Learning Resources Magnifier and Tweezers
Encourage your young tots to go outside and study the world around them. These are perfect the kids over 3 years old to closely observe objects without really touching them. Also, they and are available in bright colours you child is sure to like.
Key Features
Works on fine motor skills and power of observation.
Magnifier has a built-in stand.
Available in different colours.
Why It's Great
These are some of the best science toys for toddlers because of how easy they are to use.
3. The Magic School Bus Chemistry Lab
The Magic School Bus Chemistry is the best science gift for a 7-year-old since it's built to ignite their curiosity while fostering a solid foundation in STEM.
Key Features
Teaches kids the basics of acids, bases, bubbles, surface tension, volcanoes, and slime.
Includes handy guides with detailed step-by-step instructions on experiments.
Designed by a team of Harvard graduates and scientists.
Why It's Great
It's a great toy in our opinion because it simplifies the basics of Chemistry for kids to understand, and it's fun too!
4. ScienceWiz Inventions Kit
ScienceWiz Inventions Kit is designed to turn your child into a curious inventor. With this kit, children can build things at home or on the go using this kit, and understand the fundamentals of the things they create
Key Features
An award-winning science toy that won the Scientific American Young Reader's Book Award.
Includes detailed step-by-step instructions for building inventions, in 3D.
Builds fine and gross motor skills.
Ideal for ages 8 and up.
Why It's Great
It's great because it guides kids on building various things like telegraphs, motors, and generators with flashing lights too.
5. Make A Volcano Kit
If you're looking for something simple, yet captivating for your child, try this. The kits are available for kids aged 6 years and old and include all the material required to create a volcano. A volcano kit can challenge your kid's scientific creativity.
Key Features
Includes a guide with detailed step-by-step instructions.
Comes with a paintbrush, fast-drying volcano plaster, volcano mould, and a stir stick.
Is a great hands-on science project.
Why It's Great
Parents say it's one of the most fun science gifts for kids. And, it turns your home into a simulated planetarium.
6. GIANTMicrobes Blood Cells
Let your kids have fun with the GIANTMicrobes Blood Cells gift box collection. It has platelets, plasma, blood cells, and more, turning your time into oodles of fun and learning. This kit is ideal for kids 6 years and older.
Key Features
Teaches young kids the basics of Biology.
Mini microbe sizes are between 2 to 4 inches.
Has red blood cells, white blood cells, plasma, and platelets.
Why It's Great
We think it's great because young kids love plushies and these are simply too cute.
7. Grow and Glow Terrarium Science Kit
Watch your seeds and plants grow and create your very own ecosystem with kids in the house with this cool science kit. It comes with mason jars, organic chia and wheatgrass seeds, and glow-in-the-dark stickers.
Key Features
Helps kids get a hands-on experience creating an ecosystem.
Habitat grows in as little as 3 to 7 days.
Combines science, art, and creativity.
Why It's Great
It's a really cool science kit, and we love it because we love watching plants grow. Who doesn't?
8. Scientific Explorer Disgusting Science Kit
Like revelling in the joy of exploring disgusting and slimy stuff? Share your joy with your kids with this disgusting yet wonderful science kit.
Key Features
Teaches kids about slime, intestines, and everything else about the human body.
For kids aged 8 and above.
Also includes 4 Petri dishes, a plastic bag, and a user guide.
Why It's Great
We think it's great because it's really educational and really gross.
9. National Geographic Break Open 10 Geodes
If you're looking for the best science toy for your 6-year-old, this would be it. Kids in this age group generally love learning about things by holding and even destroying them. And, if your child has particularly taken to stones, pebbles and cobbles, this kit will be a perfect science kit for him/her. Now, you can let their curious self break and learn something new.
Key Features
Includes safety goggles, display stands, and a full-colour learning guide.
Features ten high-quality geodes stuffed with crystals deep inside.
Why It's Great
We love it because of the way it teaches kids the basics of geode formations, by observing the geodes, and even using the tools to break and study the crystals.
10. Spaceman Programmable Robot
This robot can dance, talk, and move. It is fuelled by the power of Artificial Intelligence. It is definitely one of the coolest science-based toys for kids 7 years and above, and it can be custom programmed too.
Key Features
Features integrated Bluetooth speakers.
Comes with a chargeable battery, remote controller, and an app.
Works with Spotify and in-built programs can be customized.
Why It's Great
We think it's great because it's one of those science toys for kids that can introduce them to artificial intelligence, and inspire them to learn more about science and technology.
11. UBTECH Mythical Series: Unicornbot
Is your young kid growing smarter way too fast? The unicornbot is a perfect way for kids aged 8 years and above to learn coding, programming and building a robot.
Key Features
Compatible with iOS and Android devices.
Magical horns have customizable colours.
It's an award-winning interactive robotic building toy.
Why It's Great
We like it since it's one of the more advanced STEM science toys for kids that teaches them how to build things with interactive guided lessons.
12. Lego Mindstorms EV3
If you're looking for science toys for children and don't mind letting the younger ones learn the ropes of technology and coding hands-on, gift them this Lego Mindstorms EV3 today. Although it's rated for ages 10 and up, we believe 8-year-olds can get started with this since it's beginner-friendly.
Key Features
Has a cutting-edge sensor suite and Bluetooth radio.
Teaches young minds how to code.
Can be programmed to play games and complete tasks.
Why It's Great
We think it's great because it's geared towards younger kids. The instruction guide included makes it easy to build and gets you started quickly.
13. DIY Kitchen Science Kit
Exercise your child's imagination and help them get creative in the kitchen with this fun DIY Kitchen Science Kit. It uses common household ingredients for performing interesting and creative science experiments.
Key Features
Features six different and creative science experiments.
Includes complete instructions for every experiment.
Only requires a few simple kitchen ingredients for doing the experiments.
Why It's Great
It's science in the kitchen which is why we love it.
14. Periodic Table Building Blocks
Colourful and attractive, these building blocks are perfect for introducing your young genius to the wonderful world of Chemistry. This kit is designed for kids aged two and old. Doesn't it seem like a perfect toy for your child to learn the periodic table without even knowing?
Key Features
Set of 20 colourful blocks that feature elements of the periodic table.
Perfectly sized for tiny hands,
Ideal for early learning.
Printed using non-toxic inks.
Why It's Great
It's colourful, the blocks can be stacked up, and it's a fun way to learn the basics of Chemistry.
15. KidzLabs Magnet Science Kit
Magnets are cool and a basic but important component of learning Physics. Show your kids the magic of magnetism with this set.
Key Features
Has 10 fun science games and experiments.
Assembly guides, game instruction manual, magnets, wheels and axles, metal screw nuts, and all other materials are included with the kit.
Perfect for kids 8 years and above.
Why It's Great
Eight years old is the right age to introduce your kids to Physics, and we believe this kit does a great job at explaining magnetism by showing the concept hands-on.
Be sure to have fun with your kids and spend time exploring these scientific toys. By the end of it, your kids will come out smarter and smiling.
Also Read:
Unique Birthday and Festive Gift Ideas for Kids
Amazing Christmas Gift Ideas for Kids