15 Best Graphic Novels For Kids To Read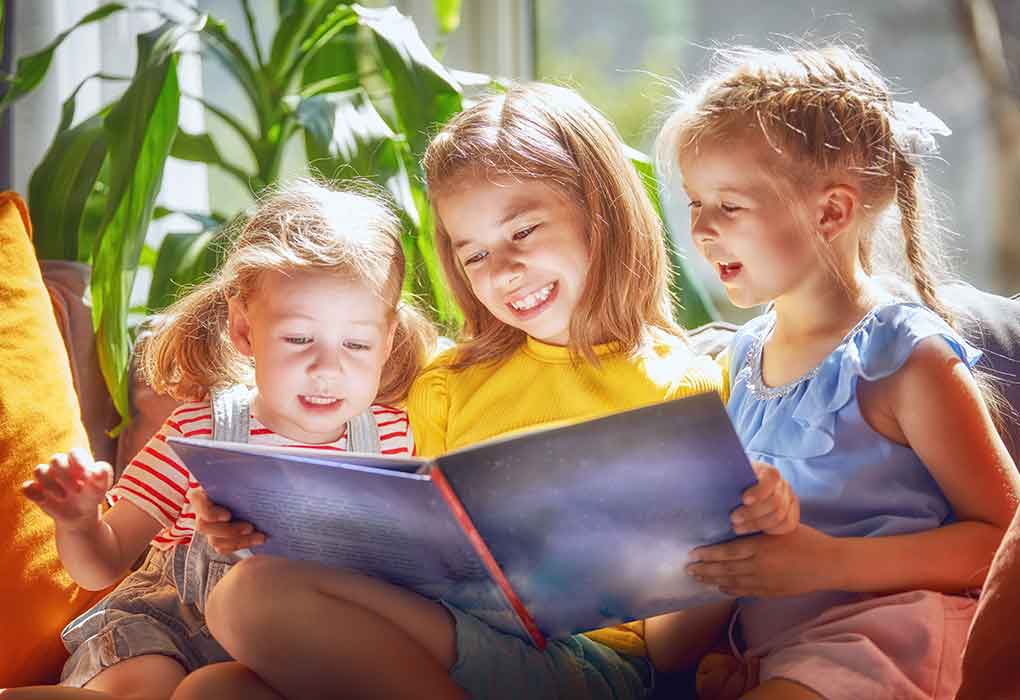 Unlike comics, graphic novels contain stories and do not get published periodically in newspapers or magazines. Graphic novels for kids are published by book publishers who specialise in storybooks and novels for kids in all age groups. In this article, we shall share some popular and must-read graphic books/ novels you can get for your kids. But first, let's take a look at why graphic novels are important for kids.
Why Graphic Novels Are Important For Kids
Graphic novels help build literacy skills in children. Here's a breakdown of how exactly they can help your child.
With lots of illustrations and fewer words, even children who don't like to read will be able to complete the story.

They help develop an interest in books

.
Your child can become a confident reader with graphic novels as they make reading easy for slow readers or for those who struggle with reading.
Even the children who lack imagination are able to follow the story well with graphic novels.
Now that you know the reasons why your child should read graphic novels, you must be wondering which novels you can get for him. Worry no more. Read on for a list of popular graphic novels for children.
Popular Graphic Novels For Children
Many graphic novels cater to children of all age groups, including teenagers. This list of popular graphic novels should help you make a purchase in minutes for your child when you are short of time.
1. All's Faire In Middle School
Impy, an 11-year-old, has been home-schooled all her life and has grown up with both parents working at the Renaissance Faire. As Impy is eager to start training as a squire and join her parents, she needs to do something courageous to prove that she is brave enough. Impy decides that she needs to conquer public school.
Author Name
Victoria Jamieson
Age Group
Seven years and older.
Why It's Great
This humorous graphic novel tells a heart-warming tale of a young girl trying to make it in middle school without turning into a fiery dragon at heart.
2. CatStronauts Series
CatStronauts is a graphic novel series set in a world that is populated by cats. The series majorly revolves around space adventures but is full of humour and science.
Author Name
Drew Brockington
Age Group
Five and above.
Why It's Great
This series has a bit of humour and some real science, which is explained in the simplest way possible without making reading boring for kids. It also teaches the importance of teamwork.
3. Sparks
This book is about a dog named Sparks, who has made a name for himself as a hero. What nobody suspects, however, is that Sparks is really a robot dog that is controlled by two cats, August and Charlie.
Author Name
Ian Boothby
Age Group
Six years and above.
Why It's Great
Your kids are sure to love this fun-filled book if they are animal lovers. It provides an interesting read and a good laugh too.
4. Short Stories For Little Monsters
This collection of short stories is filled with humorous concepts that are expressed from a child's point of view.
Author Name
Marie-Louise Gay
Age Group
Five years and above
Why It's Great
Each of the short stories is so out of the box that it really makes you think. It is a great book to boost your child's imagination.
5. Doodle Adventures
Doodle Adventures is a great book series for kids who enjoy drawing or doodling. Each of the series involves different settings and characters.
Author Name
Mike Lowery
Age Group
Five and above.
Why It's Great
The way the series is laid out enables children to draw out their own characters and add them to the story. It is a very interactive book.
6. The Cardboard Kingdom
Following various children from the same neighbourhood, each chapter consists of a make-believe story of a different child. In the end, they all come together to defeat evil.
Author Name
Chad Sell
Age Group
Six and above
Why It's Great
Chad Sell has brought together stories by many different authors in this one exciting graphic novel. Your child will experience the creative works from many minds and also learn how you can make something magical from something small.
7. Dog Man Series
This brilliant series is about a hero who is part man and part dog. He works as a cop and is often trying to outsmart his nemesis, the cat called Lil Petey.
Author Name
Dav Pilkey
Age Group
Five years and above.
Why It's Great
Dog Man is one of the best graphic novels for 1st graders and can even be enjoyed by those who are older.
8. The Breadwinner
Eleven-year-old Parvana, along with her mother, sister and younger brother, is left with no source of income when her father is arrested. In Kabul, Afghanistan, it is a man's world. Parvana decides that the only way she can put food on the table for her family was to dress up as a boy.
Author Name
Deborah Ellis
Age Group
Seven years and above
Why It's Great
Despite the overwhelming problems that young Parvana faces, she finds a way to overcome major challenges. The book teaches children that some of them are not as privileged, but they never give up.
9. Five Worlds Series
This exciting graphic novel series is about three young heroes who set out on a journey to save the five worlds that are on the brink of extinction. The only way to save the worlds is to light three ancient beacons.
Author Name
Mark Siegal and Alexis Siegal
Age Group
Eight years and above
Why It's Great
The series is one of the best graphic novels for 3rd graders. The characters are very well developed, and the world created will boost your child's imagination.
10. Olga: We're Out of Here!
An animal-loving young girl who loves science is determined to find out why her friend, Meh, is behaving strangely. She also wants to go into space to search for Meh's home planet.
Author Name
Elise Gravel
Age Group
Seven and above
Why It's Great
This book is full of fun, has interesting characters, and also delivering travel facts about space.
11. The Treehouse Series
Andy and Terry have created a wonderful treehouse series filled with fun and adventure. The novel series takes readers through the imaginary life in the treehouse,
Author Name
Andy Griffiths, Terry Denton
Age Group
Five and above
Why It's Great
It is a very adventurous series that children of any age can enjoy. It is simple, creative, and a delight to read.
12. Owly
Owly is a gentle-mannered, lonely owl who decided to do good in the world. While many obstacles come his way, Owly overcomes them with the help of his friends and discovers the true meaning of friendship.
Author Name
Andy Runton
Age Group
Five and above
Why It's Great
Young children can easily follow the lovable characters and understand the meaning and importance of friendship.
13. Phoebe And Her Unicorn
This book is about a girl named Phoebe, who accidentally hits a unicorn while skipping a rock to get across the water. Though accidental, she is granted one wish by the Unicorn, who later becomes her committed friend.
Author Name
Dana Simpson
Age Group
Five and above
Why It's Great
This graphic novel is a silly and fun way for young children to find entertainment in a book. With a name like Marigold Heavenly Nostrils, this book is sure to make your kids squeal.
14. Binky, The Space Cat
Binky is a cat who believes he is a space cat. His mission is to head on to outer space to explore the unknown and fight the evil aliens.
Author Name
Ashley Spires
Age Group
Five and above
Why It's Great
Binky shows that it is easy to have a wild and vivid imagination, even for the most average and mundane things in life. Reading this novel helps children to see the magic in even the basic things.
15. Narwhal And Jelly Series
Narwhal and Jelly ride the waves of adventure and ocean fun. The stories are so well written and disguised with humour that it may be hard to notice that you are learning life lessons along the way.
Author Name
Ben Clanton
Age Group
Five and above
Why It's Great
The novels are great because they deal with topics that children experience, and in their own way, help the little ones to learn how to solve some problems.
These graphic novel recommendations should help you develop your child's interest in reading. If needed, take it slow, but don't lose hope if your child is not showing interest. Begin with a few graphic novels that attract your little one's attention and see how your child becomes eager for more.
Also Read:
10 Tips on How to Teach Kids to Read
Books That Encourage Sense of Humour in Your Child