15 Baby Photoshoot Backdrops You Can Make at Home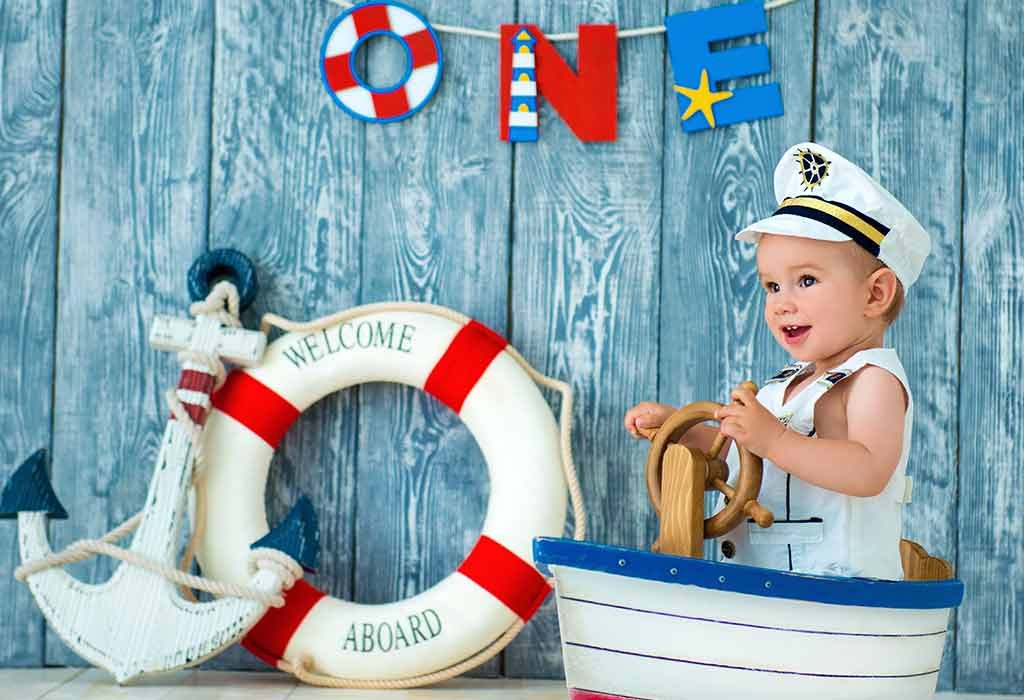 In this Article
Let's be real, photos of your cute little baby smiling cheekily are heartwarming and make for some incredible memories you'll treasure for life. But why go to a photography studio when you can make photoshoot backdrops and conduct your own mini-photoshoot at home? It's surprisingly easy to make a baby photoshoot backdrop that looks so professional that people won't be able to tell the difference. Plus, you don't require much material, considering babies only take up so much space. So, without further ado, let's look at 15 baby photoshoot backdrops that you can make all by yourself at home!
15 DIY Baby Photoshoot Backdrops
Once you realise how easy it is to get a professional setup right at home, you'll won't be needing a studio anytime soon(or ever again). We've listed 15 simple DIY photoshoot backdrops you can make in the comfort of your home!
1. Paper Plate Backdrop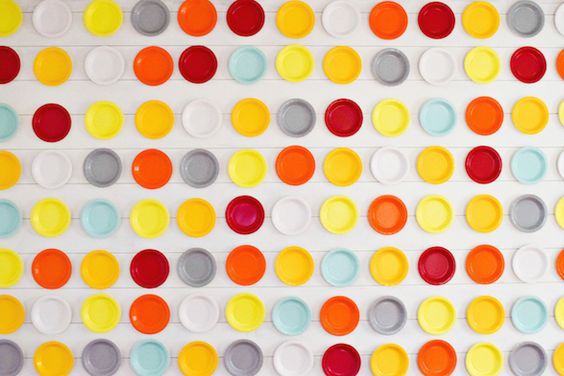 Source: Pinterest
Many of us have extra paper plates lying around the house from parties or get-togethers. Well, here's where they'll come in handy. Simply map out the area you want to conduct the photoshoot in and stick paper plates on the wall at equal distances. You can also use white, black or coloured chart paper to make it look neater or create a contrast. If you have plain white paper plates (and some time on your hands), you could go the extra mile and paint them to add colour.
2. Fabric Backdrop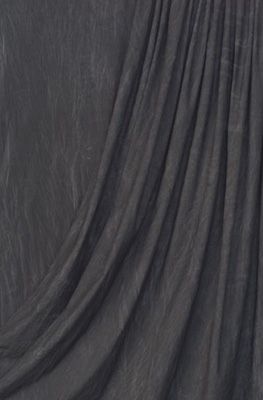 Source: Pinterest
Another great idea is to simply drape some dark coloured fabric (dupattas, shawls, curtains, etc.) on the wall and floor and secure the edges with tape to ensure the fabric doesn't wrinkle or fold. Place your baby in the centre, and the slippery texture of the fabric will definitely make your baby curious enough to make for some great, giggly pictures! Keep that finger on the camera trigger!
3. Streamer Backdrop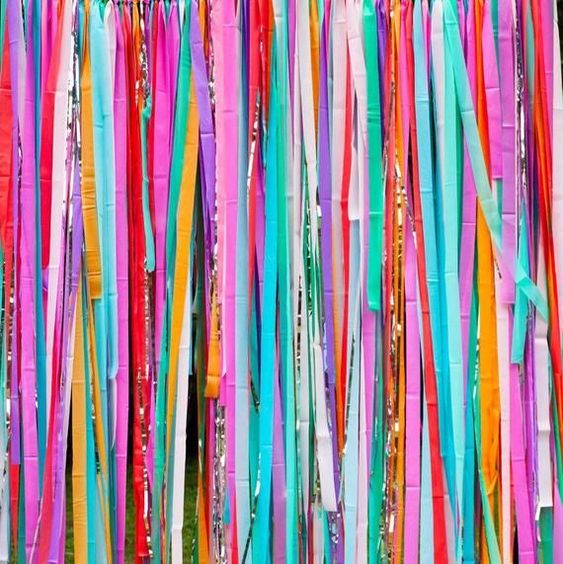 Source: Pinterest
Who said streamers can only be used for parties? No sir! There are so MANY streamer patterns you can choose from. Tape different coloured streamers on the wall, such that current one slightly overlaps the previous one. Another option is to stick the streamers in a weaved checkered pattern and tape them. You can also stick to just one colour if you're looking for some subtlety.
4. Fairy Light Backdrop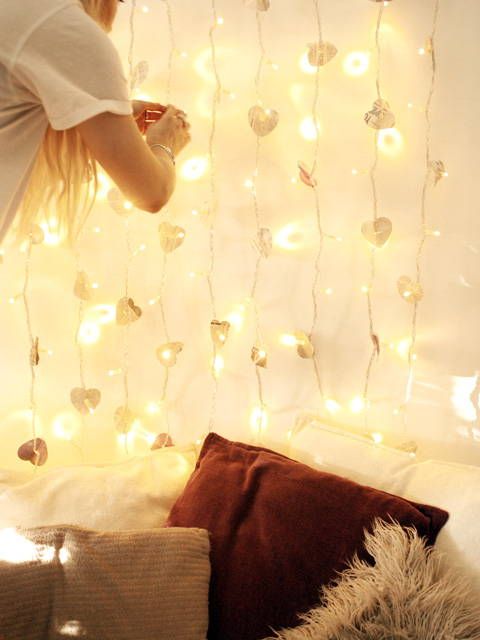 Source: Pinterest
Fairy lights are inexpensive and easily available in most online and offline stores. They're festive and create a dreamlike effect, which is perfect for babies. String some fairy lights on the wall or some chart paper and they'll look stunning. You can string them in a random manner or even get creative with designs like hearts, the baby's name, or any other shape.
5. Lace Backdrop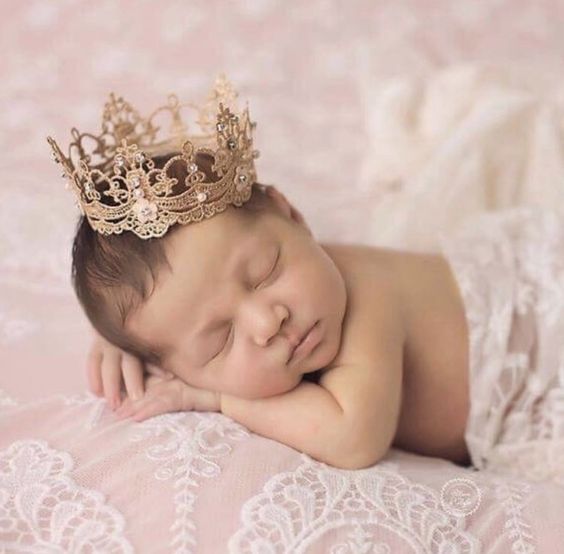 Source: Pinterest
Lace has a certain delicate, angelic effect, doesn't it? It works as an understated but regal backdrop for newborn photoshoots. It also compliments the baby's tender skin and adds an immaculate vibe to the picture. Lay out some thick white/ light coloured bed sheets on the floor, finishing off with the lace material. Lay your baby on top of it and click away!
6. Balloon Backdrop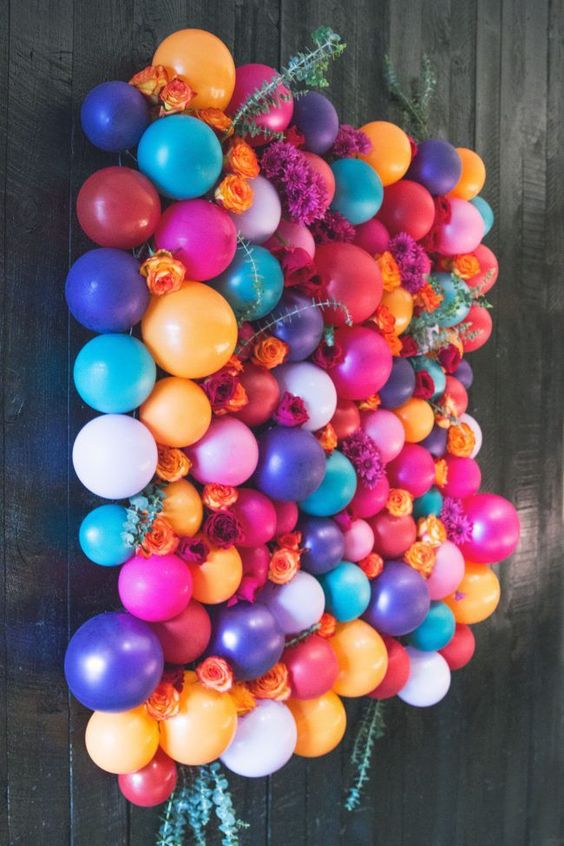 Source: Pinterest
This one also makes for some fun games once you're done with the photoshoot. Stick balloons of different colours (or the same colour) close together on the walls and lay out a blanket for your little one to sit on. It looks super cute and gives out a fun vibe.
7. Faux Fur Backdrop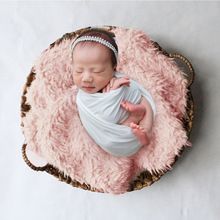 Source: Pinterest
Have a faux fur sweater, shawl or rug? Turn it into a backdrop for your newborn's photoshoot. Simply lay it out and lay the baby on top of it. You could also wrap your baby up in a silk or cotton shawl of the same or complementary colour for that 'awwww' picture!
8. Banner Backdrop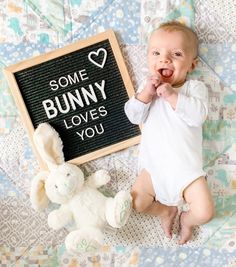 Source: Pinterest
This backdrop is perfect if you have brightly painted or textured walls that would look good in photos. You could always use a bight bedsheet if you don't. Make a banner, out of chart paper or any suitable material you can find at home, that says 'Hello World', the baby's age, the baby's name, or anything creative you can think of. This is also a great option if you're planning on doing a daily, weekly or monthly photoshoot to track your baby's age.
9. Wrapping Paper Backdrop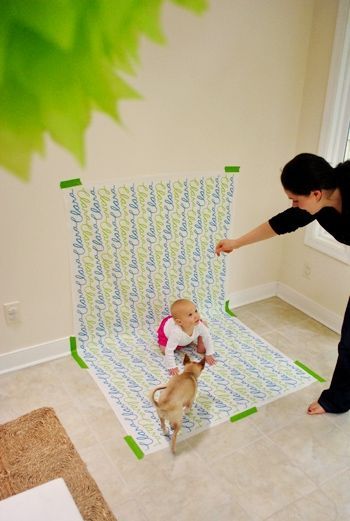 Source: Pinterest
We said earlier that you won't need a large number of materials, and this is what we meant. Simply take one or two sheets of beautiful wrapping paper and stick it on the floor and wall where the photoshoot is taking place. Easy-peasy, but totally rewarding, right?
10. Flower Backdrop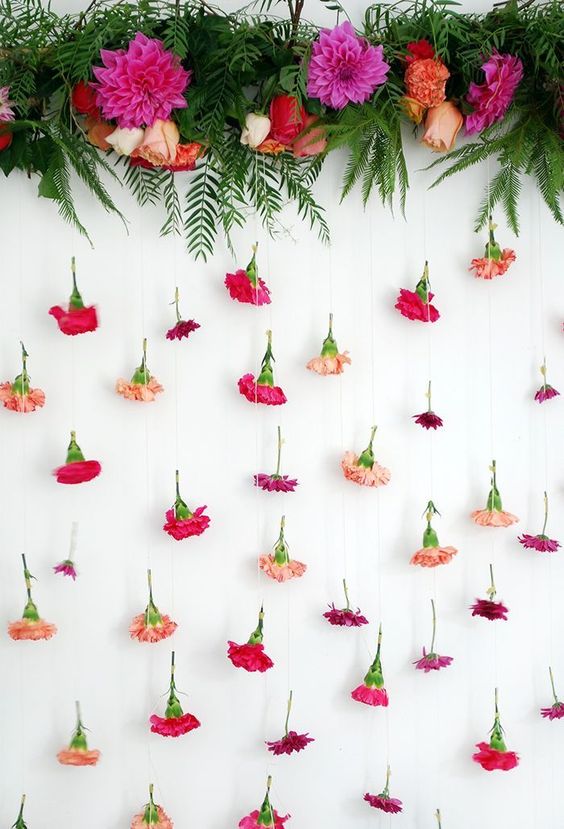 Source: Pinterest
One of our favourites, this one can be as subtle or colourful as you want it to be, based on the flowers available. Stick some white, black or blush pink chart paper on the wall, making sure there are no creases. Then, stick flowers of your choice on the chart paper, trying not to be too uniform or too haphazard. You can even use artificial flowers for this. It looks beautiful and works perfectly for spring or summer. If your baby can't sit up yet, you could also spread a white bed sheet on the floor and scatter flowers on it for your baby to lay on.
11. Wood Backdrop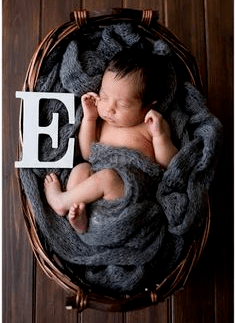 Source: Pinterest
If you have wooden flooring or some planks available at home, they could also serve as the perfect backdrop. However, make sure they are safe for your baby to sit or lay on, and make sure to cover your baby in thick clothing just in case. A wooden crate works as a wonderful backdrop as well, so double whammy if you have one!
12. Suitcase Backdrop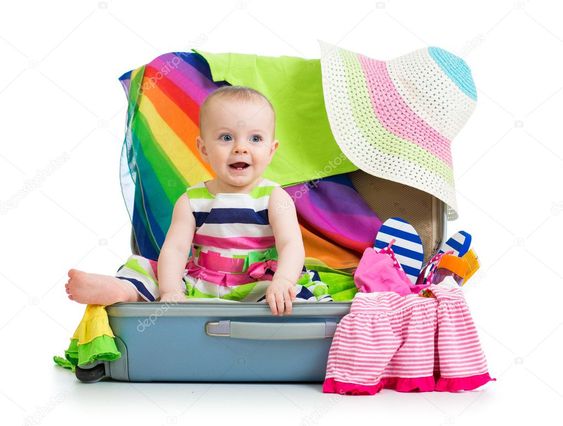 Source: Pinterest
This one is perfect if you have any colourful or unique suitcases lying around. Lay out a bright bedsheet on the floor, place the open suitcase on it and let your baby sit or lie down in it. It makes for some super fun pictures, especially if you are a travel buff yourself!
13. Teepee Backdrop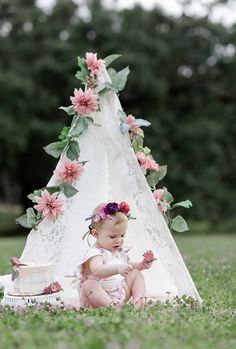 Source: Pinterest
You may not believe it, but you can actually make a teepee for your baby at home! Place three long sticks in a triangle and bring them together at the top, making sure the base is sturdy. Tie them tightly with a rope at the point where they intersect at the top. Drape a bedsheet over it and clip it down with some clothes pegs, and your makeshift teepee is ready. We're sure you'll get some adorable pictures of your baby sitting in the teepee!
14. Tinfoil Backdrop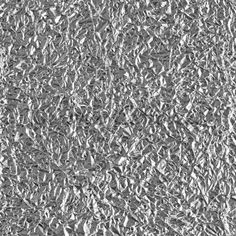 Source: Pinterest
Tinfoil is great if you're going for a blingy backdrop, especially since it reflects light in blue, green and yellow shades. You can crumple it to create texture, which means more colour or just go for a minimal silver effect. This looks best in natural lighting and you can even dress up your baby as a little disco dancer!
15. Nature Backdrop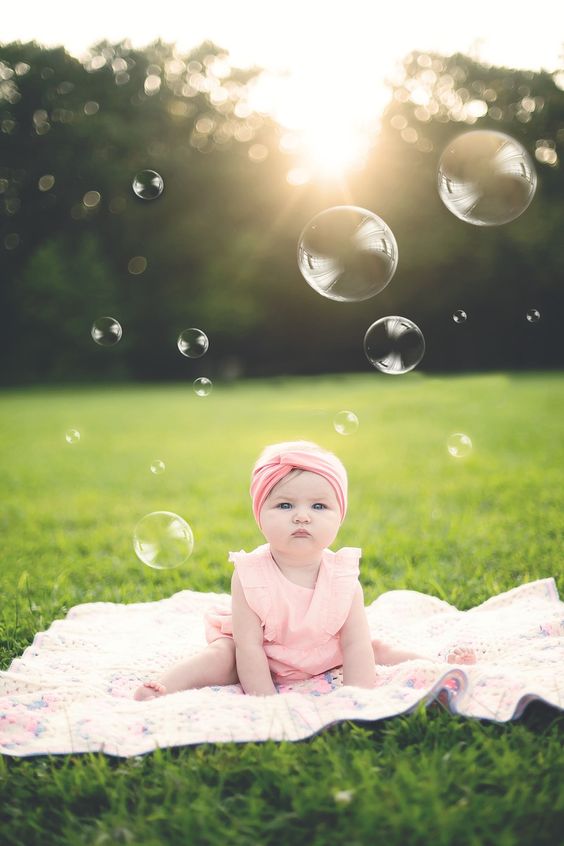 Source: Pinterest
If you have a backyard or even an area with artificial grass or pots around your house, use them as a simple, yet elegant backdrop. After all, you can never go wrong with nature! Lay your child on a blanket or in a cute picnic basket and click away!
Make the most of the resources available at your home and create some stunning backdrops to click adorable pictures of your baby. After all, its always fun to take a walk down memory lane when they're older!
Also Read: Creative Photoshoot Ideas for Babies