12 Delicious Carrot Recipes That You Will Surely Love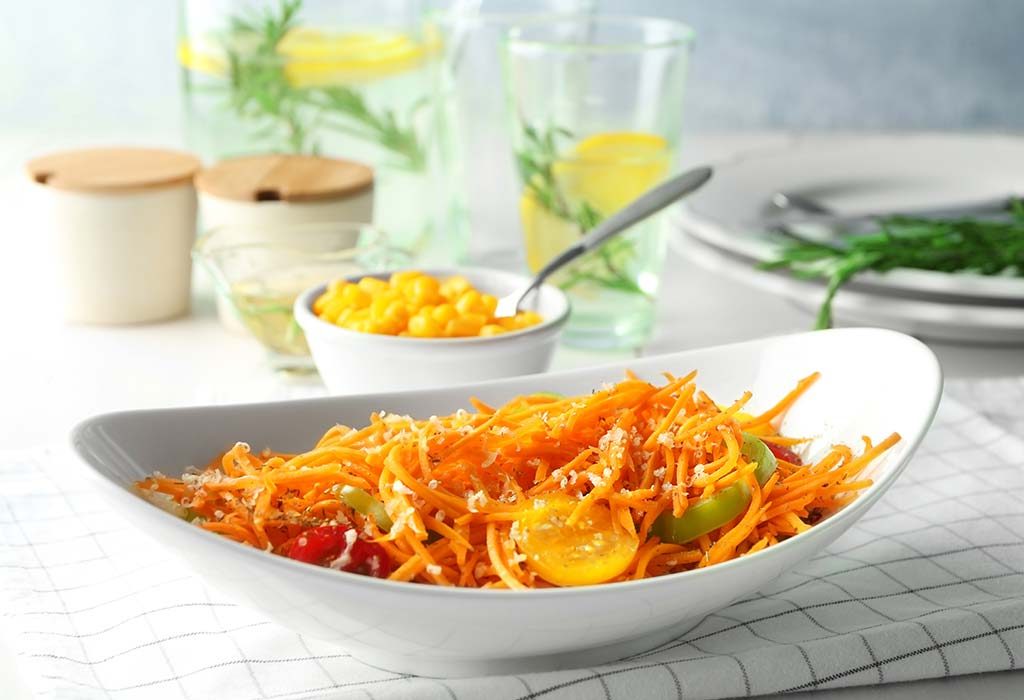 There are numerous delicious Indian and western dishes that can be made with carrots. Carrots are nutritious root vegetables that are an integral part of our cuisine. We all know that eating carrots is good for our eyes, but did you know that carrots also reduce the risk of heart diseases and types of cancer? Read on to know why carrots are good for us and learn to make some delicious carrot recipes.
Reasons Why You Should Eat Carrots
Carrots are extremely good for the eyes and for the overall health and you must try to make them a part of your daily diet. Find out how carrots are good and why you should eat them.
Carrots are rich in beta-carotene, which is converted into Vitamin A in the body. Vitamin A promotes good vision and also helps in the growth and development of bones.
Eating carrots helps in improving digestion.
Carros are rich in alkaline elements that purify blood while balancing the acid ratio in the body.
Eating carrots regularly prevents tooth decay by killing harmful germs in the mouth.
Carrots have carotenoids that help regulate blood sugar.
They also help in building new cells and detoxify the system.
Easy Carrot Recipes That You Can Make at Home
Here are some tasty carrot dishes that you can make at home. This is the season when you get carrots in abundance, so make the most of them. Try out the recipes mentioned below –
1. Gajar ka Halwa
This is a traditionally slow-cooked gajar ka halwa recipe that you can easily make. Gajar ka halwa is a popular dessert that is loved by all. So make this for your family and enjoy this sweet with everyone.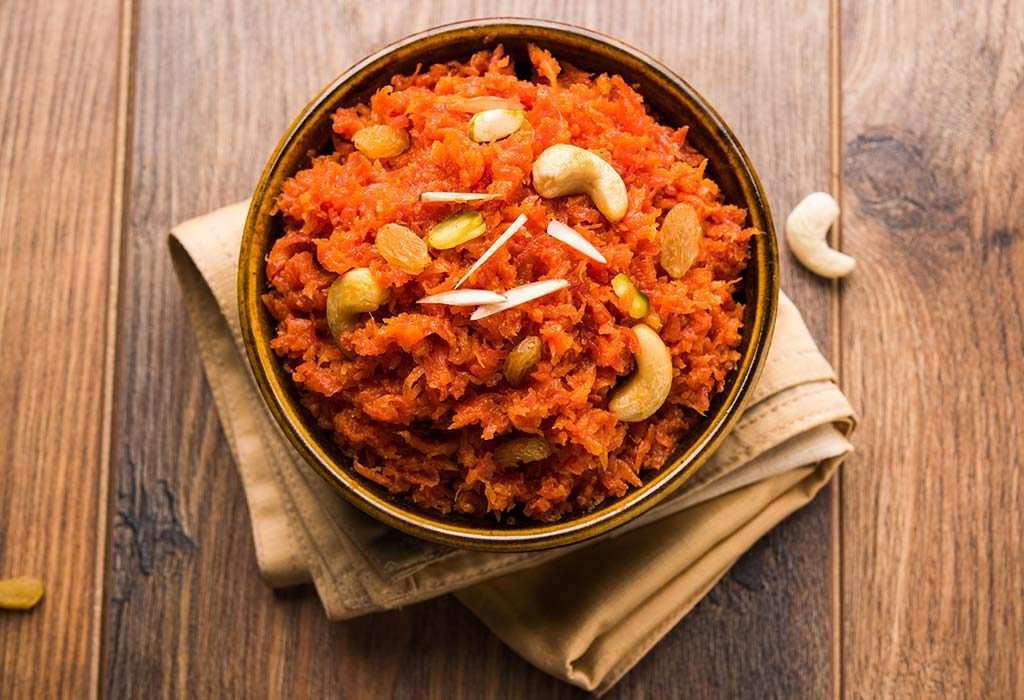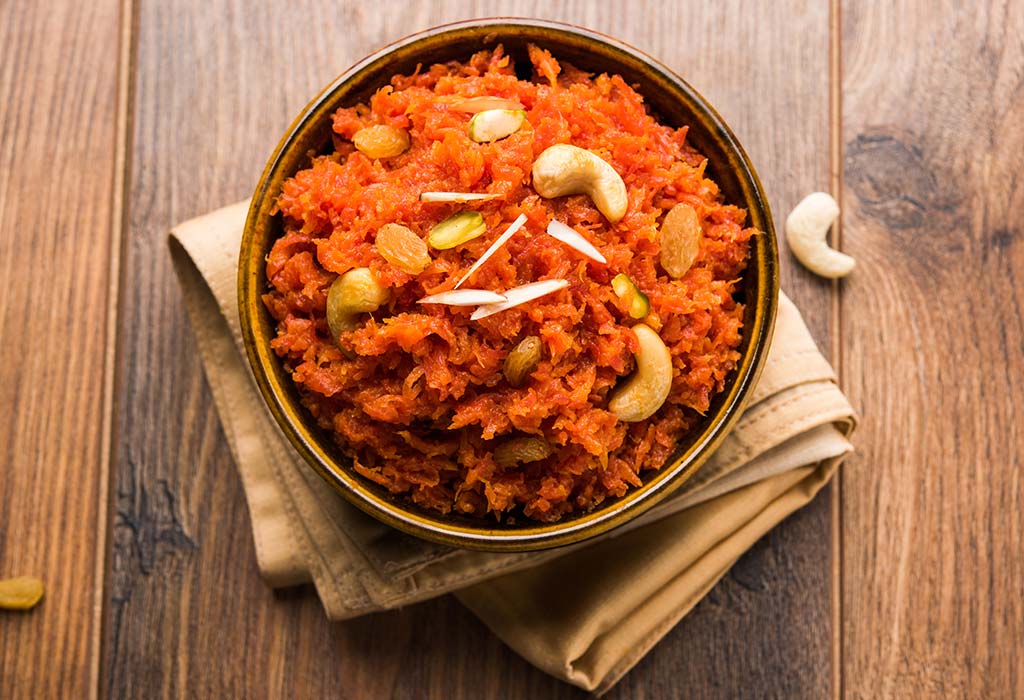 Ingredients
Carrots (1 ½ kg)
Green cardamom (10)
Cinnamon sticks (2)
Sugar (500 grams) (optional)
Ghee (250 grams)
Condensed milk (400 grams)
Almonds (50 grams)
Pistachios (50 grams)
Method
Grate the carrots.
Heat a pan and add the grated carrots to them. Sauté the carrots and stir them till they turn tender and are cooked well.
Then add condensed milk to the pan and stir well.
Add green cardamom, sugar (if required), cinnamon, and cook for some time. Add the ghee (if needed) and cook for 5-7 minutes.
Later, add pistachios and almonds and stir again.
Preparation Time: 2 hours
2. Honey-glazed Carrots
Honey-glazed carrots taste yummy and your kids will love eating them.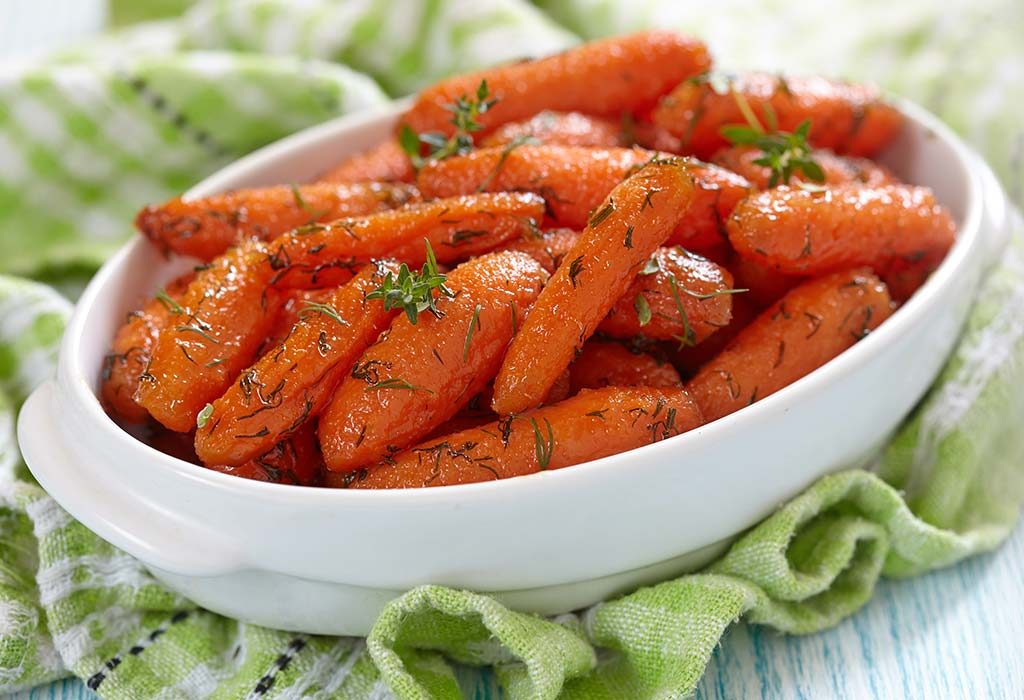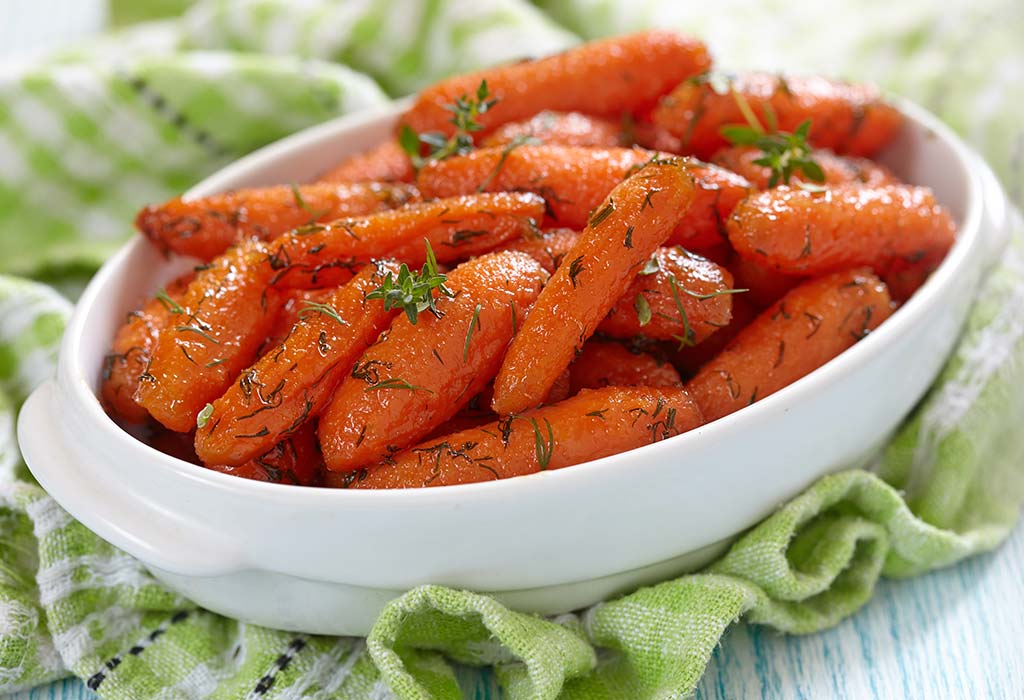 Ingredients
Baby carrots (250 grams)
Butter (1/4 teaspoon)
Lemon juice (1/2 tablespoon)
Salt (1/2 teaspoon)
Honey (1 tablespoon)
Black pepper (1/2 teaspoon)
Method
Boil the carrots till they turn tender and drain the water.
Heat a pan and add the carrots to it. Add some butter, honey, black pepper, and lemon juice and stir well.
Cook them on a medium flame until you see a glaze coated on them.
Season with salt and garnish with parsley.
Preparation Time: 15 minutes.
3. Gajar ka Achaar
This carrot pickle will serve as a great accompaniment with your meals.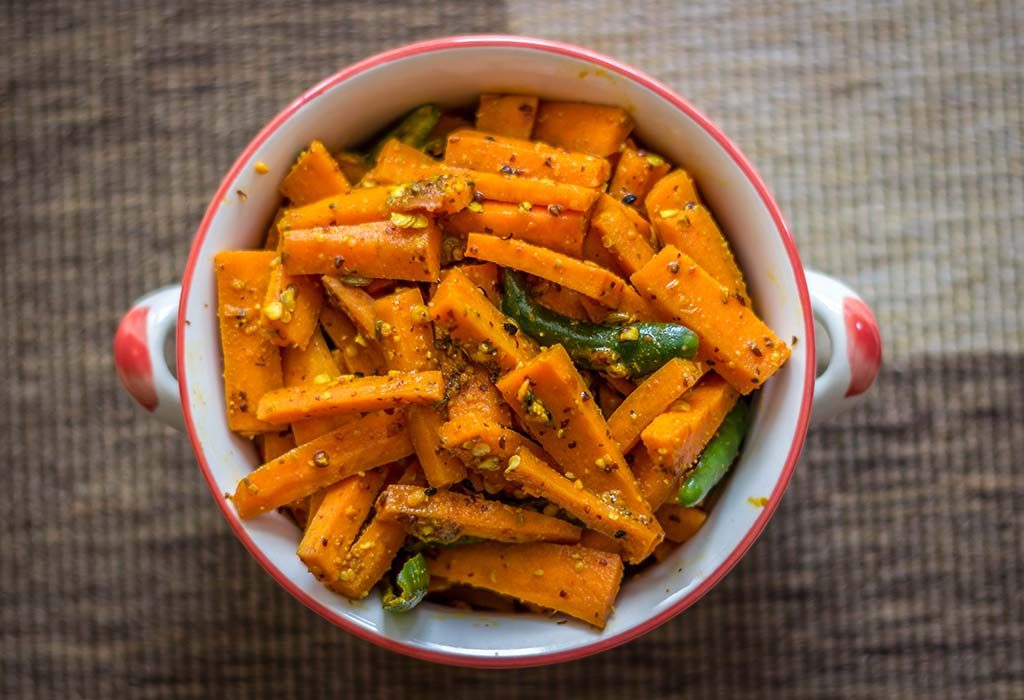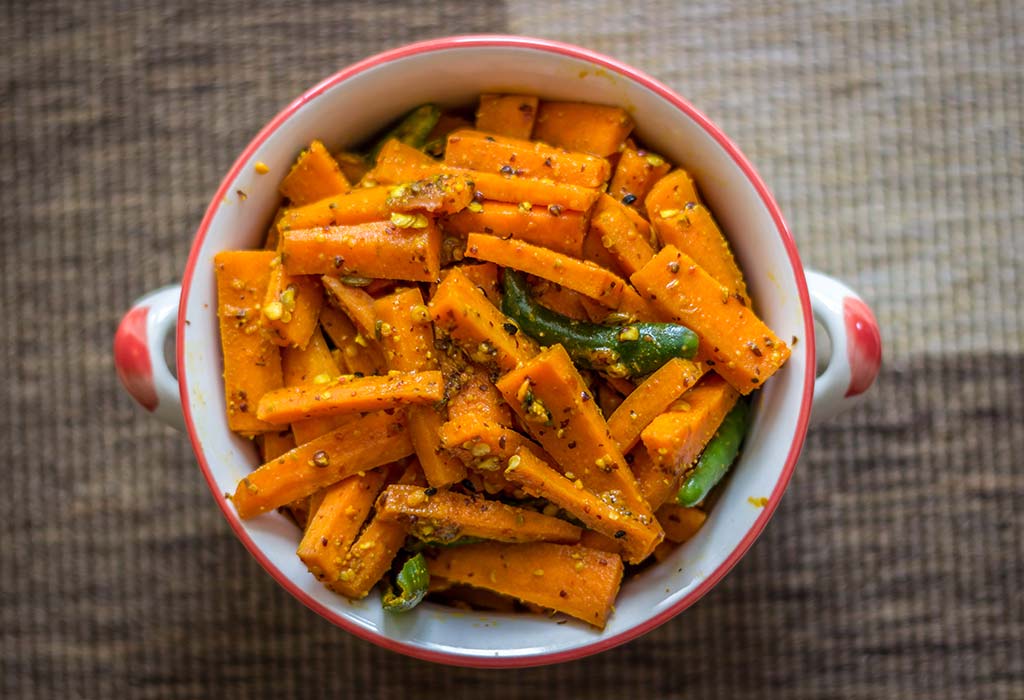 Ingredients
Carrots (250 grams)
Powdered mustard seeds (3 tablespoons)
Salt (1 tablespoon)
Chilli powder (1 tablespoon)
Turmeric powder (1 tablespoon)
Mustard oil (1/2 cup)
Method
Rinse the carrots and peel them. Chop them into small pieces and keep aside.
Take these carrots in a big bowl and add salt, mustard powder, chilli powder, turmeric powder, and mustard oil.
Transfer this mixture into a very clean jar and close it really tight.
Leave the jar in the sunlight for a week. Shake this jar once a day so that it mixes well.
Preparation Time: 30 minutes
4. Aalo Gajar Matar
This carrot curry is one of the best dishes you can make with carrots, potatoes, and peas. Since it is the season of fresh peas and carrots, so make this yummy curry now.
Ingredients
Potatoes (3 medium sized)
Carrots (2 medium)
Peas (3/4 cups)
Cumin seeds (1 teaspoon)
Ginger (1 inch)
Green chillies (1 or 2)
Asafoetida (1 pinch)
Water (2-3 tablespoons)
Oil (1.5 tablespoons)
Coriander leaves (1 tablespoon chopped)
Salt
Method
Peel the potatoes and carrots and chop them into small pieces.
Chop the green chillies and grate the ginger.
Heat oil in a pressure cooker and add cumin seeds to it. Wait till their colour changes.
Add the chopped green chillies and the grated ginger in a pressure cooker and sauté well.
Then add the peas, potatoes, and carrots with asafoetida. Sauté them for 2-3 minutes.
Add a cup of water and some salt. Close the pressure cooker. Cook for 2-3 whistles till the vegetables inside turn tender.
Remove the lid once the pressure drops. Simmer the vegetables till all the water evaporates if there is water inside.
Add salt if required. Finally, add the coriander leaves. Stir well and serve.
Preparation Time: 30 minutes
5. Carrot Payasam
Carrot payasam, made with coconut milk, jaggery, and carrots, is smooth and creamy. This South Indian sweet dish tastes delicious, so take the recipe and make it on your own.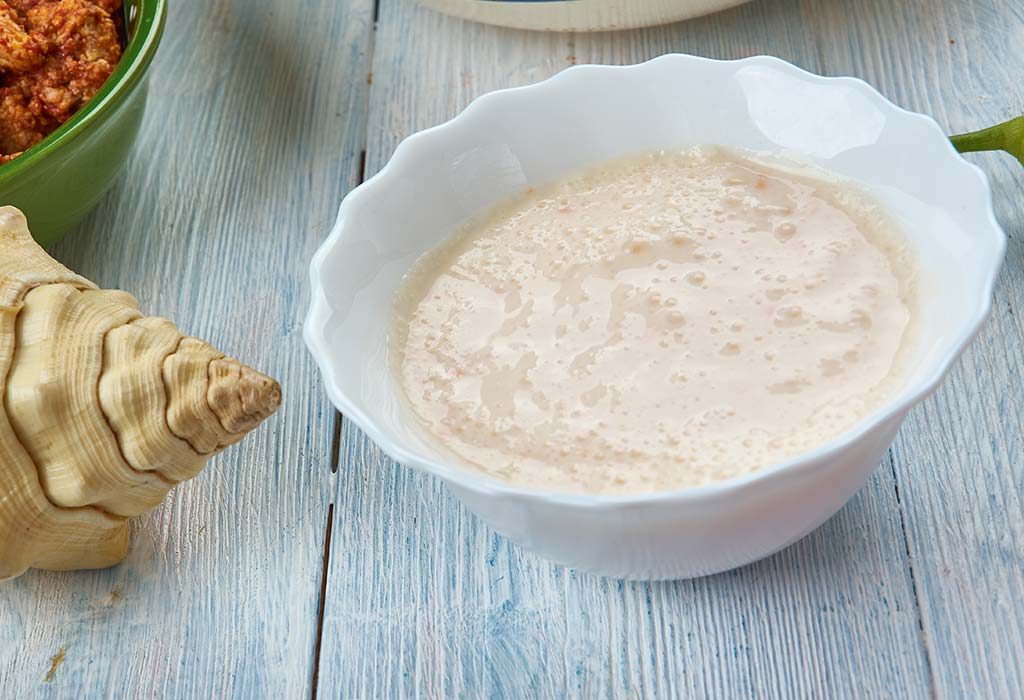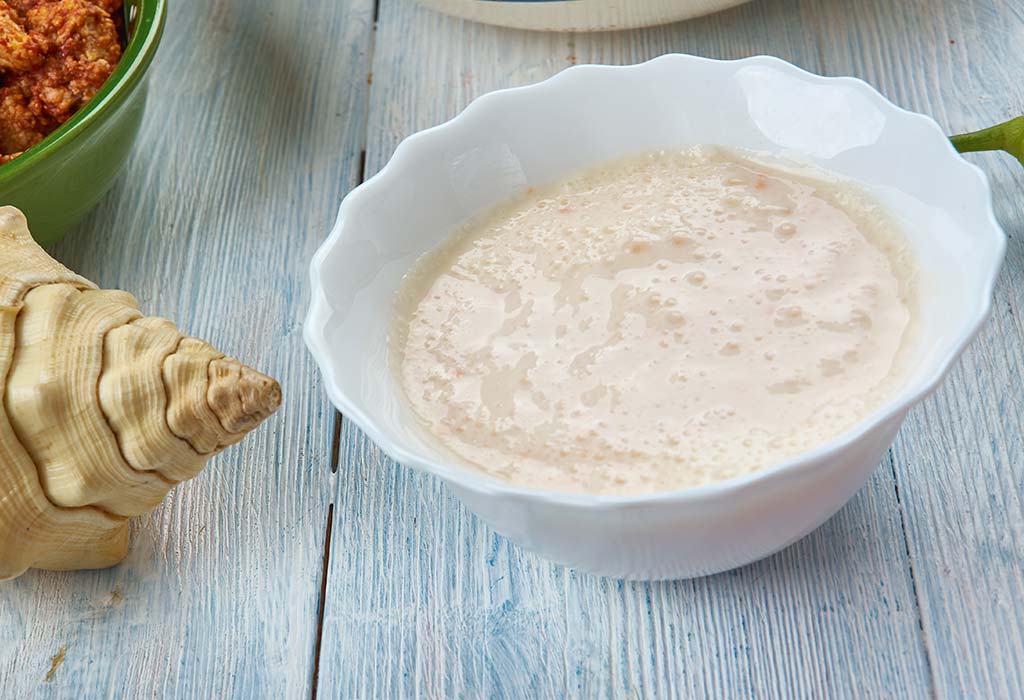 Ingredients
Large carrots (3, peeled and chopped)
Cardamom powder (1/2 tsp)
Thin coconut milk (1 cup)
Thick coconut milk (1 cup)
Grated jaggery (1/2 to 3/4 cup)
Water (1/2 cup for dissolving jaggery)
Cashews (handful)
Raisins (handful)
Rock salt (1 pinch)
Ghee (2-3 tbsp)
Method
Boil the carrots in water till they turn soft and tender.
Take the jaggery in half a cup of water and stir it till they are dissolved.
You should strain the jaggery solution if you find any impurities in the solution.
Later take the boiled carrots in a blender, add some water and blend.
Take a pot or a kadhai and mix the thin coconut milk, carrot puree, jaggery solution, and salt on a low flame.
Occasionally stir the solution.
Heat the ghee in a small pan and add the cashews. Fry the cashew on a low flame till they turn golden.
Add the fried cashews in the payasam and add raisins as well, and stir.
You can now serve the payasam cold or hot.
Preparation Time: 40 minutes
6. Cinnamon Carrot Muffins
We all love to eat muffins, right? How about this time you give carrot muffins a try. Here is the recipe of cinnamon carrot muffin that you can make.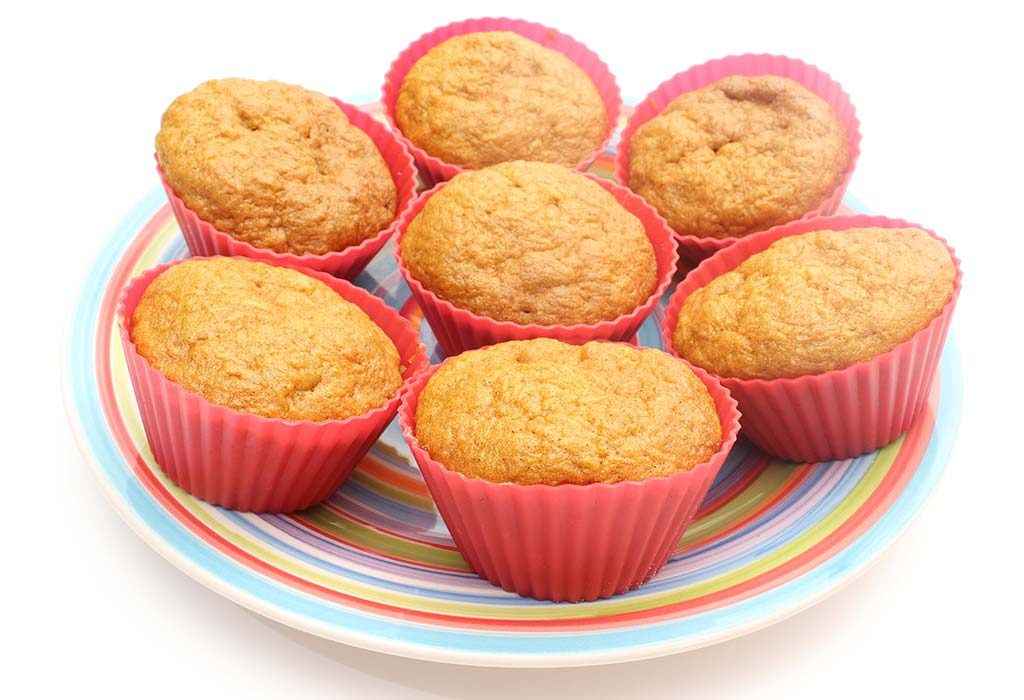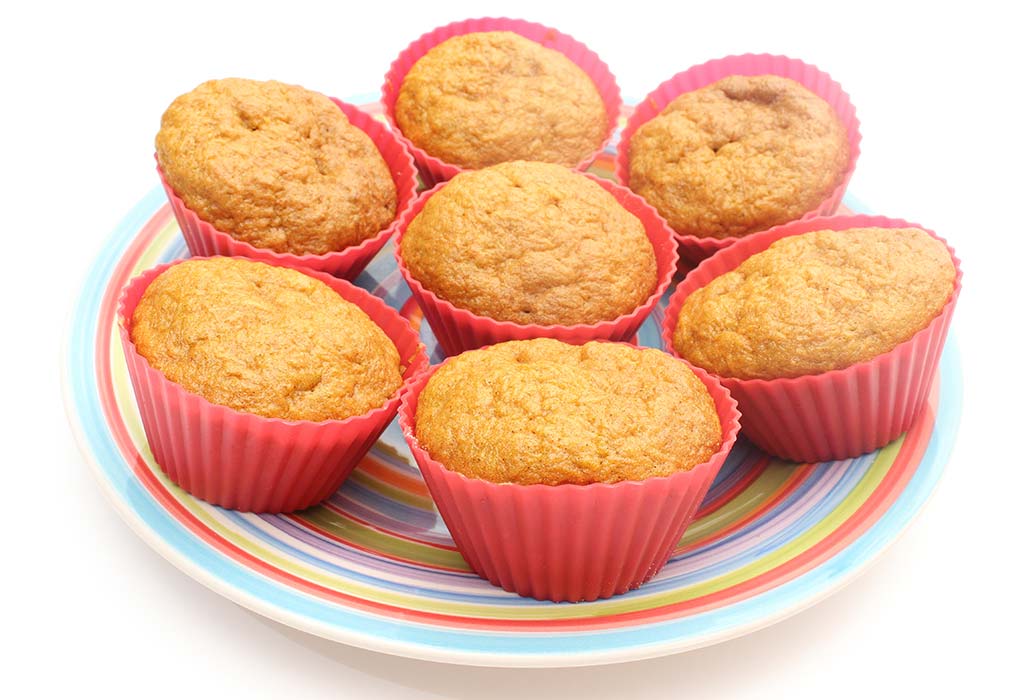 Ingredients
Carrots (3 – 4, grated)
All-purpose flour (2 cups)
Assorted nuts (1 cup chopped)
Baking soda (2 tsp)
Salt (1 tsp)
Cinnamon powder (2 tsp)
Brown sugar (2 cups)
Oil (1 ½ cup)
Eggs (4, lightly beaten)
Muffin cups
Method
Preheat an oven to 180°C.
In a large bowl, sift together the flour, baking soda, salt, and cinnamon powder.
In another bowl, beat the eggs and add brown sugar to it, and mix well.
Add the beaten eggs and brown sugar mixture to the large bowl containing the flour mixture.
Add the nuts and carrots and mix well.
Pour this batter into the muffin cups or muffin tray.
Bake them in the preheated oven for about 15-20 minutes.
Remove the cups from the oven and leave it to cool.
Preparation Time: 1 hour 10 minutes
7. Carrot Rolls
This little snack will be a delight for the family.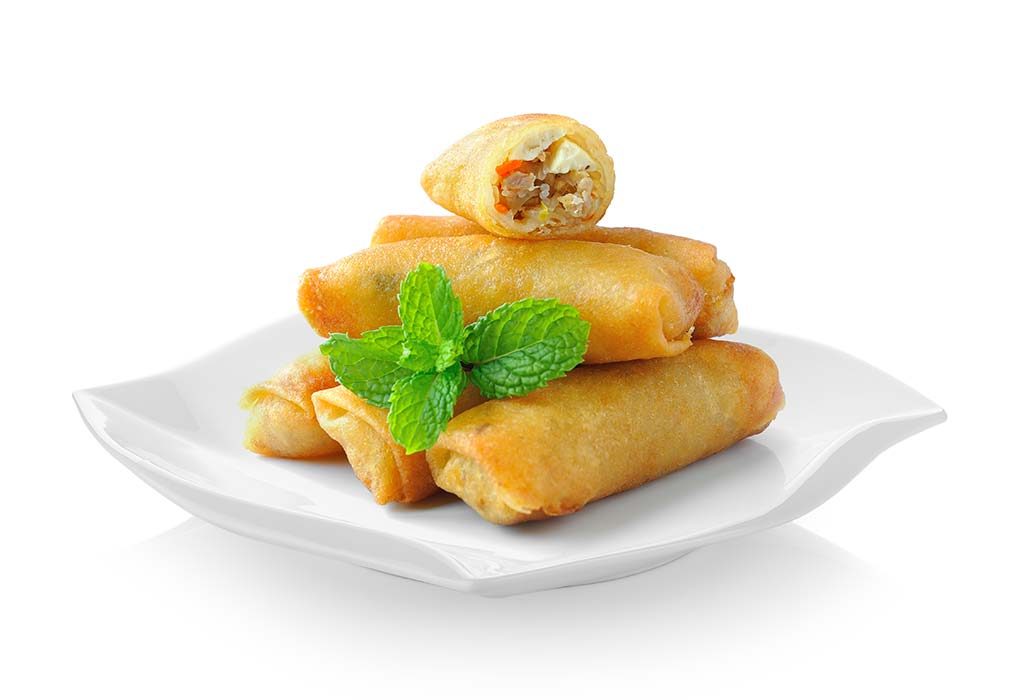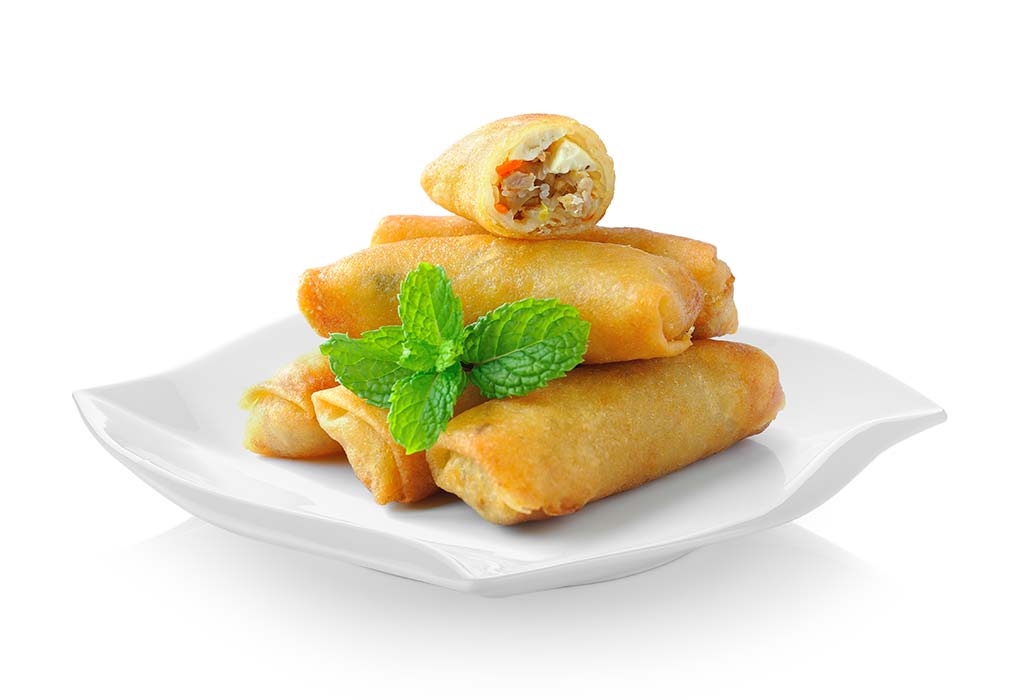 Ingredients
Carrots (10 peeled and sliced)
Breadcrumbs (2-3 tablespoons)
Dried apricots (8 chopped)
Spring onions (4 sliced)
Pine nuts (2 tablespoons)
Garlic paste (2 teaspoons)
Paprika (1 teaspoon)
Chilli powder (1/4 teaspoon)
Egg (1)
Chopped herbs (4 tablespoons)
Salt
Pepper
Flour to coat
Oil
Method
To make the rolls, start by steaming the carrots. Then drain and mash them.
Take the mashed carrots in a bowl and add the rest of the ingredients and knead. Add some more crumbs if required.
Shape them into oblongs and coat these with flour and let them cool for some time.
Next, shallow-fry the chilled rolls until golden-brown.
Preparation Time: 55 minutes
8. Gajar ki Kanji
This is a very healthy type of carrot juice infused with a lot of flavour.
Ingredients
Carrots (250 grams)
Beetroot (1 medium-sized)
Water (6 cups)
Powdered mustard seed (2 tablespoons)
Salt (2 tablespoons)
Method
Rinse and then peel the carrots and the beetroot. Cut them into small pieces.
Next, boil the carrots and beetroot in water.
When the water starts boiling, turn off the heat. Leave it aside so that it cools.
Add some mustard powder and some salt and transfer the contents into a jar and cover with a lid. Keep this jar in the sunlight for 3-4 days.
Once it is ready, keep it in the refrigerator and serve chilled.
Preparation Time: 30 minutes
9. Carrot and Cashew Coleslaw
You could use carrot and cashew coleslaw as a sandwich spread or a dip.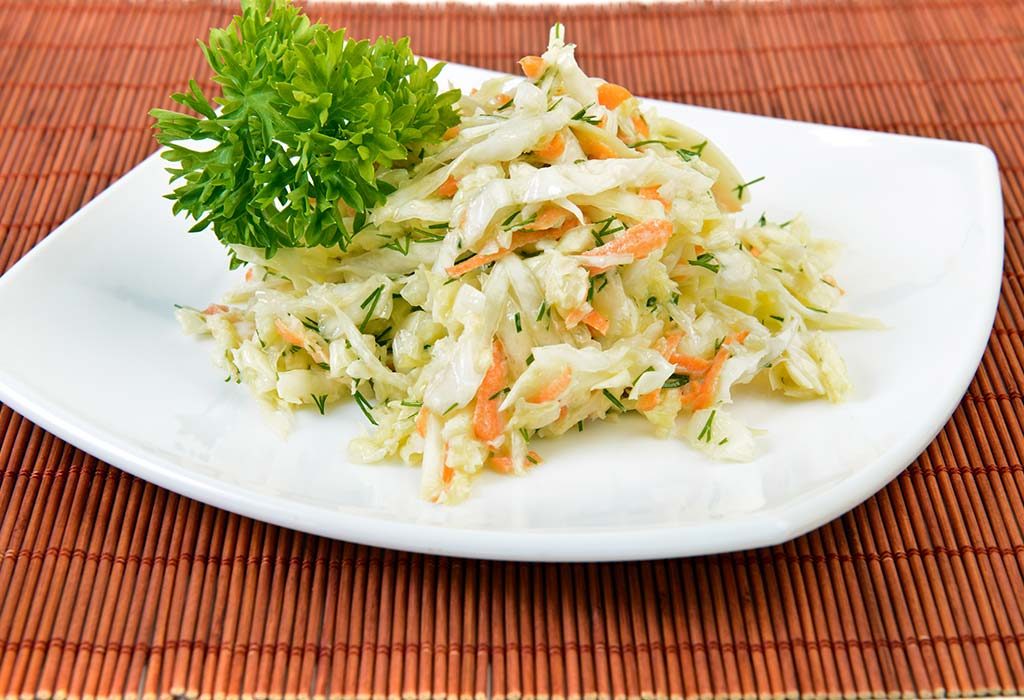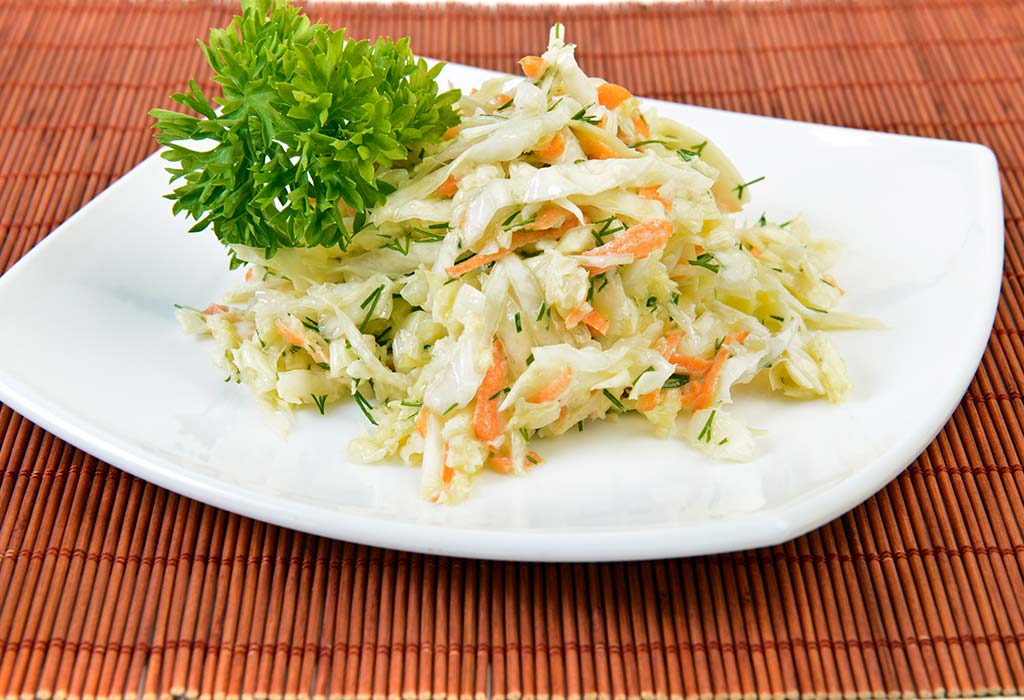 Ingredients
Carrot (1 large, grated)
Onion (1, chopped)
Celery sticks (2, chopped)
Cabbage (1/2, shredded)
Parsley (1 tablespoon, chopped)
Sesame oil (4 tablespoons)
Poppy seeds (1/2 teaspoon)
Yellow mustard seeds (1/4 teaspoon)
Salt
Pepper
Roasted cashews (50 grams)
Herbs
Method
Combine the carrots, onions, celery sticks, cabbage, vegetables in a bowl.
Add the parsley and stir. Next, add the mustard seeds and poppy seeds.
Pour this over the coleslaw. Garnish the dish with herbs and nuts and serve when cold.
Preparation Time: 25 minutes
10. Baked Carrot Fries
You will definitely enjoy eating carrot fries.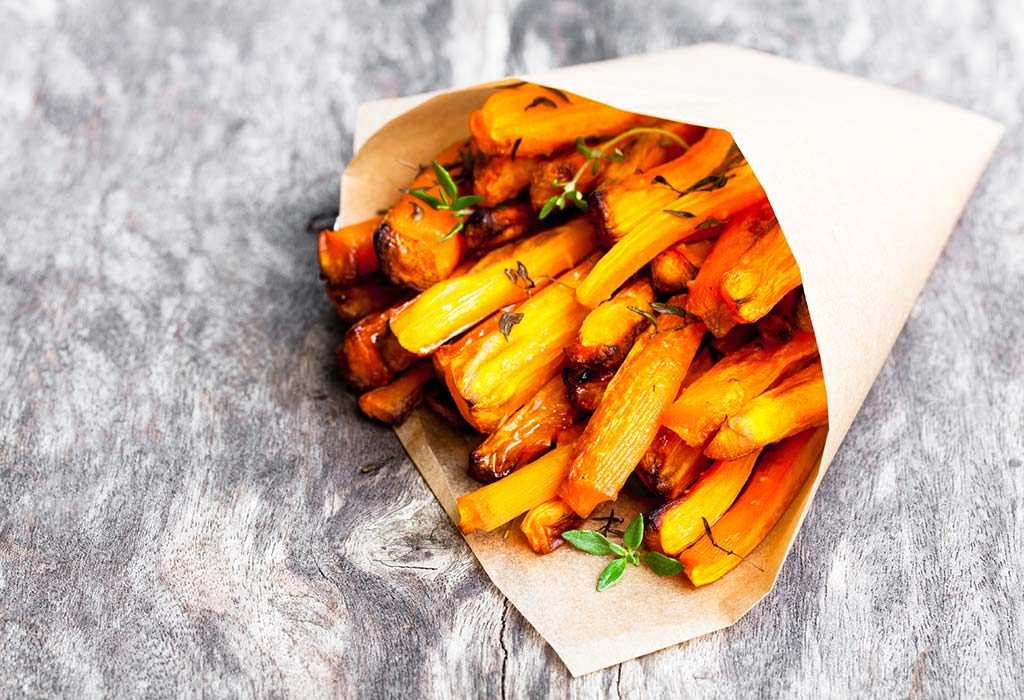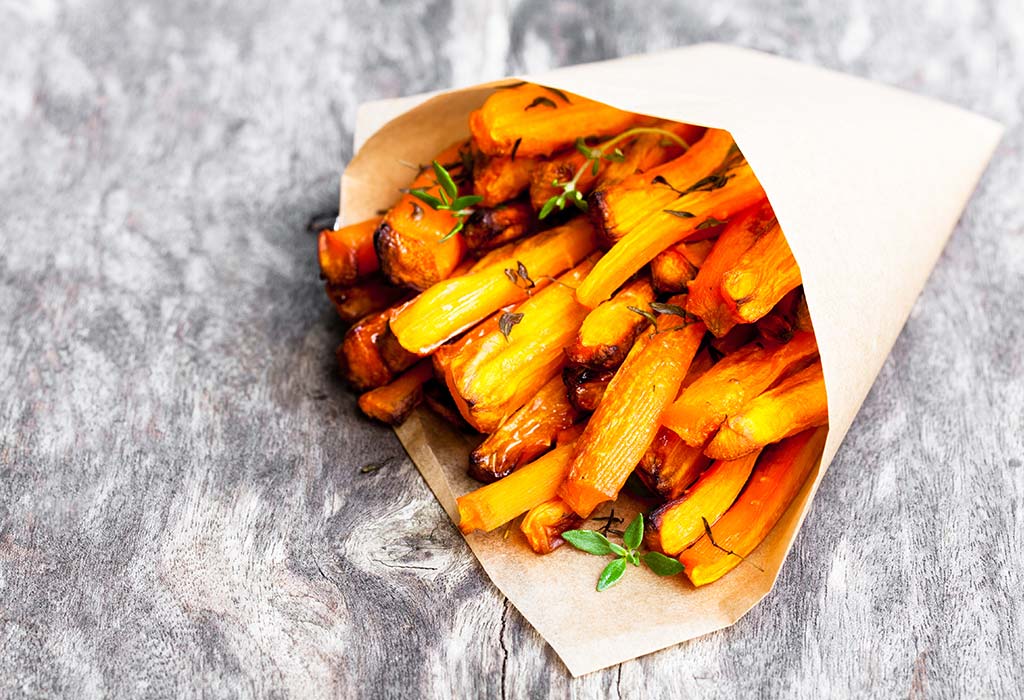 Ingredients
Carrots (5-6, cut in long strips)
Sugar
Olive oil (2 tablespoons)
Salt
Coriander powder (1/2 teaspoon)
Method
Take the carrots in a bowl. Add oil, a pinch of sugar, and coriander seeds. Mix well.
Place an aluminium foil on the baking tray and grease it. Line up the carrots and set it in the oven at 100 degrees. Let it stay for 20 minutes.
Serve when it's hot or at room temperature.
Preparation Time: 40 minutes
11. Roasted Brussels Sprouts and Carrots
Here is how you can make the recipe of roasted brussels sprouts and carrots.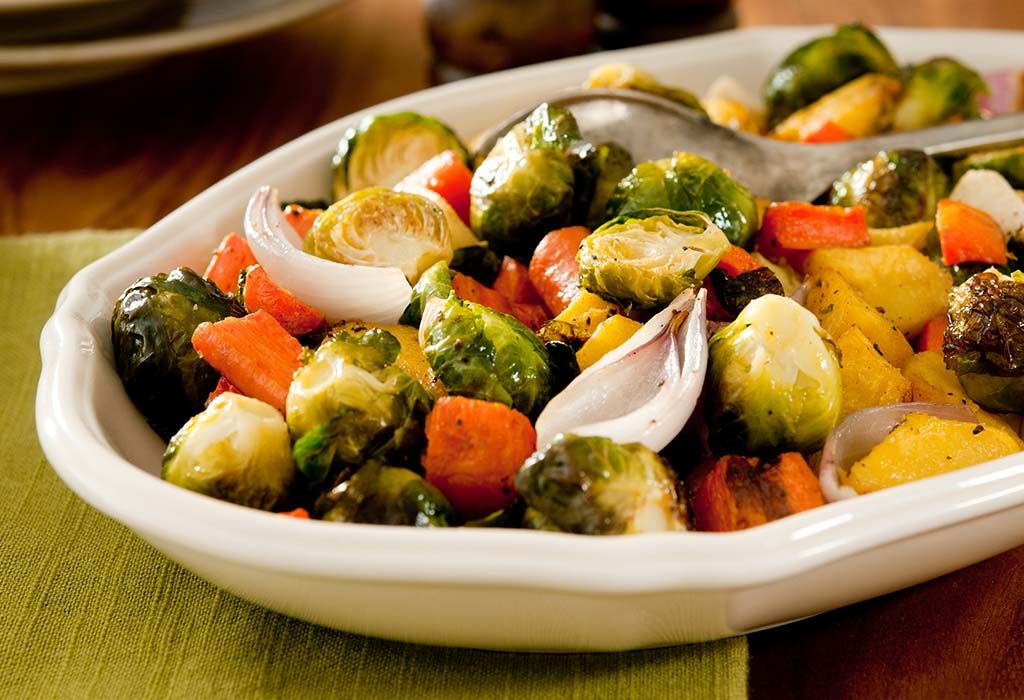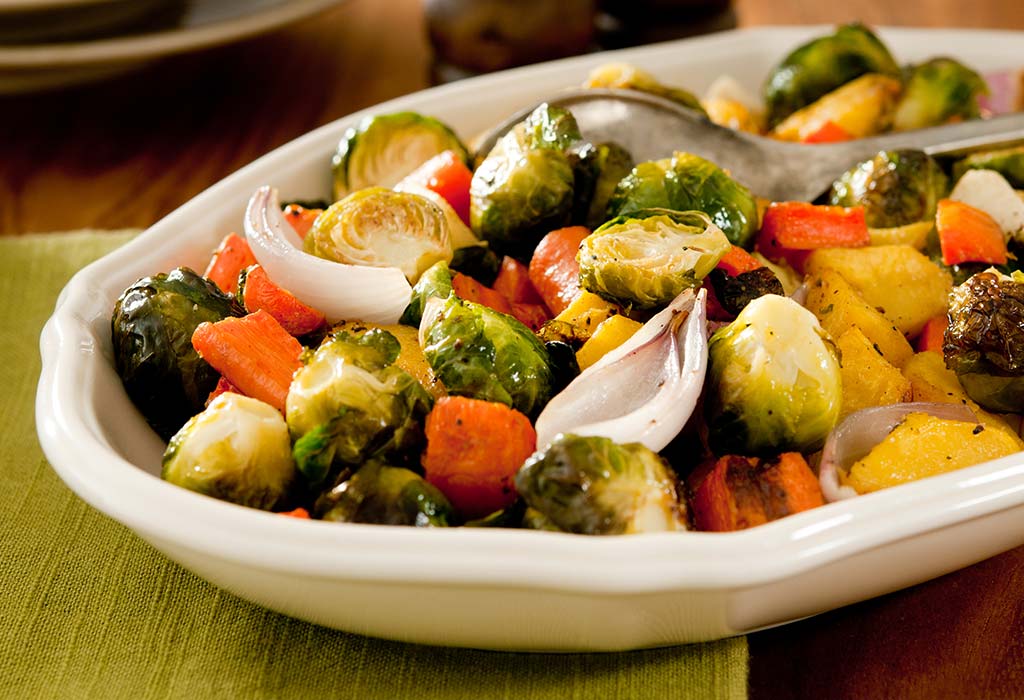 Ingredients
Vegetable oil (2 tablespoons)
Lime juice (1/2 lime)
Sugar (2 teaspoons)
Garlic clove (1, minced)
Kosher salt
Red pepper flakes
Brussels sprouts (450 grams)
Sliced carrots ( 230 grams)
Mint (chopped)
Method
Whisk the vegetable oil, lime juice, garlic clove, sugar, salt, and a pinch of red chilli flakes.
Take the Brussels sprouts and carrots on a baking sheet.
Roast this at 230°C for about 25 minutes.
Toss the juice around with the juice of a lime, salt, and add some chopped mint to taste.
Preparation Time: 30 minutes
12. Carrot Gojju
This is a dish cooked with coconut, jaggery, curry leaves, and tamarind.
Ingredients
Coconut oil (3 tablespoons)
Ginger (smashed)
Green chillies (4, smashed)
Cumin seeds (1 teaspoon)
Coriander seeds (1 tablespoon)
Black pepper (1 tablespoon)
Chana dal (1 tablespoon)
Coriander leaves
Salt
Coconut (1/2, grated)
For base
Coconut oil (1 tablespoon)
Mustard seeds (1/2 tablespoon)
Curry leaves
Tamarind extract (2 tablespoons)
Jaggery
Sliced carrot (250 grams)
Method
Heat some coconut oil in a pan and add the green chillies, ginger, cumin seeds, black pepper, coriander seeds, and sauté well.
Later, add the chana dal, sea salt, and grated coconut. Mix well.
Pound the above mixture in a mortar and pestle with some water.
Add some coconut oil in a kadai and add curry leaves and mustard seeds, and sauté them.
Add the pounded paste to the kadai and keep stirring.
Add some tamarind extract, water, and jaggery and combine them together.
Add the carrots with a little water. Mix the ingredients well.
Cover the kadai and let them simmer for about 10 minutes. Serve hot.
Preparation Time: 40 minutes
How to Select the Right Carrots
While buying carrots, go for the ones that are medium in size, unblemished, firm, and have a smooth surface. You can refrigerate the carrots for up to 2 weeks.
These creative recipes are delicious, and they are sure to keep you healthy! You could also try carrot soup and carrot cake recipes apart from all the scrumptious ones we have listed above!
Also Read:
Tasty Homemade Pickle Recipes You Will Love to Eat
Barbecue Recipes For Your Next Family Get Together
How to Make Multigrain Atta at Home
?>