180 Lord Vishnu Names For Baby Boy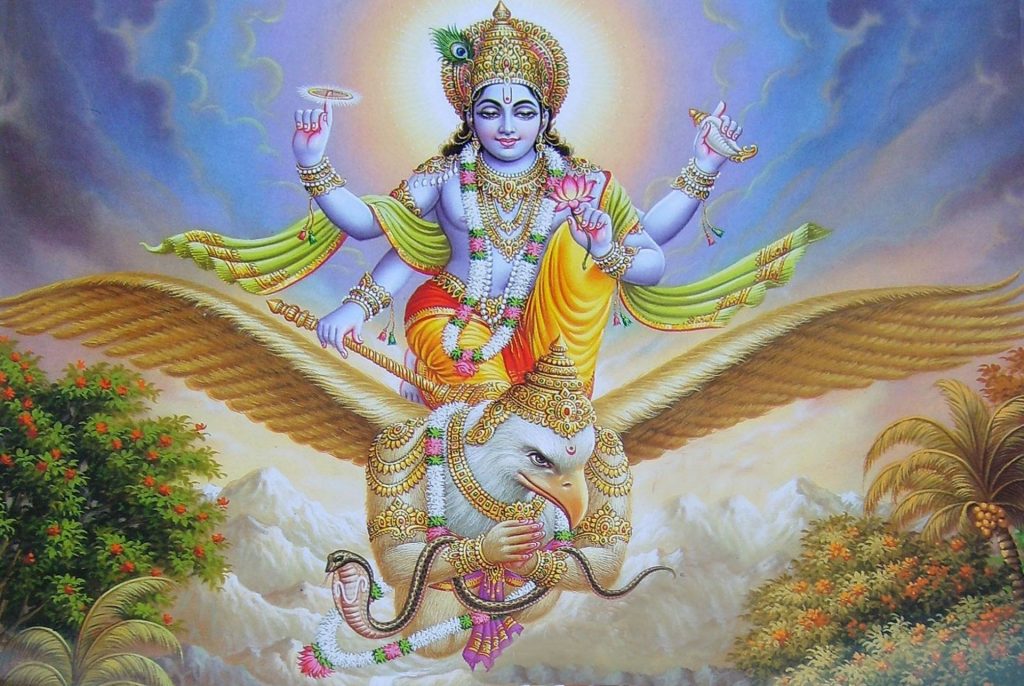 When you are expecting a child, you first look for names. People in India usually prefer Sanskrit names or names inspired by Gods and Goddesses. Are you one of them? So if you are searching of a god Vishnu names for a baby boy, here are some names you can choose from.
180 Unique Baby Boy Names Inspired by Lord Vishnu
Naming a baby after a divine entity is common in India. Indians being religious by nature, often go for names of Hindu Gods and Goddesses to name their child. They are addressed in several ways and thus are called by several names. This list of Lord Vishnu's names for baby boys is for you if you follow Him or his principles since Lord Vishnu's names depict the different aspects of God. To combat evil, Vishnu, the protector and preserver of men, takes on numerous forms and travels to Earth. The Hindu God Vishnu, also known as the preserver, has four arms denoting his strength and power. Listed below are unique and modern names of Lord Vishnu for baby boys and Hindu baby boy names with meaning Lord Vishnu along with their meanings.
Also Read: Unique Baby Boy Names Inspired by Lord Shiva
Name

Meaning

As brilliant as the sun.

Aashrit

Aashrit is Telugu Boy name rooted in the Sanskrit language. It means of this name is "Lord Vishnu".

Aavartanah

The unseen dynamism

Destroyer of fear.

Abhoo

Unborn

One who will never perish.

Adbhuta

The one who is wonderful or astonishing

Light or Light of Lord Vishnu

One who does not require support but supports others.

Adwith

One who is most powerful.

One who is born out of the fire.

The Unborn

One who cannot be Conquered

Everlasting; immortal; one who cannot be destroyed.

Amitash

Omnipresent, One who has sacred marks

One who performs everything with a purpose.

One who will never die.

All Prevading, Incorporeal

Unblemished and virtuous, One who has not commited any sin

Pure bliss; happiness.

Someone who is always victorious.

One which is endless.

Having no leader.

Air

One who knows everything.

Unrestrained, unstoppable.

Supreme,Punctual

One who bridges the gap.

Resplendent; radiant.

Inner Skin, Brave, Lion, Eagle

Arkah

Someone who is in the guise of the sun.

As vast as an ocean.

Arthah

Revered by all.

One who has lotus-like eyes.

Lord Vishnu, Vault, Easy

Sorrowless.

Someone who is always eager and ready to help.

Ashvattas

The tree of life; Banyan tree.

The incomparable one.

Someone who is flawless and unmarred.

Old,Rain that Falls before Winter, Fullness of the Moon, One who Took Part in the Battle of Badr

A mighty warrior, Brave, Powerful, Strength, Offering

Bright as the sun.

Bhaav

Bhaav is one of the most loved baby boy's name that means "lord shiva".

One who rules the world.

Bhu – Earth, Dhav – Lord

Lord of the Universe; Lord of the Earth;The Lord of the World

The Protector

Chakradhar

Chakradhar is a name of Indian origin that means the "bearer and protector".

One who will never die; the immortal one.

Smart one; competent.

Teacher of the god, A God likes a saint

Revered by the Devas; Lord of all the Gods.

One who Wins Wealth

The one who never changes amidst everything that is changing.

One who cannot be conquered or defeated.

Durlabh

One which is rare.

Dharesh

Dharesh is a popular Indian name that means "King or Lord of land".

Ekana

Ekana is a Hindu baby boy's name that means "Lord Vishnu".

Someone who can do anything all by himself.

In this place, Here, Now, At this time

Sky

One who protects and guards cows.

Garudadhvaj

Garudadhvaj is an Indian name rooted in the Devanagari language. It means lord Vishnu.

Haraka

The name Haraka is of Arabic origin and it means "Speed or rush".

One who destroys.

Having a golden and shimmery body.

God of the senses.

Inesa

A Strong King, pure, chaste, holy, sacred, purifying

One who is the ruler of all; a powerful and strong ruler.

The Lord of the Earth.

Ijya

Ijya" is a popular Indian name that means "to worship".

Jagadish:

Jagadish is a baby boy's name that means "God of the world".

Always the victorious one.

To live

Victorious.

The eldest.

Kaamah

Baby name that means beautiful.

One who cannot be destroyed.

One who has long hair; one who has killed Keshi, the demon.

A Lotus, Joy of the Earth, Water lily

Very Powerful

Goddess Mahalakshmi's husband.

Sweet like honey

Honey.

The one who killed the demon Madhu.

Mahil

One who has the quality of being warm, affectionate, gentle and considerate.

One who wins over the mind.

The liberated; one who has attained moksha.

The one who liberates.

Well-mannered, respectful, polite.

One who is liberated from all worldly pleasures.

The abode of all human beings.

The saviour; someone who is not finite.

In no time; at the moment.

Vigour.

Son of the earth, Brave, Prince of earth, Earthly

Air; wind.

Prabhootas

One who is always full.

Pradyuman

Someone extremely wealthy.

The Lord of all creatures

Tall, High

One who exists permeating everything.

One with lotus-like eyes.

One who protects.

God; Supreme spirit

The first rays of the Sun.

One who is full of knowledge; the rays of the Sun.

Rivaansh

A strong desire to succeed.

One who makes everyone cry.

Sahashrajit

One who defeats everyone.

One who efficiently manages and is responsible for the running of all living creatures.

Sarvaadih

The beginning of all

Sarvah

The only one.

One who controls everyone.

Satkrit

The loved one.

The truth

The auspicious, fortunate one

Destroyer of enemies.

Brave

Shivah

One who is forever pure.

The best one

The Lord of wealth and prosperity.

One who lives with Shree (Goddess Lakshmi).

The lover of Goddess Lakshmi.

The Lord of the Suras or Devas

Sriyaan

Being sensible; riches.

One who is applauded and complimented by all.

Someone who is praiseworthy.

Subhekshan

A very favourable gaze.

Subhuj

One with elegant arms.

One who is a friend to everyone.

Always and anywhere available.

One whose face is charming.

Suranand

Giving immense happiness.

One who has taken the most fortunate and favourable forms.

One who has controlled his passions, Epithet of Vishnu

Trijosh

One who is positively minded; a person who is full of positive energy and new ideas.

King of all the three worlds.

He who has a lot of energy.

Vaidyah

The greatest doctor.

Sleeping on the ocean;

The Sun.

Invaluable; exquisite; someone who is rich and has a lot of wealth.

Someone who is very affectionate.

The brave one.

Intelligent

An expert; having mastery.

Vilakshan

Someone who is the best; the unusual.

Having great knowledge; someone who is well-mannered and courteous.

Magnificient and splendid; splendour; courageous.

Very great

Visham

One who is equal to none.

Vishisht

One who surpasses all because of his glory.

A person who is famous and well known.

vishvakarmaa

The creator of the universe

The Lord of the universe; ruler; the greatest.

One who bestows prosperity.
Lord Vishnu Names in Sanskrit for Baby Boys
| | |
| --- | --- |
| Name | Meaning |
| Ajan | Ajan is rooted in the Sanskrit language and has Indian origin. It means "the Love of Vishnu". |
| Anagh | Anagh is a popular baby boy name from the Sanskrit language that means "flawless or faultless". |
| Anant | Anant is rooted in the Sanskrit language and means Infinite. |
| Eha | Eha is a popular Hindu baby boy name, that means "Lord Vishnu". |
| Eka | Eka is a gender-neutral name of Indonesian origin which means one who sees Vishnu |
| Hari | Hari is a boy's name that originates from Sanskrit. It means "lion". |
| Inesh | Inesha means "a strong King" and is rooted from the Sanskrit language. |
| Ish | Ish is also a popular Hindu name that means "lord Vishnu". |
| Jisnu | Jishnu is a Hindu baby Boy name that means Triumphant. |
| Kesav | Kesav is a popular hindu baby name that means Lord Krishna. |
| Om | Om is a Hindu baby boy name that means sacred. |
| Pu | Pu is a Hindu Baby Boy name that means "Lord Shiva". |
| Riyan | Riyan means Door of Heaven and has Persian roots. |
| Sharu | Sharu is a delightful baby boy name which means "thunderbolt of lord Indra". |
| Teja | Teja is a female name of Indian origin which means "Radiant". |
| Vaman | Vaman is a popular masculine name having Indian origin which means Lord Vishnu. |
| Varah | Varah means "an epithet of lord Vishnu". |
| Vasu | It means wealth or lord vishnu. |
| Vibhu | Vibhu means "strong, great and excellent". |
| Vihan | A baby boy name of Sanskrit origin that means morning or sunrise. |
Names are an integral part of an individual's life. They hold such importance that a naming ceremony is conducted to give a name to a newborn. In the Indian households, names of Gods and Goddesses have a special place. This is the reason that at least one child in every Indian family has his name inspired by a God or Goddess. So, these were some baby boy names inspired by Lord Vishnu. Go ahead and choose one for your little one.
A Guide to Choosing the Perfect Baby Name
Amazing Lord Krishna Names for Baby Boy
Lord Shiva Baby Boy Names
Names of Hindu Lord Ganesha for Your Baby Boy
Most Popular Names of Lord Hanuman for Baby Boys