11 Totally Beautiful Sarees We Want To OWN From Shilpa Shetty's Wardrobe!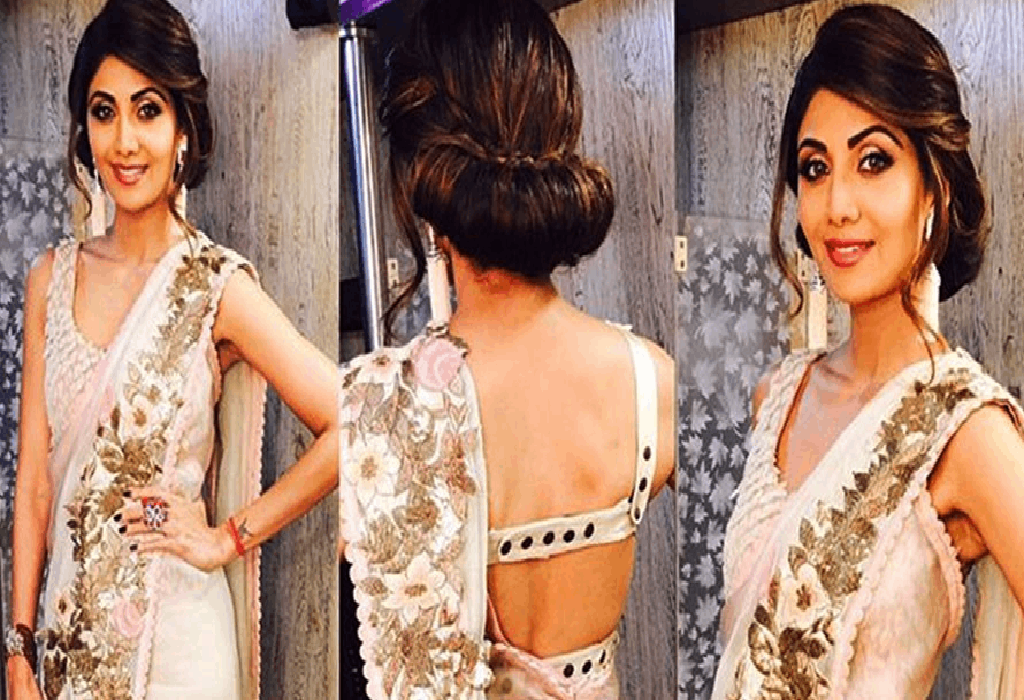 A saree is perhaps one of the most stunning of Indian garments for women. It looks ravishing on every woman, no matter what the body type, build, or complexion. As women, not all of us love wearing sarees in day to day life, especially as they do require maintenance. However, who can deny the charm of sporting a saree (with accessories and makeup) for those special occasions like a wedding, a romantic date, or a family gathering? It is for these special moments that we have brought you a collection of gorgeous sarees right from Bollywood mom Shilpa Shetty's wardrobe!
Shilpa Shetty has always been known for her focus on health and fitness. And indeed, she manages to look smoking hot even at 41! As Shilpa says herself, the saree is one of her favourite outfits, which is why she is often seen sporting one in public appearances and at functions. In fact, she has also launched a saree collection of her own!
Check out these 11 totally gorgeous sarees from Shilpa Shetty's saree collection in different styles and colours, and we are sure you will get some amazing inspiration for the next time you plan to get decked up in Indian wear!
1. Orange Elegance
This light orange saree with gold work on the pallu and the body is perfect for traditional occasions when you want to look smart, yet ethnic. Shilpa has paired it with a small bindi, simple bangles and a necklace.
2. Gown Sari
What do you get when you cross a saree and an evening gown? A gown saree! This blue wonder is a wonderful choice for parties and formal occasions; it will let you stand out from the crowd and make everyone want to imitate your fashion statement! We love how Shilpa wears dangling earrings with this and no other accessories, so as to not take away focus from the outfit.
3. Light Bridal
We all love our bridal saree/lehanga but it is almost impossible to ever wear it again! But this light bridal saree is a great option for weddings or pujas, when you want to shine like a new bride but without going over the top. These sarees are usually available in chiffon and georgette. Jhumkas, a bindi and a gajra elevate the look wonderfully.
4. Elaborate Blouse-Work
Sometimes, the real star of the look is the blouse! This elaborate blouse with a high neck and detailed work in white and maroon can really elevate even an ordinary saree to excellence! These blouses usually pair best with light, monochrome sarees.
5. Lace Work/Fishnet Blouse
This is one more beautiful blouse design you can use to jazz up your otherwise simple sarees. It is a good idea to pair it with sarees that have design work at the bottom, just like here in Shilpa's cream-coloured saree.
6. Dori/Choli Blouse
Ah, the charm of clicking those pictures that show off our blouse design (the one we spent hours explaining to the tailor)! But jokes aside, this dori blouse is a true winner, especially with this light, very summery saree. The broad pallu design also works well to accentuate the overall effect.
7. Innovative Pallu
Just like an elaborate blouse can make for a winning look, wearing a saree with an innovative pallu design is also a great idea. Check out this simple saree in light blue and pink where the double-edged gold/bronze pallu is the real highlight.
8. Dark and Silver
When it comes to sarees, silver really embellishes the garment beautifully without making it look gaudy. It looks especially beautiful on sarees of dark colours, such as a purple and bottle green. Shilpa has kept the look simple and subtle by using minimal accessories and a light band around the waist.
9. Floral Spring
What better way to celebrate spring/summer than by wearing bright sarees in floral designs? This light, colourful saree with floral motifs is ideal for day-time wear. We adore the neckpiece she has paired with this one!
10. White and Gold
This is one of the all-time great combinations when it comes to stunning sarees – white and gold! It is a simple, no-fuss look that still makes you look the picture of grace! Try this look for formal and semi-formal occasions.
11. Black and White
And finally, the counterpart of the above – a saree that combines black and white in a beautifully traditional way! It looks best in crisp cotton and minimal makeup/accessories. Also check out the hairstyle Shilpa has used – so chic!
It is not enough to have good sarees in your wardrobe if you can't drape them in style and with elegance. So do not forget to do your research on different saree draping styles, and especially different pallu styles.
Which of these sarees did you love the best? Do let us know in the comments.