11 Different Types Of Salwars You Must Own If You Love Indian Wear!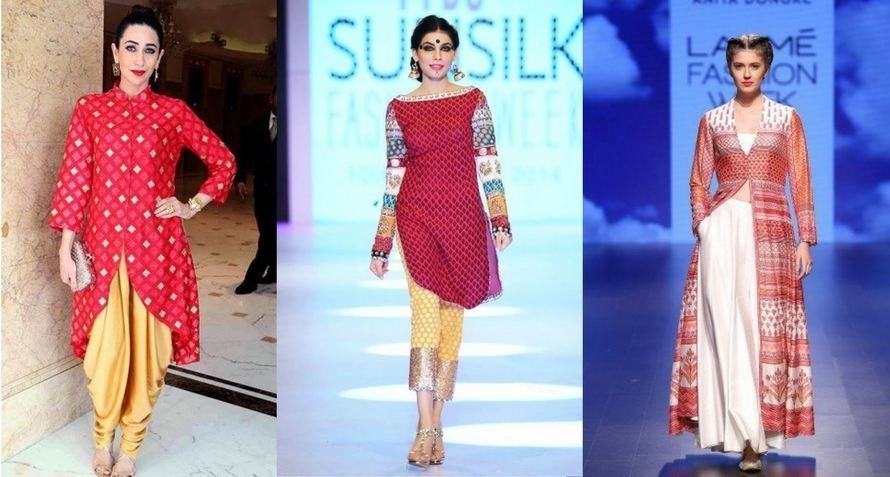 Indian outfits are usually more than one-piece outfits and it takes each piece to make them stand out as beautifully as they do. The colour combinations, the work on them, the textures and prints, all complement each other to create a real visual treat! That said, just a pretty kurta may stand out by itself but a salwar really completes the look.
Sure, your wardrobe's full of a mix of Indian wear and western outfits. But, let's admit it – there's really nothing in there quite as elegant and unique as your Indian collection! That swirl of the dupattas, the soft fabrics and bold prints can take any plain Jane to bold, beautiful and confident in an instant. That's the magic of diversity…the diversity that all Indian outfits hold.
If you are wondering just how diverse Indian outfits can get, you can begin here with 11 different salwar-types to see if you own them all! Let's look at some types of salwars to complement your pretty Kurtis with!
1. Churidar
Churidar salwars are sleek and show off your beautiful legs. They go best with longer Kurtis but you can also opt for a more retro look with a shorter Kurti.
2. Patiala Salwars
Patiala salwars come from Patiala, Punjab, as the name suggests. Originally these salwars were worn for very special occasions by Punjabi women. Today, the trend has made this style much more casual. The pleats that go from the top of the pants right till the cuffs at the bottom make them comfortable and elegant.
3. Harem Salwars
Think Harem and automatically you'll think belly dancing, but harem pants make great salwars as well! Harem salwars work well with short kurtas or tunics, or, if you are confident, you can don them with crop tops as well.
4. Alladin Salwars
What's the difference between Aladdin salwars and harem pants? The name comes from the popular folk tale character, considering they are the kind of pants he wears. But in truth, it is quite confusing to tell the difference between Aladdin pants and harem salwars. One way to distinguish between them is the tighter cuffs and the loose portion between the waistline till the knees. That said, they both look stunning!
5. Palazzo Salwars
Palazzos are great when you like to mix things up a bit. They are narrow from the waist and widen at the cuffs, flattering all body types. The best part is that they work well with western tops, short Kurtis as well as long ones. They are versatile and how!
6. Dhoti Salwars
Of course Dhotis were originally meant to be worn by men and still widely are, but dhoti sarees and salwars have made their way into Indian women's closets too. These salwars feature a number of U-shaped pleats towards the centre, just like a dhoti. These salwars are great for warmers months as they offer freedom of movement and lesser friction. Check out these Dhoti sarees too that are a must-try this summer!
7. Cigarette Pants
Cigarette pants are straight pants with a narrow, well-tailored end. More popular amongst women who prefer structured cuts overflowing ones, cigarette pants are flattering to the bottom heavy as well as leaner frames.
8. Afghani Salwars
Afghani silhouettes are essentially puffed up and balloon-like pants with narrow cuffs. The pleats are wider than regular salwars.
9. Parallels
Parallel pants have been around so long, we're sure you can practically wear your mother's college time parallels and still be rocking the look effortlessly! Parallels are similar to palazzos, but the main difference is that palazzos have an A-line cut whereas parallels are straight, mimicking the straight structure of your legs, maintaining the same width at the top as well as at the bottom.
10. Leggings
Leggings are so versatile, they are worn with virtually anything, including Kurtis. This makes them legitimately a type of salwar too. Almost every woman owns a pair (or 5!) of black leggings. These easily double up as salwars on days you just cannot decide what to wear. Leggings are convenient for all shapes and sizes and phases in life. In fact, they are one of the few items of clothing that you do not need to keep away when you are pregnant!
11. Jeans
Last but definitely not the least are jeans and jeggings. Jeans are the most versatile item in every girl's cupboard for sure so it makes sense to classify them as a part of our Indian wear too. Short, long, whatever length or style your kurti is, it will go well with jeans! Pair with traditional jewellery and a bindi too if you'd like to give your look a delightful traditional spin.
So, which of these salwars are you planning to don this summer? Do post your pictures in the Memory section!