120 Wonderful Country Baby Names for Girls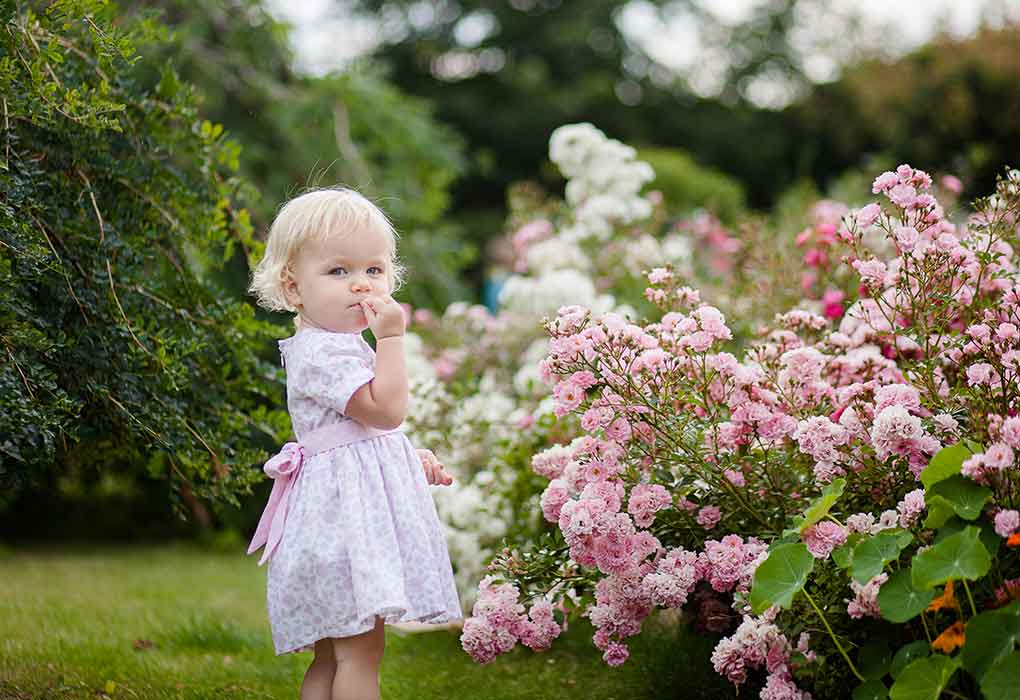 Picking a perfect name for your little bundle of happiness is one of pregnancy's best and most memorable parts. You've come to the right place if you're expecting a baby girl and looking for rustic or female country girl names. There is a lot of inspiration for country names, with many artists like Ashton Shepherd and Carrie Underwood who have taken country music in their stride. This curated list of cute country girl names by us takes inspiration from renowned country artists of various genres that will help you pick a meaningful girl's name from countries.
Video : 50 Beautiful Country Baby Girl Names with Meanings
Country Baby Girl Names With Meanings
Here are some western girl names that are trending now.
This rustic, old fashioned country name is derived from the popular artist by the same name. The meaning – the father's joy! A perfect name for daddy's little girl.
This funky name combines the cowboy spunk of Texas with the Midwestern morality of Kansas and means 'Land of Meadows'.
This baby girl's name ending with "belle" is a popular choice and also has a beautiful meaning. It means 'from the beautiful scenery'.
4. Addie
A short and beautiful name meaning 'sweet or pleasant.' Addie makes for a perfect country girl name.
5. Agnes
You may recall this popular name from the movie Despicable Me. The name did look cute on a little girl in the movie. It means 'pure'.
With many country songs including this name, this becomes a popular choice for your baby girl. The name means 'noble' truly befitting for your baby.

7. Aliza
A simple name with a beautiful meaning, 'joy.' This name will always encourage your little one towards their happiness.
This popular name is from the renowned artist Ashton Shepherd, and means 'Town of Ash trees' bringing beautiful scenery to mind.
This beautiful country name has a rustic touch and is rare too. The meaning is also as beautiful as your little one. It means 'sparkling eyes'.
As simple as it sounds, this baby name has been celebrated in various songs like Annie Laurie and even in comic strips like little orphan Annie making it a much-desired country girl name.
This is one of the most popular cowgirl baby names and is popular as the first name on the quirky Dr Arizona Robbins along with being a popular southwestern place.
While this name may seem like a boy's name, this country baby name is catching quite some popularity and means 'magical dignity'.
This name has been around since 1978 and became popular as it was the name of a TV character from WKRP in Cincinnati. The name has a charm of its own and means a part of the castle.
The name Barbara means strange or foreign. This name became one of the popular country names because of the famous artist Barbara Mandrell.
15. Beatrice
The popular country name is derived from Beatrix, a name having its root in Latin origin. The name means 'she who brings happiness,' just like your little bundle of joy who brought happiness into your world.
16. Becca
A popular name for a girl that starts with 'B' and means 'servant of the God.' The name is the preferred replacement for Rebecca, sometimes also used as the latter's short form.
17. Becky
A popular English baby name meaning 'captivating.' The name Becky is pronounced BEK-ee and makes for a perfect short and sweet name for a baby girl.
This cute and short name has positive associations from "belle of the ball" to "Southern belle" and to the Disney's Beauty and the Beast. The name means 'Lovely one', perfect for your little princess.
If you're searching for a cowgirl name that also has a biblical meaning, then this name is a perfect match and means "pledged to God".
This is a perfect country name that means dark-haired. This name has an English origin but has been very popular as a country name in recent years.
This wonderful country name means new leaves and flowers. Nothing describes the country landscape more than this name.
22. Bryndle
This name beats the old fashioned country girl names and is gaining popularity due to its uniqueness. This Scandinavian origin name means 'tan coloured' and is perfect for a rare country name.
23. Cadence
A name that sounds like music to ears, Cadence is a popular name for a baby girl. The name has a contemporary feel to it and means a sequence of notes or chords comprising the close of a musical phrase.
This stylish and simple name became popular from the name of Elizabeth Cady Stanton, a women's rights activist. The name means 'rhythmic flow of water'.
As sleeker names are gaining popularity, I prefer the Cali more compared to its original name of Callie. The name means 'beautiful' perfect for your little doll.
26. Candy
An American-origin name, Candy means 'sweet.' The name makes for a great choice and will instil some sweet qualities in your little one.
This stronger and more contemporary version of Carla or Carly is popularly used equally for girls and boys in the US in the past few years and is a modern country name.
This name has Irish origin and means clever. The name is very popular in the country region and has a rustic charm.
The name literally means delicate lace and has its origin in Northern America. It also has another meaning of whipped cream. Either way, it a great baby girl's name.
This new version of the classic name of Sharlene means free-spirited, a perfect name for your baby doll to be happy and free.
This name has its origin from native Americans, a true country name. The name has an authentic meaning too, and is derived from the Dakota word 'Shahiyena' which means "red speakers".
This name has its origin in Latin. A perfect among the southern country girl names, this one means 'bright and beautiful', exactly how you want your baby to be.
This country girl name has French origins and means "bright, clear". It does remind you of the country, but it is also as classy as it is pretty.
Though the name reminds you of oranges, the name has the meaning of 'gentle' and has its roots in Latin. The name has been gaining popularity in recent years as a wonderful country name for baby girls.
This is yet another English country name that is derived from a flower, and actually means "day's eye".
What can be more country than this Western place name! The name is also gaining popularity now, thanks to the young actress, Dakota Fanning.
37. Dallas
A name inspired by a city in Texas, Dallas means 'skilled.' This is a strong name and invokes images of considerable athletes, such as Dallas Clark, and Dallas Reynolds.
This trendy cowgirl name means "darling" befitting for a brand new baby girl!! An adorable name for your darling girl.
39. Darlene
It is no surprise that the beautiful name Darlene means 'darling.' The name is a blend of the English word darling and the mid-century suffix – lene.
This southern name has also become a popular country name for baby girls, courtesy the artist Deana Carter. It means 'divine' perfect for your newborn.
The name is of Gaelic origin and means 'descendant of the challenger'. The name sounds very feminine as well as delicate and is a perfect fit for your precious little baby girl.
42. Dell
A gender-neutral name meaning 'of the valley.' It is an unusual name and you'll surely love to give this stylish country name to your baby girl.
The list of cowgirl baby names will be incomplete without Dixie. And for the record, the name means "tenth".
Though a classic name, this name has gained popularity as a country name owing to the famous artist Dolly Parton. It means the Gift of God.
Dorothy has been the most popular country name in the west for a long time. Many eminent personalities like Dorothy Parker, Dorothy L. Sayers, Dorothy Thomson, Dorothy Day, Dorothy Gish and Dorothy Hamill have adorned this popular name.
Once a popular nickname, Dottie is trending as a southern name. This name is also has a similar meaning as Dolly, which means – Gift of God.
Ella is the most popular country name that starts with an 'E' and means light. The name is also linked to the Iconic singer Ella Fitzgerald that adds the jazzy edge to the name.
Derived from Hebrew, this baby name means "God is my light"and is also the shortened nickname from Elizabeth. Ellie, along with Ella is very common country names.
49. Eileen
The name derives from the French word "Aveline," meaning 'hazelnut.' This unique name sounds great for your little girl.
Ember is "the last of fire". The name represents power too. This name is gaining popularity as a country name is preferred over the name Amber these days.
Most identified with the TV awards, the name is also a great choice for pretty & beautiful names of country origin. It means 'Universal'.
Perhaps, one of the most preferred southern names, the name is simple and beautiful. It is also one of the most common 2 letter names in western countries.
This Greek origin name means "bearer of good news" and has a mystical charm to it.
The name means 'life' and 'lively' and is also one of the most trending country names for baby girls.
Bring in hope and belief at every moment in your life by naming your baby 'Faith'. This trending name has found its way into many movie characters too and is one of the most popular southern country baby names for the girl child.
56. Fancy
This Latin-origin girl's name means 'free man.' The name Fancy has been popular for many decades and is suitable for your little baby girl.
This magical name means 'fairy'. Who wouldn't want to dress up the little one in the Fairy costume for Halloween! Well, name your little princess Faye, and make her a fairy of your eyes.
Looking for a standout baby name? Look no further! This name means "strong spear." Your little one will have a novel name with this German country baby name.
This beautiful country girl name means "women of the race". A little hard to pronounce, but your little one will be among the very few to have this beautiful name.
This name is as southern as it can get and means "farmer". It also reminds of Georgia Peach and a Southern Belle.
61. Ginny
Most popularly known name for baby girls, Ginny means 'chaste' and "pure.' You will probably remember this famous name from the Harry Potter series – Ginny Weasley.
62. Hadley
This gender-neutral name will surely bring some peaceful image to your mind as the name means 'heather meadow.' The name is also the 112th most popular baby girl's name in the U.S.
As it is evident in the name, it means "harp player". Perfect for your little one if you are interested in music instruments.
This German Origin name means "home-ruler" befitting the babies as they really do rule the roost.
The name Hattie means 'ruler of the home', a befitting name for your little princess.
The name means clearing the meadows, so it is a country as it can get!
This lovely country girl name is very popular and befitted for southern baby girl name as it means "high meadow".
Feminine form of Henry, this name is a much old-fashioned cowgirl name that is catching the naming bus now.
This name is an all-time favourite among the country girl names. The meaning is also quite evident, it means faith and positive expectation.
This short and sweet country girl name means a Norse goddess.
71. Indiana
The name means 'the land of Indians.' This is a gender-neutral and a very famous name, thanks to Indian Jones – a fictional creation of an American movie.
This Irish name means 'Purple Jewel' and is gaining popularity in recent times as a country baby name for little girls.
This country name is close to nature as it indicates the ivy plant. This simple two sound name is preferred by many in recent years.
This traditional one-syllable name is much preferred over its counterparts of Jean and Joan for its simplicity. Easy to pronounce and easy to remember.
A befitting name for the jewel of your eyes. The name indicates all that is precious and is preferred by many as a country name.
76. Jill
A popular country name that has been used in several poems and movies; the name Jill means 'youthful'.
This name has its origin in Hebrew but is much popular as a cowgirl name in the Texas region.
The month name has a connection with nature and rainfall making it a preferred as a baby girl name by many.
79. Kasey
The name is primarily a gender-neutral name with its root in Irish origin. The name means 'vigilant in war.' Kasey will be the perfect baby girl name for a baby with a vigilant personality.
Once a short cut name for Katherine, the name Katie is trending as a southern name in recent times. It means 'pure'.
This variant of Kay and Kayla means the 'Keeper or Keys' and means pure too in another context. Kaylee is much popular in the Arizona region for baby girl names.
If you are looking for a traditional name of Greek and Latin origin and yet need to sound like a country name, this can be your choice. This name is also borne by many saints including St Catherine of Alexandria.
This baby girl's name means 'King's Victory' and victory in general. A perfect name for your little winner.
According to the Urban Dictionary, the name Lacey means 'confident' and 'intelligent'. What can suit your little princess more than this?!
A name that is as beautiful as sunshine. Laney means a ray of sunshine. What can be more country than this!
86. Lark
Lark is taken from the name of the songbird, which is derived from the English words larke and laverke. The name means 'a playful, light-hearted songbird.'
Both the versions Leslie and Lesley are commonly used, and easy to pronounce baby girl names that are gaining momentum in recent years as a country name. It means 'Garden of Hollies'.
A perfect country baby girl name that is very near to nature. It means a Laural tree or sweet bay tree.
A befitting name for your princess with a wonderful meaning of Loving, Beautiful and Lovable.
This name gained much popularity from the actress Mae West and means 'a pearl'. It also indicates the goddess of growth according to Romans.
This age-old English name is very popular as an old-fashioned country name and means 'pearl' too. It is derived from the Sanskrit name of 'Manjari' that has the same meaning.
Maybell means lovable, a perfect name for your baby doll.
Pearl has a close connection with the country names. Maisie also means pearls and is a name of Scottish origin.
This name grew popularity after the name of Miley Cyrus and it means smiley.
This is one of the coolest girl names that start with M and was the most named for baby girls in recent years.
Minnie means a good listener and is one of the simple country names that's picking pace.
Molly is a popular aquarium that comes in many colours, a cute name for your little one.
This name gained popularity from the series of Hanna Montana and is perhaps one of the most common country names.
Though this name is around from the series of Nancy Drew, this name is picking pace as a country name in recent years.
A beautiful tribal name that sounds great. The sweetest southern name starts with the letter N too.
Nellie means light, torch and bright, a sweet name that sounds good too.
Named after the popular state, this is one of the best country baby names for girls.
This adorable baby name means a meadow and also an Oak tree. A beautiful name for a beautiful soul.
This name has its origin in Shakespeare's stories as the name of the countess in Twelfth Night and literally means Olive tree.
Author Roald Dahl and actress Patricia Neal named their daughter Ophelia, attracting many to this name. It means 'Help'.
A simple and beautiful country name that is precious.
Perry is a juice from pears that is rare, as rare as your precious daughter. A catchy country name.
Piper is a trendy country name, that means one who plays the bagpiper.
Though Cindy Crawford named her son Presley, this name is primarily found in the US as a cowgirl name and it means 'priest's meadows'.
This is a royal country name, that has the meaning of 'ancient' and 'classical'.
This Latin name will decorate your little cowgirl very well and means 'good judgement'.
This classic name means Rose, and suitable for your little one if you like traditional country names.
A soothing and calm name that indicates a Sage tree and a hermit.
Nothing can be more country that the Savannah forest name for your little princess.
This name gained popularity after the famous novel character Scarlett O'Hara and means one who sells clothes.
A pretty country name that means 'Willow Farm'. This warm name is much popular in the southern regions.
The name Tabitha means Gazelle and has reference in the testaments too. The name has a beautiful Latin diction making it a popular country choice.
Perhaps the most popular country name that starts with 'T', this name means 'fairy queen'. A wonderful name for your little princess.
The name indicates the willow tree and is a popular country name with the celebrity babies.
Country baby names are always popular with little girls as they sound sweet and has a compassionate meaning that is usually close to nature.
120. Winnie
Winnie is a popular girl's name of English origin, meaning 'holy peace-making, and a gentle friend'. The name is famous because of the Pooh, of course, and also Winnie Mandela, former wife of South African President Nelson.