120 Adorable Twin Baby Boy Names with Meanings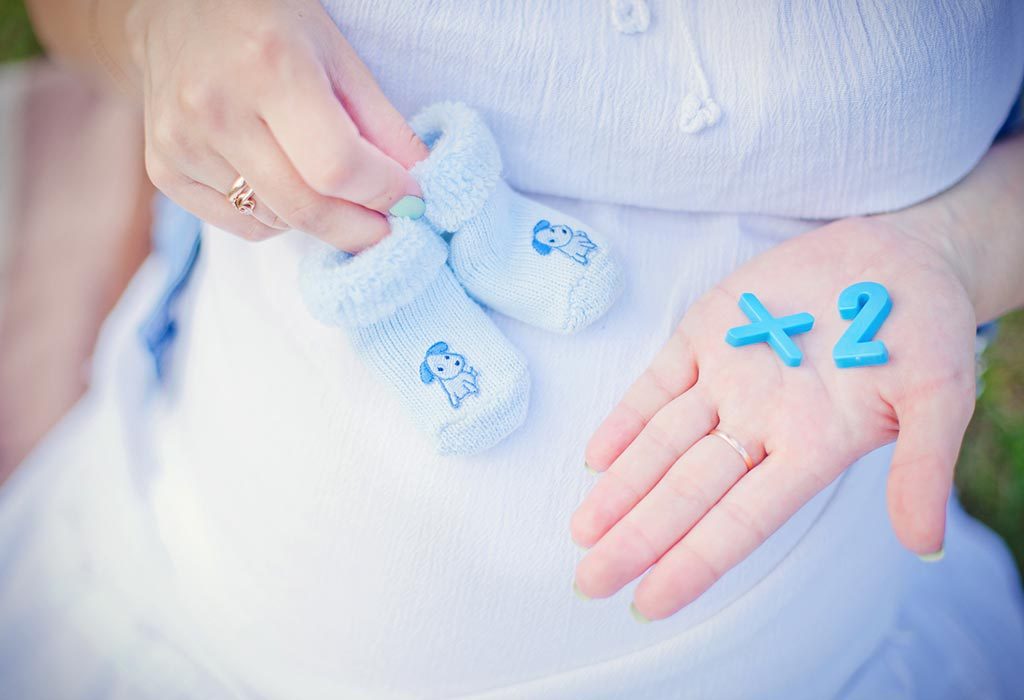 Imagine having not one but bundles of joy crawling and squealing around the house spreading happiness everywhere! Such gems deserve a name matching their personalities which not only represent them but are also pleasant to the ear. Naming baby boys can be a task indeed. So finding names for twin baby boys is double the effort. There was a time when keeping similar sounding twin baby names was widely practised everywhere. However, recent years have proved that it necessarily isn't the only way you have to name your babies. So here we have a list of baby boy names specially crafted for naming twin baby boys; a set of unique, popular, downright adorable and pleasant names. We hope you can find the names which strike the right chord with your rays of sunshine!
Also Read: Modern and Stylish Baby Boy Names with Meanings
How to Choose Names for Twin Baby Boys?
There is no set way of choosing a name for your boys. Because they, as fingerprints are as unique despite sharing some similar traits.
They both can be named with the same starting letter. This fad has been there times unknown and is still very popular with the parents' community. Especially with Identical twins as it adds more to the illusion of being identical.
On the contrary, they can also be named like the opposing forces in nature. Perhaps of two things that aren't the same but still get along well.
Or they can be completely unrelated to each other. Your boys' names can be based on how they look or their personality rather than being similar to one another. This adds a streak of uniqueness to their personality despite being sharing similar traits.
You may also choose the names having exactly the same meaning for the pearl of your eyes. It shows the similarity the twins share among them.
Most of the parents like to give rhyming names to their twins such as Om and Som, Amit and Sumit and so on.
120 Best Indian Baby Names for Twin Boys
Here is the list of names with their meanings which can be the best name for your boys.
Name
Meaning
Name
Meaning
Aadesh
Instruction; order
Sandesh
Message
Aadi
Beginning, the start
Anant
Infinite, uncountable
Aahan
Sunrise, a good morning
Aarush
First ray of sun in the winter
Aakash
Sky
Avan
Ruler of the earth; one who rules the earth
Abhay
Without Fear or Fearless
Nirbhay
Fearless or without fear
Achal
Constant
Akhil
Complete, World
Adikya
Authority
Aditya
Lord Surya
Adin
Beautiful, noble of spirit
Adil
Honest, judge, sincere
Advik
Unique
Advait
Unique
Ahil
A person who shows the way to others, Guide
Rahil
The one who often travels, Traveller
Ajit
Invincible, Irresistible, Unsurpassed.
Ranjit
The delighted one, Victorious, One who is entertained
Akbar
Greater, Bigger, The rule of kings
Birbal
Brave Heart
Akshit
Eye
Rakshit
Protected, Guarded
Amar
Immortal, long-lived
Azhar
Luminous, Brilliant, Radiant, Shining, or Clear
Ambak
Lord Shiva
Ambar
Sky
Amit
infinite or immeasurable or boundless
Sumit
A good friend; Well measured.
Amrit
Nectar, Nectar of immortality
Arpit
To donate, to give or offer something, dedicated.
Anish
Supreme, the ultimate
Tanish
Ambition
Ankit
Conquered
Arpit
To donate, to give or to offer
Ansh
A portion of something, a part
Vansh
Coming generation of father or Generation
Anuj
Younger brother
Tanuj
Rising Sun
Anuroop
Handsome, attractive
Anuraag
devotion, passion, attachment, and eternal love
Archit
Worshipped
Lakshit
Distinguished
Arnav
Ocean, foaming sea
Pranav
Hindu trinity (Brahma, Vishnu, Shiva)
Arohan
To rise
Aradhan
Prayer or worship
Arsh
Dominion or Crown or Thrown
Darsh
Lord Krishna
Arth
Meaning
Samarth
Lord Krishna; Powerful; A powerful man; one who is efficient
Arun
The crimson glow of rising sun, Dawn, Passionate
Varun
Lord of water, Neptune, A supreme Vedic God
Atharv
Lord Ganesha and the name of the first Ved
Ayansh
Part of parents
Atul
Incomparable or matchless or unique
Amul
Valuable, having high value
Avik
Brave
Avin
Beauty
Ayaan
Gift of God, rays of the rising sun, or Soaked in the divine
Kayaan
Name of a dynasty of king Kaikobad
Ayan
The lucky one
Yuvan
Strong; Healthy; Young; A Name of Lord Shiva.
Ayush
Age, a man, long-lived, one having a long life.
Khush
Happy, joy, delight
Azaad
Liberal, free, independent
Shazaad
King's son, a prince
Bevis
Handsome face
Bevan
Son of Evan
Brian
High or Noble
Ryan
Little king or Illustrious
Chand
Sincere wish, The Moon, To shine
Chandan
Sandalwood, Auspicious, Perfumed
Daniel
God is my judge
David
Beloved
Deep
A lamp, Brilliance, Beautiful, light
Deepak
Lamp, Kindle, Brilliance
Devraj
Ruler of gods
Uvraj
A prince
Dhruv
The pole star or Constant or Faithful or Firm
Tara
Star, In Irish it means where the kings met.
Ehsaan
Perfection or Excellence or Benevolence or Compassion
Imraan
A Prophet's name.
Ekant
Solitary, Silence
Vishant
Another name of Lord Vishnu
Ethan
Strong
Aidan
Help; Intelligent
Farih
Delightful and Happy
Fariz
Determined and Promising
Gagan
Sky, Heaven
Neel
A mountain, sapphire, a champion
Harsh
Joyfulness
Sparsh
touch
Hemal
Golden
Heman
Gold
Himir
Calm and cold
Mihir
The Sun
Hitesh
Lord of Goodness
Ritesh
Lord of truth
Hrithik
Truthful, honest
Kartik
A name of one of the month according to Indian Calendar, A Hindu month,
Ishan
Lord Vishnu, Lord Shiva, Agni and Surya, Generous
Jihan
The universe, world
James
Supplanter
Jacob
The holder of the heel
Joseph
May Jehovah add increase
Joshua
To save
Kabir
The great
Ranbir
The brave warrior
Kalyan
Welfare, good
Kulin
High-born, noble
Kanish
Caring, thoughtful,
Krish
Short form of Lord Krishna's name
Krish
Attraction, a name derived from the name of Lord Krishna
Rish
Brave and dominant ruler
Lakshay
Target, goal, Aim
Akshay
Forever, Infinite
Lalith
Elegant
Lohith
Red, made of copper
Laurel
Laurel tree
Hardy
Bold and courageous
Lava
Piece
Kush
Talented, Skillful, mastery
Madhur
Sweet
Milan
Union
Manav
Man
Abhinav
Novel or innovative
Matthew
Gift of the Lord
Michael
Who is like god
Mayank
Moon, distinguished
Priyank
Very dear husband
Mohit
One who is attracted
Rohit
Red
Moksh
Salvation
Taksh
God Ganesha; Strong; Eyes Like a Pigeon.
Mridul
Soft, Delicate or Tender
Mukul
Blossom
Mridul
Water, delicate, gentle
Vidul
The Moon
Nahil
Quenched, appeased, Satisfied
Sahil
Seacoast
Nakul
Lord Shiva
Mukul
Blossoming
Naman
Bow to god or Salutation or Renowned
Kanan
A forest
Naveen
New
Naval
Wonder; New; Modern
Nayan
Eye, Decorum, directing, community
Naman
Bowing, salutation, to pay homage
Neer
Water, one of the five elements, the essence of life
Vayu
Wind, Air, one of the fifth element
Nigam
Victory, vedic text, town
Shubham
Auspicious, good
Nikhil
a man who is "Complete" or "Universal" and "Resilient", Complete without boundary
Nikhit
Sharp or Earth or Ganges,
Nilay
Lord Vishnu's name, Heaven,
Vinay
leading, guidance, politeness, humility and modesty
Nilesh
Lord Krishna, moon
Elesh
King
Nirpesh
King of kings or Emperor
Adesh
Command; Message; Message; A message or command; to make a statement.
Nitin
Master of the right path
Kritin
Wise, intelligent, skilled
Pinank
Lord Shiva
Piyush
Dairy milk
Pralay
Ending, Dissolution
Malay
Fragrant, Sandalwood, A mountain range in south India famous for its spices. A mountain, Fragrant,
Prashant
Calm and composed
Nishant
Dawn, break of the day
Punit
Pure or holy
Priyam
Love, Beloved
Ronav
Handsome, Gracious, Charming, good-looking, attractive
Ronak
Radiance or Celebration or Embellishment or Brightness or
Rutvij
Guru, Teacher
Ritvik
Priest
Sachit
Consciousness
Rachit
Invention
Sanket
Signal
Sankalp
Determination
Saransh
Summary
Devansh
Devine or part of god
Satyam
Honesty, truthness
Shivam
Auspicious, Another name of Lord Shiva,
Saurabh
Fragrance
Rishabh
A musical note, excellent, bull, superior
Shishir
A season
Mihir
Sun
Shiven
Name of Lord Shiva or one who maintains a balance between life & death
Devan
Food offered to the Gods or holy
Shwet
White, Pure
Shikhar
The peak of a mountain, Ultimate
Siddhant
Moral, Principle
Vedant
Hindu philosophy or Ultimate wisdom
Siraj
Light or Lamp
Dhiraj
Patience or Consolation
Sneh
Love and affection
Vinay
Politeness and modesty
Suchet
Alert, Attentive
Sumedh
Wise, clever, sensible,
Sushant
Quiet, Peaceful
Shashank
The Moon
Tanay
Son
Shanay
Ancient, immortal.
Tanvir
Bodily brave and strong
Ranvir
Hero of battle or war
Tapan
Sun
Tapas
Heat
Uday
Blue lotus, To rise
Ubhay
Blessing
Veer
A brave person
Daiwik
By God's grace
Vel
A divine javelin spear associated with Hindu war God Karthikeya, Lord Murugan
Vetrivel
Son of Parvati
Vidyut
A spark of lightning, Brilliant
Vibhut
Strong, powerful
Vinith
Unassuming, Knowledgeable, Modest, Venus, requester
Vijith
Invincible, Winner, unstoppable.
Vir
Courageous, Lightning, Thunder,
Warrior, Strong
Viren
The lord of warriors
Viral
Priceless
Hiral
Lustrous
Vivaan
Lord Krishna
Vihan
The first ray of sun
Waman
Short, the 5th incarnation of Lord Vishnu
Wasan
Idol, statue
Wedant
Someone with knowledge of the Vedas, Theology; King of all The scriptures, a Vedic method of self-realisation
Sedant
A variant of Siddhant, truth
Yash
Victory, reputation, glory, success, celebrity
Tejas
Light, Brilliance, Gold, Power, Might, Sharpness, Brightness, Tip of the flame, honour, Fire, Spirit brilliance
Yuvraj
A prince
Viraj
sovereignty, excellence or splendour
Zayant
Victorious, star
Zeehan
Brightness, whiteness, Drought
Zenil
Victorious, victory of blue
Zenith
The very top, peak
Zian
Self-peace
Zavian
New house, light, or a variant of Xavier
Whether you want to choose rhyming names for your cute ones or the names with opposite meanings, it is a crucial stage in every parent's life as the name you will choose for your kids will stay with them for forever. That's why it is recommended that you think well before deciding on it. Apart from this, the happiness you feel while naming your kids is of course, out of this world.
Also Read:
Baby names inspired by nature
Unique Indian Baby Boy Names with Meanings
Sweet and Short Names for Boys with Meanings
Adorable Twin Baby Girl Names with Meanings