10 Super Healthy Snacks for Breastfeeding Moms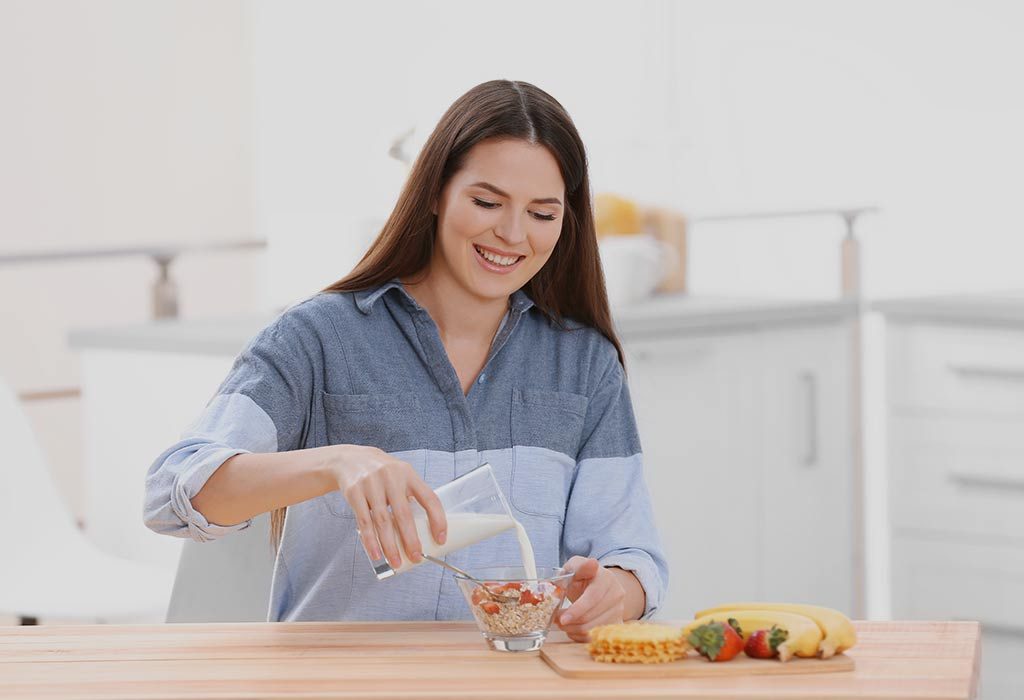 Breastfeeding can bring fulfilment and joy to both mother and child alike. These feelings are augmented by the hormones prolactin and oxytocin which pave the way for a nurturing and loving relationship between the duo. However, taking into consideration the hectic routine of a new mother, too much focus is given to the baby and mother's nutrition is often overlooked. As a result, both the quality and quantity of breastmilk is affected.
Video: 7 Super Healthy & Easy Snacks for Breastfeeding Moms
What Makes a Good Breastfeeding Snack
The following are the three basic requirements of a healthy breastfeeding snack:
1. Nutrition
Any breastfeeding snack should be nutritious. Post-pregnancy your responsibilities do not decrease, in fact, they increase. So, as long as you breastfeed, you must eat healthy and nutritious food. You should opt for whole grain, nuts, organic fruits, and veggies that give you the added boost that you need for energy.
2. Easiness to Prepare
Being a mommy is a full-time job, and you will have no time to make those snacks that you ate earlier which required lots of effort and a whole lot of time. Hence, you should look for snacks that are easy-to-make and provide you with instant energy, The ideal breastfeeding snack should require minimal effort and less time for preparation.
3. Support Lactation
Some foods such as oatmeal are believed to enhance lactation and milk supply. So, it becomes important to eat foods that help in lactation. If you are having trouble producing milk, you must include lactation-boosting foods in your diet.
10 Quick Snack Recipes for Nursing Mothers
It is suggested that you include snacks in between meals to fulfil nutritional requirements and to provide more satiety. The following are a list of top ten quick snacks for breastfeeding moms that taste great and provide great nutrition to your baby.
1. Nuts and Dried Fruits Trail Mix
Nuts and dried fruits are an instant source of energy as well as essential nutrients such as fibre and potassium. They are very easy to make.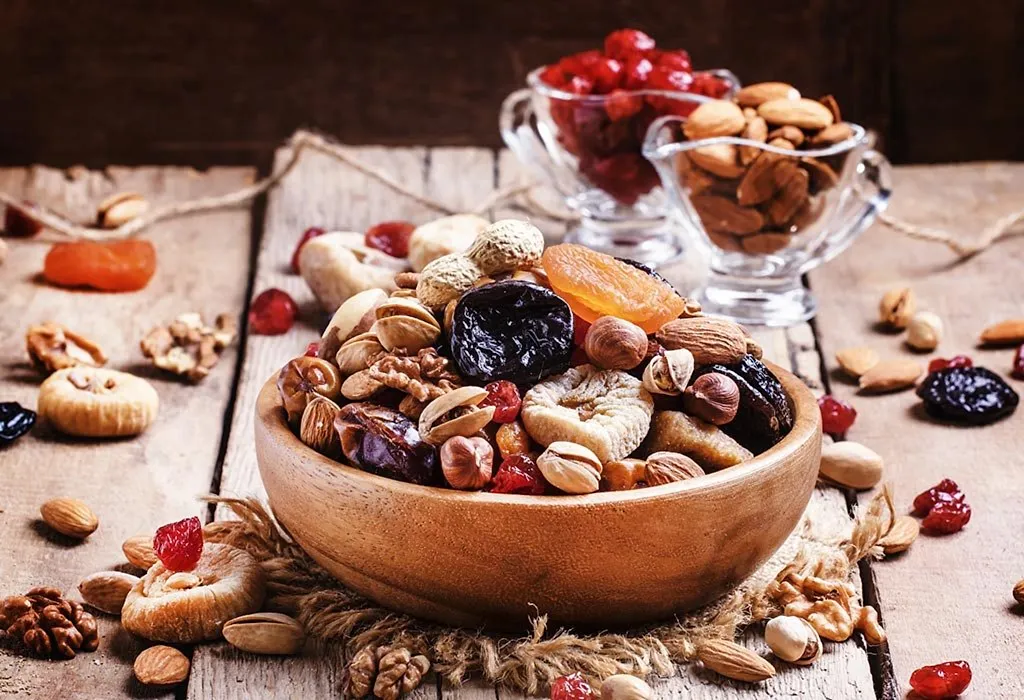 Ingredients
Nuts (cashews, almonds, walnuts and the like)
Dried fruit
Method
Combine equal parts of nuts and dried fruits.
Add an extra crunch by throwing in some mini pretzels or air-roasted popcorn along with toasted coconut or sunflower seeds. If you like spices, add a touch of chilli powder too.
Eat a handful once or twice a day, as suggested by your doctor.
2. Boiled Eggs and Chocolate Milk
The combination of eggs and chocolate milk may sound strange but be assured of a protein-rich snack, that will immediately kick up milk production.
Ingredients
Eggs
Chocolate sauce
A glass of milk
Method
Boil the eggs for about 10-15 minutes.
Then cut it in half and sprinkle some salt and pepper on it.
Take a glass of milk and add chocolate sauce to it and mix well.
Enjoy boiled eggs and yummy chocolate milk.
3. Banana and Rice Cake
Banana is a nutritious fruit, packed with vitamins, minerals, and fibre. Making a rice cake and adding a slice of banana on top makes it a great snack.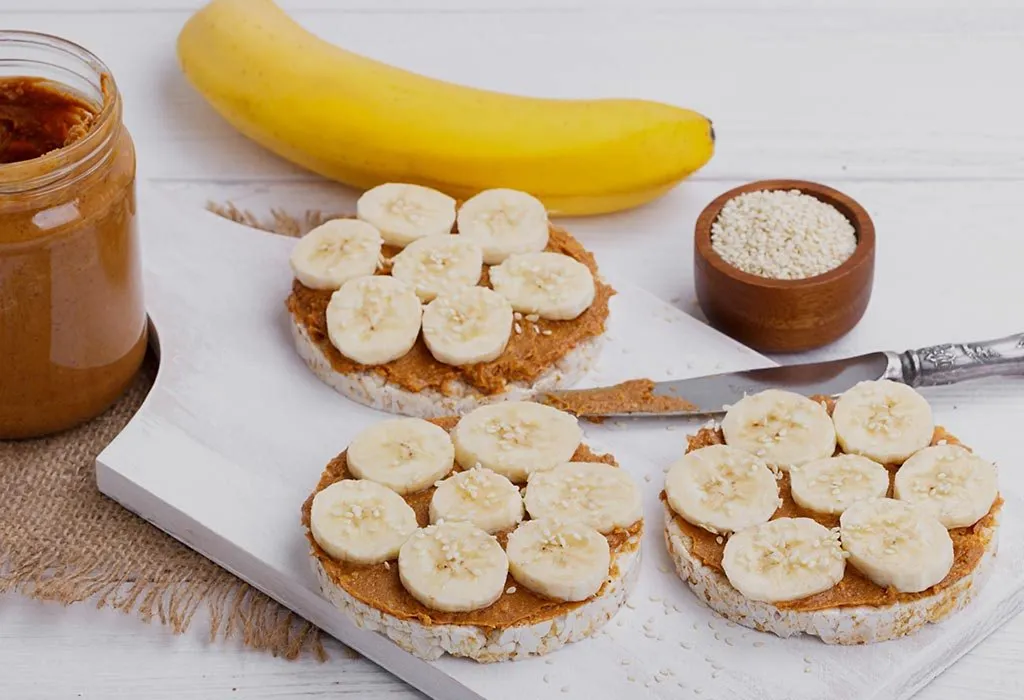 Ingredients
Method
Cook the rice well.
Mash it and shape it in the desired way.
Slice a piece of banana and garnish it on the top of the rice cake.
4. Dark Chocolate and Raspberries
Those mothers who have chocolate cravings can go for this snack. Dark chocolate is healthier than milk chocolates and is also rich in antioxidants that nullify the damaging effects of free radicals that exist in the human body. You can mix dark chocolate with most fruits. But the best combination is dark chocolate with raspberry, which is known for its anti-inflammatory property.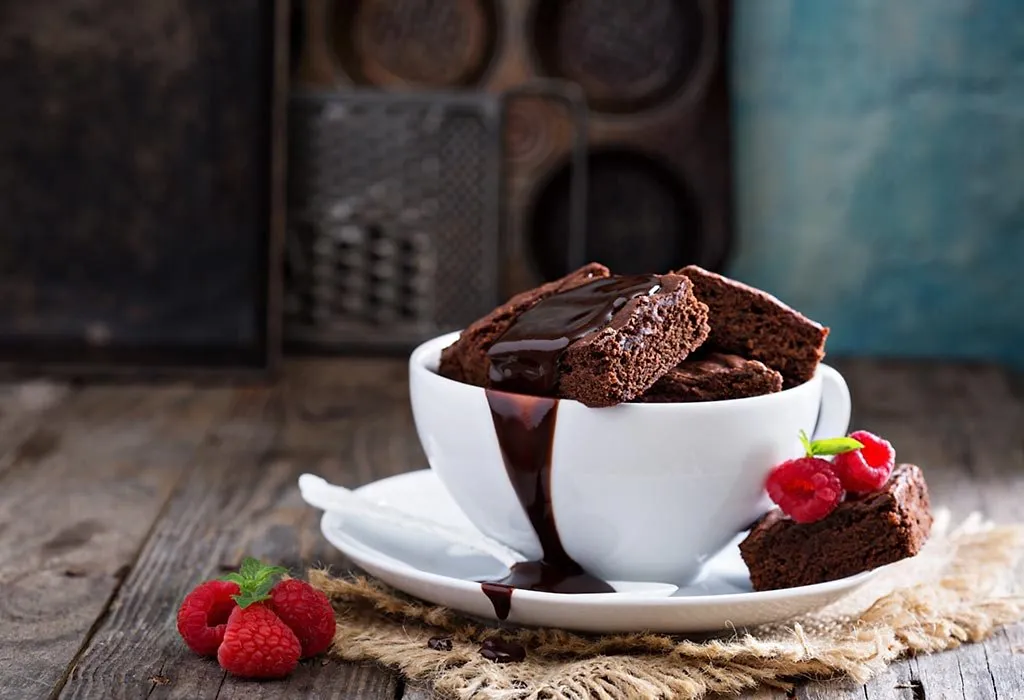 Ingredients
Dark Chocolate
Raspberries
Method
Blend the dark chocolate.
Add few raspberries to it.
You can also eat dark chocolate bar along with raspberries.
5. Hummus and Celery
Hummus is rich in protein. This can be taken with chopped celery stalks. This is nutritious, tasty and an effortless snack to munch. You can also try hummus with crackers or vegetables if you don't have celery.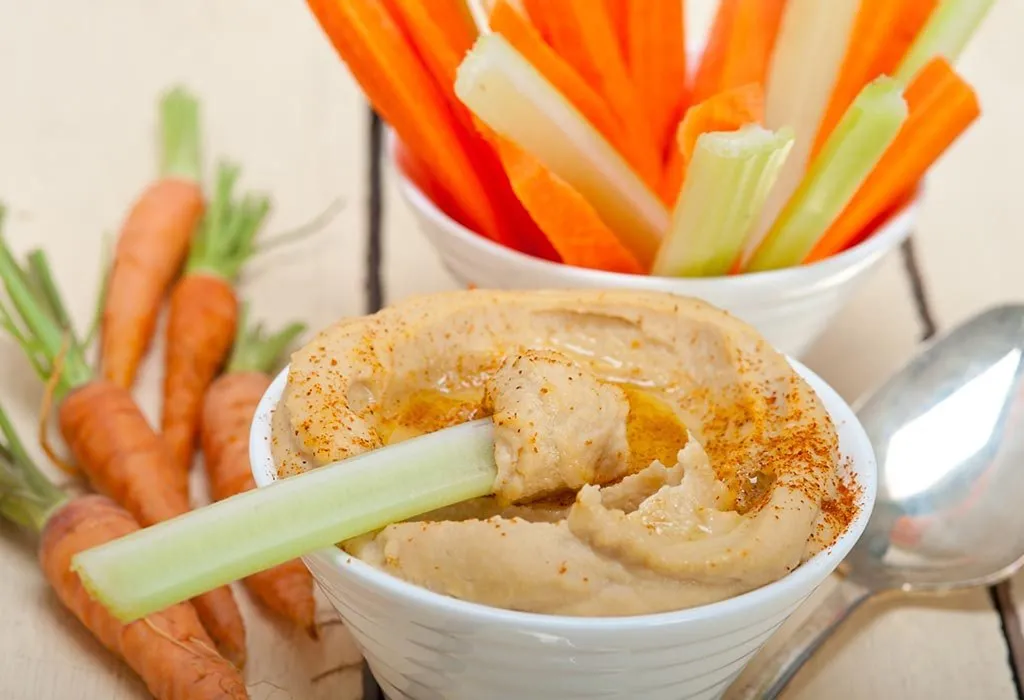 Ingredients:
Method
Take some already prepared hummus in a bowl.
Chop celery stalks finely.
Use the hummus as a dip and enjoy celery with it.
6. Dates Stuffed With Peanut Butter and Walnuts
Dates are high in iron and fibre. This snack is hassle-free to prepare and time-saving. This is an ideal snack for moms with a sweet tooth and can be taken when you are hungry.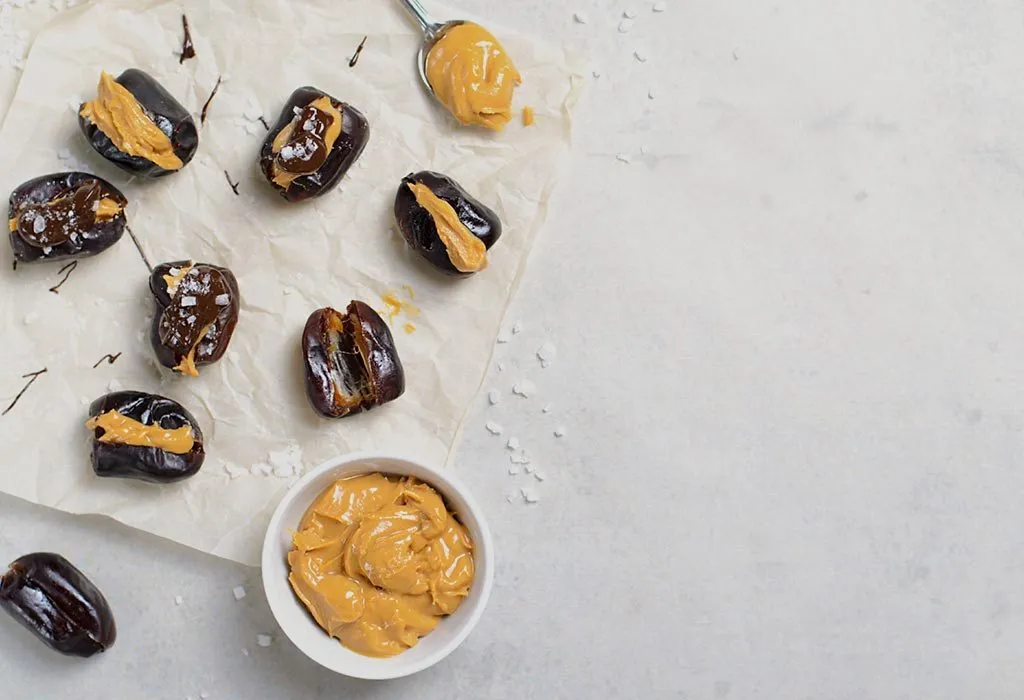 Ingredients
2 dates
4 walnuts halves
1 tablespoon peanut butter
Method
Slice the dates lengthwise. Remove the pits and discard it.
On each piece of dates spread a small dollop of peanut butter.
Put two other slices on top of each slice that has peanut butter.
Put it on a plate and keep walnut halves on top of it.
Enjoy this amazing dish.
7. Oats and Nuts Waffles
Oats and nuts are a great source of fibre and slow releasing fats.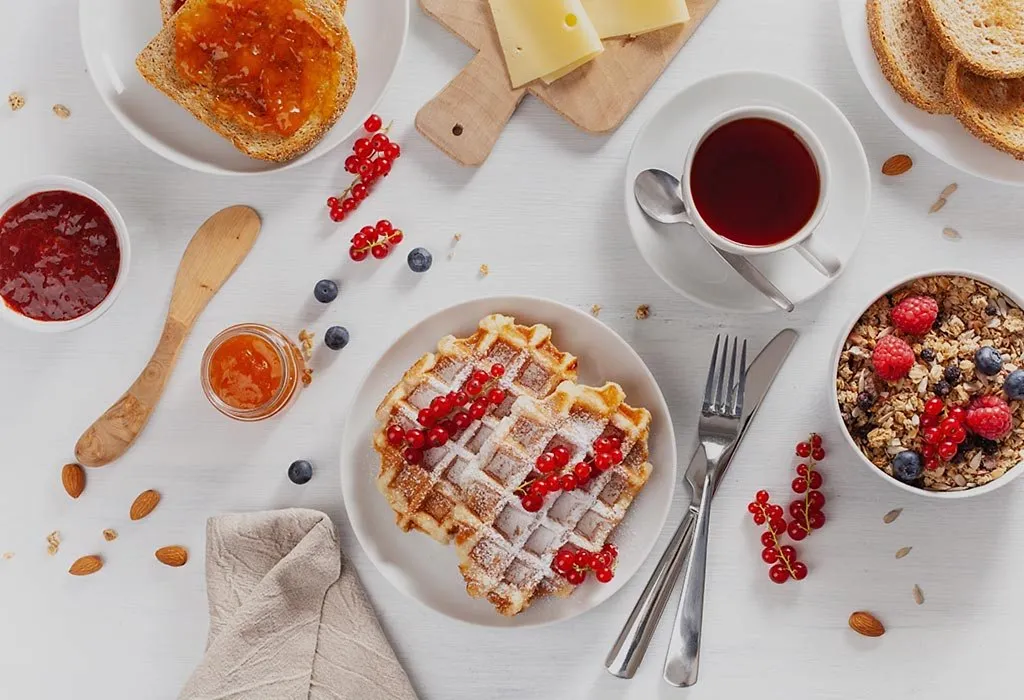 Ingredients
Whole wheat flour
Baking powder
Salt
Eggs
Butter
Quick-cooking oats
Chopped nuts
Sliced peaches (optional)
Method
Mix flour, baking powder, and salt in a big bowl.
Combine eggs, honey, butter, and milk in a small bowl.
Stir this into the other bowl and mix well.
Fold in both oats and nuts.
Bake in a preheated waffle iron until it turns golden brown colour.
Top up with some fresh fruits if you like.
8. Cottage Cheese With Fresh Fruits and Vegetables
Cottage cheese is a healthy source of protein which is good for lactating mothers. Moms can choose different fruits and veggies to go with this. It is also high in calcium, so it strengthens bone and boosts immunity. A fresh fruit topping such as pineapple helps sweeten its flavour and also adds dietary fibre.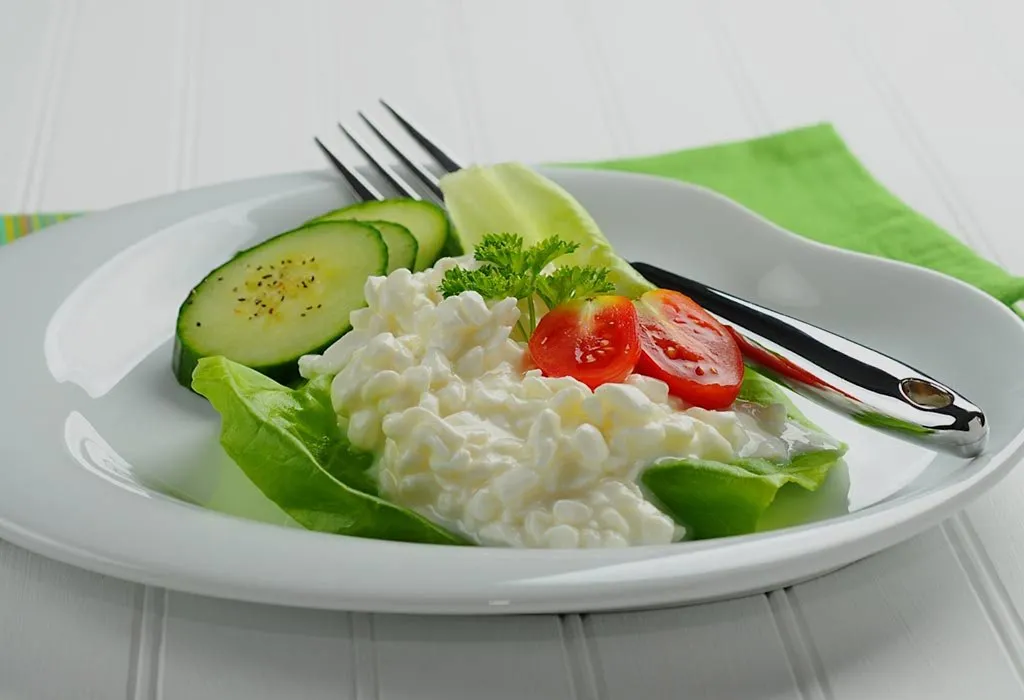 Ingredients
Cottage cheese
Fruits or vegetables
Method:
Prepare the cottage cheese.
Mix it with cut fruits or vegetables of your choice.
You can also season it if you like.
9. Fresh Fruits With Fresh Curd
Add one portion of homemade curd to one tablespoon of roasted nuts (almonds, pecans, peanuts and the like) or 1-2 tablespoons whole-grain cereal. Take half a banana, berries, or orange on the side.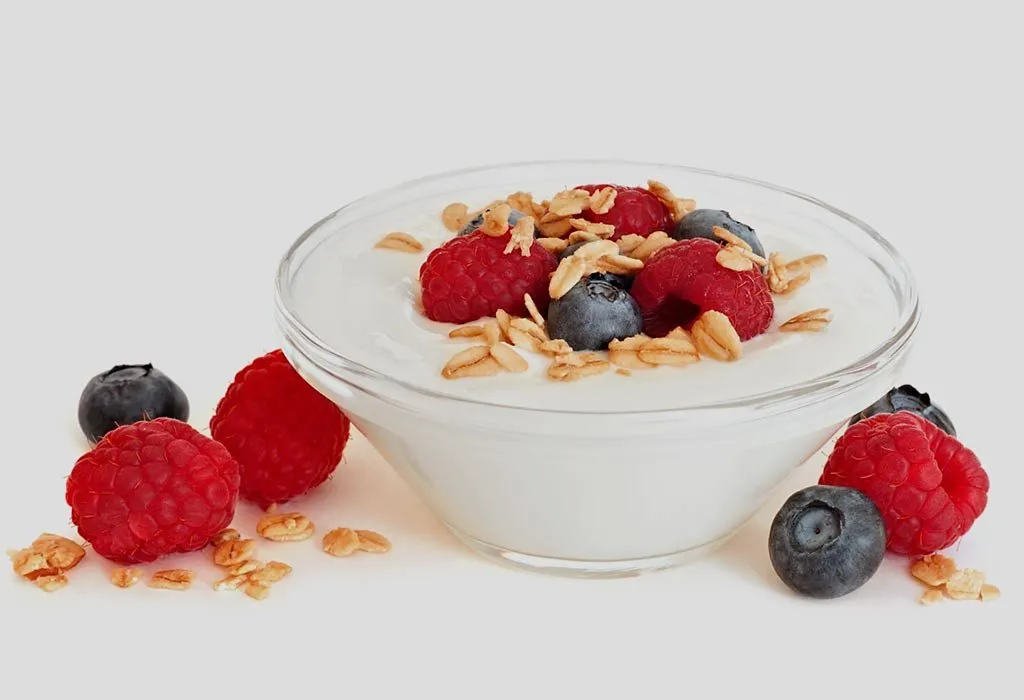 Ingredients
Nuts (almonds, pecans, walnuts, etc.) or whole-grain cereal
Fresh homemade curd
Method
Chop the nuts.
Take these chopped nuts and curd into a blender and blend well.
Your refreshing and tasty snack is ready.
10. Apples and Tuna
Canned light tuna in itself is a great topping for crackers or even bread. If you do not want to cook, and are looking for a quick snack, this can be the answer. However, a rarely known combination is one of tuna with apples. Mixing tuna with chopped pieces of apple results in a mouthwatering combination. Tuna is lean meat, rich in protein that helps in weight loss and also helps produce melatonin.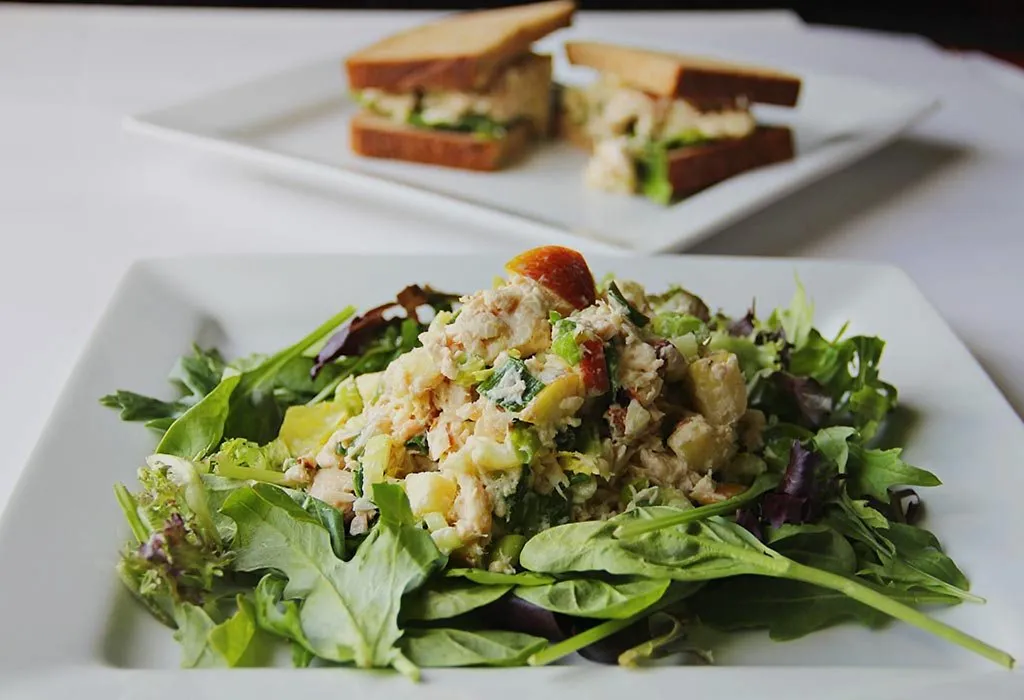 Ingredients
Method
Prepare the tuna.
Add some cut pieces of apple.
You can also make a salad by mixing some vegetables to it.
However, remember that canned light tuna should be consumed in limited quantities while breastfeeding.
Doctors often insist mothers take serious care of themselves and the best way to do this is to take care of their nutrition. This is because their bodies are too busy using up calories for milk production. An additional 300 to 500 calories a day is the usual recommendation for the breastfeeding mom. Some experts are of the opinion that calorie counting is highly subjective and cannot be generalised as each mother's body and needs are unique.
Eating healthy snacks results in the right kind of food going into your system so that you can dedicate yourself fully to motherhood. Eating healthy and drinking sufficient fluids will result in increased supply of quality milk for your baby.
Also Read: Foods to Eat During Breastfeeding to Avoid Colic in Babies