10 Simple STEM Activities for Kids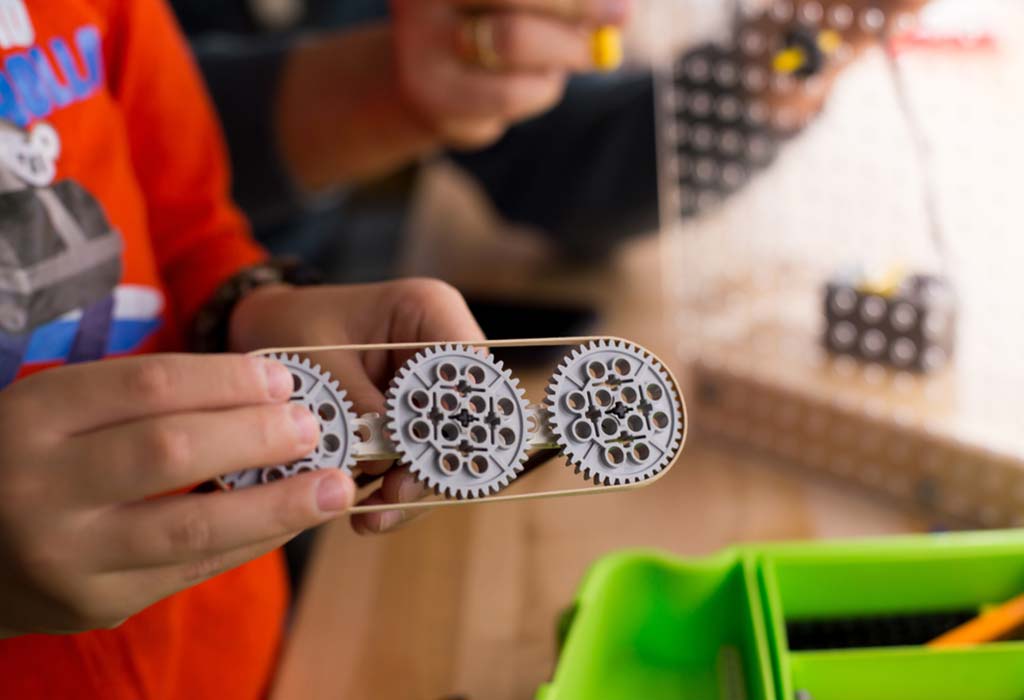 With Science, Technology, Engineering, and Maths forming an integral part of today's world, it is important to involve and engage kids in stem learning activities at a young age. It certainly fosters a love for science and also becomes a foundation for them to decide the career they want to pursue. Most activities take less than an hour and are ideal for keeping attention intact. Stem based activities are the buzz in education today, and kids love to find the answer to why, who, what, where through fun hands-on projects. Teachers equally love preparing their students for the future.
What Are STEM Activities?
STEM activities for preschoolers, stem activities for toddlers, are similar to science experiments. They involve not only science but also other key elements that garner a spirit of exploration and discovery. Children take away the lessons learned beyond school and home and apply them practically in their lives and careers. Any child interested and engaged in STEM topics will succeed in the future and have a hunger for knowledge that cannot be satiated.
Benefits of Stem Activities for Kids
There are several benefits to STEM activities for kids. Read below to learn more about the benefits you can get out of STEM activities:
STEM is not a study based on a topic but a holistic approach to teaching and learning subjects like Science, Technology, Engineering, and Math. At home, STEM activities use these subjects together to solve real-world problems.
All activities indoor and outdoor stem activities are inquiry-based and designed to answer a question.
STEM activities encourage children to view science and maths in a new light. It helps them understand how subjects like science help solve day-to-day problems and issues faced as adults.
STEM activities are a great way of encouraging and developing critical thinking and creative thinking in children. They provide a safe and fun way for kids to explore the concepts.
Even if a child does not choose science as a profession, the activities can help them in problem-solving, lateral thinking, applying logic, and fostering creativity in any aspect of life.
Importance of Hands-on STEM Activities for Your Children
Although STEM education is primarily based on the math and science curriculum, the hands-on approach is key in learning. By being actively involved and participating in every step of the activity, experiment, or project, kids take what they learn in a textbook and associate it with a real-life scenario. Kids are putting theories to the test, experiencing nature's laws, making decisions, and observing effects. Subjects come alive, getting kids excited, and this is when real learning takes place. Kids learn the core science behind everything.
Why Do Children Require STEM & STEAM?
STEM is an acronym for Science, Technology, Engineering, and Math, and STEAM adds an A for Art. Both these approaches are integrated and encourage students to think broadly about real-world issues. Both involve an interdisciplinary approach to creating path-breaking innovations and revolutionizing several integral parts of our daily lives. As methodologies of teaching, children can ask questions, connect dots, solve problems and think creatively. The approaches can help kids make discoveries that could change the future. In fact, STEM jobs are an integral part of the world economy and will also be the source of several future livelihoods.
Interesting STEM Activities for Children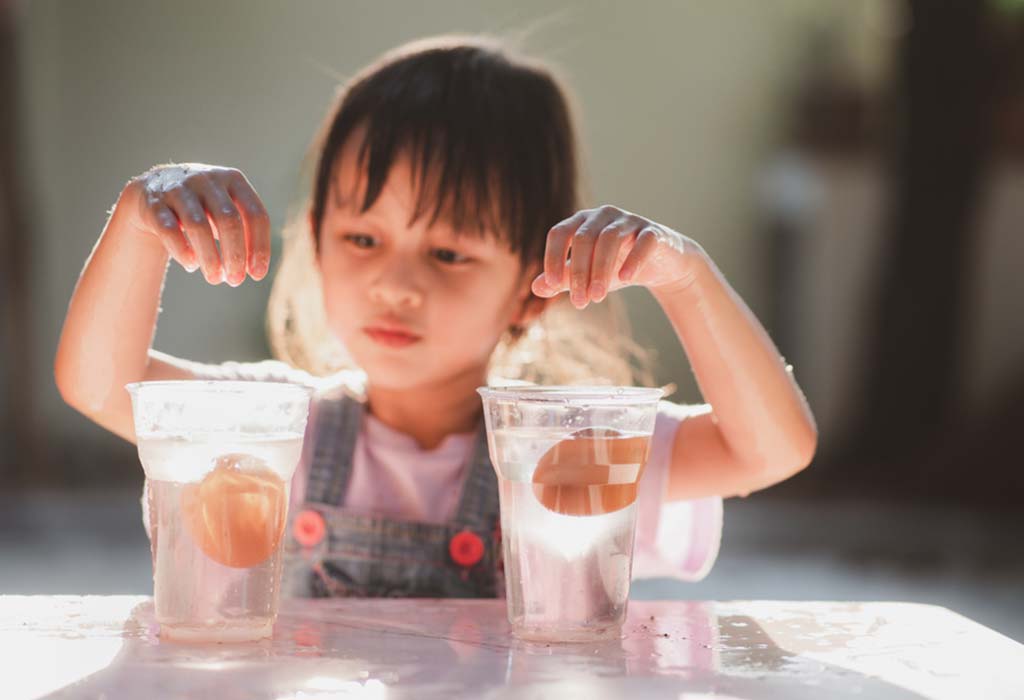 There are several STEM activities that can be done at home, school, and clubs to get kids involved and also excited. Below is a compiled list of STEM activities that can be easily performed at home and make for an interesting learning session for you and your kids.
1. Cloud in a Jar
This science stem activity combines learning about the water cycle, condensation, and state of matter. It teaches children about how clouds are formed. The best thing about the activity is it can be adapted to young and older kids.
Category – Science Supplies
A jar with a lid
About 1/3rd cup of hot water
Ice
Hairspray
Instructions
Pour the hot water into the jar. Swirl it in the sides to warm the insides of the jar.
Now turn the lid upside down and place it on the top. Place several ice cubes onto the lid and let them rest on the jar for about 20-30 seconds.
Remove the lid and quickly spray a bit of hairspray into the jar. Replace the lid with the ice on top. Clouds will form, and kids will enjoy it.
As a good amount of condensation forms, the lids can be removed to see how the cloud "escapes into the air."
You need to tell kids that warm water in the jar turns into a vapor that rises and comes in contact with the cool air (because of the ice). When the vapor condenses, it cools. A cloud can be formed only if the vapor can condense onto something, which in this case is the hairspray, and in nature, it is air pollution, dust, pollen, etc.
2. Straws and Tape
One of the best stem engineering activities, this teaches kids about coordination, building, and trying to make estimates. All with the help of simple straws, kids can create their own model that they think will help them to build a tower.
Category – Engineering Supplies
Drinking straws (regular or milkshake)
Tape
Ruler or yardstick
Instructions
Get kids to use the straws and tape to build a tower. Tell them to connect their straws to build the tallest tower.
Younger children could be given a clue to build a base and work upwards.
Try to limit the number of straws to each child.
If you want a twist, you can ask them to use a pair of scissors to cut them and build them if they wish.
Now get them to measure their creations and compare.
3. Geometry With Marshmallows and Pretzels
One of the best math stem activities, this one can teach children about 2D shapes and their properties in the most practical way.
Category – Maths Supplies
Pretzels
Mini marshmallows
Card paper
Pen or marker
Instructions
Draw a few shapes on the paper. Either write their name on the side or leave a blank for you or your child to write after you guess the name.
Break the pretzel sticks and get your child to place them on each side of the shape and connect the vertices with marshmallows.
Teach them about the name of the shapes and also explain the concept of sides and vertices with the help of pretzels and marshmallows.
4. Reflection Art
An incredible lesson on multiplication and also covering aspects of angles, symmetry, and geometry, this project is a jackpot for parents and teachers.
Category – Maths Supplies
Mirrors
Card Paper
Pen markers
Instructions
Draw a triangle and use pen markers to decorate the inside with geometrical patterns. If you have older kids, then you can get them to color them with geometric shapes like zig-zag lines, curves, shapes, etc.
Now give each child a mirror and ask them to place it on each of the sides of the triangle to see how the reflection appears.
As they see, the reflection explains the concept of symmetry.
5. Salt Pendulum Activity
There is something magical about how a pendulum works. The way it moves is dependent on factors like length, force, and weight. With just a few supplies, you can teach kids some important concepts of physics.
Category – Science Supplies
Paper cup
String
Salt
Food colouring
Large sheet of paper
Hole punch
Instructions
Colour salt with food coloring. You can use three different cups of salt.
Take another cup and then punch four holes around the opening of the cup. Now tie strings through these four holes and tie it all into a clump together at the center. Now pierce a small hole at the bottom of the cup.
Tie a bit of longer string to the clump of the four strings and make it long enough to tie to an object in the yard. It should be long enough to hang.
Lay the poster paper under the cup after hanging it.
Now get your child to pour the colored salt into the cup, and you could hold the hole at the bottom.
Show kids how to move the pendulum and then release your hand from the hole.
The salt will slowly start falling on the paper in a pattern.
6. Painted Coasters Math Craft
These can turn out to be a wonderful gift and also an ideal way to build some math with art. With just a few coasters and paint, you can get your kids to pride themselves on the fact that they are learning and also creating something beautiful.
Category – Maths Supplies
Round cork coasters
Painters tape
Paint of different colors
Paintbrushes
Scissors
Instructions
Lay out old newspapers on the table. Place the coasters over them.
Now use the tape to create geometric patterns on the coasters.
Speak to your children about shapes, angles, and sides.
Paint each space with a different color and let them dry.
Remove the tape carefully to unveil the beautiful creation.
7. Stop Motion Animation Video
One of the best stem technology activities to teach your child about the art of movie-making. An initiation into film making, it makes inanimate objects move on their own.
Category – Technology Supplies
Two pieces of foam
A set of objects to animate
Smartphone, iPad, touchpad
Tripod or a stand to hold the device
Stop Motion animation app
Instructions
Set up a backdrop. This could be the foam core or the wall.
Gather all the objects that you want to animate.
Set up your mobile phone, smartphone, or iPad on the tripod across the background (foam or wall).
Start the app and make your movie.
To add some extra jazz, you could add some lighting too.
8. Buoyancy for Kids
Another great way to teach children the concept of sinking, floating, and density this experiment requires just basic household supplies.
Category – Science Supplies
An orange or lemon
Two vases
Water
Salt
Instructions
First, ask the child to feel the orange or lemon and guess if it will float or sink.
Now get them to fill the vases with water.
Ask the child to drop the lemon or orange. They will see that the fruit sinks.
Now get them to add salt to the water and then drop the orange or lemon.
They will see that the fruit floats.
Explain the concept of buoyancy and how objects float and sink because of the density of the liquid. You can then explain how ships sail in the water.
9. Water Cycle
With this mini model, kids can learn all about the water cycle in a zip lock bag. This requires some careful observation every day, and kids will learn about weather and the concept of vaporization, condensation, and precipitation.
Category – Science Supplies
Ziplock bag
Water
Food coloring
Tape
Instructions
Draw the sun and clouds with a marker on the zip lock bag.
Get the child to open the ziplock bag.
Pour the water into it and add some food coloring (blue will be preferable).
Use the tape to stick to the window and get the child to observe what happens to the water.
It will slowly evaporate as it is exposed to the sunlight, and then the vapor will condense into a liquid.
You can explain how when enough water is condensed, and the air cannot hold it, it pours in rain which is precipitation.
10. Volcano in a Jar
Another great experiment to teach kids about eruption and reactions. The best part about this experiment is that it can be done indoors and outdoors.
Category – Science Supplies
½ tsp baking soda
2 cups or jar
½ cup vinegar
Food coloring
100 ml of warm water
10 ml of dishwashing soap
Instructions
Mix the baking soda in warm water in one of the cups.
Now in the other cup, add the vinegar, food coloring, and dishwashing soap.
Pour the baking soda mixture into the vinegar mixture quickly and step back.
You can see the eruption. Explain to the kids that the vinegar and baking soda create a gas called carbon dioxide, and there is not enough room in the cup to spread, and it erupts.
To conduct it outdoors, make a mountain out of the sand and place the cup on the top.
STEM activities are such a great way to get kids involved in learning. Learning happens in a fun way and concepts are sealed in the minds forever. Pick up one of these experiments or activities to make your family time more fun and exciting.
Also Read:
Fun Indoor and Outdoor Activities for Children
Super Fun Summer Activities for Children
Team Building Activities for Children
?>