10 Saree Pallu Styles You'll Want To Try Today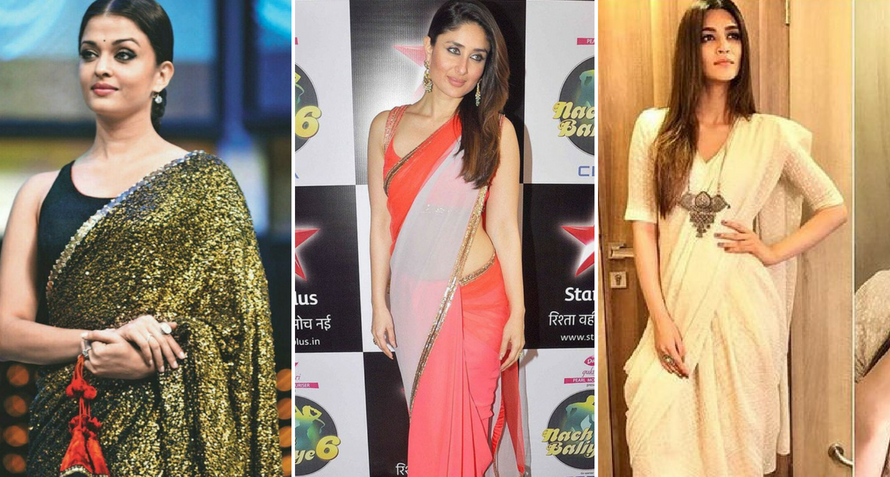 In this Article
Create new looks with your old sarees just by experimenting with different styles of wearing a saree pallu. Check out these trendy draping techniques for a complete makeover!
For Indians, saree is not just a six-yard long piece of cloth; it's a part of thousands of years of tradition that has not lost its sheen! Thanks to Bollywood, the saree is now being appreciated all around the world. Be it for religious ceremonies, parties, casual get-togethers or the office, it goes well with almost any occasion. Even if you don't want to spend too much money on different sarees, you can still look ravishing and different each time. All you need to learn is how to drape a saree with different pallu styles!
We bring you some of the most popular saree pallu draping styles that Bollywood has also adopted. Try one of these the next time you have an event to go to. We promise you will not be disappointed.
How to Wear Saree Pallus in Different Styles and Rock Them!
1. Butterfly Style Pallu
Among all the different ways to wear a saree pallu this style is Bollywood's current favourite, though the drape has been in vogue for quite some time. Make small pallu pleats so that your navel is visible after you pin the pallu to your shoulder. Pull in a little snugly so that it creates a clean line. This drape goes perfectly with lightweight sarees like nets and chiffons and looks very elegant. Make sure you pair it with a heavily sequinned or embroidered blouse.
2. Double Drape
If you love the Mumtaz saree drape but are not sure about being able to carry it off gracefully, this different style of wearing a saree pallu will give you a similar look. After wrapping the saree around your waist, leave a little more fabric than usual for the pallu. Drape three-fourths of it around your waist again then take it under your right arm and then let it hang on your left shoulder.
3. Lehenga Style Saree
If you want to wear a lehenga style saree without spending on an actual one, this trick on how to make the pallu of the saree look like a dupatta will lend a lehenga-like touch. As you begin wrapping your saree into your petticoat, make very small pleats around the front of the waist and then bring the pallu over your right shoulder from behind. Pin it in place and let the end cascade, or take one edge and pin it around to the back of your waist.
4. Open Pallu Style
This is yet another spectacular pallu style that you can pull off for special occasions. Do remember that it is slightly high maintenance! Drape the saree like you usually do but do not make any pleats for the pallu. Just wrap it around your torso and pin the top right edge at your left shoulder.
5. Bengali Pallu Style
Bengali culture and dressing has often been portrayed in popular cinema, thus making the Bengali style of wearing a saree very popular. To wear a saree in the Bengali style, tuck the saree from the right of the waist until it completes one full round. Make saree pallu pleats and place it on your left shoulder. You could tie a trinket or a large key ring to hold down the pallu. This look goes best with cotton sarees. Check out 5 divine Bong looks to help you get your fashion fix for a Bengali wedding or upcoming occasion.
6. Marathi Pallu Style
Of the different styles of saree pallu, this one is a very unusual but very attractive draping style you have to try at least once. Wear tight slacks instead of a petticoat and drape your saree in dhoti style. Ensure that the border is seen in the front. This look goes with longer sarees and is best paired with a nose ring and a gajra in your hair!
7. Madisaru Pallu Style
Traditionally worn by the women of the Tamil Brahmin community, this style follows the style of draping the upper half in sari pleats and the lower half like a dhoti. It is worn usually for special occassions and is a gorgeous sight to behold with traditional jewellery. With this style too, you can skip the petticoat and just go for 3/4th tights.
8. Gujarati Pallu Style
A common sight now, the Gujarati pallu or 'Seedha pallu' style shows off gorgeously worked pallus by having them placed right in the front and across your body. Drape the pleats as you normally would and bring them over your right shoulder, and spread it out from right to left. Secure it in place with pins. It's best to choose a sari with a lot of embroidery or design on the pallu, to really make the best of this drape.
9. Square Pallu Style
With the square drape, the pallu needs to be taken from the underarm of the right side and carried across the chest to the left side of the blouse where it is pinned in place and the remaining pleats are made. This drape is a good option to show off your neckline or highlight a really good neckpiece.
10. Scarf Pallu Style
This may sound super simple but is a fun twist to the regular way of wearing a sari. As the name suggests, it involves tying the pallu around the neck, just like a scarf. Wear a quirky blouse to really amp up the look.
The pallu is one of the most important parts of a saree. It's what can change your entire look. However, to complete the look, you must also pick a blouse design that complements your saree draping style. Learning to drape a saree to perfection is an art and takes practice. Start slow and simple and gradually work your way toward more complicated drapes. You'll certainly be the centre of attraction wherever you go!
Which is your favourite saree pallu style? Do tell us about it!