10 Reasons Amarendra Bahubali Is a DREAM Husband Even For a 21st Century Woman!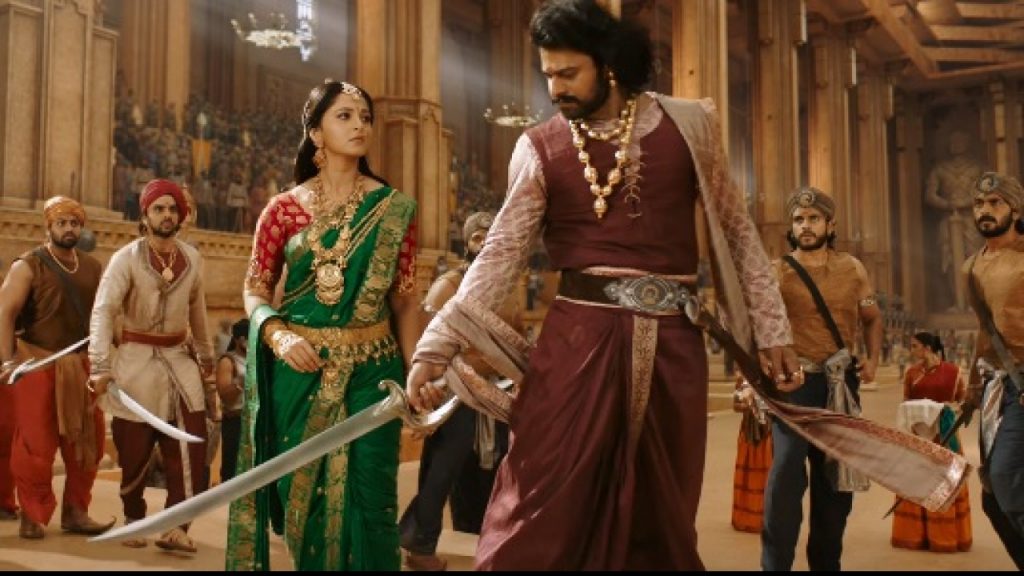 On April 28, 2017, people rushed to the theatres to find out why Kattappa killed Bahubali after all. But we are sure more women than ever before walked out of the theatre and completely forgot about everything else… except how awesome Amarendra Bahubali is. That smile. Those eyes. That body! But there are more than those very obvious reasons why Amarendra Bahubali is the perfect husband, even for the modern Indian woman.
10 Reasons We Need More 'Amarendra Bahubalis' in The 21st Century Than Ever Before
1. Amarendra Bahubali is chivalrous and romantic.
Amarendra Bahubali could have very easily told Devasena who he was and (as quite aptly put by Kattappa), the King and Queen of Kuntala kingdom would have 'washed his feet and married their daughter off to him. But he chose to win the princess over through his actions and deeds. His conduct was respectful, a tad bit naughty, and absolutely romantic and chivalrous.
However, in being so, he did not at any point snub Devasena away. He didn't 'protect' her, he joined her in the battle against the Pindaris. That's what the new-age 21st century woman wants, isn't it? A man who will respect and join her in her endeavours, without making her feel weak or ill-equipped to achieve whatever she wants to.
2. Amarendra Bahubali is principled.
Amarendra Bahubali, when the time came, did not flinch while going against his mother, the great Rajmata Sivagami. Amarendra was convinced that his mother had made a mistake in promising Bhallaldeva that he would be married to Devasena, and he did not falter in pointing it out to her. Not only that, he did so respectfully, and while maintaining the decorum of the relationship.
His principles cost him his mother, his kingship, his family… and yet he didn't bat an eyelash in standing by what was right. God knows we need more men like Amarendra Bahubali – who have the courage to stand by what's right, and who are not such "Mumma's boy"s.
3. Amarendra Bahubali is hot.
Let's be honest! We all secretly drooled at him, didn't we? There is something very earthy about his sexiness.
When he fought valiantly in the war against the Kalakeyas, when he pulled the bow and shot the arrow right into the demon effigy, when he came to Devasena's aid during the Pindari-attack and taught her how to shoot three arrows in one go, when he held the boat and placed his arm out for Devasena to walk over his shoulder and into the boat… we saw… and we lost our hearts.
Who wouldn't want to get with that man?!
4. Amarendra Bahubali is virtuous.
Amerandra is an exemplary example of the best of a man: brave, honest, humble, and a true ruler. He cared about his people beyond the role of a king. He fought with honour, without compromising the lives of civilians. In spite of being declared the would-be-king, he did not throw around attitude. He always treated Bhallaldeva with respect. His doting love for his mother must have pulled at every woman's heartstrings.
Not only that, he did not ridicule Kumar Verma for not being able to 'be a man', nor did he use this fact to his advantage to win over Devasena. Instead, he empowered Kumar Verma, and befriended him. He knew the right things to say to his people during the war to give them the strength and courage to face the adversity that lay in front of them. And as his father Bijjaladeva points out – Bahubali kapat nahi jaanta (Bahubali has no concept of deceit).
Who wouldn't want such a strong and virtuous man as her life-partner?
5. Amarendra Bahubali knows how to keep a promise.
When he swore to Devasena 'I am yours', he did so with conviction. And he kept his word. Even when it meant losing everything and everyone that were dear to him. He also stood by his word of coming to the aid of the kingdom, should such an occasion or need arise. Even when he was banished from the family, he did not let that affect his loyalty to his people and his kingdom.
However, what's more important is – he knew which promises to break too. While he had promised his mother his unflinching and unconditional love, it didn't blind him to her faults or prevent him from doing the right thing.
6. Amarendra Bahubali is not insecure.
Not only did he befriend Kumar Verma, the guy who had a massive crush on the love of his life and wanted to marry her, he also gave him a place in his heart, his life, and his family. He did not once ever doubt Devasena over her integrity. He did not even once try and create a rift or distance between Devasena and Kumar Verma.
In fact, Amarendra had such unflinching trust and faith in Devasena, that he never doubted her about anything. He did not expect obeisance from her – neither towards himself nor his mother. He gave her room to be her unapologetic self, and did not even once try to 'mold' her into a submissive wife. He knows he loves her, and he knows she loves him. He did not let anything ever make him feel insecure – neither Devasena's archery skills, nor her confidence, nor the guys who were crushing on her hard!
7. Amarendra Bahubali respects women.
When he requested Devasena to return to Mahishmati with him as his captive and she refused, he did not try to convince her to do it. No ma'am! Amarendra honoured her feelings, and instead promised to guard her honour and dignity till death do them part.
Not only that, Amarendra also has tremendous respect for his wife's family. Remember what he said when Devasena's brother and his wife bowed to Amarendra out of respect and reverence? "Sambandhi ek dusre ke gale lagte hai, unke aage jhukte nahi hai Maharaj." (Relatives embrace one another, they do not bow in front of each other, Sir.) What more could a girl want?
8. Amarendra Bahubali does not let any man disrespect his woman.
Remember what Amarendra said when he stood up by Devasena's side in the middle of the court, in the presence of his elder brother the King, and his mother Rajmata Sivagami?
"Devasena ko kisi ne haath lagaya to samjho, Bahubali ki talvaar ko haath lagaya." (Anyone who touches Devasena must know he is incurring the wrath of Bahubali's sword.)

"Aurat par haath daalne vale ki ungliyan nahi kaat-tey, kaat-tey hai uska gala!" (You do not chop off the fingers of a man who molests women, you behead him!)
Of course every 21st century woman needs a man like Amarendra Bahubali.
9. Amarendra Bahubali understands 'consent'.
This is a very important point.
Remember the song love song when Devasena, Amarendra Bahubali, Kattappa, all board that insanely beautiful ship and set sail for Mahishmati? Amarendra knows he's won Devasena over. Devasena is more than willing to consummate their marriage.
And yet – Amarendra Bahubali, being the true blue gentleman that he is, waits for Devasena to make the first move.
Yes, ladies.
Consent is important, even in a marriage. And Amarendra Bahubali understands this. This single quality in itself certifies him as the most eligible husband of the 21st century.
10. Amarendra Bahubali is perfect.
Isn't he?
We strongly recommend this movie to be used as training material to induct every man into the role of a 'husband'. What do you think?