10 Must Remember Makeup Tips For Dealing With Indian Summer!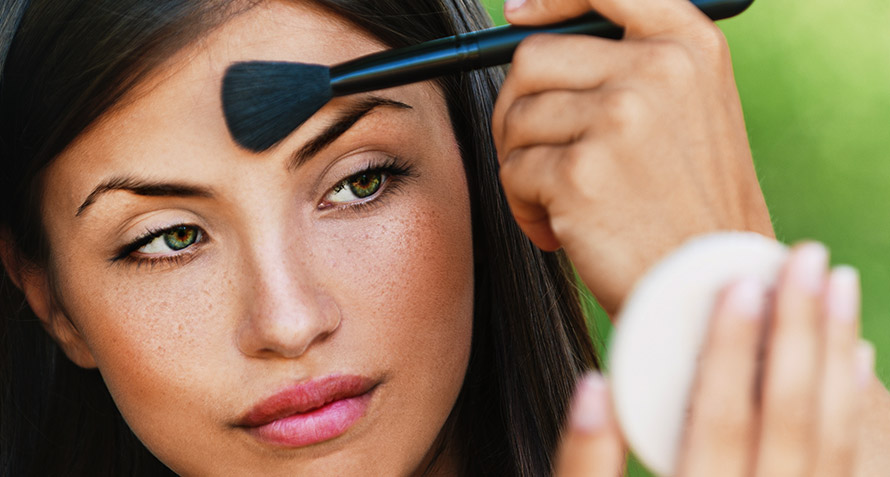 Every summer we welcome the season of vacations, cool drinks and mangoes. But what's unwelcome about the season is the sweat, heat and melting make-up that makes you look terrible in the vacation pictures you wish to flaunt!
Don't you worry though, this summer marks a new beginning as we bring to you the tricks of the trade – directly from the experts – that'll help you deal with the long Indian summer!
1. Skip The Foundation For a Moisturizer Base
Use a tinted moisturiser (preferably -oilfree) with SPF instead of heavy foundation for your base to keep it light. You can even create your own tinted moisturiser by mixing normal moisturizer with your foundation for a light makeup base that stays in place longer.
Also Read: Tips to Deal with Acne and Pimples in Summer
2. Use a Primer
Primers are a summer must-have as they help hold the makeup in place under sweaty and humid conditions. Use a primer right after the moisturiser but before full makeup. Make sure to rub primer on your forehead and nose well to keep it from getting shiny from sweat all day.
3. Go for Some Light Bronzer
Bronzing gives a light natural glow to your skin. However, keep in mind to use the right shade and bronze on the high points of your face (chin, forehead, etc.) since the sunlight hits you in these spots naturally. Avoid applying it on the whole face since that will give your skin a fake baked look – something you want to avoid!
4. Water Resistant Concealers
If you're using concealers or corrector pens – make sure they're waterproof to avoid the melted make-up look. Also make sure the concealer you use is lightweight and oil-free to make sure it isn't thick on your skin.
5. Carry Blotting Paper
Blotting paper will be your makeup saviour throughout the day – just carry around a few in your purse and keep dabbing away the oil at regular intervals. Make sure you dab the paper and not wipe!
6. Use Sheer Colours
One of the easiest to follow summer makeup tricks is to use subtle sheer colours instead of rich, deep colours. This really lightens up your look. Also make sure that you use a light or clear lip liner to keep the colour from bleeding!
Also Read: Skin Care Tips to Follow in Summer
7. Get Your Eye Shadow To Last Long With an Eye Primer
Apply an eye primer on your eye before eyeshadow to avoid the creasy look. It will also give a base to your eye shadow to stick to it so it lasts long.
8. Switch To a Cream Blush From a Powder Blush
A powder blush will get cakey through the day. Instead, use a light blush stain if possible and set it with a cream blush. Lightly dust some setting powder on top to make it last longer!
9. Go For Lip Stains Instead Of Heavy Matte Lipsticks
Swap out those heavy creamy matte lipsticks for light lip stains instead. With their long lasting formula and complete coverage you don't have to worry about any smears in the summer heat and humidity. You can also swipe a coat of lip balm for moisturization.
10. Start and Finish Your Look With a Makeup-Setting Spray
A few spritzes of makeup-setting spray before and after applying makeup will keep it from melting off and make it last longer before you need touch-ups!