10 Mouth-watering Street Food Recipes to Try at Home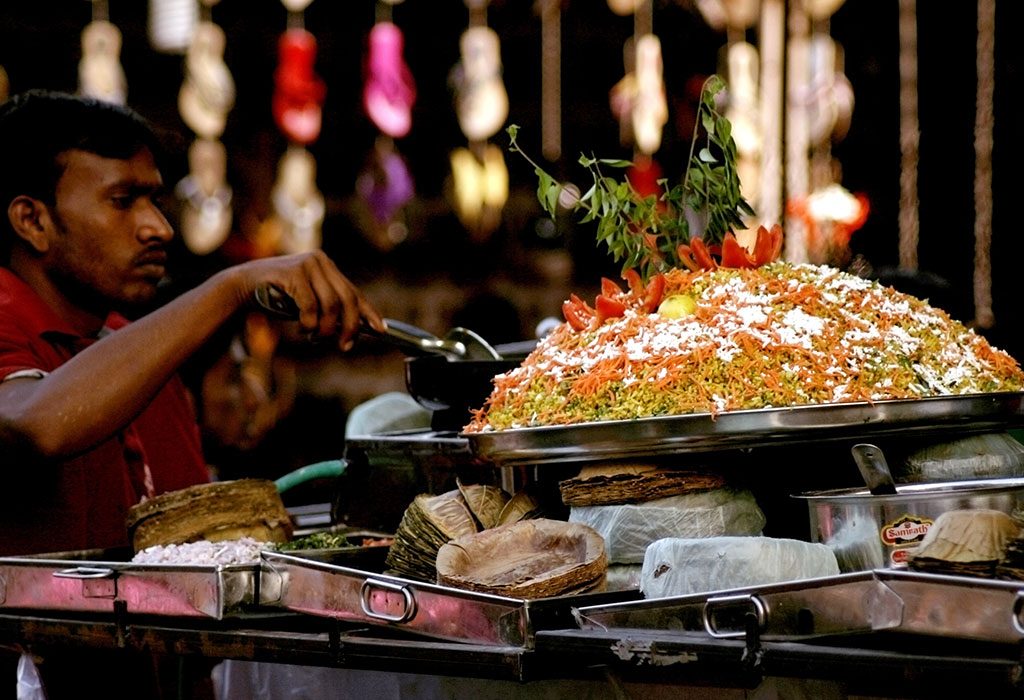 In this Article
Street food may not be the healthiest kind of food out there, but the varieties and tastes are absolutely amazing. You can indulge in it now and then. It is something quick for people to turn to if they want a snack while on the go, or even if they just want to sample the delicious food.
Popular Indian Street Foods to Make At Home
Here are some delicious Indian street food recipes for you to try at home:
1. Pav Bhaji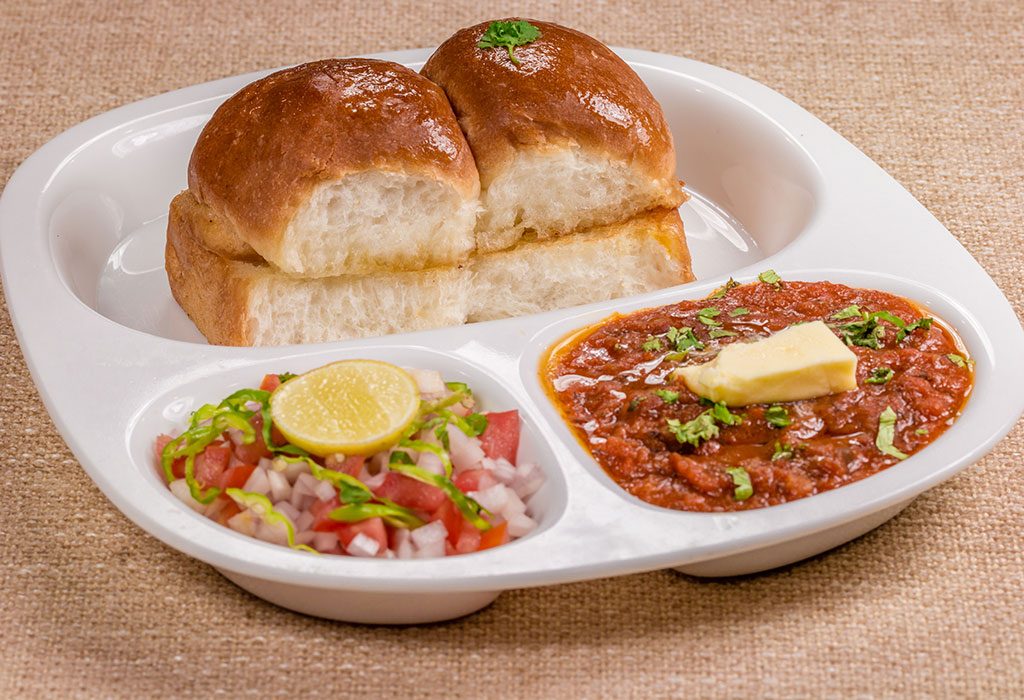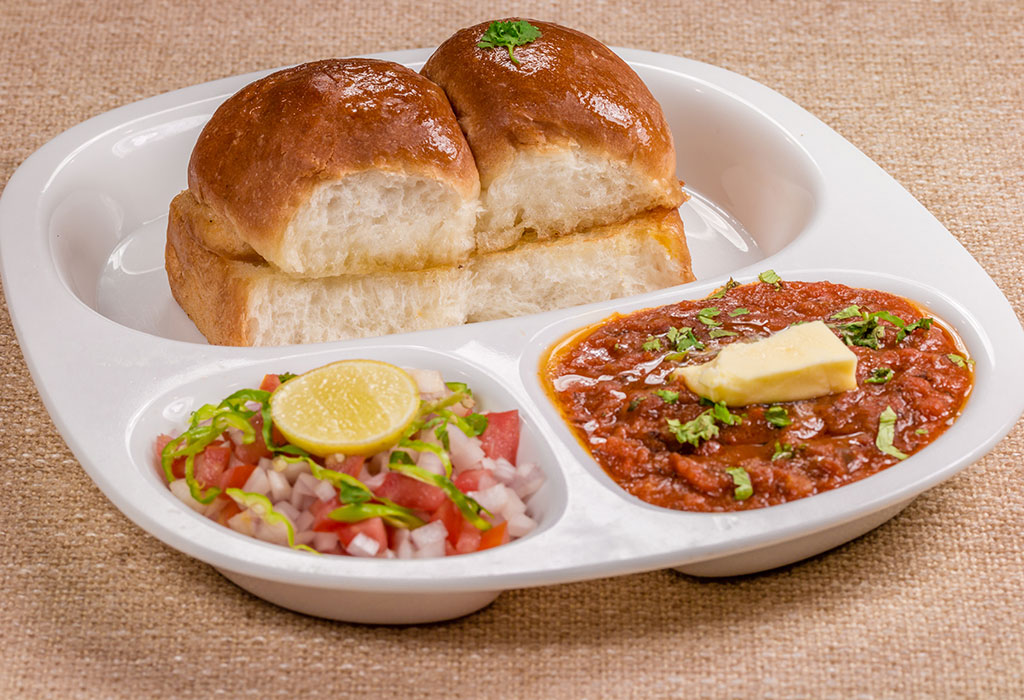 Out of the various Indian Street food recipes, vegetarian pav bhaji is the most famous.
Ingredients
Pav Buns, 12
Onions, 2, finely chopped
Extra virgin olive oil
Coriander leaves, 1 sprig, finely chopped
Ginger, 1 inch, grated
Garlic, 3 cloves, grated
Tomato paste, 1 cup
Capsicum, 1, finely chopped
Carrots, 2, diced
Cabbage, ½ cup, chopped
Cauliflower, 1 cups, florets
Potatoes, 3, peeled, diced
Pav bhaji masala, 2 teaspoons
Chaat masala, 1 teaspoon
Green peas, ½ cup, steamed
Lemon juice, 1 tablespoon
Olive oil for cooking
Salt to taste
Servings: Serves Four
Process
Over a heated pressure cooker, add oil, onions, ginger and garlic.
Sauté until the onions are cooked and slightly translucent.
Add tomato paste, capsicum, carrots, cabbage, cauliflowers and potatoes.
Add pav bhaji masala and chaat masala
Mix well and add a half cup of water.
Close the lid and allow to cook for about three to four whistles
Remove from heat and allow the steam to release by itself
Once all the steam is gone, open the cooker and mash the pav bhaji until it is creamy looking.
Add in lemon juice, butter, peas and mix well
Sprinkle extra virgin olive oil on the sides of the pavs
On a tawa, fry the bread until slightly golden on the inside
Serve hot
Total Cook Time: 55 minutes
2. Vada Pav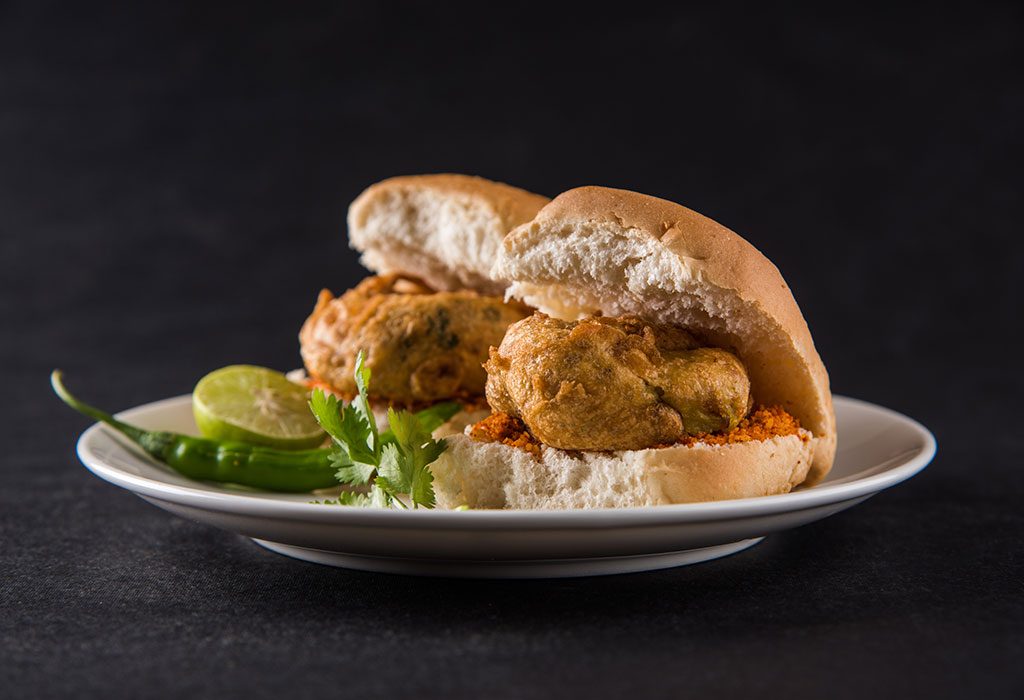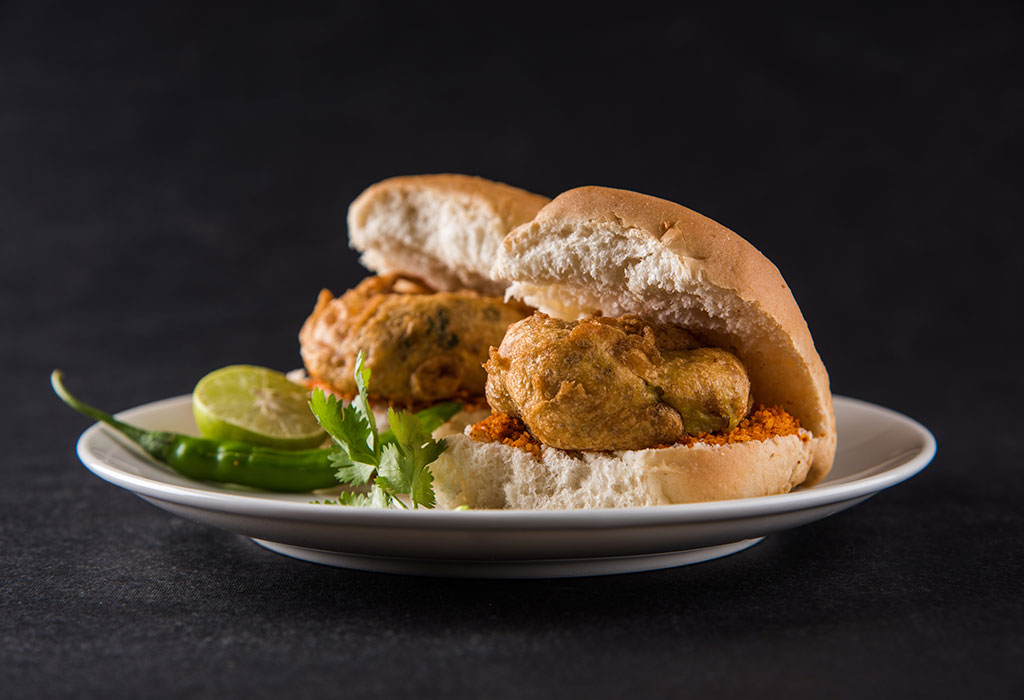 One of the quickest and easiest street food, it can be eaten on the go.
Ingredients
For Aloo
Oil, 2 teaspoon
Mustard, ½ teaspoon
Asafetida (Hing), pinch
Curry leaves, 1 sprig
Ginger, 1 inch, crushed
Garlic, 2 cloves, crushed
Chilli, 1, finely chopped
Coriander, 2 tablespoons, finely chopped
Turmeric (Haldi), ¼ teaspoon
Potatoes, 2, peeled, boiled and mashed
Salt, ½ teaspoon
Lemon juice, 1 tablespoon
Besan Batter
Gram flour (besan), 3/4 cup
Rice flour, 1 tablespoon
Turmeric (Haldi), ¼ teaspoon
Red chilli powder, ¼ teaspoon
Asafetida (hing), pinch
Salt, ¼ teaspoon
Baking soda, ¼ teaspoon
Water, ½ cup
Oil
Others
Dinner rolls/pavs, 6
Green chilli, 7
Green chutney
Tamarind chutney
Dry garlic chutney
Servings: Serves six
Process
Mix all the ingredients for aloo mixture and form into little balls
Dip it into besan mixture, coating it well
Deep fry aloo balls
Spread the chutneys over the insides of pavs
Place chilli and aloo ball on the inside and close
Serve hot
Total Cook Time: 30 minutes
3. Tunday Kabab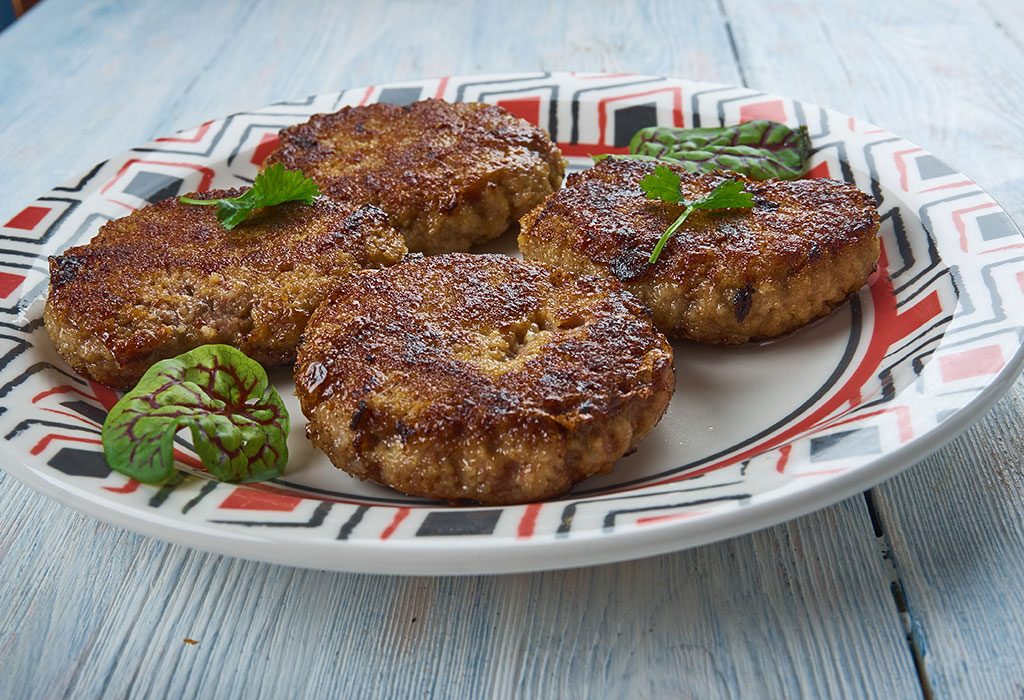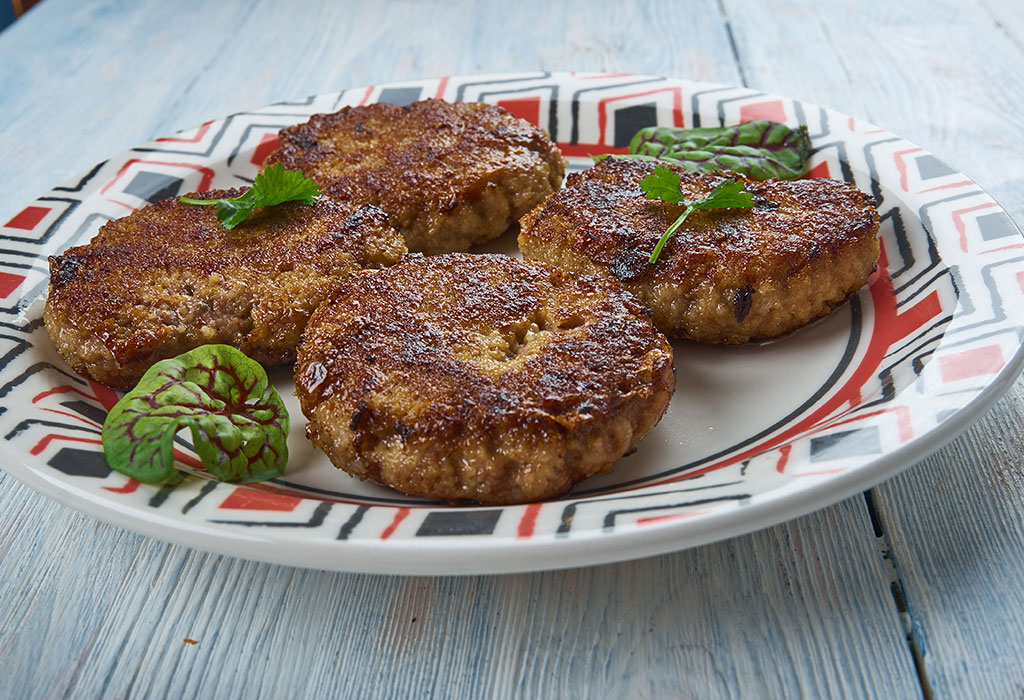 This is one of the most famous Lucknow street food recipes of all time.
Ingredients
Minced meat, 500 gm
Kachari powder, 1 teaspoon
Caraway Seeds, 2 teaspoons
Green Cardamoms, 10
Cloves, 10
Mace blades, 4
Black cardamom, 3
Black peppercorns, 10
Stone flowers, 4
Fennel seeds, two teaspoons
Star anise, 3
Rose petals, 4, dried
Kabab chini, 3
Cinnamon, 1 inch
Nutmeg, 1, crushed
Khas ki jadh, 1 tablespoon
Pan ki jadh, 1 tablespoon
Red chilli powder, 1 teaspoon
Garlic, 2 teaspoons, finely chopped
Browned onions, 1 cup
Raw papaya paste, 1/4 cup
Rosewater, 2 teaspoons
Ghee, ¼ cup
Gram flour, ¼ cup, roasted
Butter, 1 tablespoon
Salt to taste
Coriander, chopped
Onion rings
Servings: Serves three
Process
Grind spices together into a powder
Place a piece of charcoal in an open flame
Mix minced meat, raw papaya paste and garlic in a bowl
Crush browned onions with chilli powder, salt, gram flour, ground masala powder and rosewater.
Mix into the meat and place this mixture on a plate
Put heated charcoal in a small bowl and put it in the middle of the plate of minced meat\
Drizzle butter over the piece of charcoal and immediately cover the dish
Drizzle ghee on a heated tawa
Take meat into small lumps and cook it well on all sides
Garnish each piece with some onions and coriander
Total Cook Time: 20 minutes
4. Momos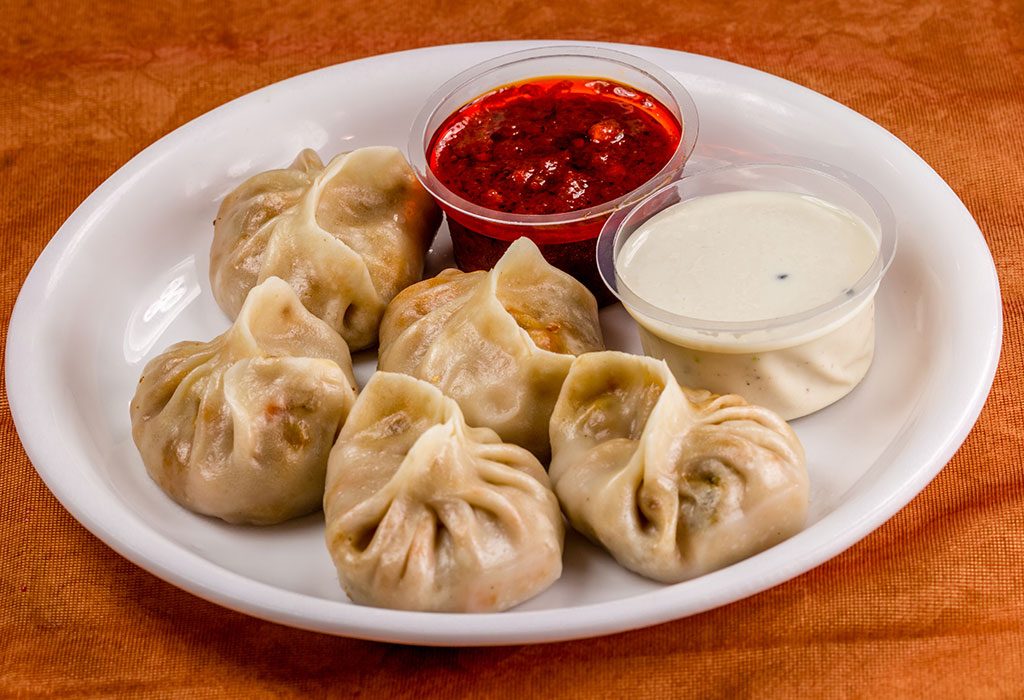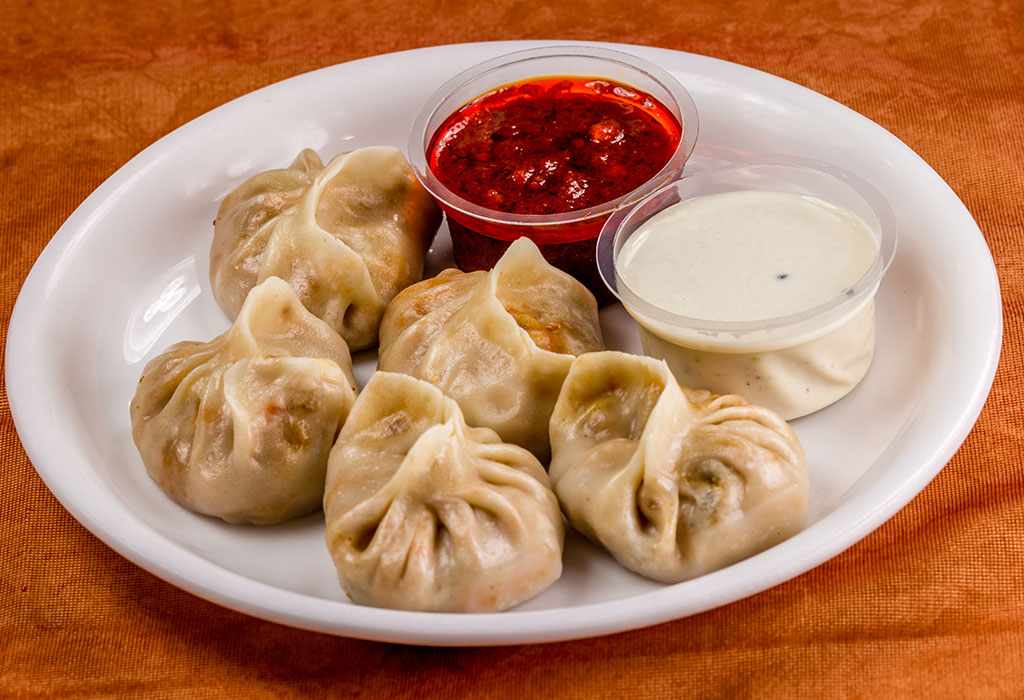 Delicious finger food that is very good for you and amazing to eat.
Ingredients
Maida, 250 g
Cabbage, 500 g
Onions, 200 g, finely chopped
Ghee, 1 tablespoon
Ajinomoto, 2 teaspoons
Salt to taste
Servings: Serves four
Process
Knead the dough and keep aside. Cover with damp cloth.
In a bowl, add all the ingredients and mix.
Roll dough out into small and thin circular disks.
Put filling at the centre of these and fold them, using water to bind edges shut.
Steam for 15 minutes, and make sure that they are not touching each other in the steamer.
Serve with tomato chutney.
Total Cook Time: 30 minutes
5. Muttai Dosa
If you have kids, this Muttai dosa is one of the tastiest street food egg recipes to give them.
Ingredients
Dosa batter, 4 cups
Eggs, 4
Pepper, pinch
Ghee, ½ teaspoon each dosa
Servings: Serves four
Process
Heat a tawa or pan
When hot, add ghee and spread well
Add one big spoon of batter and spread well into a circular shape
Beat an egg in a bowl and spread it onto the dosa
Sprinkle some seasonings of salt and pepper
Drizzle ghee onto edges to keep from sticking to the pan
Flip and let the egg cook
Once all dosas are made, serve with chutney, sambar or plain.
Total Cook Time: 15 minutes
6. Veg Noodles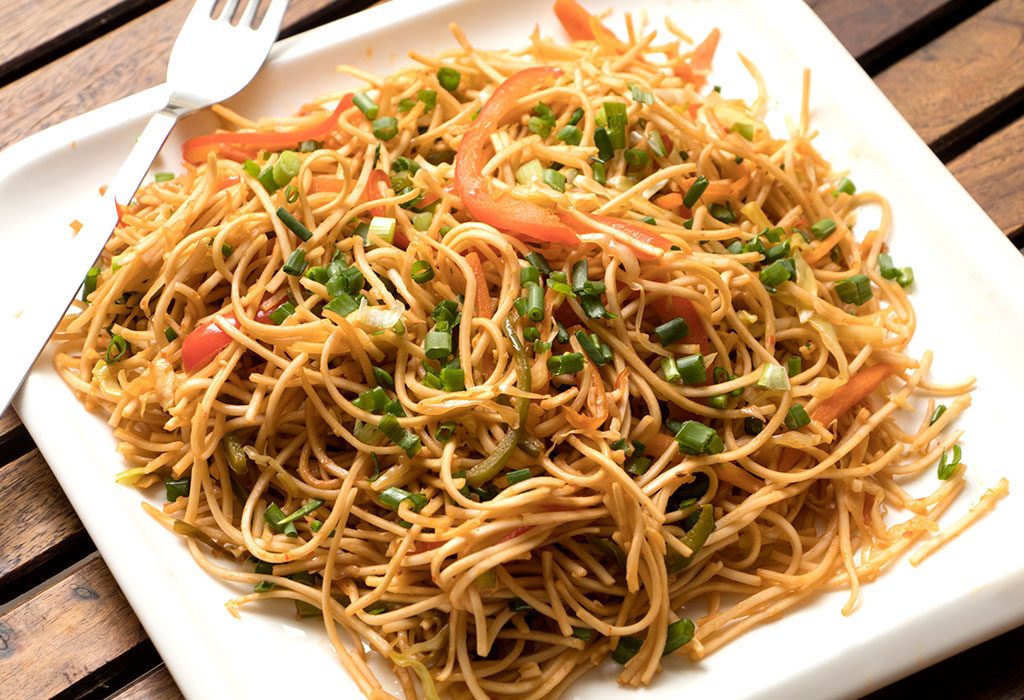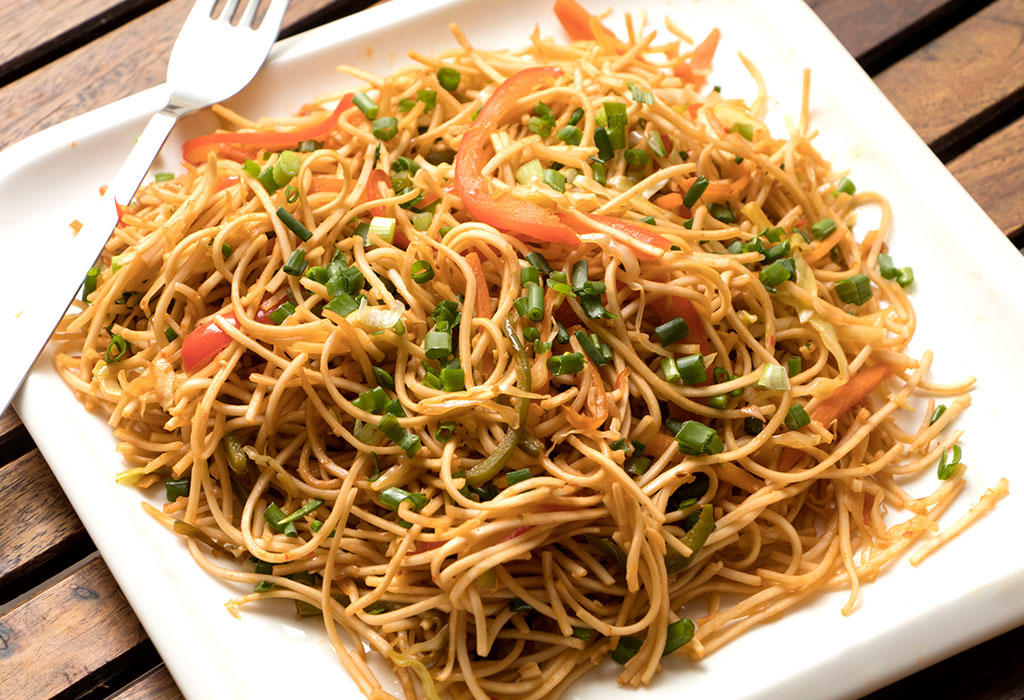 The next time someone gets a craving for some Indo Chinese street food, this Indian street food noodles recipe is the one to use.
Ingredients
Noodles, 200 grams
Water, 1.5 litres
Oil, ½ teaspoon
Salt, ½ teaspoon
Cabbage, 1 cup, shredded
Carrot, 1, shredded
Spring onions, 3, fine chopped
French beans, 8 to 10, sliced diagonally
Capsicum, 1, finely chopped
Garlic, 4 cloves, finely chopped
Ginger, 1 inch, finely chopped
Soy sauce, 2 tablespoons
Celery, 2 teaspoons, fine chopped
Sesame sauce, 3 tablespoons
Black pepper
Salt
Rice vinegar, 1 teaspoon
Servings: Serves three
Process
Prepare noodles and strain them
Heat some oil in a large pan
Add ginger and garlic. Sauté for a few seconds
Set the flame to high, then add onions
Sauté until onions are translucent
Add vegetables one by one
Continue to cook on high flame. Keep stirring
Vegetables should remain crunchy, so do not overcook them
Add celery, soy sauce, salt and pepper. Continue to stir
Add this mixture into noodles and toss until everything is well combined
Serve hot
Total Cooking Time: 30 minutes
7. Idli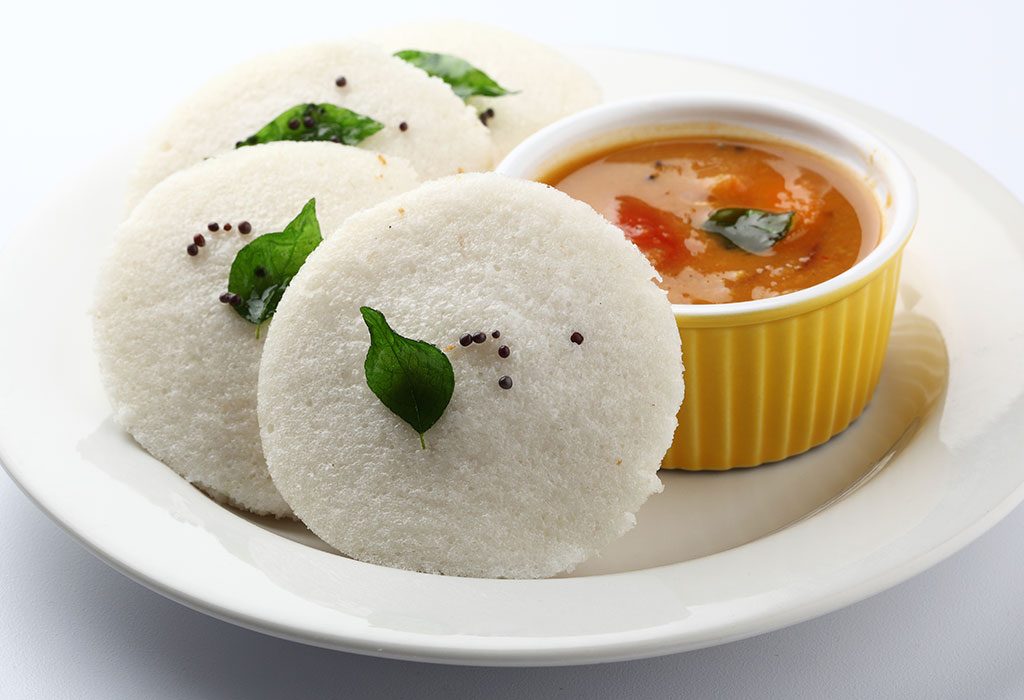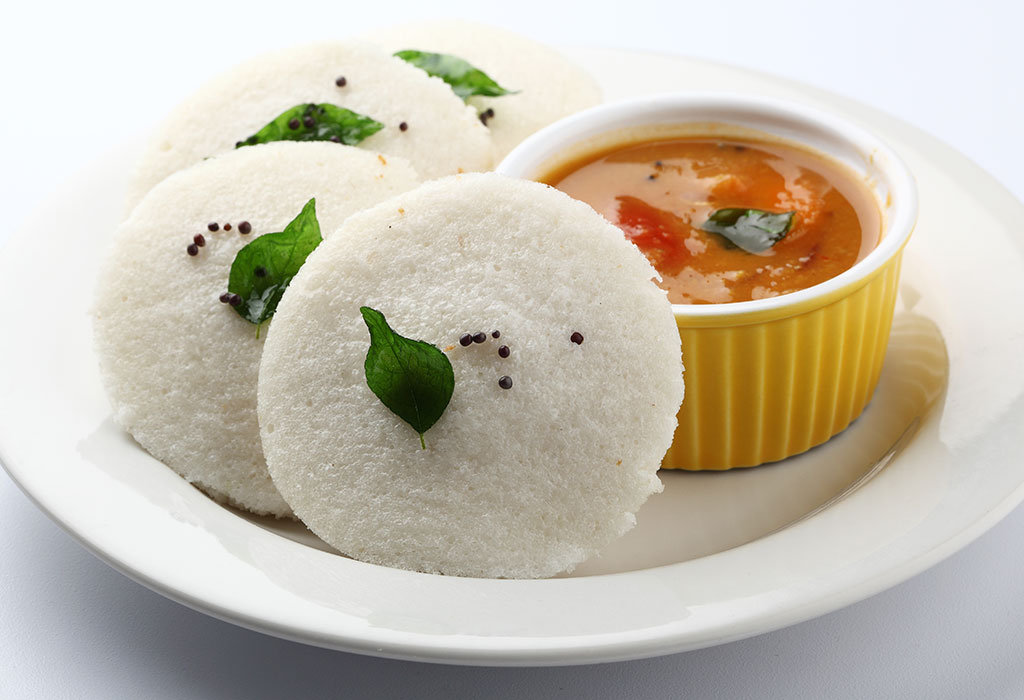 Idli is a popular South Indian breakfast that is already enjoyed by many.
Ingredients
Urad dal, ½ cup
Cold water, 1 cup
Idli rice, 1 cup
Beaten rice, 2 tablespoons
Sea salt/rock salt
Servings: 16 idlis
Process
Separately wash the rice and dal and then leave to soak for about 6 hours
Add beaten rice to soak with dal
Drain the water after 6 hours
Grind rice and dal with some water
Set batter aside for anywhere between 6 to 12 hours
Once it has fermented and then risen, bring water to a boil in a pressure cooker or idli steamer
Grease moulds for the idlis
Gently mix batter a little and add to idli moulds
Once the water is steaming, put the idli mould stand to steam
Cover the dish and allow it to steam for ten minutes
Remove idli stand and leave it to cool
The idlis should not have any liquid looking top once it has cooled down
Place on a plate and serve with chutney and sambar
Total Cook Time: 20 minutes
8. Vada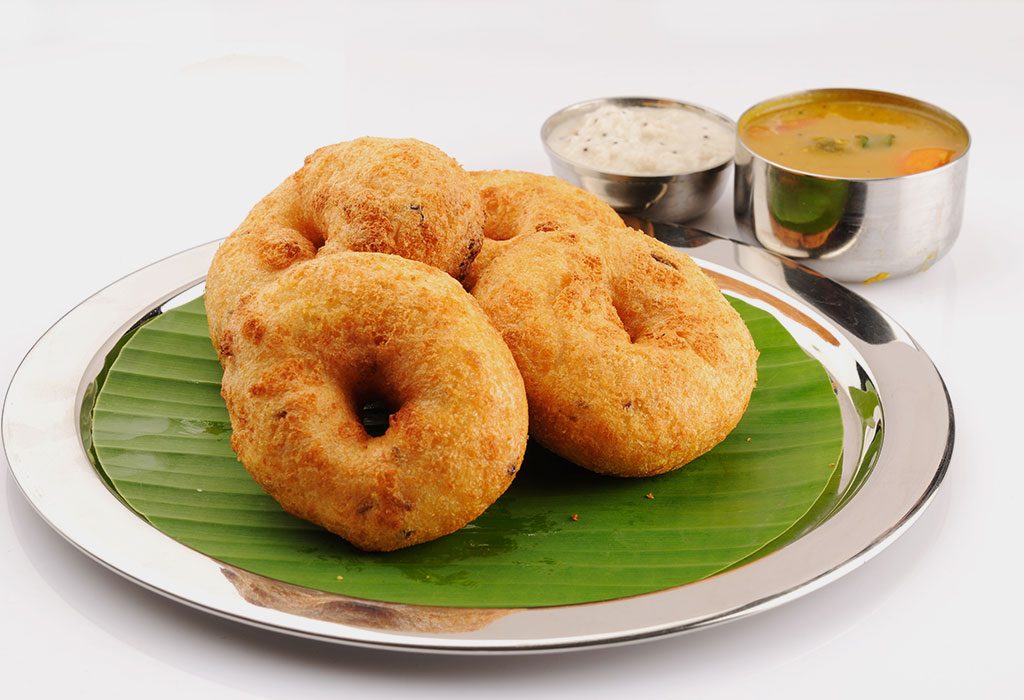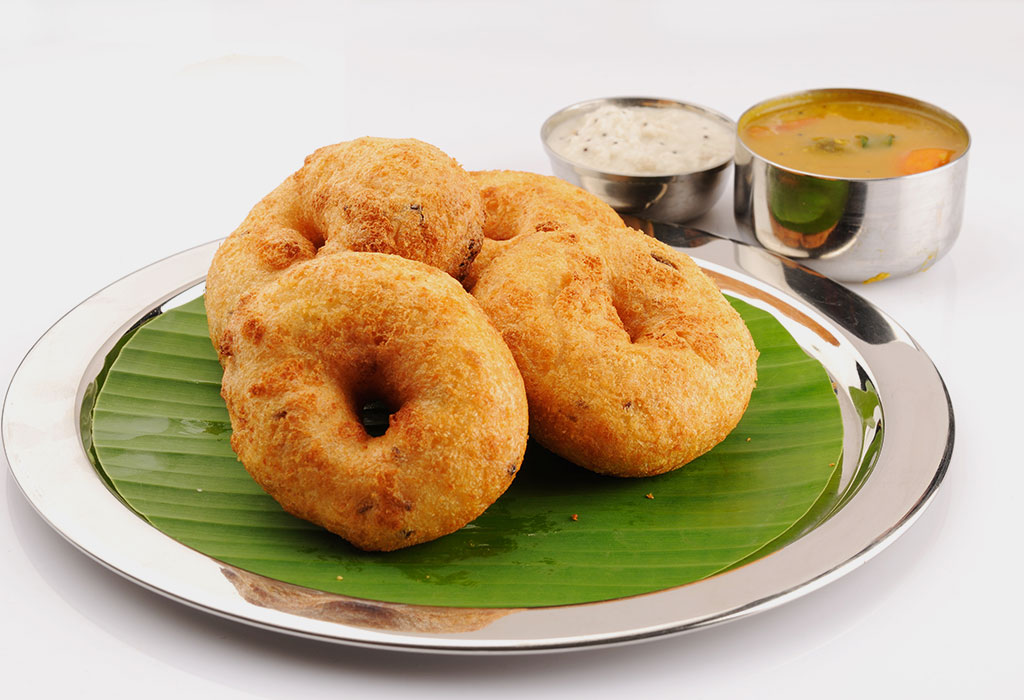 This is a dish that is enjoyed over some chutney or sambar.
Ingredients
Urad dal, 2 cups
Cumin seeds, 1 teaspoon
Black peppercorns, 1 teaspoon, crushed
Curry leaves, 1 sprig
Onion, 1, finely chopped
Green chillies, 2, finely chopped
Ginger, 1 tablespoon, finely chopped
Coconut, 1/3 cup, chopped
Coriander, few sprigs, chopped
Salt to taste
Oil for frying
Water
Servings: Serves four
Process
Soak urad dal overnight
Grind dal into the batter, use water if it is too thick
Add onions, spices, herbs and salt.
Mix well
Wet your hands and mould little balls in your hands out of the batter
Make a hole in the centre with your thumb
For deep frying, heat some oil in a pan and slide the Vadas in
Once golden brown on one side, turn them over to cook on the other side.
Serve hot with chutney and chai
Total Cook Time: 40 Minutes
9. Grilled Cheese Sandwich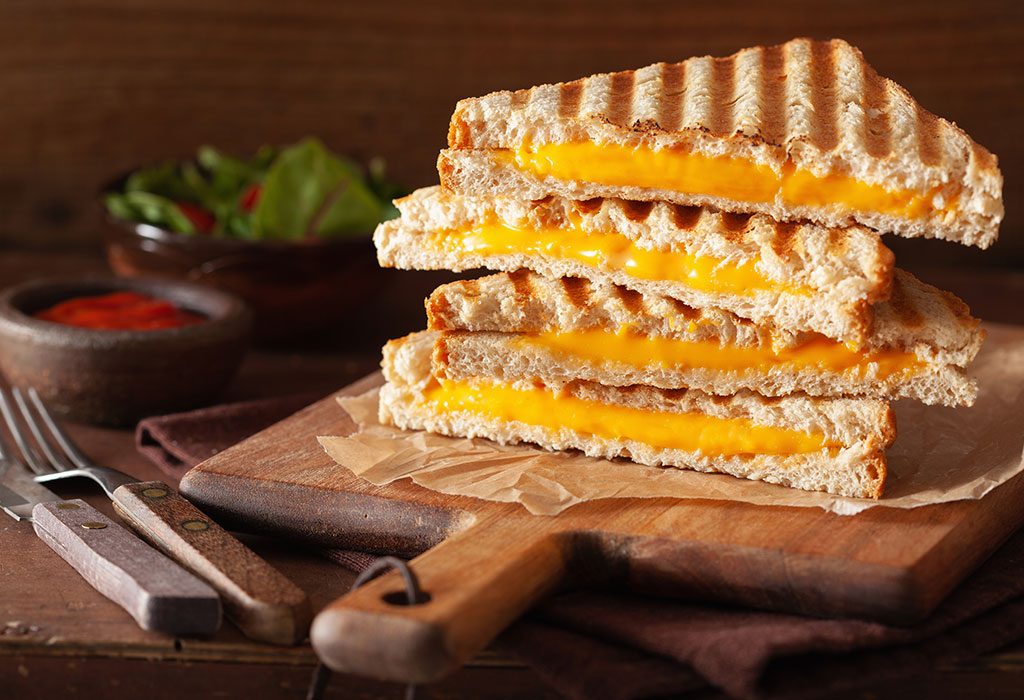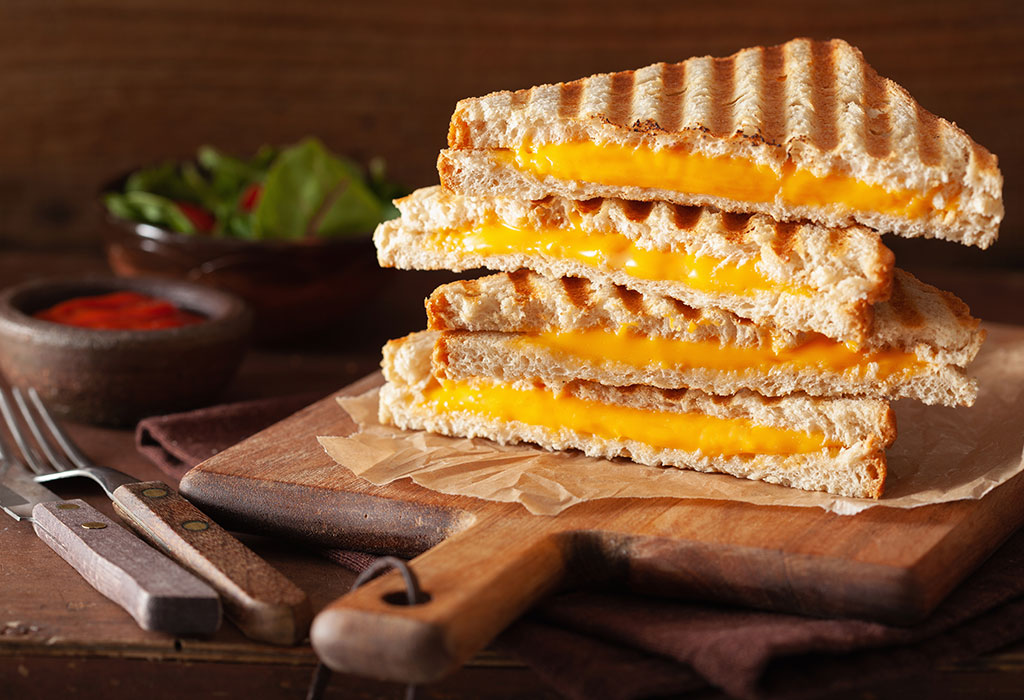 This simple street food sandwich recipe is a classic and the best.
Ingredients
Whole grain bread, 4 slices
Mozzarella cheese, 4 slices
Butter
Oregano
Pepper, crushed, 1 teaspoon
Chilli flakes, 1 teaspoon
Servings: Serves two
Process
Butter bread slices
Heat a pan and place two slices on it
Once golden brown, flip it over onto the other side and put a slice of mozzarella cheese on the bread
Cover the slice with another slice of bread
Cook well on both sides
Slice and serve
Total Cooking Time: 10 minutes
10. Gujarati Dhokla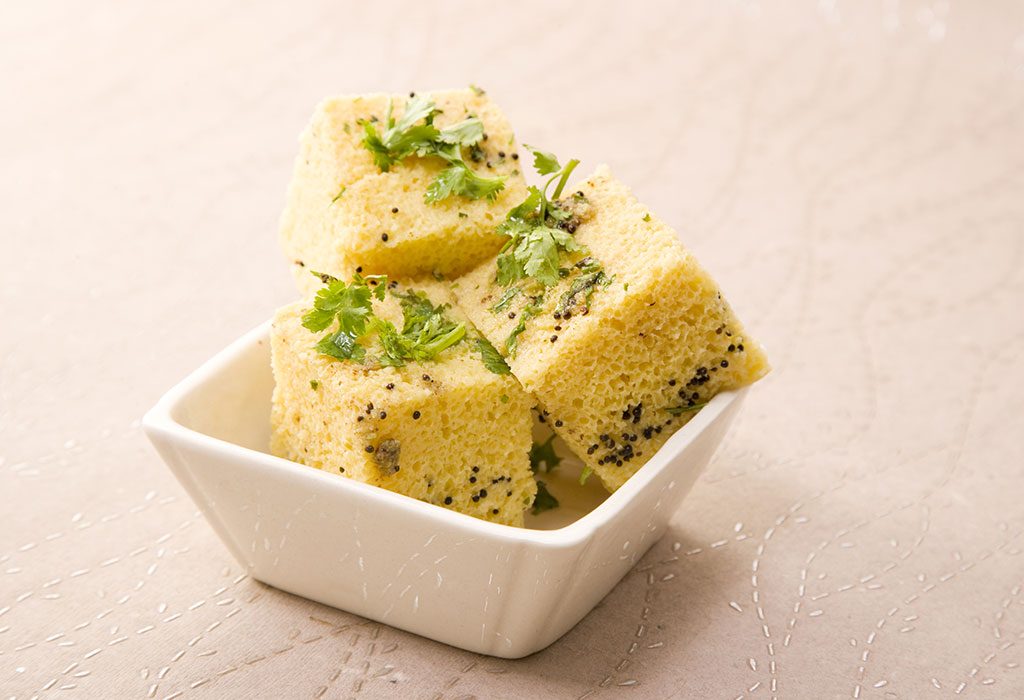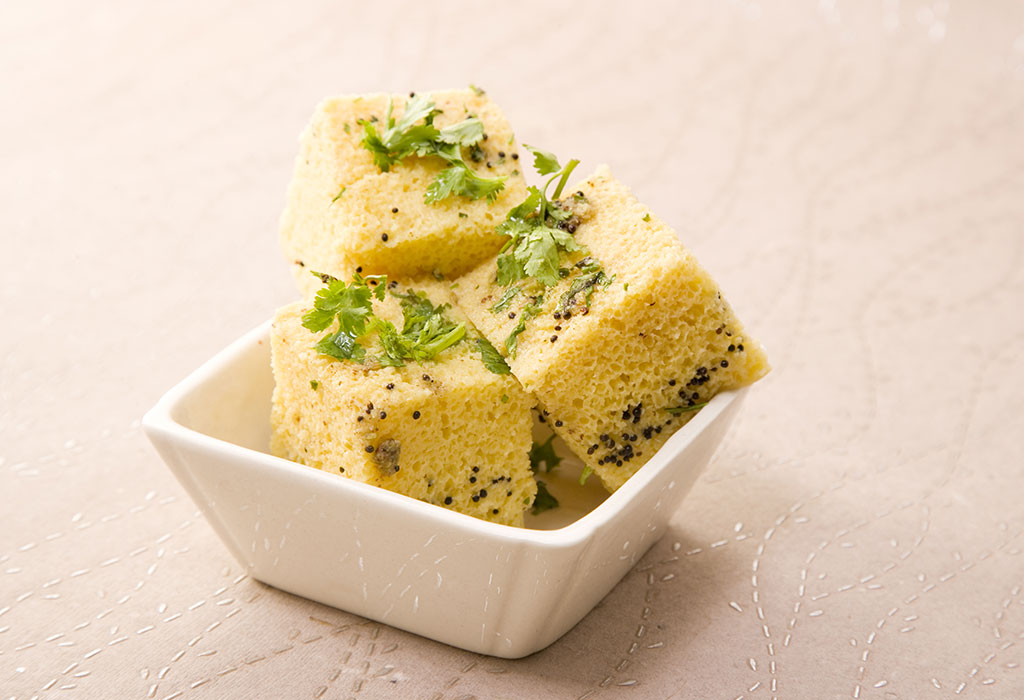 A combination of deliciousness and health, this is one of the most favoured among all Gujarati street food recipes.
Ingredients
Toovar dal, 1 tablespoon
Rice, 1 cup
Chana dal, ½ cup
Turmeric powder, pinch
Salt
Red chilli powder, 1 teaspoon
Ginger garlic paste, 1 tablespoon
Green chilli paste, 1 teaspoon
Oil, 1 teaspoon
Baking soda
Curd, 4 tablespoons
Red chilli powder and chopped coriander for garnish
Servings: Serves four
Process
Clean and wash lentils and rice and then leave to soak for about 4 hours
Drain and then grind into a paste along with the curd
Make this a fine paste and then cover and let ferment for about eight hours
Add salt, ginger garlic paste, turmeric, red chilli powder, green chilli paste and oil and mix it all well
Grease platter in which steaming will be done
Take a small amount of batter into a smaller bowl and add baking soda to it.
Quickly pour this into a plate, sprinkle some chilli powder and coriander and steam for about 15 minutes
Cook the rest of the batter in the same way.
Total Cook Time: 25 minutes
India has become well-known around the world for the delicious goodies that it provides along the streets. Getting tempted by the food available is understandable, but making these sought after treats at home for your family may be the smarter thing to do so try the above recipes and enjoy.
Also Read:
Delicious Homemade Indian Chaat Recipes
Quick and Yummy Dinner Recipes for Family
Snack Recipes for Tea Time with Family