18 Healthy Soups to Try During Pregnancy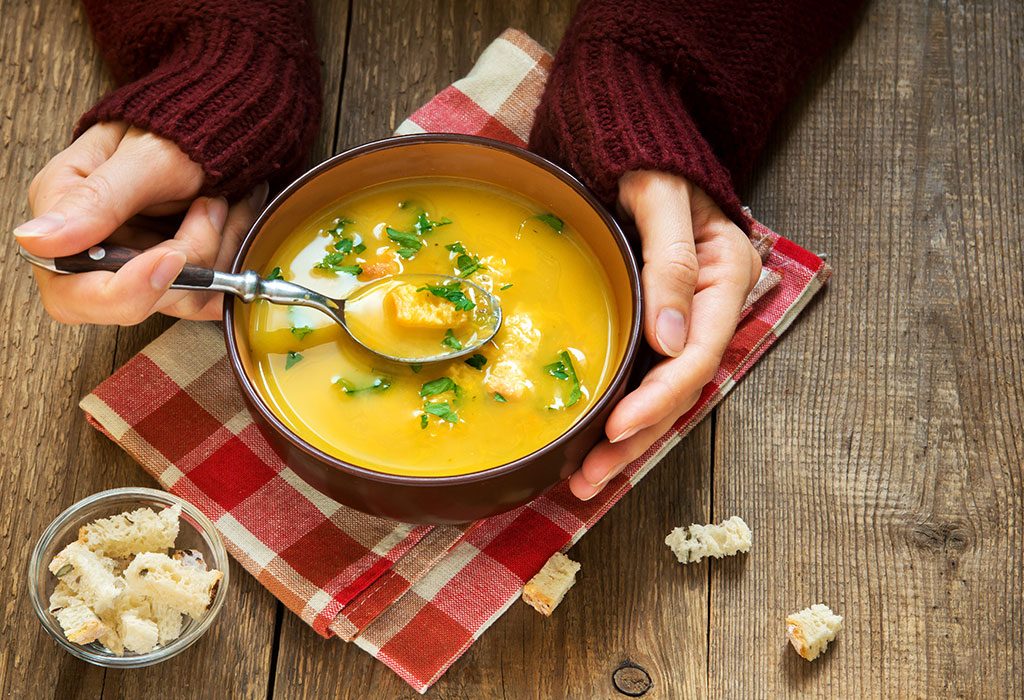 With the excitement of a baby along the way, people often buckle their belts for the nine months of caution up ahead. While everything the mother-to-be does is under scrutiny, one of the first things that needs attention is the pregnant woman's diet. It is essential to have a diet that not only suits the mother through those nauseous mornings and sleepless nights but is also healthy for the baby. Soups in pregnancy are nutritious and easy to consume.
Is It Safe to Drink Soups When Pregnant?
Yes, it's generally safe to hot soup during pregnancy, as long as the ingredients are cooked thoroughly, and the soup is prepared and stored correctly to prevent foodborne illnesses. Be cautious of ingredients like raw or undercooked meats, eggs, or seafood, and ensure the soup is heated to a safe temperature. Also, consult your healthcare provider for personalized advice during pregnancy.
Benefits of Drinking Soups in Pregnancy
Drinking soups during pregnancy can be a nutritious and comforting choice. These warm, liquid meals offer several benefits supporting the health and well-being of the expectant mother and the developing baby.
Here are some key advantages:
1. Nutrient-Rich
Soups often contain a variety of vegetables, providing essential vitamins, minerals, and fibre to support a healthy pregnancy.
2. Hydration
Proper hydration is crucial during pregnancy, and soups help increase your daily fluid intake while offering flavour and nourishment.
3. Digestive Comfort
The warmth of soup can soothe digestion, which can be particularly helpful if you're experiencing morning sickness or digestive discomfort.
4. Protein Source
Soups with lean meats, beans, or tofu can be excellent protein sources, important for fetal development and overall maternal health.
5. Immune Boost
Ingredients like garlic, ginger, and herbs commonly found in soups can help bolster the immune system, supporting your body during pregnancy.
6. Weight Management
Soups can be filling and satisfying, potentially helping you maintain a healthy weight during pregnancy by curbing excessive hunger.
Always ensure that the soups are prepared safely and include a balanced mix of ingredients. Consulting with your healthcare provider or a nutritionist can help tailor your soup choices to your specific needs during pregnancy.
18 Delicious and Nutritious Soups for Pregnant Women
1. Tomato Soup
Something tangy yet filling to keep you warm on cold days. Tomato soup is a classic, and this one is so easy to make!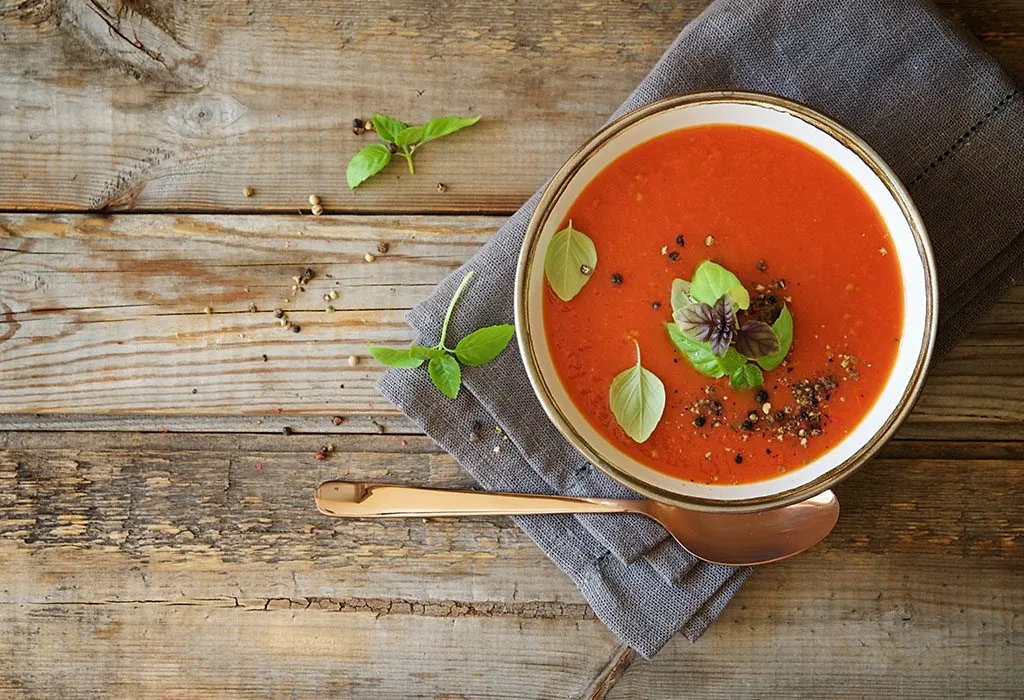 Ingredients
5 tomatoes, chopped
¼ cup of yellow gram
½ onion, chopped
2 teaspoons sugar (optional)
Salt and black pepper to taste
Method
Add the tomatoes and gram to 4 cups of water, and boil till the tomatoes are soft.
Turn off the flame and grind the mixture once it has cooled down.
In a pot, add oil and fry the onions slightly till they are light brown.
Add the tomato mix, sugar, salt, and pepper to the pot and mix it well.
Keep the flame on medium-high and occasionally stir till the soup boils.
Benefits
Tomatoes are rich sources of Vitamin A, Vitamin C, and folate. They also contain iron, which helps to keep the mother and the child strong. Tomato soup during pregnancy is also known to reduce hypertension, and the fibres in the fruit can help with the problem of diarrhoea and constipation.
2. Broccoli Soup
A delicious and healthy soup that everyone will love.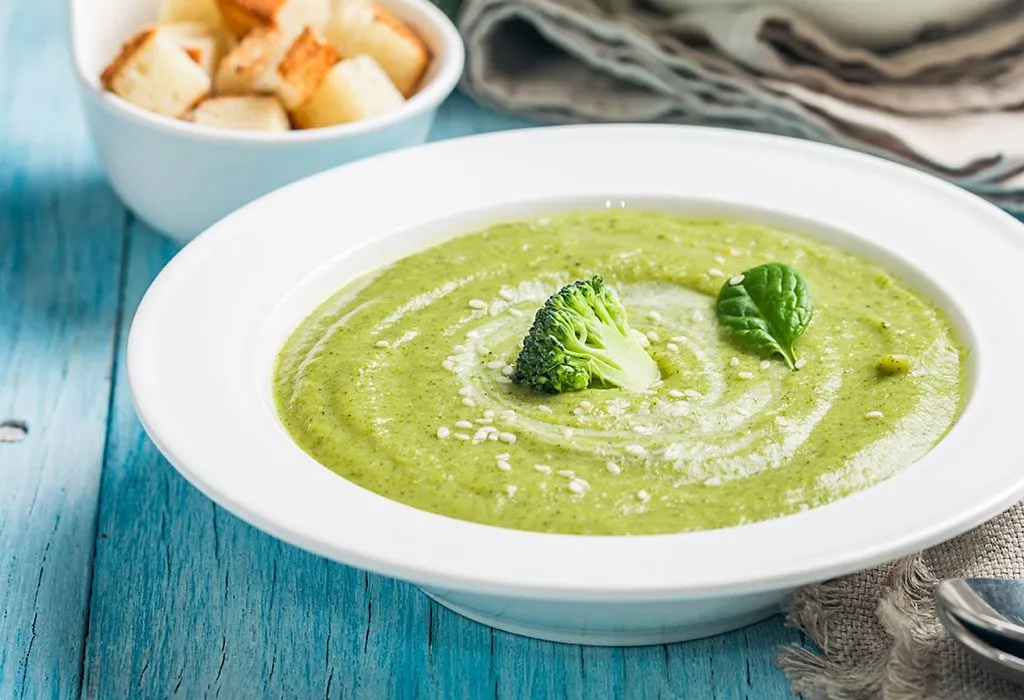 Ingredients
1 cup broccoli florets
1 teaspoon oil
½ cup onion
½ cup milk
Salt to taste
Method
Add oil in a pan and saute the onion till it turns translucent.
In a pot, pour in 1 ½ cups of water with the broccoli and cook on medium flame with the lid on. Stir occasionally.
When the broccoli is soft, turn off the flame and let it cool. Blend the softened broccoli.
Pour the blended broccoli in the pan along with milk, salt, and pepper. Mix well and bring the soup to a boil. Serve hot.
Benefits
The broccoli soup may not be the first on anyone's 'must-try' list, but it's definitely worth it! Broccoli is a potent source of Vitamin A and folic acid. This helps the mother maintain strength during the fragile first and last trimester.
3. Mutton Soup
Something flavoursome for the meat lovers, this soup is super nutritious. Ensure that the meat has been cooked thoroughly, as raw or undercooked venison is linked with toxoplasmosis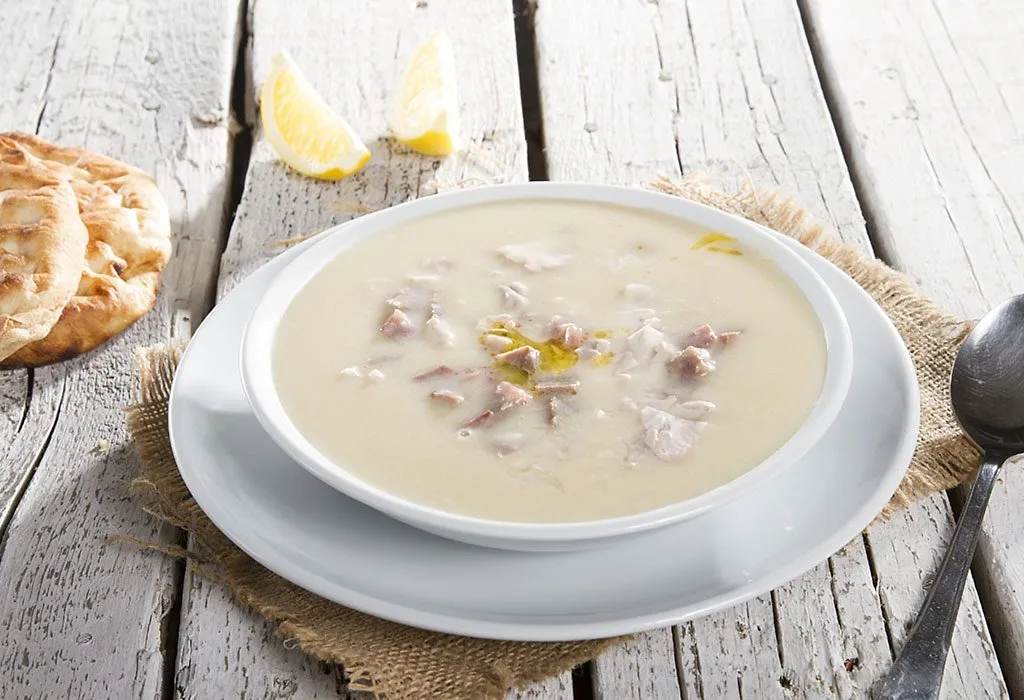 Ingredients
250 grams of mutton (leg piece)
1 onion, chopped
1 tomato, chopped
1 teaspoon cumin seeds
1 teaspoon pepper
4 grated garlic cloves
½ grated ginger piece
Curry leaves
Coriander leaves
Method
Add all your ingredients to a pressure cooker with 4 cups of water.
Add salt as per your taste.
Cook the broth for 5 whistles.
Wait till the pressure is released, and serve hot.
Benefits
Mutton soup during pregnancy is not only beneficial for a pregnant woman with its protein, iron and, calcium content, but it is also good for her health after the delivery.
4. Greek Lemon Soup with Chicken and Pasta Shells
A fancy soup for the days you feel like having something bright and zesty!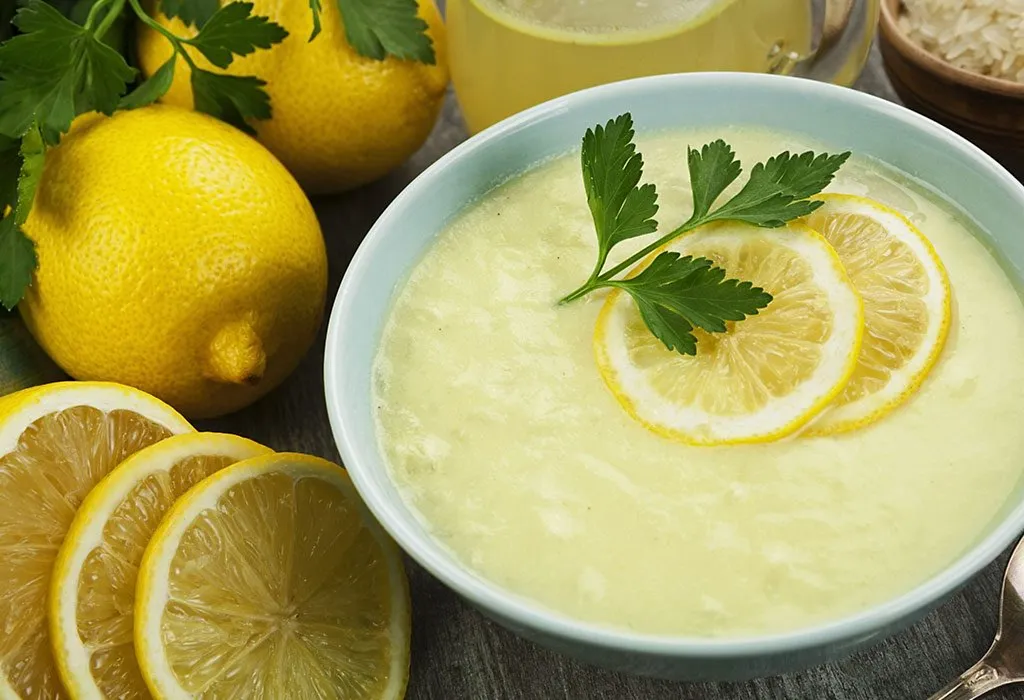 Ingredients
6 cups chicken broth
½ cup pasta (orzo, penne, ribbon)
6 egg yolks
1 ½ cup shredded chicken
¼ cup fresh lemon juice
Salt and black pepper to taste
Method
Bring the chicken broth to a boil in a saucepan. Add pasta and boil for around 7 minutes.
Beat the egg yolks in a bowl till they are light in colour. Slowly add one cup portions of the hot broth to the eggs while whisking the mixture. Make sure you whisk the eggs vigorously but do not cook them.
Add the mixture to the saucepan, cook on medium heat and stir occasionally.
Cook for 5-7 minutes till the soup gets a creamy texture. Add the lemon juice.
Add the chicken and cook till the chicken is cooked thoroughly. Add salt and pepper and serve with bread-sticks.
Benefits
This soup contains egg yolks which are known to help improve the cognitive functioning of a baby. The chicken in the soup has high protein content which is beneficial for the pregnant woman.
5. Chicken Shorba
A healthy alternative for those who love chicken.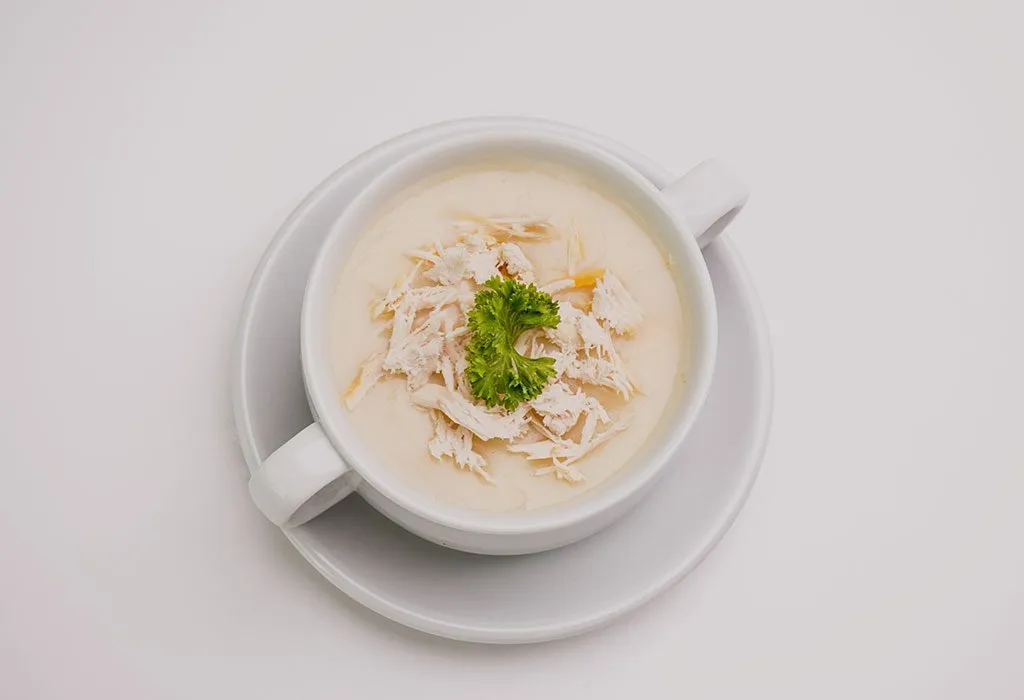 Ingredients
500 grams chicken bones
100 grams cut boneless chicken
10 cloves chopped garlic
1 teaspoon butter
1 tablespoon oil
1 ½ tablespoon refined flour (maida)
Salt and pepper to taste
Method
In a pot, add chicken bones and 4 ¼ cups of water with garlic. Cook till the broth reduces to 2 ½ cups.
Strain and set aside.
Stir-fry the boneless chicken in butter till it's tender.
In a saucepan, add oil and cumin seeds. When the cumin seeds start sizzling, add maida and stir for 1 minute.
Add the stock, chicken, and salt and pepper.
Simmer for 3-4 minutes and serve hot.
Benefits
This soup, apart from being high in protein content, is easily digestible.
6. Creamy Spinach Soup
A palak soup recipe for pregnancy – just as good as Popeye would have wanted!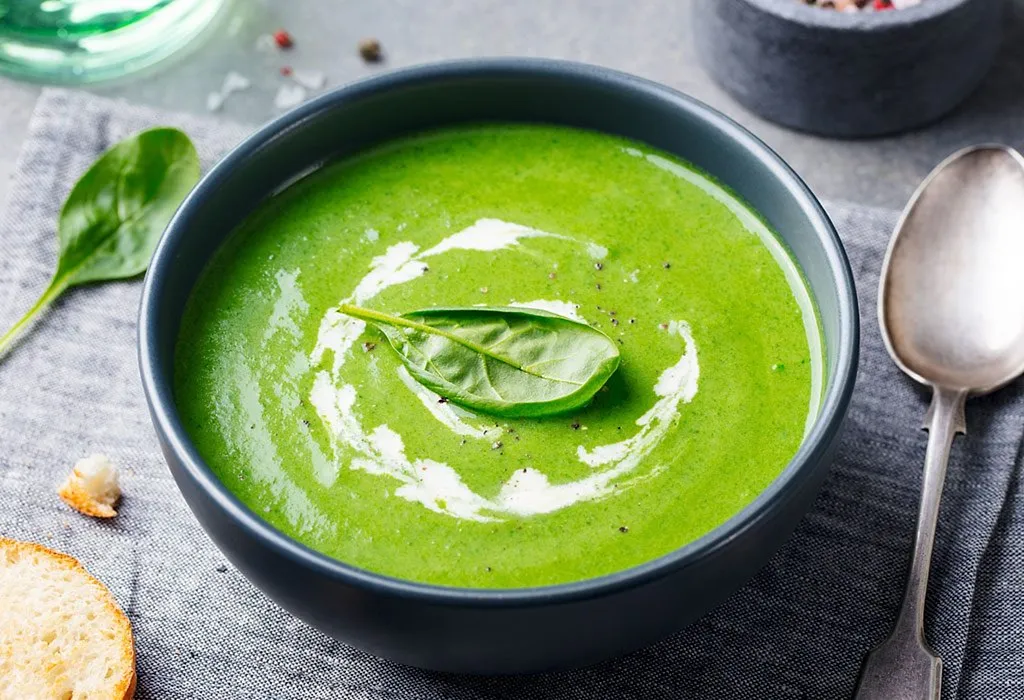 Ingredients
25 grams butter
1 onion, grated
2 teaspoons chopped chives
900 ml vegetable or chicken stock
700 grams fresh spinach
100 grams cream cheese
Nutmeg to taste
Method
Melt some butter in a pan and, fry the garlic and onion until soft.
Add spinach, stock, and chives.
Boil and then simmer the mixture for 5 minutes.
Blend the mixture and add cream cheese and nutmeg.
Simmer for a few more minutes till you reach the required consistency.
Serve with bread.
Benefits
Filled with vitamins, this is a soup that will fill you up. The vitamins, fibre, and other nutrients present in the soup promote digestive health, is low on calories, and reduces hypertension.
7. Cucumber and Mint Soup
A cold soup for those who battle warm weather every day!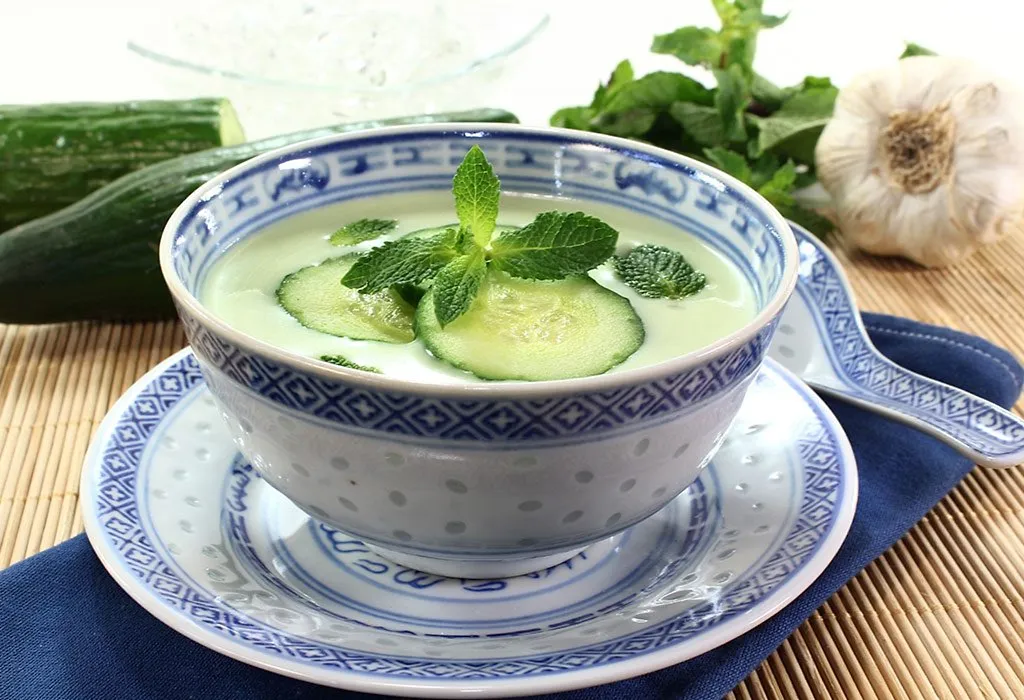 Ingredients
1 chopped cucumber
1 crushed garlic clove
300 ml of yoghurt
3 tablespoons fresh cream
2 tablespoons chopped mint leaves
1 tablespoon ground coriander
Salt and pepper to taste
Method
Add everything to a mixer and blend till you reach a creamy consistency.
Serve with chopped cucumber or garnish with mint leaves.
Benefits
This cold soup is excellent for summer days, and it's really easy to make. It is packed with Vitamin B, C, iron, and zinc that care vital to keeping you strong and healthy during pregnancy.
8. Bean Soup
An alternative to your usual rajma curry!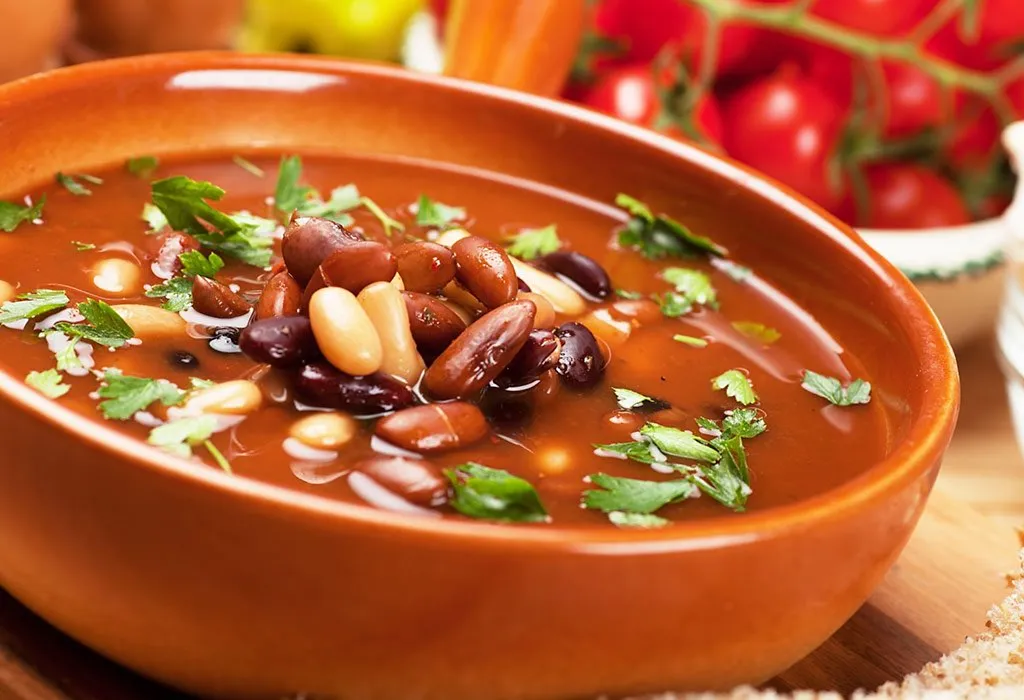 Ingredients
¾ cup soaked kidney beans
½ cup onions, chopped
3 tomatoes, chopped
5 garlic cloves, chopped
1 teaspoon lemon juice
1 tablespoon oil
½ teaspoon of chilli powder
Salt to taste
Method
In a pressure cooker, add oil and fry the onions for 1 minute. Add the tomatoes with the garlic, chilli, and salt and saute for 1 minute.
Add the beans and 3 cups of water to the pressure cooker. Cook the beans till they get soft.
Blend the mixture and add lemon juice.
Garnish the soup with some coriander leaves.
Benefits
This soup is high in carbohydrates, fibre, and iron, all of which are integral for the mother and the baby.
9. Leek and Potato Soup with Bacon
Warm and healthy, and topped with bacon. Nothing gets better than this.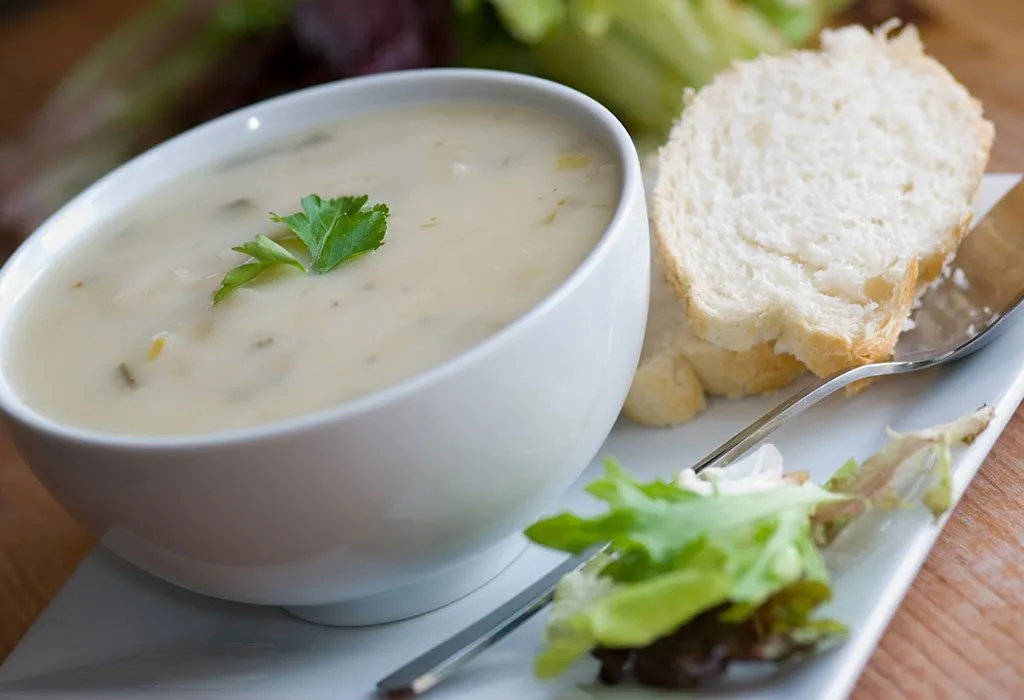 Ingredients
1 tablespoon olive oil
1 onion, chopped
30 grams chopped bacon
1 large or 2 medium leek, chopped
2 chopped potatoes
1 cup milk
Salt and black pepper to taste
Method
Heat the oil in a saucepan.
Add the onion, bacon, and leek. Once the bacon is cooked, add the potatoes and continue cooking for a few minutes.
Add the stock and bring to a boil. Simmer the soup and mash the potatoes to thicken the soup. Add milk, salt and pepper, and simmer till the soup seems creamy.
Add a dash of cream and serve hot.
Benefits
This soup is a great alternative to tomato soup in the winters. Leeks provide the body with calcium and Vitamin B6 , which are helpful in dealing with morning sickness and also help in developing stronger bones.
10. Moroccan Chickpea Soup
For those who cannot let go of their exotic tastes!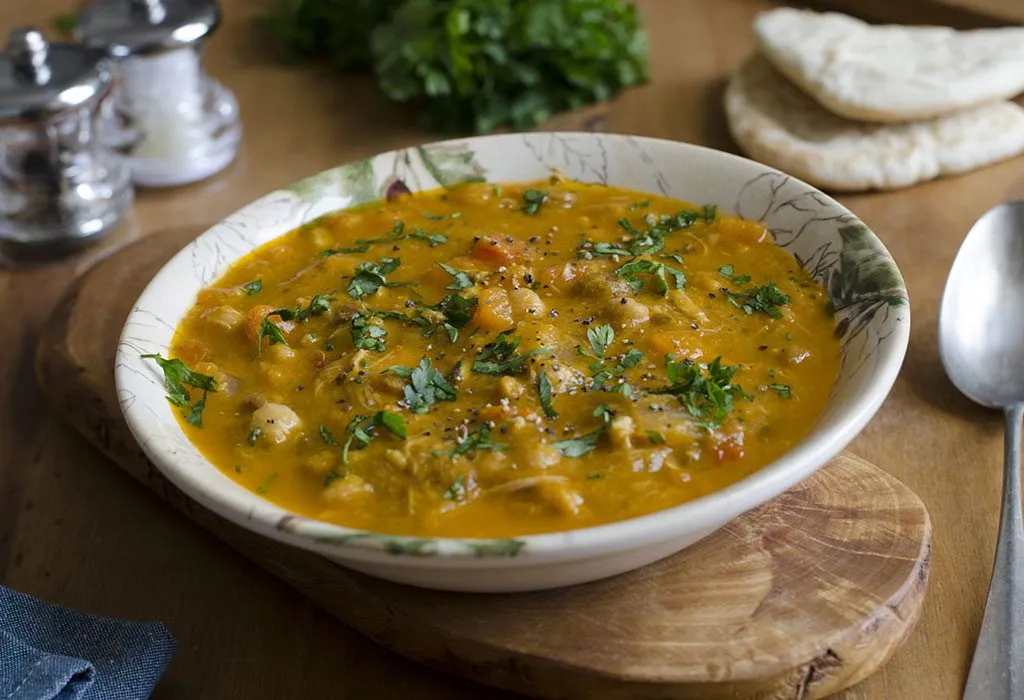 Ingredients
1 tablespoon olive oil
1 onion, chopped
2 chopped celery stalks
600 ml. boiled vegetable stock
400 grams soaked chickpeas
400 grams chopped tomatoes
½ lemon
Method
Add oil, onion, celery stalks, and 2 spoons of cumin powder to a pan. Stir till the vegetables get soft.
To that, add the stock, tomatoes and chickpeas. Simmer the soup for 8 mins.
Add the lemon, salt and pepper to taste and sprinkle some herbs (optional).
Serve with bread.
Benefits
Chickpeas are a source of potassium and fibre, which help keep the mother's blood pressure and cholesterol in check.
11. Beetroot Soup
This healthy soup is flavoursome, and the bright pink colour makes the soup difficult to resist.
Ingredients
1 onion, chopped
4 beetroots, cooked and chopped
1 potato, diced
1 carrot, chopped
1 red chilli, finely chopped
1 garlic clove crushed
Oil
½ tsp paprika or red chilli powder
2 tbsp yoghurt1 tbsp oil
2 cups vegetable stock
Salt and pepper to taste
Method
In a pot, heat the oil and add the onion, garlic, and red chilli and fry till the onions become translucent.
Add the potato, carrot, and paprika and saute for a few minutes. Pour the stock and boil the mixture till the potato and carrot get soft.
Add the beetroot, and simmer the mixture for 5-10 minutes. Blend the mixture until smooth.
Add the yoghurt, salt and pepper to taste. Garnish with a dash of yoghurt.
Benefits
Beetroot is a rich source of folic acid and iron, making this vegetable beneficial for pregnant women. Folic acid is essential for the development of the baby's nervous system. Also, the nitrates present in beetroot help in lowering blood pressure.
12. Saffron Vegetable Soup
Full of vegetables, this soup is an absolute treat for vegetarians and non-vegetarians alike. However, go easy on the saffron and consume it in moderation.
Ingredients
1 carrot, diced
1 onion, chopped
1 celery stalk, chopped
250 grams green beans, chopped
1 large tomato, chopped
2 garlic cloves, minced
1 cup chickpeas, cooked
1 pinch of saffron
2 tbsp oil
4 cups vegetable stock
Salt and pepper to taste
Basil leaves for garnishing
Method
In a pot, heat the oil and add the carrot and celery, cook these till they get softened.
Add onion, garlic and tomato, cook till they get soft. Add the green beans and saute for a few minutes.
Add the saffron and vegetable stock to the pot and boil the mixture. Add the chickpeas and cook for 10-15 minutes.
Add salt and pepper to taste and garnish with a basil leaf.
Benefits
The variety of vegetables in this soup is nutritious. Additionally, saffron is known to help with mood swings. Hence, having this soup will not only improve your physical health but also help you manage your emotional health.
13. Lentil and Spinach Soup
This soup is a rich source of iron and folate, essential for pregnancy.
Ingredients
1 cup dried green lentils

2 cups fresh spinach leaves

1 onion, chopped

2 cloves garlic, minced

4 cups vegetable broth

1 tsp cumin

Salt and pepper to taste
Method
Start by giving the lentils a good rinse, then set them aside.

In a pot, sauté the onions and garlic until they become translucent.

Combine the rinsed lentils, spinach, cumin, and vegetable broth in the pot.

Allow the mixture to simmer for 25-30 minutes or until the lentils reach the desired tenderness.

Season the dish with salt and pepper to taste.
Benefits
This soup provides a healthy dose of iron and folate, important for preventing anaemia during pregnancy.

Rich source of fibre and essential vitamins
14. Sweet Potato and Lentil Soup
This vibrant soup is packed with essential nutrients for expecting mothers.
Ingredients
2 sweet potatoes, peeled and diced

1 cup red lentils, rinsed

1 onion, chopped

2 cloves garlic, minced

1 tsp turmeric

1 tsp cumin

6 cups vegetable broth

Salt and pepper to taste
Method
In a pan, sauté the onions and garlic until they release their fragrance.

Introduce sweet potatoes, lentils, an array of spices, and the broth into the mixture.

Let it simmer until the sweet potatoes reach a tender consistency.

After simmering, use a blender to achieve a smooth and creamy texture.
Benefits
Rich in folate, crucial for fetal development.

High fibre aids digestion and prevents constipation.

Packed with vitamins A and C for immune support.
15. Miso and Mushroom Soup
A savoury and comforting soup with a unique umami flavour.
Ingredients
4 cups vegetable broth

2 tbsp miso paste

1 cup sliced shiitake mushrooms

1 cup spinach

1 tsp grated ginger

2 green onions, chopped
Method
Begin by heating the broth and dissolving the miso paste within it.

Afterwards, introduce the mushrooms and ginger to the broth, then allow the mixture to simmer.

Finally, stir in the spinach and green onions, ensuring all ingredients are thoroughly combined.
Benefits
Miso provides probiotics for gut health.

Mushrooms offer vitamin D for bone development.

Spinach supplies iron to prevent anaemia.
16. Avocado and Tomato Gazpacho
This is a refreshing chilled soup with a creamy twist.
Ingredients
2 ripe avocados

4 ripe tomatoes

1 cucumber, peeled and seeded

1 red bell pepper, diced

¼ cup red onion, minced

2 cloves garlic, minced

2 tbsp fresh lime juice

2 cups tomato juice

Salt and pepper to taste
Method
In a blender, combine avocados, tomatoes, cucumber, and pepper. Add a suitable amount of water for your desired consistency; typically, 1/2 to 1 cup is a good starting point. Blend until you achieve a smooth and creamy texture.

Next, mix in finely chopped onion, minced garlic, lime juice, and tomato juice, ensuring all the ingredients are well incorporated.

To further enhance the flavour, season the soup with salt and pepper according to your taste preferences.

After seasoning, cover the mixture and refrigerate it to chill for at least one hour, allowing the flavours to meld and the soup to become refreshingly cool.

Once the soup has properly chilled, it's ready to serve. You can garnish it with fresh herbs, croutons, or a drizzle of olive oil if desired.
Benefits
Avocado provides healthy fats for brain development.

Tomatoes offer vitamins C and K for overall health.

Cucumber helps with hydration.
17. Quinoa and Kale Soup
A hearty and protein-packed soup perfect for energy.
Ingredients
1 cup quinoa, rinsed

4 cups vegetable broth

2 cups kale, chopped

1 carrot, diced

1 celery stalk, chopped

1 tsp dried thyme

Salt and pepper to taste
Method
Begin by cooking the quinoa in vegetable broth until it reaches a tender consistency.

Then, introduce kale, carrot, celery, and thyme into the cooked quinoa. Allow the mixture to simmer until the vegetables have become tender.
Benefits
Quinoa provides complete protein.

Kale is rich in vitamins A and K.

Carrots offer vitamin A for eye health.
18. Coconut and Butternut Squash Soup
This is a creamy, flavorful, healthy soup for pregnancy with a tropical twist.
Ingredients
1 butternut squash, peeled and cubed

1 can of coconut milk

1 onion, chopped

2 cloves garlic, minced

1 tsp curry powder

4 cups vegetable broth

Salt and pepper to taste
Method
Start by sautéing onions and garlic until they become fragrant and translucent.

Add the squash, along with curry powder and broth, to the sautéed onions and garlic.

Simmer the mixture until the squash has softened to your desired level of tenderness.

Once the squash is soft, use a blender to combine the mixture with coconut milk until you achieve a creamy consistency.
Benefits
Squash provides vitamin C and fibre.

Coconut milk adds healthy fats.

Curry powder may alleviate morning sickness.
These scrumptious soup recipes for pregnancy may help you with your food woes and balance nutrition.
Tips to Prepare and Store Soups When Pregnant
During pregnancy, it's essential to maintain a healthy and safe kitchen environment, especially when handling foods like soups. Here are some tips to help you prepare nourishing soup for pregnancy.
Cleanliness is Key: Always start with clean hands, utensils, and cooking surfaces to prevent contamination.
Fresh Ingredients: Use fresh and high-quality ingredients for your soups to ensure they are nutritious and safe to consume.
Safe Handling of Meats: If your soup includes meat, be diligent about handling and cooking it thoroughly to avoid harmful bacteria like salmonella or E. coli.
Limit Mercury-rich Fish: Be cautious with fish in soups, as some varieties can contain high levels of mercury. Opt for low-mercury options like salmon, shrimp, or tilapia.
Avoid Raw Eggs: When making creamy soups, avoid using raw eggs as they can carry the risk of salmonella. Consider pasteurized egg products or egg substitutes instead.
Refrigeration: Once your soup has cooled to room temperature, promptly refrigerate it in airtight containers. It's important to avoid leaving soups at room temperature for extended periods.
Safe Reheating: When reheating soup, ensure it reaches a boiling point to kill any potential bacteria. Reheat only the amount you plan to consume to minimize leftovers.
Label and Date: Label containers with the date you prepared the soup. This will help you keep track of freshness and avoid consuming soups that have been stored for too long.
Freezing: If you're making soups in advance, consider freezing them in portion-sized containers. This allows you to have easy access to homemade, healthy meals during your pregnancy.
Thawing: When thawing frozen soups, do so in the refrigerator rather than at room temperature to prevent bacterial growth.
Ways to Select the Best Pregnancy Soup
When selecting the best soup for pregnancy, it's crucial to prioritize flavour and nutrition to support your health and your growing baby's development. Here are some key factors to consider:
1. Consider the Ingredients
Nutrient-Rich Ingredients:

Look for soups that contain nutrient-dense ingredients like leafy greens, lean proteins, whole grains, and various colourful vegetables. These provide essential vitamins and minerals for a healthy pregnancy.

Low Sodium Options

: High sodium levels can lead to water retention and high blood pressure, so opt for soups with lower sodium content. You can also make homemade soups with minimal salt to control your sodium intake.
2. Evaluate the Soup's Freshness
Check the Expiry Date:

If you're buying packaged or canned soups, always check the expiry date to ensure freshness and safety. Avoid products that are past their expiration date.

Go for Homemade:

Whenever possible, consider preparing homemade soups. This way, you have complete control over the ingredients and can ensure they are fresh and high-quality.
3. Prioritise Food Safety
Inspect Packaging:

If purchasing pre-packaged soups, inspect the packaging for any damage or leaks, as compromised packaging can indicate spoilage or contamination.

Reputable Brands:

If you're opting for store-bought soups, choose reputable brands with a history of quality and safety in their food products.
FAQs
1. Is It Safe to Drink Hot Liquid During Pregnancy?
Yes, it is generally safe to consume hot liquids, such as tea, coffee, or hot water during pregnancy. Warm liquids can be soothing and comforting, especially if you're experiencing morning sickness or nausea. However, it's important to ensure the temperature is not too hot to avoid burning your mouth or throat. Additionally, if you're drinking caffeinated beverages like coffee or certain herbal teas, it's advisable to limit your caffeine intake to a moderate level during pregnancy to avoid potential complications.
2. Is Too Much Consumption of Soup Harmful for the Baby?
Consuming soup as part of a balanced diet during pregnancy is generally not harmful but beneficial. Soups made with nutritious ingredients like vegetables, lean proteins, and whole grains provide essential nutrients for your health and your baby's development. However, it's important not to rely solely on soup as your main source of nutrition. Variety in your diet is key, so include a range of foods to ensure you get all the necessary nutrients. Additionally, watch your sodium intake, as excessive salt in soups can lead to water retention and high blood pressure.
3. Can I Have Chinese Soup When Pregnant?
Yes, you can enjoy Chinese soup during pregnancy, but it's important to make wise choices. Opt for soups that are made with fresh and well-cooked ingredients. Chinese soups often include nutritious components like vegetables, lean meats, and herbs. However, be cautious with ingredients that may carry food safety risks, such as undercooked or raw seafood. To ensure food safety, consuming Chinese soups that have been thoroughly cooked and served hot is advisable. Suppose you have specific dietary concerns or restrictions during pregnancy. In that case, it's a good idea to consult with your healthcare provider or a registered dietitian for personalized guidance on your food choices.
Health is the biggest concern during the nine months of pregnancy, and a woman needs to be very careful about what goes into her body. It is crucial to opt for healthier food options. Soups for pregnant ladies are nutritious as well as filling, and you can make these delicious soups that are flavourful and a healthy alternative.
References/Resources:
1. Helena. L; Recipe: Nourishing chicken soup (that's perfect for pregnancy and postpartum); Endeavour College Of Natural Health; https://www.endeavour.edu.au/about-us/blog/recipe-nourishing-chicken-soup-thats-perfect-for-pregnancy-and-postpartum/; February 2023
2. Nutrition; Harvard Health Publishing; https://www.health.harvard.edu/topics/nutrition
3. Ramkripa. R, Carol. D, Brittany L. K, et al.; Dietary patterns before and during pregnancy and birth outcomes: a systematic review; The American Journal of Clinical Nutrition; ScienceDirect; https://www.sciencedirect.com/science/article/pii/S0002916522032476; March 2019
4. Chantel L. M, Daniela. S, et al.; Maternal Dietary Patterns during the Second Trimester Are Associated with Preterm Birth; The Journal of Nutrition; ScienceDiect; https://pdf.sciencedirectassets.com; August 2015
5. Advice about Eating Fish; FDA; https://www.fda.gov/food/consumers/advice-about-eating-fish
Also Read:
Quick Breakfast Recipes for Pregnancy
Healthy and Refreshing Pregnancy Juices
Tasty Smoothie Recipes for Pregnant Women
Healthy Food Recipes for Pregnant Women