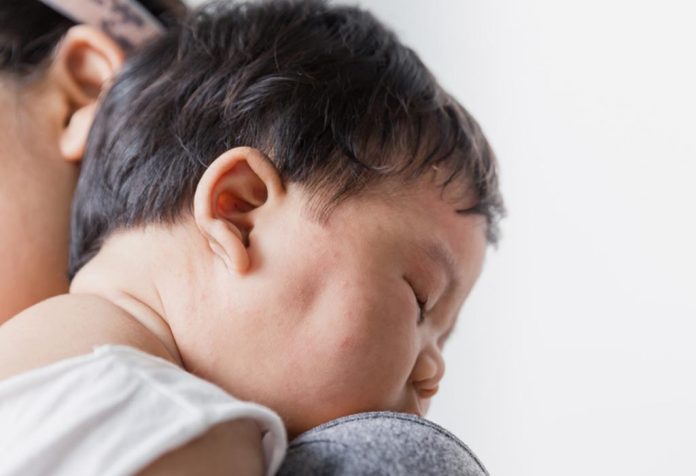 Last Updated on
Babies always have extremely sensitive skin, and their body is still in the processing stage. This means you will find significant changes as the body grows and you will also see how the other external factors, like climate change or transition from one place to another, can actually lead to further problems and difficulties for the child. You can even notice how these things, although not dangerous, can make the baby feel very frustrated.
Heat rash can be one of the most irritating things for a little baby. Heat rash happens in the summer when the baby's body starts sweating quite often. It is a problem that everyone struggles with, adults and babies. However, for a little child, it is really frustrating because of her sensitive skin. When the body sweats a lot, the pores of the skin are blocked, and they don't expel the excess perspiration which leads to rashes on the skin. This is quite commonly seen in babies, especially when they are in the hot and humid atmosphere.
Skin rashes can be seen in many forms. The signs are red spots, swelling, itching, & small blisters. Mostly the areas that are affected by rashes are the folds in the skin like the neck area, folds in hands or legs etc. You will also notice that the heat rash is more when there is a climate change. This is because the sensitive skin of the little baby doll does not easily adjust to the change in climate.
Your initial thought must have been to see a doctor. However, when you notice rashes, you can actually take some precautionary methods, and you can also follow some amazing home remedies that have absolutely no side effects to it.
Baby Heat Rash Remedies at Home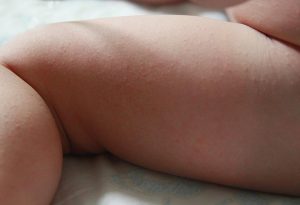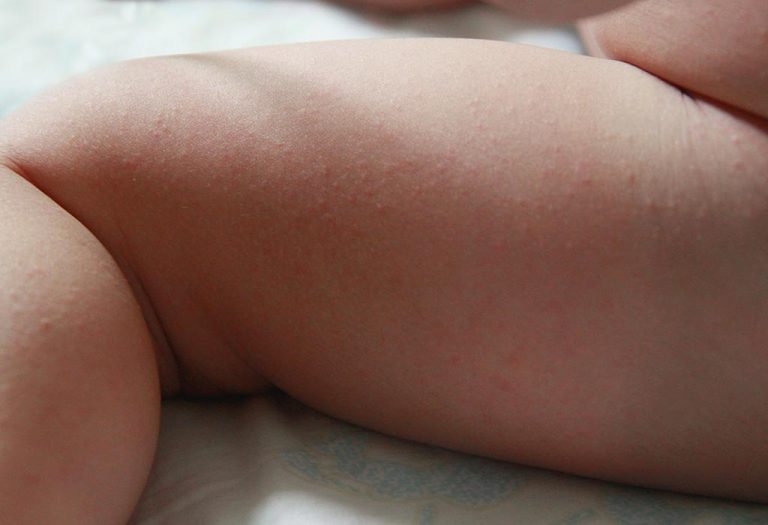 1. Cold Compress
If your baby is struggling with rashes there is one thing you can do for quick relief. You can wrap ice in a soft cloth that will be comfortable for your baby and dab it on those places that are affected. It will make your little one feel comfortable. During the hot summer, a cold compressor will really relieve you and make you feel good.
2. Cucumber
Cucumber is also a quick relief from heat rashes. One good thing is that you can put cucumber on your baby's skin directly. Cucumber also has a cooling property in it. And this is what helps the baby while it has rashes. After applying or rubbing cucumber on to rash, you can wash it with cold water, and your little one will feel relieved.
3. Tea Tree Oil
Here's another option that will really help your baby feel good and comfy. Tea tree oil has anti-inflammatory properties in it and is extremely helpful in soothing your baby's skin rashes.
4. Coriander
Grounded coriander can also be applied to the areas that are affected. It can be applied to the baby's skin before your baby's bath.
5. Gram Flour
Mix gram flour with some water and apply it in the affected area to see immediate results. This is very effective and simple thing that will help your little one. It is also safe for your baby.
6. Chamomile
Chamomile is yet another very soothing ingredient that has healing properties. It helps in reducing irritation and inflammation as well. You can prepare an oil by diluting a drop or two of chamomile in 2 teaspoons of coconut oil. Apply this to the area that is affected. You will slowly start noticing the rashes disappear.
7. Fuller's Earth
Fuller's earth has healing properties. Fuller's earth has many amazing components to it. In fact, it is rich in magnesium, quartz, calcite, and dolomite. Since it is a natural element, there are no side effects. It also works as antiseptic. You can mix with it rose water and apply it to the child's skin where there are rashes. Once the paste is dry, wipe it off with cool water.
8. Honey
Honey has quite a few properties that heal baby rashes in a short time. You can apply honey sometime before you take your baby for a bath.
9. Oatmeal
Another very useful grain that will help your little one during this time is oatmeal. Apart from all the amazing elements that can be found in oatmeal, it is also known for its anti-inflammatory properties. Oatmeal also has the property to reduce itching of the skin, and this, in turn, will help your little one heal and feel better soon.
10. Aloe Vera
Aloe vera is truly a magical plant. It is rich and filled with an amazing component which actually heals and cools down the skin. If you find your baby struggling with rashes, you can apply a little aloe vera gel to the affected area. You can do this just before your baby takes a bath. Aloe vera is safe and can help fight the irritating feeling that comes with the rash.
Little children are prone to a lot of little difficulties mainly because of the delicate skin that they have. However, when you find your child struggling with it, you can do something about it and help. Prickly heat rash home remedies for babies is always the best option.
When it is too hot and sweaty, your little one must be feeling really irritated. Rashes on adults itself are something that bothers all of us. So when it comes to children, it is just worse. You can follow any one or more of the items listed above as they are quite safe and do not have any side effects. One more thing you need to do is make sure that your baby is safe and protected from the heat waves from the sun.
Keep your child in a cool temperature as it really helps in avoiding and spreading of heat rash. Even when you go out in the open, make sure not to be directly under the sun for too long as it can cause heat rashes and it can also make things worse. Try and avoid clothes that are too tight and warm. Allow the baby's skin to breathe as this will help them be relaxed and feel better.
Also Read: Diaper Rash in Babies