10 Easy and Healthy Noodle Recipes for Kids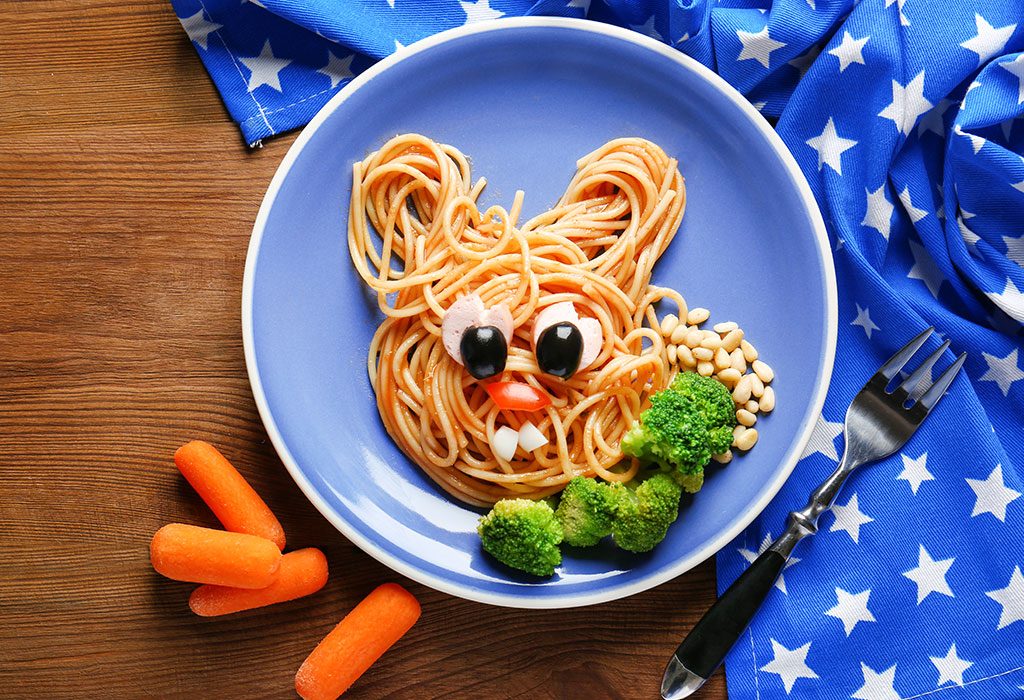 In this Article
As adults, we get to enjoy a wide variety of recipes with noodles, which tingle our taste buds in various ways. But those may not be best for children as they could be spicy or even prepared with all-purpose flour, which isn't nutritious in the long run. With these child-friendly noodle recipes, you can prepare some delicious meals for your kids right at home in no time.
Delicious Noodles Recipes for Children
Whether you are making kids veggie noodles or any other food item, these simple and lip-smacking noodle recipes can be helpful for you in putting them together right away.
1. Sweet Soy Noodles
Here's how you can put together your child's favourite tastes in a single recipe.
Ingredients Needed
Egg noodles, cooked
Sesame oil
Soy sauce
Red capsicum, chopped
Spring onions, chopped
Chicken breast, cooked and shredded
Procedure
Take a bowl and put the chopped capsicum, spring onions and the chicken shreds together.
In another bowl, mix some honey, sesame oil and soy sauce. Stir it properly.
Spread the noodles on a plate. Pour a little sauce mixture over them. Add the contents of the first bowl over those, and pour in the remaining mix.
Toss it properly and serve.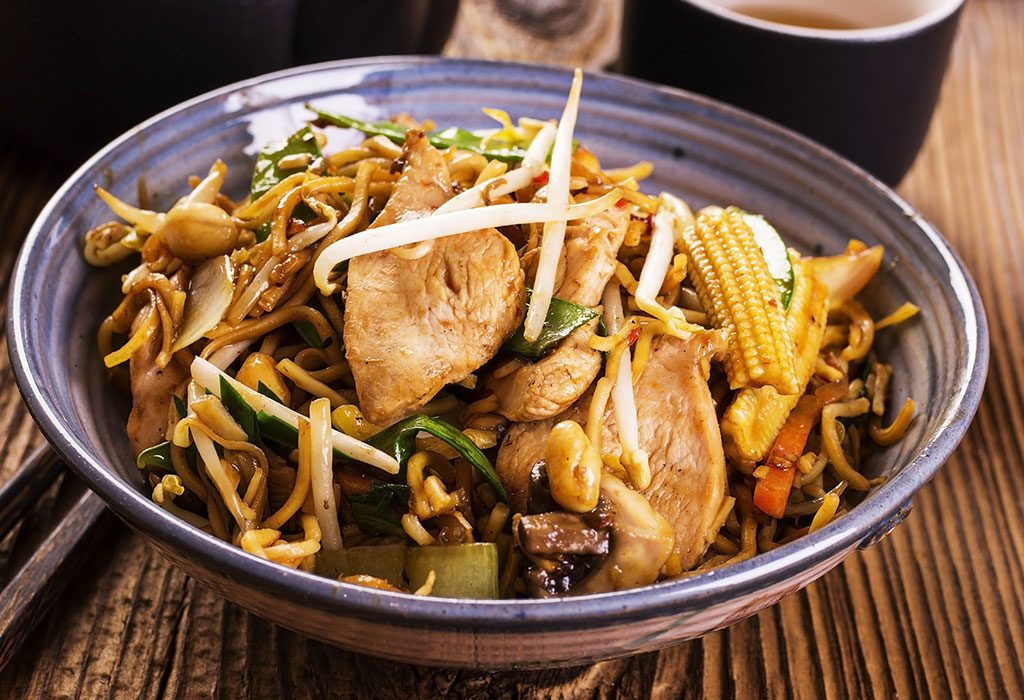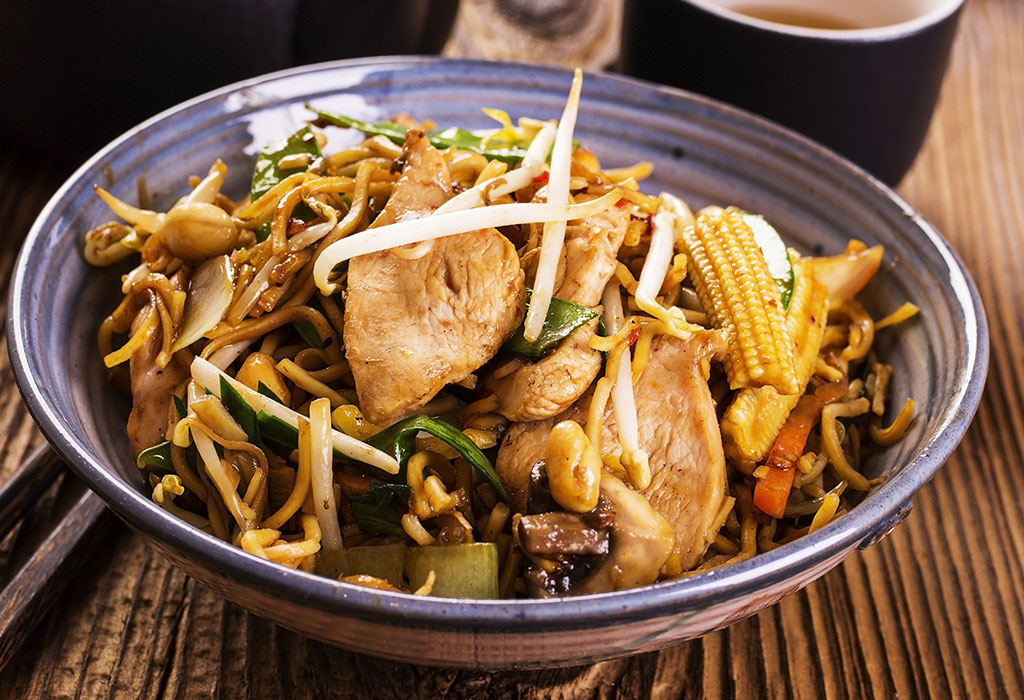 2. Crunchy Noodle Salad
If you're wondering how noodles can be turned into a healthy alternative, we've got the right recipe for you.
Ingredients Needed
Olive oil
Sesame oil
Soy sauce
Vinegar
Fried noodles
Almonds, toasted
Onions
Cabbage
Procedure
Put together both oils with soy sauce, sugar and vinegar in a pan. Heat them to make the sugar dissolve and then allow it to cool.
Take a bowl and mix almonds, onions and shredded cabbage. Toss these with noodles properly.
Pour the dressing over them and serve.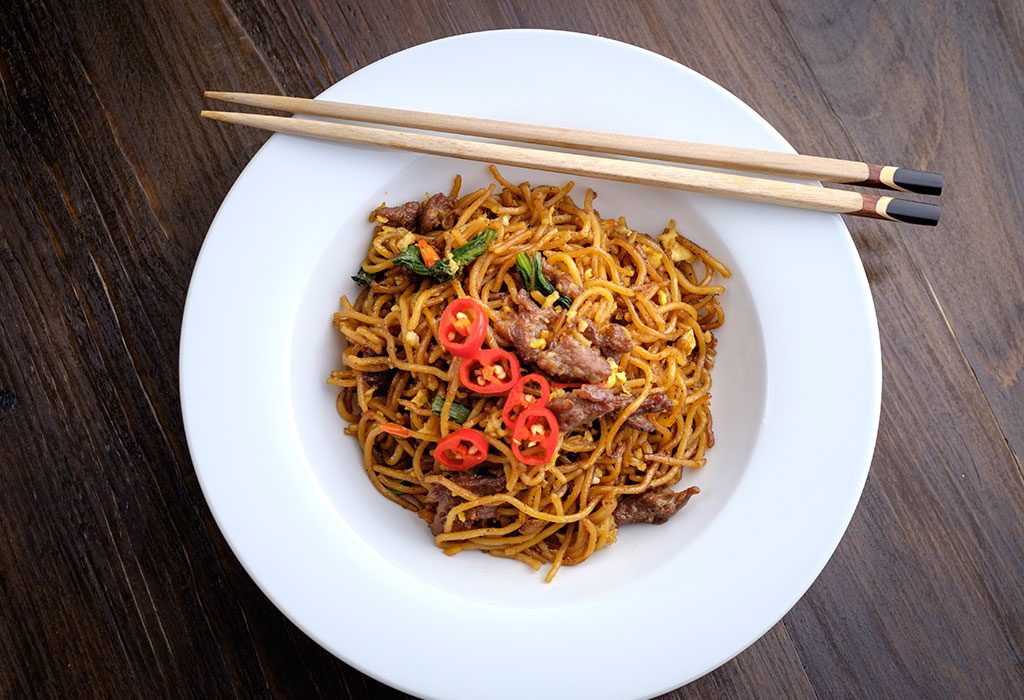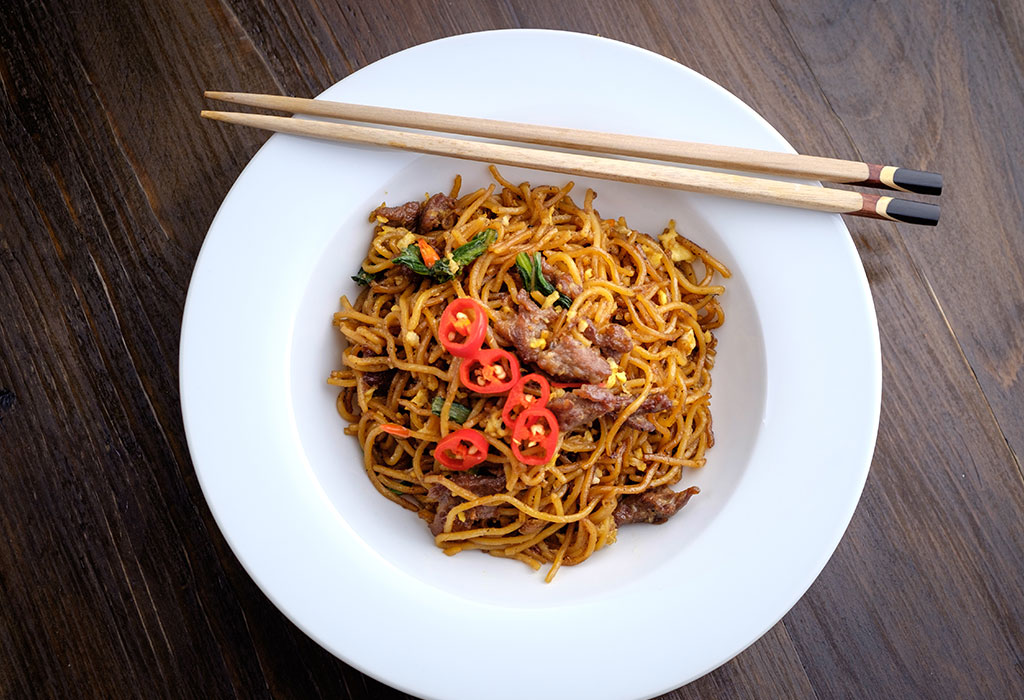 3. Chicken Noodles Asian Style
When making chicken noodles for kids, this particular recipe can have them relishing the taste to the very end.
Ingredients Needed
BBQ chicken, shredded
Hoisin sauce
Soy sauce
Broccoli
Chicken stock
Ginger
Garlic Cloves
Sesame oil
Rice noodles
Procedure
Let the noodles cook in boiling water. Drain them once they are done.
In another pan, add some oil and heat it. Fry the eggs, with ginger and garlic properly.
Increase the cooking flame and add in the chicken stock with the noodles. Let these cook for a few minutes.
Follow up with the veggies and the sauces, as well as chicken shreds. Mix with the noodles properly and serve.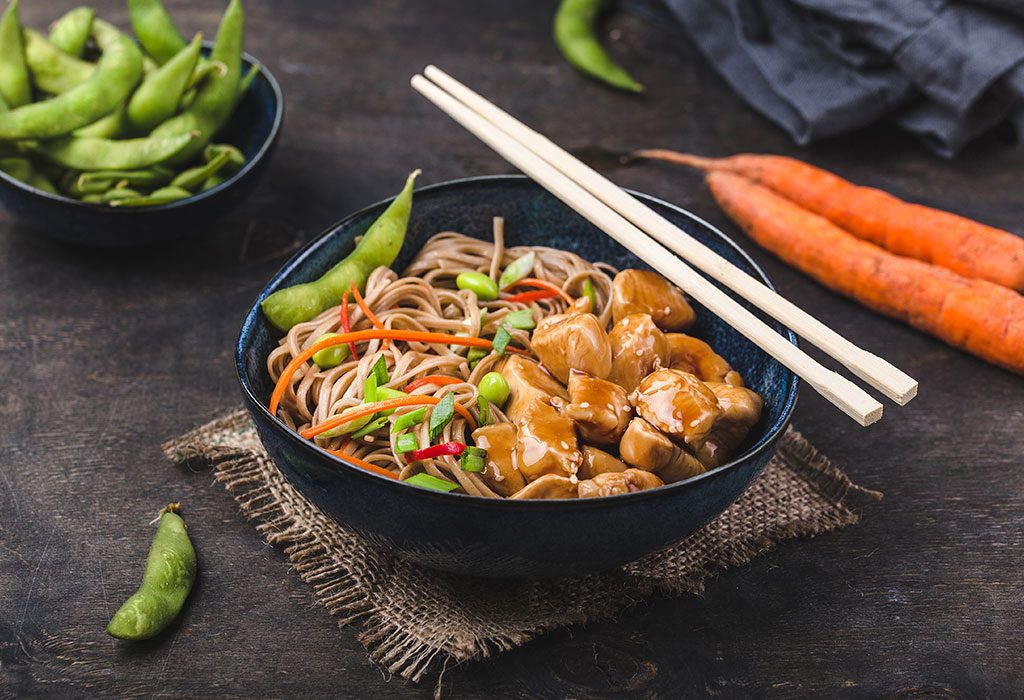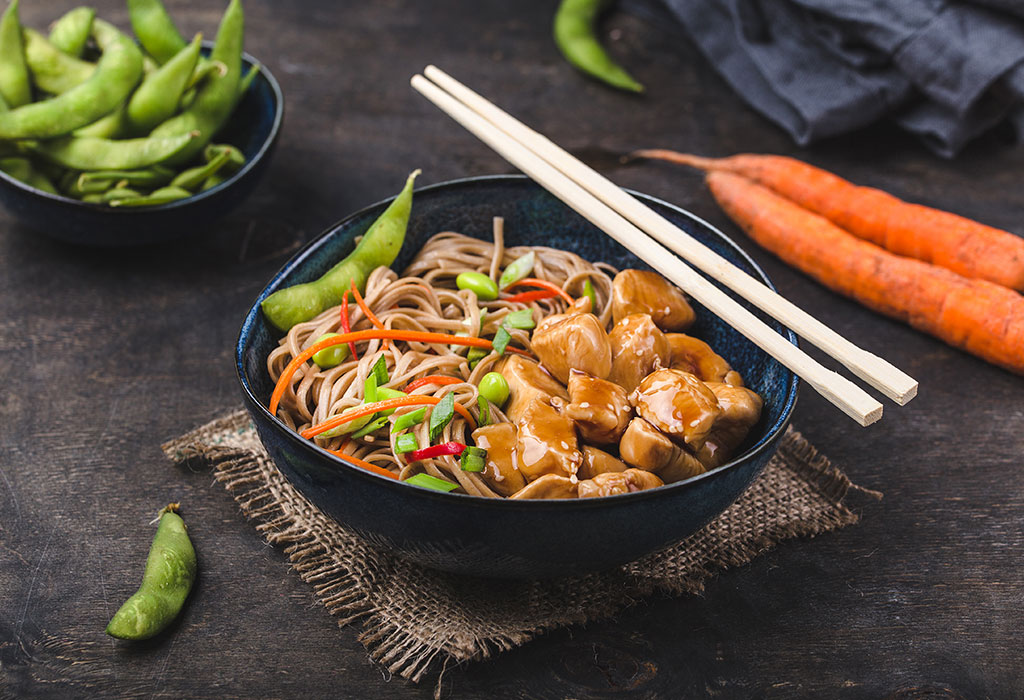 4. Chicken Salad With Noodles
If gravy chicken noodles are not your child's favourite, this dry salad recipe will turn out to be one.
Ingredients Needed
Peanuts
Capsicum
Cucumber
Celery
Carrot
Rice noodles
Chicken pieces
Sesame oil
Brown sugar
Vinegar
Soy sauce
Garlic Cloves
Onions
Procedure
Mix the sauces, oil, sugar and onions properly to form a dressing mix.
Pour some portion in a bowl and put chicken pieces in it for margination.
Take the rice noodles and cook them well, mixing them with chopped vegetables once done.
In a pan, add some oil and place chicken pieces in it. Cook each side for a few minutes and pour in the rest of the dressing.
Take a large bowl and add the salad along with noodles. Pour the dressing and chicken pieces over them and garnish with peanuts before serving.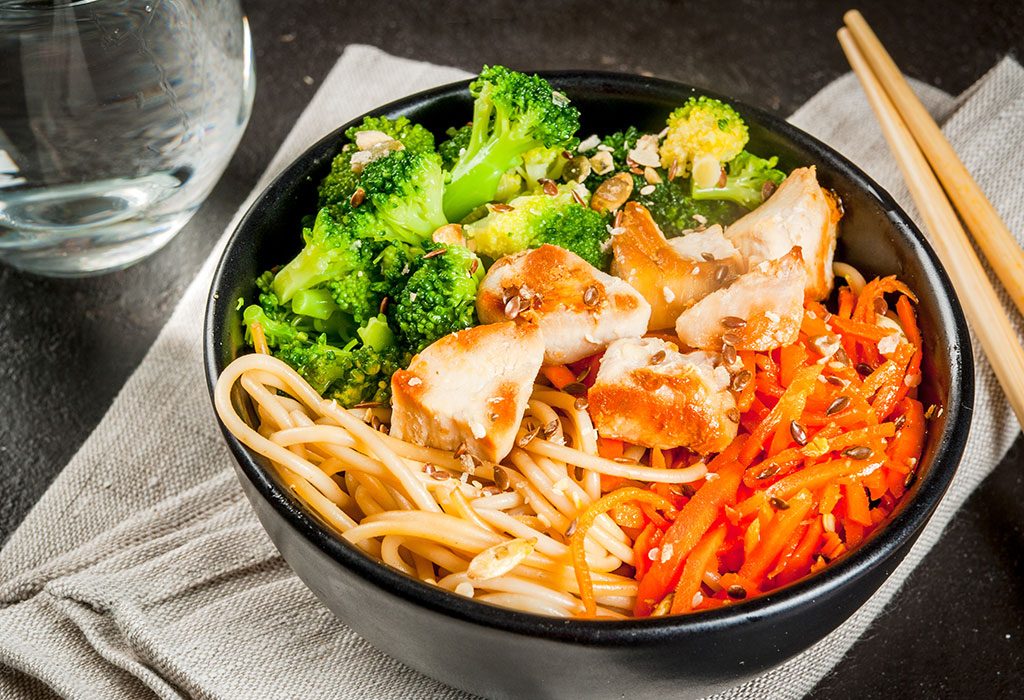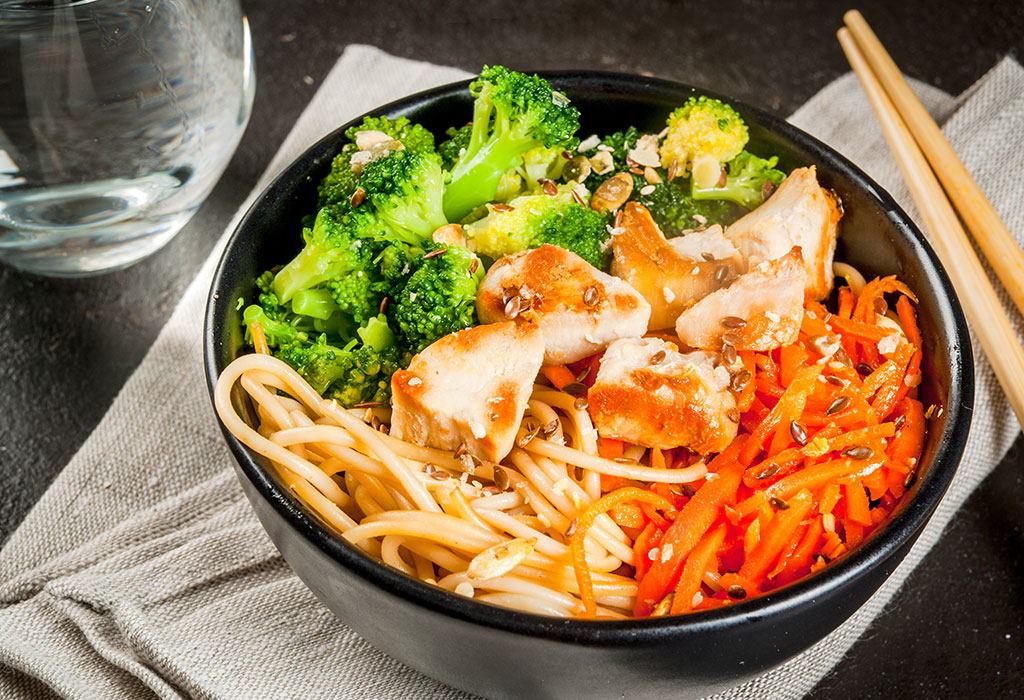 5. Quick 2-Minute Noodles
You don't have to rely on the commercial packets when you can make quick noodles right at home.
Ingredients Needed
Coriander
Carrots
Vegetable stock
Water
Procedure
Boil water in a pan. Pour in the vegetable stock with carrots. Mix them all and let them heat on a low flame for a few minutes.
Follow these up with noodles and let the entire mixture cook for about 5-6 minutes.
Place the noodles in a bowl and garnish with coriander.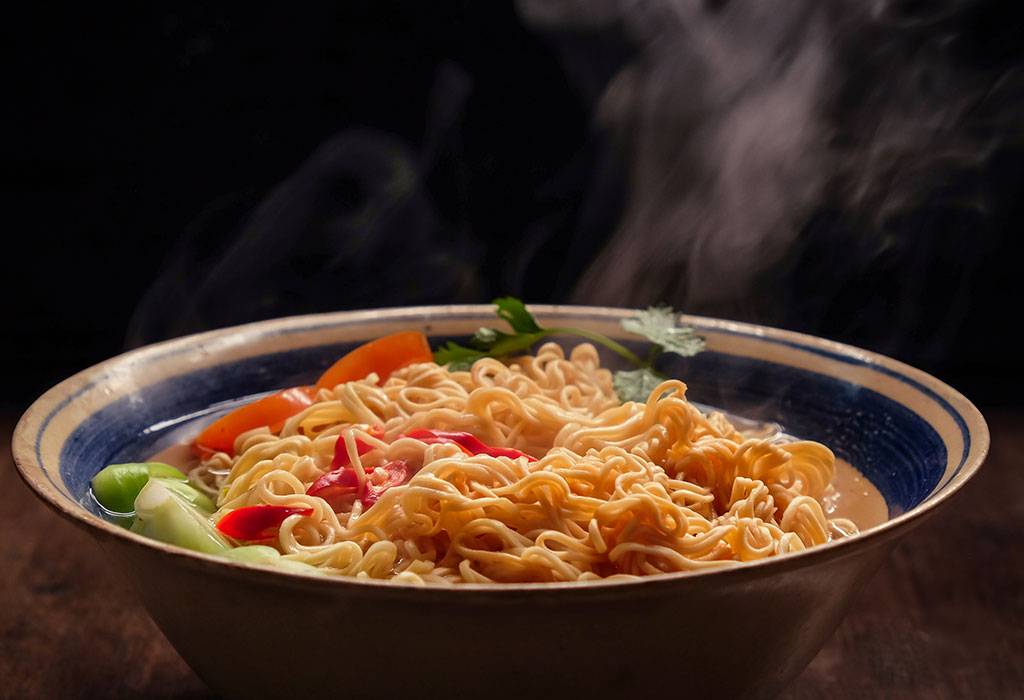 6. Chicken Noodle Soup
The best kind of noodle soup there is, this is great for when your child is sick and needs essential nutrients.
Ingredients Needed
Spinach
Whole grain noodles
Chicken breast, sliced
Cloves
Tejpatta
Ginger
Garlic Cloves
Onions
Water
Chicken stock
Procedure
Put together the onions, ginger, garlic, tejpatta along with water and stock in a deep pan. Bring it to a boil.
Once it does, turn down the flame and let it cook for about 10-12 minutes.
Stir in the noodles along with chicken and let the entire mix cook again from 8-10 minutes. The noodles should be soft by then.
Add spinach at the end and turn off the flame in a couple of minutes.
Separate the tejpatta and garnish with crushed garlic before serving.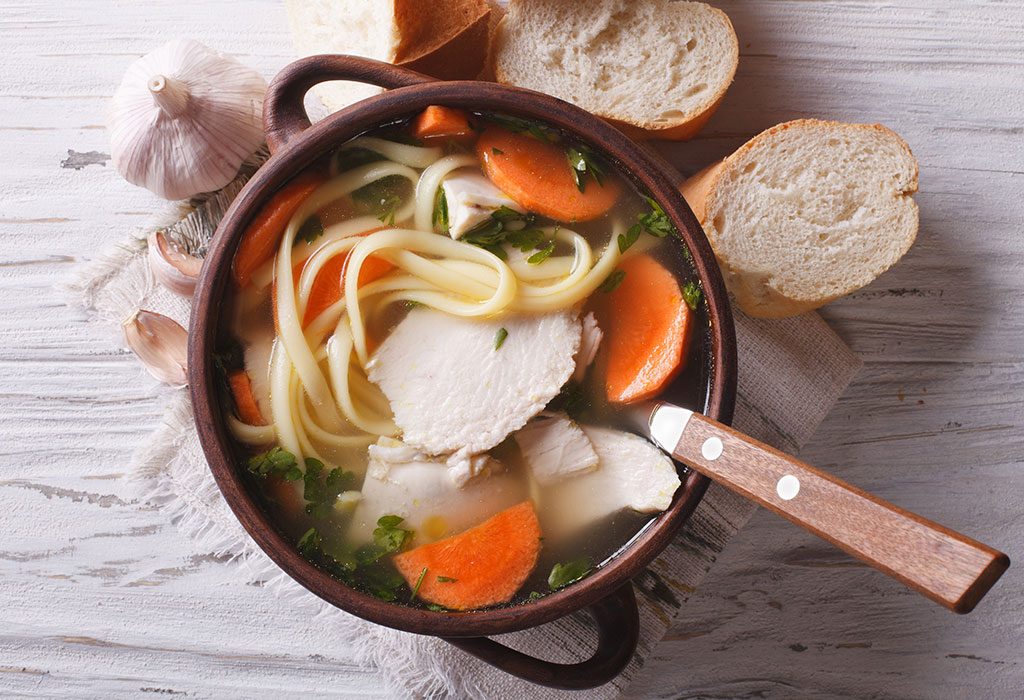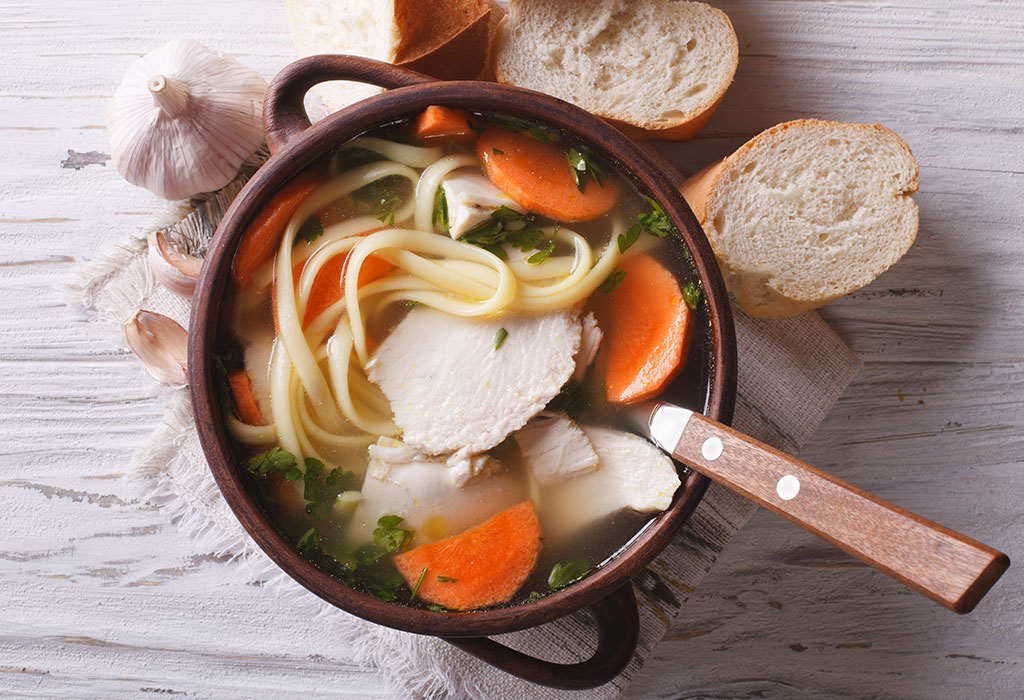 7. Casserole Of Chicken Noodles
Let your kids devour this dish till their stomachs are full, making it a great lunch option for a weekend.
Ingredients Needed
Water
Butter
Butter biscuits
Chicken soup cream
Mushroom soup cream
Sour cream
Egg noodles
Chicken breast
Procedure
Poach the chicken breasts in a pan filled with water until they are fully cooked.
Set up the oven by heating it to a temperature of 180 degrees.
Replace the chicken with noodles and more water, allowing it to boil to cook the noodles well.
Chop the chicken and place it in the oven dish along with the noodles.
In a separate bowl, put together the mushroom soup cream and chicken soup cream along with sour cream. Pour this over the oven dish to coat it well.
Sprinkle the crushed butter biscuits mixed with butter over the noodles and place it in the oven for about half an hour.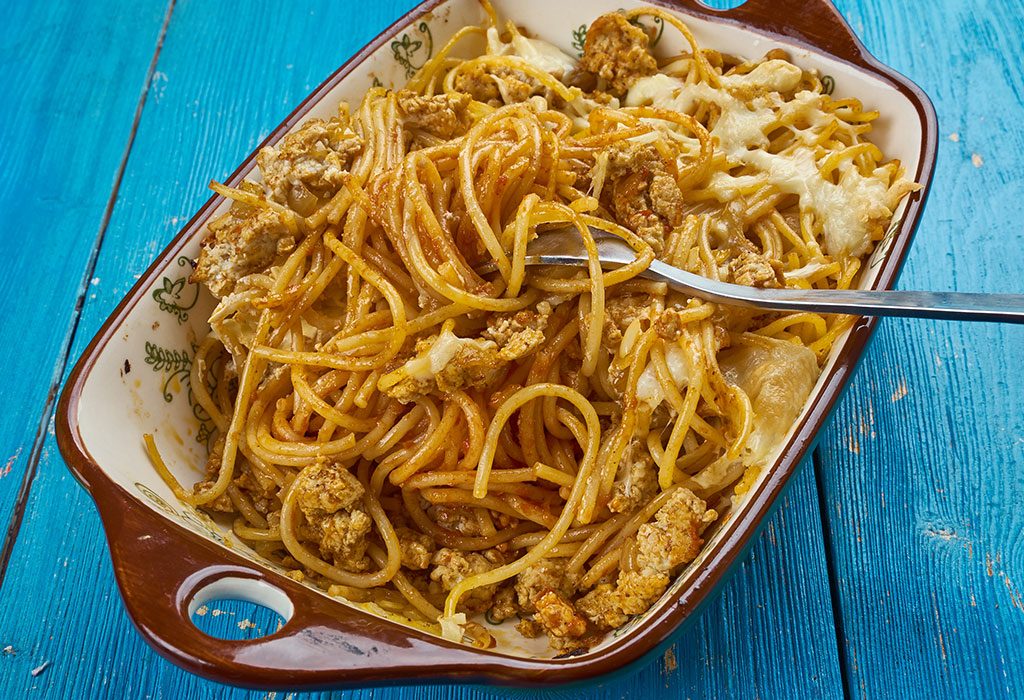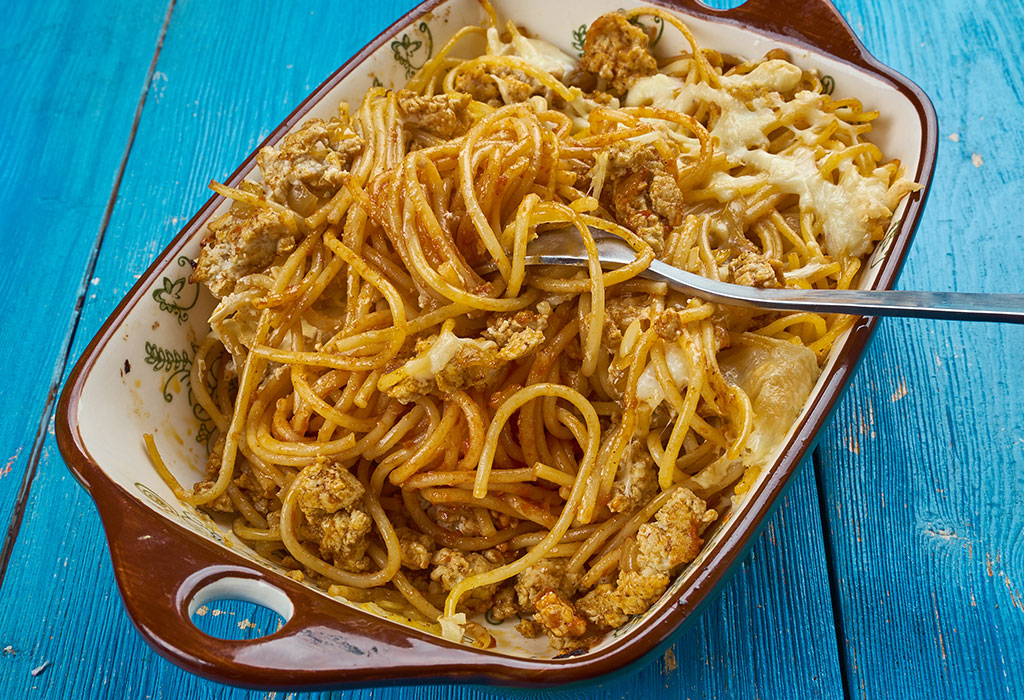 8. Rice Noodle Salad Tiffin
A quick and easy prep for your little one's tiffin to surprise him with a great lunch.
Ingredients Needed
Garlic clove
Brown sugar
Lemon juice
Fish sauce
Rice noodles, cooked
Mixed sprouts
Peas
Cucumber
Carrot
Procedure
Take a large bowl and mix all the solids properly.
Pour the dressing over them before packing it all up.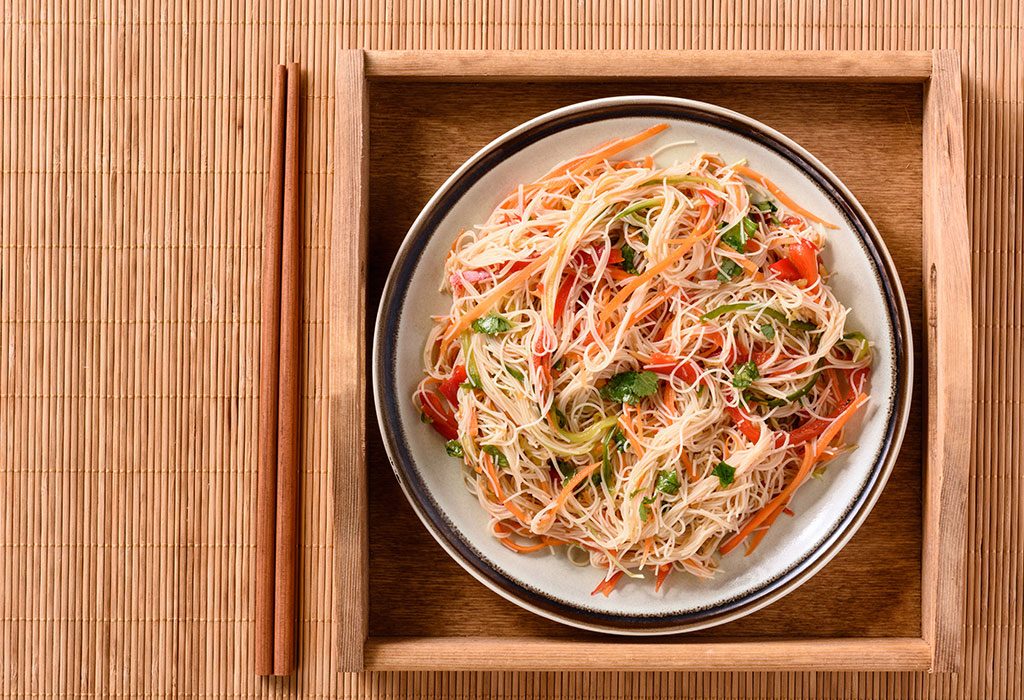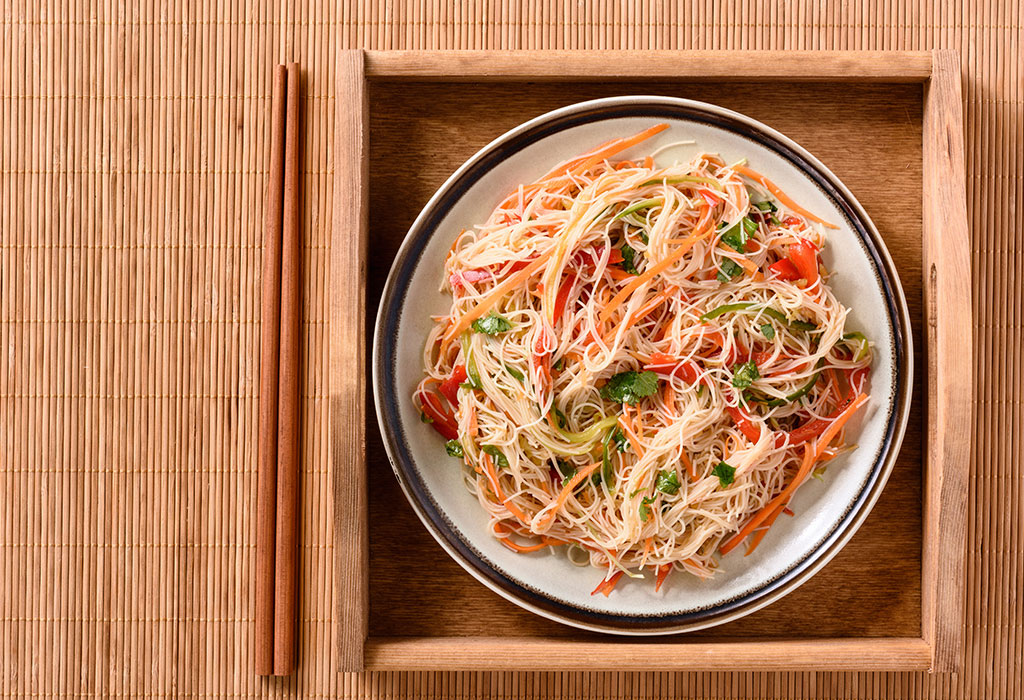 9. Omelette With Noodles
Amongst various egg noodle recipes, this one is a clear winner due to its ease of making and its great taste.
Ingredients Needed
Coriander
Rice noodles
Eggs
Sesame oil
Soy sauce
Capsicum
Baby corn
Mushrooms
Onions
Peanut oil
Procedure
In a pan, fry capsicum, mushroom, corn, and onions in peanut oil, following up with soy sauce.
In another pan, add sesame oil and the eggs to make an omelette. Mix in the noodles right away. Just before the omelette forms, add the veggies as well.
Flip the omelette and cook the other side, closing it up. Garnish with coriander.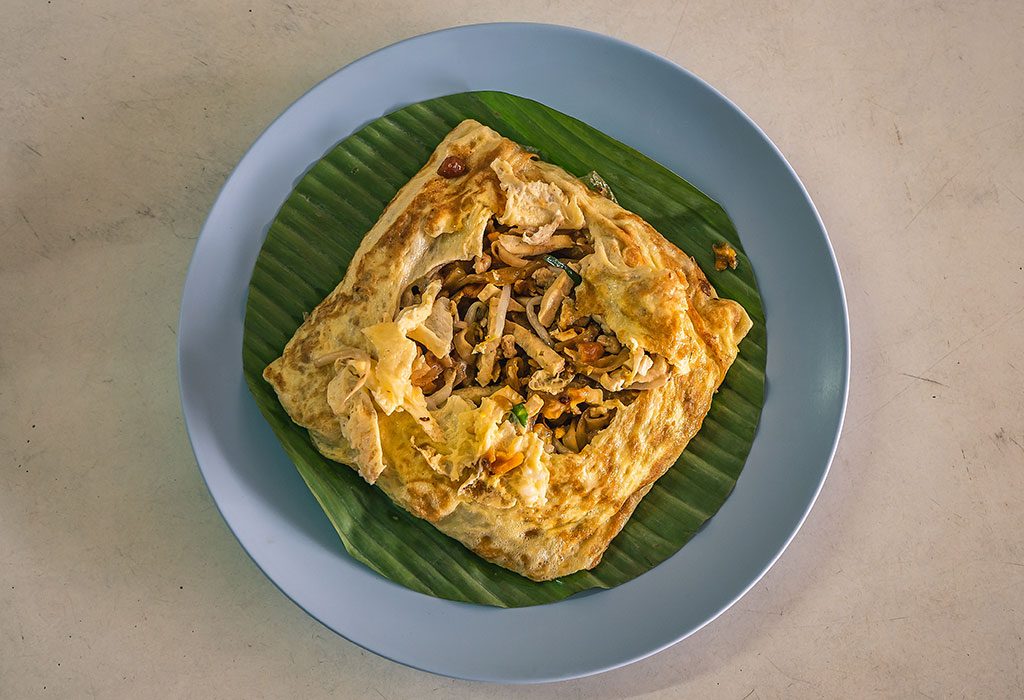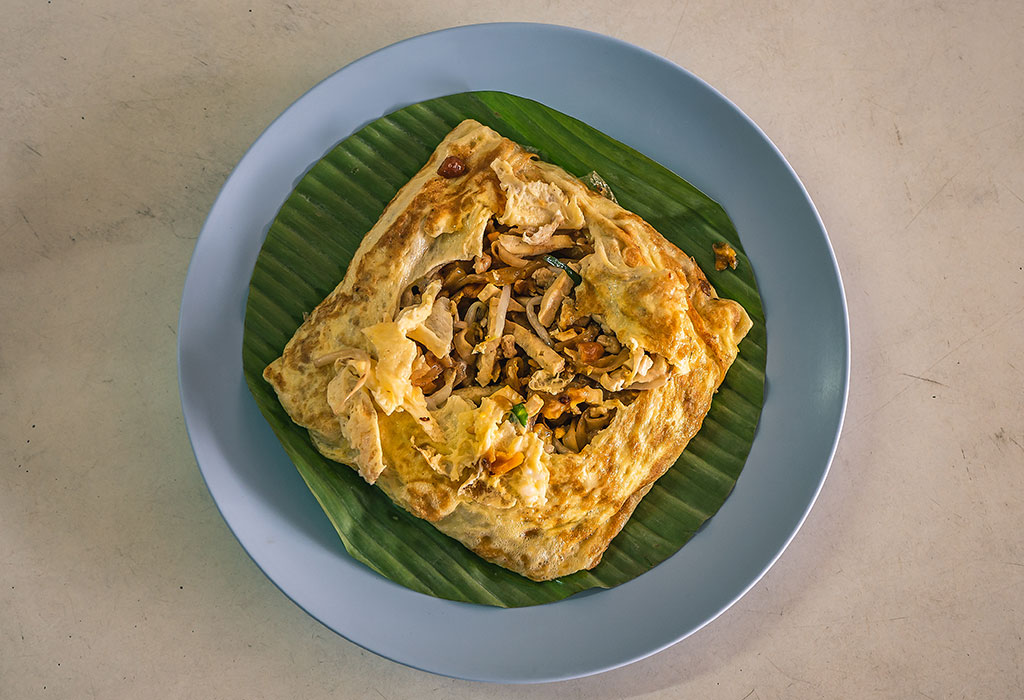 10. Kiddy Chowmein
The quintessential noodle recipe of all time, this is what truly defines the Chinese cuisine.
Ingredients Needed
Lemon juice
Ketchup
Honey
Soy sauce
Water
Tofu
Garlic
Oil
Peas
Onions
Carrot
Rice noodles
Procedure
Cook the noodles in boiling water and drain them.
In a bowl, mix ketchup, lemon juice, honey and soy sauce. Fry garlic along with the veggies and tofu.
Follow up with soy sauce and water. Mix the noodles and stir all of it together on a high flame for a few minutes.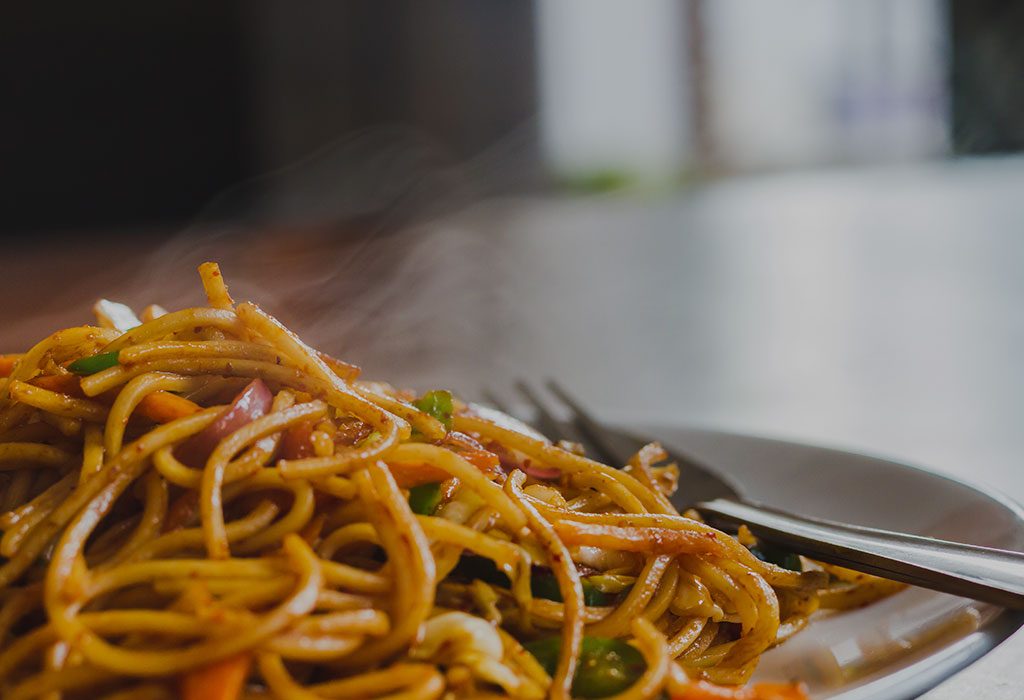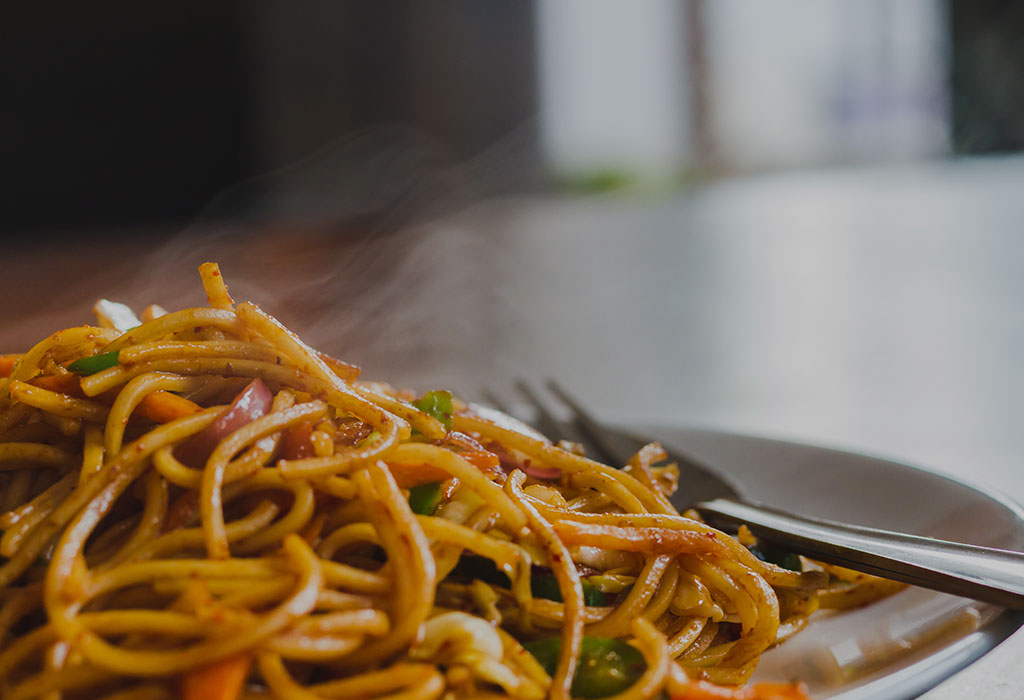 Choosing noodles for kids might be considered unhealthy on a daily basis. But putting together some great healthy recipes, you can include them in your child's diet in a great and helpful way.
Also Read: Easy Pasta Recipes for Kids